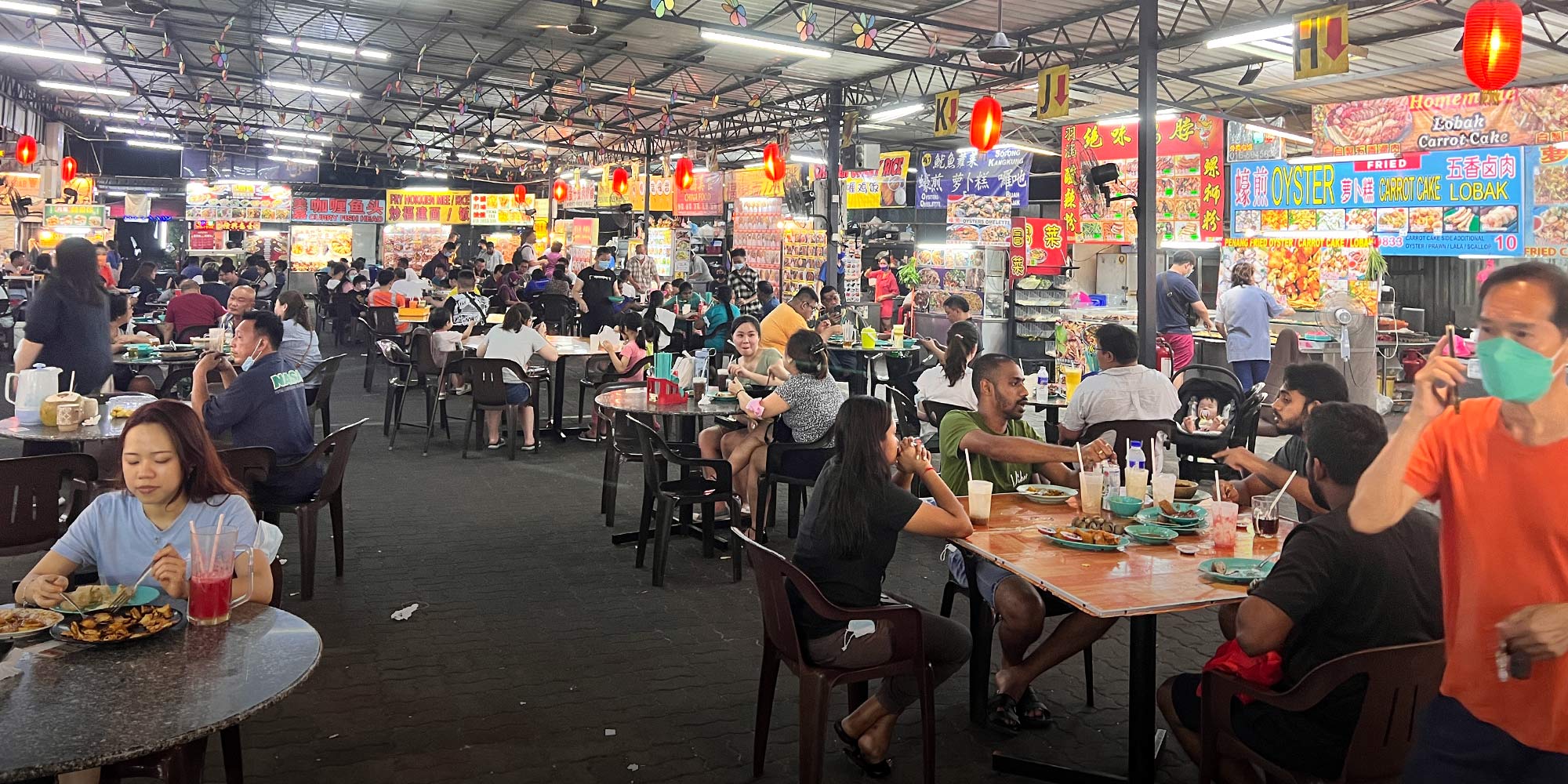 VOICES & OPINION
How Malaysia Is Rediscovering Chinese Cuisine
Recent years have seen an influx in everything from Chinese snacks to restaurants.
Four years ago, worried about the stress his son would face attending a Chinese middle school, 50-year-old Yang made the decision to emigrate from the northwestern city of Xi'an to Malaysia. The food service industry veteran opened a restaurant in Puchon specializing in Xi'an delicacies, such as biang biang noodles, roujiamo meat sandwiches, and the chilled noodles known as liangpi.
His decision seems to have paid off. Although the pandemic has taken a bite out of his business, Yang and other like-minded Chinese entrepreneurs have benefitted from surging interest in Malaysia for "authentic" Chinese contemporary cuisine.
Malaysia is home to approximately 6.7 million people of Chinese descent, making them the country's second-largest ethnic group. But while dishes like Yangzhou fried rice or "Hokkien noodles" are staples on Malaysian dinner tables and restaurant menus, most "Chinese" food in Malaysia is heavily adapted to local tastes, or else entirely reinvented. Hokkien noodles, for example, bear little resemblance to anything found in the southeastern province of Fujian. (Hokkien is an alternative spelling of Fujian based on the local dialect.)
In this, the history of Malaysian Chinese food resembles that of other diaspora Chinese cuisines. After the Second Opium War ended in 1860, the Qing Dynasty (1644-1912) signed a treaty with Great Britain, France, and Russia allowing foreign merchants to hire Chinese as laborers for jobs overseas. Over the ensuing decades, many Chinese emigrated from coastal provinces like Fujian to Southeast Asia.
Those who landed in Malaysia had little choice but to adapt their cuisine to local ingredients. Hokkien noodles, for example, have their origins in Fujian cooking, but would be almost wholly unrecognizable to today's Fujianese. The dish is made with thick, alkaline wheat noodles, which are then braised with ingredients such as lard, shrimp, thickened soy sauce, sliced pork, cabbage, and pork bone broth until they are coated in a dark, rich sauce. The dish's popularity is not confined to the local Chinese community — many Malaysians have also fallen in love with Hokkien noodles, which they frequently mix with sambal, a type of chili paste containing shrimp, ginger, and lime.
Other popular Chinese delicacies in Malaysia have even older roots. Although emigration picked up in the 19th century, Chinese merchants and sailors plied the seas around Southeast Asia for centuries prior to the Opium Wars. Some of them intermarried with local Malay people, forming a distinct community of Malay Chinese, known as the "Baba and Nyonya," or the Peranakan, with its own culture, customs, and culinary traditions. "Nyonya dishes," named after the Peranakan word for "girl," represent a fusion of traditional Chinese cooking techniques with the spice-heavy palette of Southeast Asian cuisine, and are characterized by a mix of sour, sweet, and heat.
Over the course of decades — even centuries — these dishes and their permutations have gradually become a part of Malaysian diets. More recently, however, China's growing economic and cultural sway over Southeast Asia has re-introduced many Malaysians to a very different style of Chinese food.
Interestingly, some of the most popular imports in recent years aren't dishes at all, but pre-packed foods. In 2014, a Chinese adaptation of a Korean variety show, "Keep Running," was broadcast on Malaysian television. The show was sponsored by the Chinese dairy company Yili and featured frequent heavy-handed product placements from the show's celebrity cast for Yili's Anmuxi brand yoghurt. These set off a fad for imported Chinese snacks, from the Wangzai milk drinks and spicy strips of wheat flour known as latiao popular among China's '80s generation to the instant hot pots favored by contemporary office workers.
The success of Chinese products on the Malaysian market has been facilitated by the close cultural ties between the two countries. Most Malaysians of Chinese descent understand Chinese; they use Chinese-language social media platforms like Douyin and Xiaohongshu and follow Chinese idols. When the actor and former TFBoy Jackson Yee signed a deal with Genki Forest, a Chinese drink distributor, to endorse the company's low sugar soft drinks, sales quickly took off among his large Malaysian fanbase.
Meanwhile, on livestreaming apps, Chinese influencers publish videos of themselves visiting stores, unboxing orders, or making product recommendations. Known in Chinese as zhongcao, or "grass-planting," the idea is to sow the seeds of consumption in viewers' minds. These same videos are avidly watched by Malaysian Chinese, who then import the foods they see their favorite influencers cooking or photographing.
New Chinese restaurants have also begun popping up on Malaysia's streets and in its alleyways. Some of these, like Yang's, are independently run. Others are part of global chains. Since 2018, a number of Sichuanese hot pot chains, including Haidilao, Xiaolongkan, and Fengwangfu, have expanded to Malaysia. Haidilao now boasts nine branches in the country, and Selangor, Malaysia's most populated and economically developed region, is home to dozens of competing hot pot restaurants.
In addition to Sichuan- and Chongqing-style hotpots, other regional Chinese delicacies, including Shaanxi-style noodles, Hubei-style kebabs, and the Sichuanese spicy stew known as maocai have also gained footholds in the Malaysian market. The same is true of quick-and-easy roadside delicacies like the crepe-esque jianbing and sour-and-spicy rice noodles, which are becoming street food staples.
Even these ostensibly authentic representations of contemporary Chinese cuisine often feature adaptations to local tastes, however. As Yang put it: "Malaysian people generally can't eat anything too oily or spicy and don't want dishes to be too heavily seasoned. So, we've had to make some small changes."
More adaptations are likely in the works. Despite the growing popularity of Chinese food, especially among ethnic Chinese, Chinese restaurants continue to struggle in the predominantly Malay regions of the country's east. The sustainability of the current boom will likely come down to restauranteurs' ability to adapt and survive, just as it has for centuries.
Translator: Lewis Wright; editors Wu Haiyun and Kilian O'Donnell.
(Header image: A food court in Malaysia, May 6, 2022. Courtesy of the author)