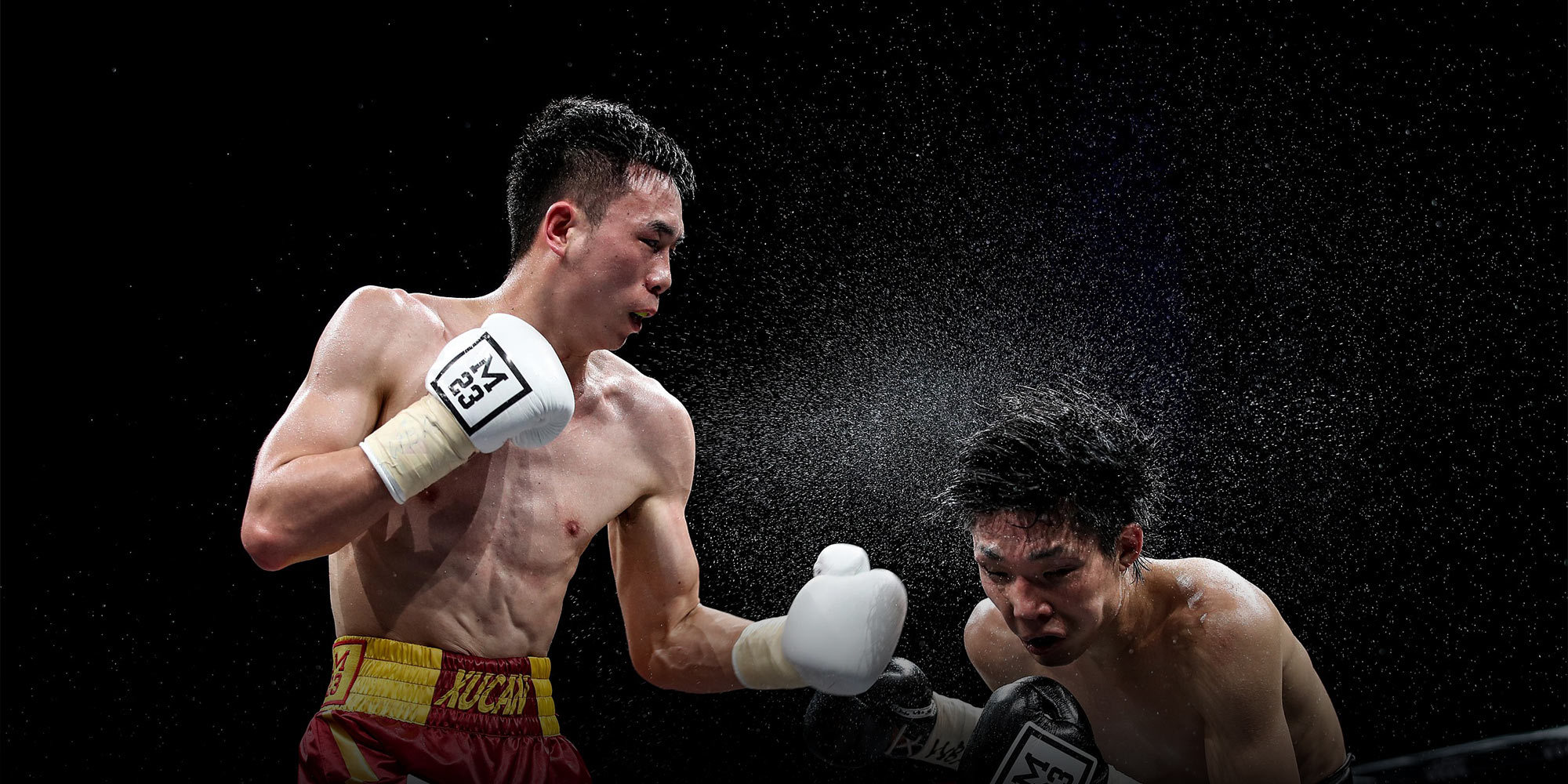 FEATURES
Xu Can: The Baker's Son Who Became China's Boxing 'Monster'
How Xu "Monster" Can clawed his way from humble origins to become the biggest star in Chinese boxing.
This is the final story in a three-part series on the history of Chinese boxing. You can read the first two articles in the series by clicking here and here.
In a packed arena in Houston, Texas, China's Xu Can and Puerto Rico's Jesus Rojas are trading punches.
After absorbing an onslaught of head and body shots, each fighter repays in kind. Then, it's their turn again to eat leather. Neither takes a step back or bothers much with defense.
If Xu prevails, he will become world featherweight champion — and only the third Chinese man to win a professional boxing world title.
The crowd is pro-Rojas, but there's also a sizable Chinese contingent, and they came prepared. "China power: win glory for the country!" reads one Chinese banner. "Let's go, Xu Can, from the Chinese of Houston," another says.
The third sign is more obscure. "The spirit of bread nourishes the world. The boxer from Zixi rules the world," it reads.
The slogan is a reference to the Chinese fighter's extraordinary personal journey. Even in the world of professional boxing, where rags-to-riches stories are a dime a dozen, the career of Xu "Monster" Can stands out.
The son of a baker from Zixi, a rural county in the eastern Jiangxi province, Xu had to claw his way to the top of his sport from the very bottom. It was a decadelong struggle, during which he carried his family's hopes for a better life on his young shoulders.
Growing up in the 1990s, Xu's childhood was marked by instability. His father, Xu Xiaolong, made and sold bread and Western-style pastries to support his wife and son. Every few years, he would uproot the family to a new city.
The wandering baker had one constant in his life: an obsession with martial arts. As a young man, he had changed his name to Xiaolong, or "little dragon," in homage to his hero Bruce Lee, whose Chinese name is Li Xiaolong. He desperately wanted his son to make it as a professional fighter.
The training started when Xu Can was still a baby. "I would make him hit my palm," Xu Xiaolong tells Sixth Tone. "If he missed, he got a little clap on the ear."
As Xu Can got older, his father did everything he could to make him stronger. "I made him run, skip, do push-ups, wrestle, climb trees," he recalls. "He worked really hard. I would tell him to do 50 push-ups and he'd do 70."
At the time, pro boxing was a tiny sport in China. But in 2009, Xu Xiaolong heard that Liu Gang — a legendary former boxer — had opened the country's first professional boxing gym in Kunming, a city in southwest China. He was overcome with excitement.
"I decided immediately to sell the bakery and move to Kunming, so Xu Can could start learning boxing," he says.
Ignoring his wife's objections, Xu Xiaolong pulled Xu Can out of school and moved the family to Kunming. Soon after, the boy began training full-time at Liu's Zhong Wei Gym, China's first pro boxing gym. He was just 15 years old.
"I didn't know much about boxing," Xu Can says. "But I didn't hesitate to agree to become a boxer. I was a kid then, so I had no fear."
Liu Gang laughs when he recalls the first time he met Xu Xiaolong. "He said, 'I want my boy to train with you. We will never give you trouble — if something happens to him, if he gets hurt, we will not come after you.' I thought, who is this guy?"
The teenaged Xu Can was far from a prodigy. With no boxing experience whatsoever, he struggled to make an impression.
"I did not take him seriously at first," says Liu. "At that time, seven or eight kids like him would come to my gym every day. And many amateur boxers who wanted to become professional champions came to make money and change their lives."
Xu had to start at the bottom of the pecking order. "I gave him jobs to do — mop the floor, sweep the floor, collect fees," says Liu. "He didn't like it, but what could he do?"
But Xu persevered. He trained with such intensity, Liu became concerned. "I would tell him, 'you're training too much, you'll overtrain,'" Liu recalls. "He has a big, big heart. I soon saw that the boy is smart; he has talent, he has speed. Two years later, confidence came."
The Zixi native also benefited from his father's devoted support. Xu Xiaolong stopped making bread in Kunming so he could focus his attention on his son. Media later reported the father had to collect glass bottles on the street to support the family, but the reality was more complicated.
"I drove a motorcycle taxi to make a bit of money," says Xu Xiaolong. "The bottle recycling thing — that is what I told Xu Can. It was a ploy to make him train harder and focus on boxing … He went through periods of rebelling, and I was his coach, his psychologist."
Hard work was essential. Most boxers turn professional after learning the fundamentals — ring movement and defense — in the amateur game. Xu, who was desperate to provide his family with a better life, did not have that luxury.
"Xu Can went straight to the pros, like Mexicans do," says Liu. "Boxers who go pro … they have real motivation."
But Xu had to wait three years to make his debut. Boxers must be 18 to box professionally. For the teenager, it was a stressful period.
"I felt a lot of pressure," he recalls. "Our family didn't have much money … I thought, our family is having a really hard life, but I can't do anything to help."
Xu won his first two contests after turning 18, but lost the third. Then, a Chinese debutant, Bao Dong, handed Xu another defeat. His career appeared to be slipping away before his eyes.
The turning point came when Liu's team brought in a Filipino coach, Franklin Albia, to work with Xu. While boxing was still very new in China, the Philippines has a longstanding tradition in the sport.
"When I first met Xu Can, his record was 7-2 — not good," Albia recalls. "I taught him how to cut off the ring, proper stances, twisting the body on the punches for power, and gave him physical training so that he got stronger and could take the opponent's punches."
Under Albia's guidance, Xu made rapid progress. Though he lacked experience in the ring, he made up for it with his ferocious work ethic.
"He was a very tough, very hardworking guy," says Albia. "He had excellent stamina."
At 175 centimeters, Xu is tall for a featherweight. Normally, tall boxers utilize their reach advantage to stay outside their opponent's range while punishing them with shots. But Albia went against the grain.
He molded Xu, a naturally aggressive boxer with great endurance, into a pressure fighter, encouraging him to march forward and overwhelm his opponent with nonstop attacks.
The strategy worked and Xu's record improved to 16-2. All but two of his fights, however, had been in China. To get big fights and paydays, he needed to showcase himself in the home of professional boxing — the United States.
Xu got his shot at the big time when Golden Boy Promotions, owned by the American boxing legend Oscar de la Hoya, showed interest in promoting Xu's fights. But first, the prospect had to be given a test.
In Xu's weight category, such tests usually come in the form of Mexican journeyman fighters: grizzled, tough, and with nothing to lose. Xu was pitted against Enrique Bernaches, whose record was 24-10.
"It was in Las Vegas, eight rounds," Liu recalls. "We arrived just three days before the fight. Xu Can was jetlagged, but he won. Golden Boy was happy. We signed a contract."
The victory earned Xu a fight with Jesus Rojas, the World Boxing Association world featherweight champion. The match took place in front of a sellout crowd in Houston in January 2019.
Xu was widely considered the underdog, but pulled off a major upset. After a brutal tear-up, the judges awarded him a wide points decision over the Puerto Rican.
The announcement sparked pandemonium among the Chinese in the stadium. Xu's team wept as they held China's national flag aloft. China's consul general in Houston climbed into the ring to hug Xu. The young fighter felt a mix of exhilaration and defiance coursing through him: he had finally proved his doubters wrong.
"Many people did not think much of me — not only foreigners, but also some of us Chinese," he recalls thinking. "People said they supported me, but in their hearts they didn't think I could win that fight."
The commentators, despite mispronouncing Xu's name, were impressed by his strength. Xu had thrown nearly 100 punches per round — around twice the average in the sport. When asked what the secret behind his intensity was, Xu replied in halting English: "It is from China. I am Chinese!"
Now a world champion, Xu looked set to become a major star — not just in China, but globally. His all-guns-blazing style earned him the nickname "Monster" and made his fights an easy sell.
Xu defended his WBA title twice — knocking out Japan's Shun Kubo and then outpointing the American Manny Robles III — with both bouts shown by DAZN, the sports streaming service that has signed superstar boxers Canelo Alvarez and Gennady Golovkin. He used the prize money to buy his parents an apartment in Kunming.
"I was very grateful," Xu Xiaolong says. "I thought then, Xu Can has grown up; he gets it now."
But then, Xu's career suddenly derailed. In December 2021, while boxing in England, he suffered a surprise defeat against British underdog Leigh Wood.
Liu is convinced the chaotic buildup to the fight caused the upset. "We were supposed to fight in Los Angeles," he says. "Xu Can went to train in Miami, but the fight there got canceled because of COVID, and we took the fight in the U.K. at the last minute."
Xu, who speaks little English, had to travel to Britain alone. The stress of quarantine and preparing for the match by himself drained his energy. "He had nobody to talk to," Liu says. "He couldn't sleep properly."
An out-of-sorts Xu only fought in spurts, and was outpunched and outgunned. Though he rallied to almost put his British opponent away in the final round, seconds later Wood floored him with a counterpunch. The referee stopped the fight.
Back in China, Xu spiraled into a deep depression. It took him two months to recover from the pain of defeat and the loss of his world title, he says.
"My family, my parents, my fiance, and my training partners, they all comforted me," he says. "I was also training all the time. Training is the best medicine."
The "Monster" is now focused on becoming world champion once more. The first step of that journey will be a fight against the Mexican Brandon "The Little Lion" Benitez, who has an impressive 18-2 record.
If Xu wins that contest, which has been pushed back till the summer due to a late injury, he will get another title fight — and a chance to make history. No Chinese boxer has ever regained a professional world title.
But to Xu Xiaolong, his son doesn't have anything left to prove.
"Before we came to Kunming, I told Xu Can, 'A man who boxes shows what he is really made of. If he doesn't become champion, he's still a real man,'" he says. "I am a skilled baker. If he hadn't fought his way to success, no need to worry: I can make a living making bread."
Editor: Dominic Morgan.
(Header image: Xu Can (left) lands a punch on Japan's Shun Kubo during his world title defense in Fuzhou, Jiangxi province, May 2019. Anastasia/VCG)