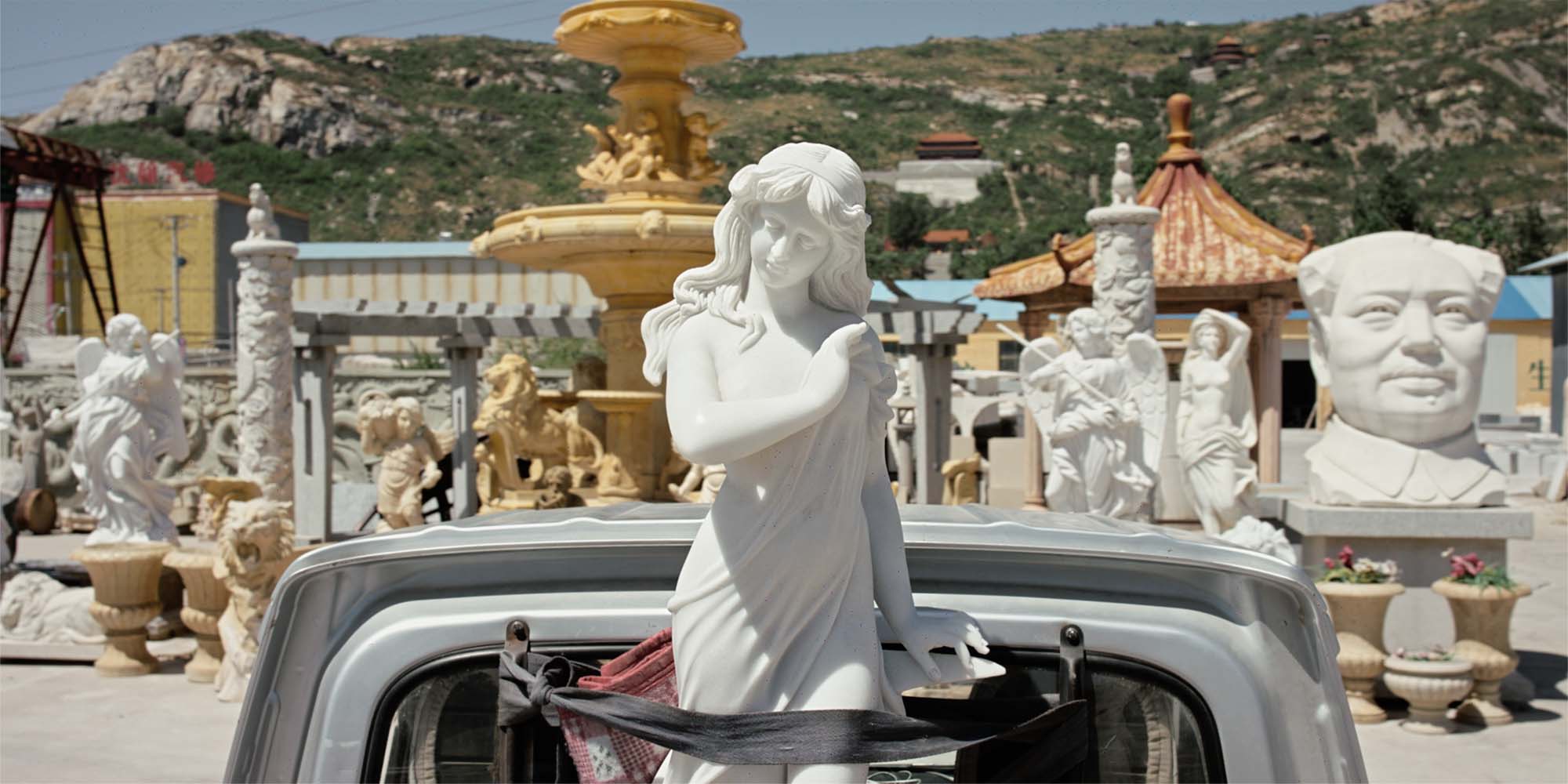 MULTIMEDIA
Review: Inside China's Venus de Milo Industry
A new documentary by Beijing-based director Sean Wang follows a luxury stone from Greece to Guangdong and back again.
It was the Venus de Milo that led Zhen Congda to a life working in marble and to the untold riches that followed. Not the famous sculpture attributed to the ancient Greek artist Alexandros of Antioch, but the one Zhen carved himself and took to a trade fair in Guangzhou back in 1986.
According to the sculptor-turned-factory owner, his version of the Venus de Milo was a sensation. Buyers demanded more copies, and similar work ensued. Soon, he was sending "hundreds" of shipping containers full of cheaplymade marble sculptures overseas every month.The rising middle class back home couldn't get enough of them either.
Beijing-based director Sean Wang tells Zhen's story in his latest documentary, "A Marble Travelogue," currently on the film festival circuit. It's a story about "the intersection and entanglement of the East and the West," the director writes in a statement.
The Greeks have been quarrying marble from their mountains since prehistoric times, and it helped lay the foundations of their earliest economies, as Athens' commanding ancient ruins attest.
As Wang shows us, marble is playing a similar role in China's own recent rise to global economic superpower. He charts the course of a trade that sees around 80% of Greece's raw and unprocessed marble exported to China.
Zhen stands proud as an example of contemporary China's economic reach, surrounded in his Quyang City, Hebei, home by copies of the Venus de Milo and Michelangelo's David, or outside in his storage yard by massive Chairman Maos.
Zhen also describes dilemmasthat softly question China's post-pandemic future, too:increased international competition from nations with cheaper labor and manufacturing costs has left him with row upon row of unsold sculptures.
Wang's documentary is full of such memorable images, as he follows massive marble slabs from when they are quarried in places such as the Peloponnese, to the factories and workshops of Quyang City and Shuitou Town in Fujian province, where they are fashioned into sculptures and household fittings such as bathroom sink tops. The debris from the sculptures is used to make souvenirs like fridge magnets, which are sent back to Greece for tourists — many of them Chinese in the pre-pandemic period of the documentary.
Wang places his cameras mostly in fixed field shots and as an almost completely silent witness to the marble trade and to the stories of an assortment of characters whose fortunes have been pegged to it.

"A Marble Travelogue" presents contemporary China via a rolling stream of images, an approach that echoes last year's Oscar-nominated "Ascension," and the likes of "Koyaanisqatsi" (1982) and "Baraka" (1992).
But "A Marble Travelogue" presents a very different experience thanks to its substance. Wang includes the voices of his subjects, allowing his audience to connect with the people we see in front of the cameras as they share insights into their lives. Where the mostly nonverbal "Ascension" and "Koyaanisqatsi"can feel like watching a natural phenomenon or automata, Wang's interviewees often feel like "us."
Take the Greek sisters Marianna and Sophia, who we first encounter helping furnish the tourist trade that has developed hand-in-hand with the Greece-China connection promoted as part of President Xi Jinping's Belt and Road trade master plan. We see again, later, scenes in the port of Piraeus, where the state-owned China Ocean Shipping Company (COSCO) has plans to invest $3 billion, an investment Xi has labeled the "head of the dragon" of China's investments in Europe.
We see these sisters shooting a promo video —in tone-perfect Mandarin—outside the Temple of Olympian Zeus in Athens, where they are hit on, quite hilariously, by a couple of eager Chinese tourists who claim they are only two hours off the plane. Later, the sisters are working at a trade fair in Beijing when an elderly local gent chances his arm in much the same way,and is brushed off in much the same good-natured manner.
"Do you have plans to marry a Chinese man?" he asks, to which one of the sisters replies, diplomatically, "It depends on a twist of fate."
These are very human, and humorous, exchanges, and these ladies present even a sly nod to use of the chorus that was common in ancient Greek drama as a device to connect and explain shifts in the narrative. The sisters pop up at intervals, mostly dressed in traditional white, and they, too, connect the various paths Wang's narrative takes us on, as we travel from Greece to China and back again.
Then there's also the family we see painting thousands of marble trinkets lined up on factory tables in Quanzhou. There are children working with their mothers, but seemingly also at play while they do. It's a sight that is always uncomfortable to witness on screen but it's also unmistakably a fact of life in rural China.
"I have no time for vacation," says one young girl, who looks to be aged around 12. Her mother immediately agrees: "You aren't a kid anymore. You should think about making money."
Again, Wang connects us with his subjects by simply listening to them, particularly to that young girl working among the trinkets with her mother, who seems full of hope, and life. There's a postscript while the credits roll that also gives pause for thought, this time as a couple look at their marble bathroom, and talk about how lucky they are to have bought when they did, now that no one knows where anything is headed, post-pandemic. And these are moments — like many in "A Marble Travelogue" — that feel universally human.
Editor: David Cohen. 
(Header image: Still from "A Marble Travelogue." Courtesy of Sean Wang)