A Chinese LGBT organization is experimenting with a new coming-out strategy.
Trueself, formerly known as PFLAG China, aims to guide and educate those willing to open up about their sexuality to family, friends, and peers through the "A Journey to True Self" kit. Priced at 99 yuan ($15), the set comes with a range of coming-out tutorials and a step-by-step guide, and will soon be available for sale.
"It won't be a one-size-fits-all package, but it will be a gift to discover one's true self," Hu Zhijun, founder of Trueself, told Sixth Tone days before the International Day Against Homophobia, Transphobia and Biphobia which takes place on May 17 every year.
Attitudes toward sexual minorities in China have become relatively tolerant in the past decade, especially among younger demographics. While the LGBT community has become more visible, a growing backlash and shrinking discourse have, however, raised concerns over the community's rights.
Hu said limited awareness often prevents people from revealing their sexual orientation or gender identity, while some fear their decision could potentially harm family dynamics. A 2016 survey found that only 5% of those who identify themselves as lesbian, gay, bisexual, transgender, or intersex chose to disclose their sexuality.
Shawn, who identifies himself as gay and only gave his English name for privacy concerns, told Sixth Tone he was willing to try the Trueself kit. The 26-year-old said there was a lack of guidance to help open up about one's sexuality, adding he feared confronting the issue amid mounting personal questions from his parents.
"It's already difficult to start with, but it gets harder not knowing what is right and what is wrong during the process," he said, adding he was still unsure about coming out and whether he would hurt his parents' feelings when doing so.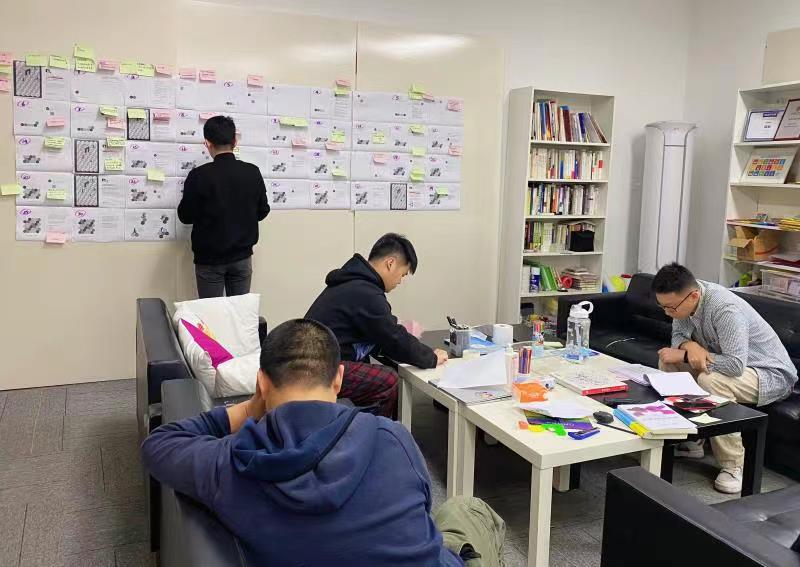 Trueself staff testing "A Journey to True Self" kit at their office in Guangzhou. Courtesy of Trueself.
Trueself's "A Journey to True Self" package consists of various merchandise, including a planner, a pack of cards with 50 frequently asked questions often asked by parents, and testimonies from other gays and lesbians who have opened up to their families and friends.
In multiple steps, the kit aims to help individuals from becoming self-aware and opening up to a close confidant to finally writing a letter confirming their sexuality.
"The ultimate goal is to seek growth in your best efforts, although in the end, you might not achieve what you want or what others have," Hu said. "As the journey unfolds, some will realize they've stigmatized their gender identity and reject the possibility of a more positive relationship with their loved ones from their past."
Cui Le, a PhD student at the University of Auckland researching queer issues, said there were many reasons discouraging individuals from coming out, such as limited awareness, conforming to social norms, and pervasive discrimination and hostility against the queer community. However, he added that coming out to family members should not be assumed as a must for every queer individual.
"Choosing not to come out after careful consideration may be a rational decision, and it shouldn't be assumed as struggling with gay shame or lacking their agency," Cui told Sixth Tone.
Hu from Trueself said that the organization aims to provide counseling sessions and meetups, though COVID-19 restrictions have disrupted most of the in-person events. He said that the organization was offering the "A Journey to True Self" kit as an alternative, as an increased number of calls to Trueself's hotline have involved issues with coming out and self-acceptance amid the pandemic.
According to Trueself, it took six months for their team to develop the "A Journey to True Self" kit. The organization consulted and surveyed LGBT individuals, their family members, and gender and sexuality experts for the initiative.
James Yang, a LGBT program officer at United Nations Development Programme China, said the kit will provide practical tools and guidance especially for gay men who intend to come out but feel a lack of reference, based on the organization's years of local consulting and experience.
"We need those institutions and organizations to keep motivating and empowering the LGBT community, as improving the coming-out situation entails long-term efforts and support across different sectors in society," he said.
Hu said organizations like Trueself will continue to organize offline events to educate people in and outside the LGBT community, though this is becoming increasingly difficult. He said new strategies like "A Journey to True Self" would also help those living in remote areas who have limited opportunities to participate in events usually hosted in bigger cities.
"If 20 out of 100 people find it useful, the product will have proved its worth," Hu said. "But we will increase that with our efforts."
Editor: Bibek Bhandari.
(Header Image: A sharing session for LGBT individuals and their families organized by Trueself in June 2019. Courtesy of Trueself)