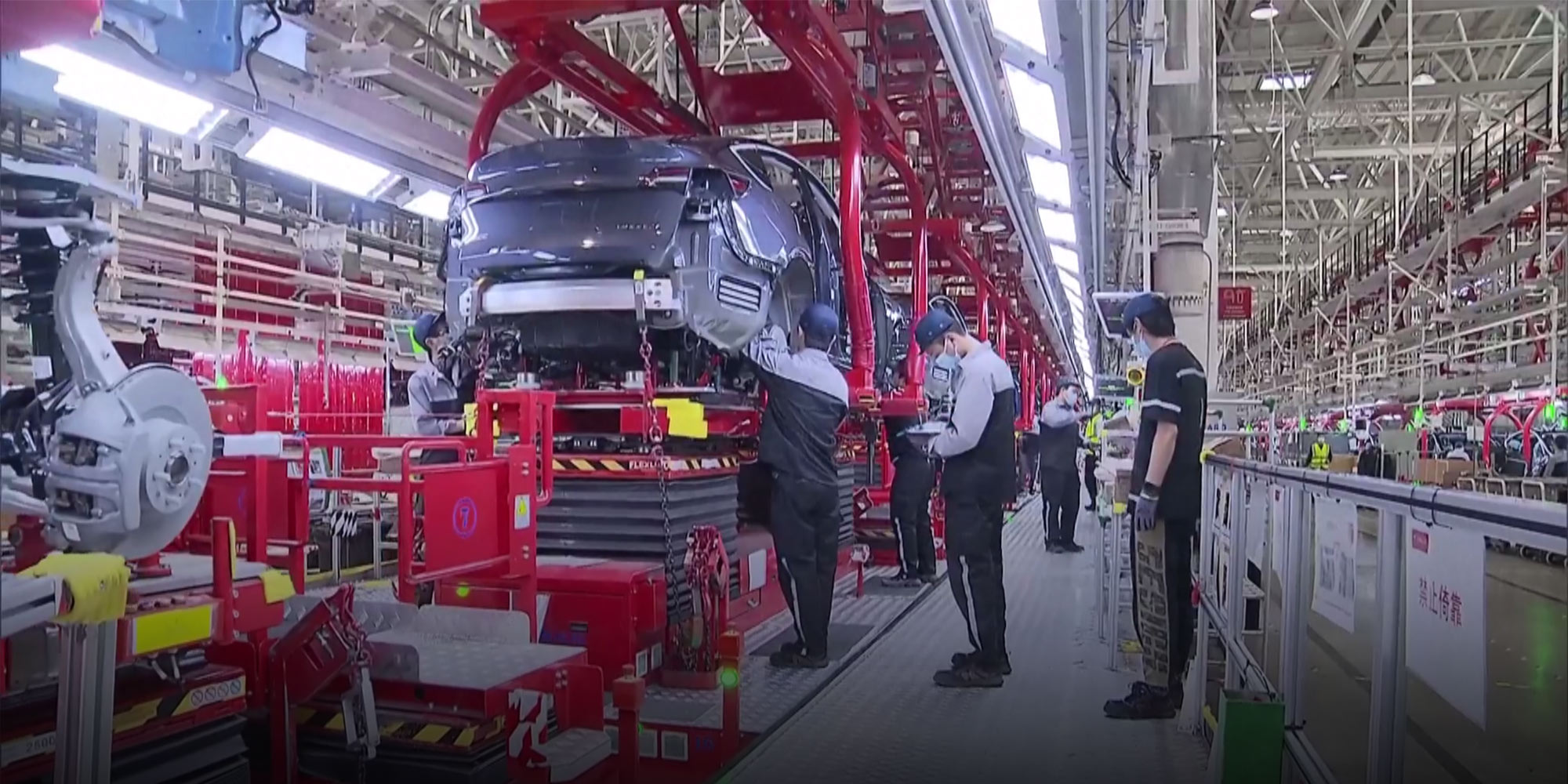 NEWS
Tesla Finds Reopening In a Closed City Isn't Easy
As many auto factories are cleared to reopen, they need to find parts and workers.
"Industrial production is a continuous process...Even if just one raw material out of the ten runs out, you have to stop," Zhao Lei, a senior executive at a global sealing technology company, told Sixth Tone.
Tesla's Shanghai Gigafactory cut most production this week, days after resuming on April 19, Reuters reported Tuesday, citing an internal memo.
The city government gave the green light for 666 companies, including Tesla, to resume production on April 16, of which 40% were automakers and related companies. But industry insiders say companies like Tesla are struggling to operate in a closed city, for reasons ranging from supply chain disruptions to missing workers.
Tesla's problem appears to be securing car parts. Aptiv, a vehicle component manufacturer, stopped shipping some parts from a Shanghai plant that supplies Tesla and General Motors over the weekend, after COVID-19 cases were found among its workers, Reuters wrote on Monday. Tesla didn't reply to Sixth Tone's request for a comment by the publication time.
The Shanghai Gigafactory was closed for 22 days following the lockdown in Shanghai, reducing output from around 60,000 units per month to 10,757 in April. "They would normally ship the April production to Europe, but they didn't ship anything that month," Tu Le, managing director of consultancy firm Sino Auto Insights, told Sixth Tone.
Tesla's Shanghai factory was reported to have loaded 4,767 electric cars onto freighters Wednesday, headed for Singapore.
The auto industry relies on a web of specialized factories producing different components of a finished car. "We've only recovered 20% of our capacity in April," said Zhao, whose company is part of Tesla's supply chain. The enterprise managed to keep some of its staff in the factory when the city imposed a comprehensive lockdown at the end of March, and further reopened on April 21 after getting the green light from the local government.
Wang Jianfeng, a department head at Zhao's company, has been living in a meeting room for the last month and a half. He told Sixth Tone that he worked over 12 hours per day amid the closed production and has had to take over the work of absent colleagues.
"I know we (the enterprise and the employees) are in the same boat," Wang said. "I've missed my wife and children despite having calls with them on a daily basis."
Production could be brought to a halt if a single kind of raw material runs out, Zhao said, telling Sixth Tone that some production lines could only last for two to three weeks if supply chains are cut.
Zhao said he has been working in the factory together with his workers since the enterprise reopened in late April, spending most of his days attending meetings and contacting clients and suppliers.
Even if a supplier is working, moving the parts from one factory to another can be a major challenge. The government issued permits allowing manufacturers to hire designated drivers and vehicles.
But Zhao said he's desperate for logistics companies to return. Hiring his own fleet of trucks can only support short-distance journeys, and costs are very high due to a shortage of drivers.
"For larger enterprises, they will come to the factory and pick up the goods on their own," Zhao said. Logistics got "a little better" in May, as major delivery enterprises gradually resumed business, and the company obtained a permit at the beginning of May.
Zhao added that transporting some special raw materials such as dangerous chemicals required an additional permit for transportation, thus creating a lot more difficulties in finding a suitable driver. Since those dangerous chemicals can't be stored in large amounts, that also increased risks of crippling the production line.
A shortage of workers is also hobbling the reopening progress. According to work resumption guidelines, workers need a negative COVID-19 test result from within the past 48 hours to return, and the building they live in must have reported no positive cases for seven days. Once they leave home, they won't be allowed to return.
Zhao said the implementation of the policy varied by neighborhood, with local authorities imposing tougher restrictions. The company managed to bring around a quarter of its workforce before being cleared to reopen, and around 30% as of now.
Zhao added that workers have been eager to reopen and voluntarily worked overtime in return for extra wages, but he expressed concerns that the stress of being cooped up for a long time has affected the mental wellbeing of individuals and caused work efficiency to drop.
Editor: David Cohen.
(Header image: Workers at Tesla's Shanghai Gigafactory, April 19, 2022. VCG)