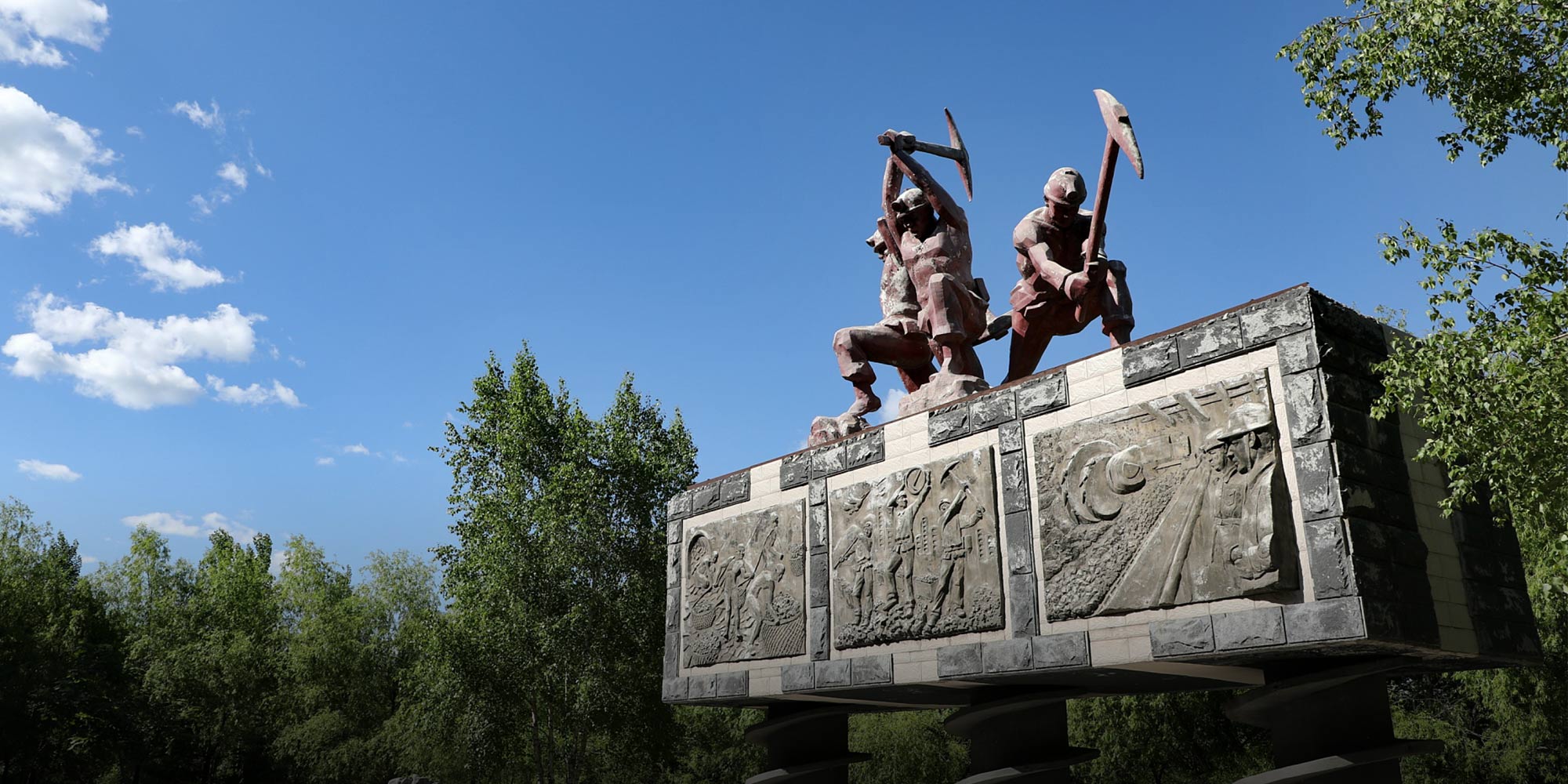 SIXTH TONE ×
Coal, Once a Boon, Turns Chinese Rustbelt City Into a Bust
As the golden years of mining fade, the resource-depleted city of Hegang is struggling to survive.
When internet giant NetEase Inc. offered a free apartment in Hegang city as part of a marketing gimmick to promote online game Nishuihan, it was a sign the once-prosperous coal-mining hub in Northeast China had reached rock bottom.
The winner was even given the option of cashing in the 89-square-meter or larger apartment for 50,000 yuan ($7,858), just in case they didn't fancy moving to the city — with a population of 891,271 at the last census — located in Heilongjiang province and some 50 kilometers southwest of the Russian border.
Many of the 1 million people who entered NetEase's giveaway in March posted comments on Nishuihan's social media account wondering just how an apartment could be that cheap. In Beijing, China's capital, homebuyers would be lucky to get 1 square meter for 50,000 yuan. The average price of a second-hand home in Hegang has been stagnant at around 2,000 yuan per square meter for the past few years and in April was the lowest among 312 cities monitored by Qingdao Xitai Real Estate Data Co. Ltd.
But Hegang's depressed property market is just one symptom of the hardship that's befallen the city over the past decade as the coal industry boom of the 2000s and early 2010s turned to bust. Once a major source of Hegang's prosperity, coal has become its nemesis — the typical story of an industrial monotown, where a single company or industry that dominates its economic life goes into decline.
The local government's coffers, once awash with tax revenue from state-owned coal companies like Heilongjiang Longmay Hegang Mining Co. Ltd. and Hegang Mining (Group) Co. Ltd., are running low, and the city's been forced into a fiscal restructuring to dig itself out of a financial hole. The shakeup, which is supposed to involve a big cut in public spending, even forced the city to scrap a government hiring plan at the end of last year.
Thriving on coal
Hegang boomed during the coal industry's "golden decade" from 2003 to 2012. Its GDP expanded by more than 10% every year, and exceeded the provincial and national growth rates almost every year. Mining dominated the economy — in 2005, almost two-thirds of the GDP growth reported by the Hegang statistics bureau came from the secondary sector. Fiscal revenue that year surged by a whopping 63.7% as coal company profits boomed. In 2008, taxes paid by the coal industry accounted for 65% of Hegang's fiscal revenue.
But dependence on mining was storing up trouble for the future — something Hegang's government was well aware of. Then-mayor Zhu Qingwen told the city's annual legislative session in January 2007: "Coal is the single dominant industry; there's limited room for development and limited capacity to weather market risks."
Zhu's work report outlined an ambitious plan to transform the local coal industry by shifting the focus to processing from mining, and to develop other industries such as food, forestry, graphite, logistics, and tourism, to reduce the economy's dependence on mining. The mayor posited that within five years, the economic output of non-coal industries would double.
But despite the promise of an industrial revamp, little progress was made and Hegang's slow descent into an economic and financial quagmire began. The tipping point came in 2012 when the coal industry entered a downturn. That year, Hegang still reported GDP growth of 13.5%, but its fiscal revenue declined 0.4%. In 2013, the city's GDP fell 9.5% — with output from agriculture, industry, and services all falling — while fixed-asset investment slumped 12.9% and fiscal revenue plunged 17%. The economy contracted again in 2014, by 9.7%, government data show, although it recovered in 2015, growing by 4%.
By 2019, Hegang's plight had become desperate and then-mayor Wang Qiushi warned in his work report to the local legislature that "we must realize that if coal is still in the lead, the city will inevitably decline, and we must enhance the sense of crisis and urgency for transformation and development."
That year, Hegang's fiscal revenue missed its target partly due to the financial and operating problems at Longmay Hegang and Hegang Mining (Group) — both controlled by Heilongjiang Longmay Mining Holding Group Co. Ltd. — and a Heilongjiang Longmay branch, which together contributed 37.2 million yuan less in taxes that year. The shortfall was exacerbated by the central government's tax and fee reduction policy. Hegang only achieved 95.3% of the fiscal revenue goal it set at the beginning of the year, but its expenditure was 46.6% above target.
By the end of 2021 the fiscal situation had reached crisis level, forcing the city to cancel its annual recruitment plan for lower-level government workers. In its report to lawmakers in January, the city's finance department warned that "the (fiscal) revenue situation is not optimistic" and that the budget faced "operational pressure." It pledged to increase revenue in all possible ways, cut spending and "explore ways to collect the unpaid taxes of Heilongjiang Longmay."
Resource-depleted cities
Hegang's plight is not unique. China has 69 resource-depleted cities and regions (hereafter referred to collectively as cities), where 70% of estimated reserves have been extracted, or at the current pace of exploitation, reserves will be exhausted within five years.
The State Council, China's cabinet, approved a list of 12 such cities in 2008 and the National Development and Reform Commission (NDRC) told provincial governments to formulate plans to transform their local economies and put them on the path of sustainable development, promising financial support from the central government. Another 32 cities were added to the list in 2009 and Hegang was one of 25 cities included in 2011, taking the total to 69. In 2013, the State Council announced a sustainable development strategy for 2013-2020 for 262 resource-based cities to help them plan for the future, overcome the structural decline of their industrial base and tackle the associated economic and environmental problems.
Research by analyst Zhou Yue at Zhongtai Securities Co. Ltd., published in March, highlights the common characteristics of the 69 resource-depleted cities — low GDP growth, high dependence on agriculture and heavy industry, and weak services sectors. They lack the type of industries that can sustain growth and many don't have enough fiscal revenue to finance their spending obligations. They also have the burden of having to pay for their urban transformation plans which include employment support, environmental protection, and investment in science and technology, Zhou wrote.
The general public budget is the main component of a local government's overall fiscal resources and it finances current spending. From 2017 to 2021, Hegang's general public budget revenue — collected mostly from various types of tax — ranged from 2.3 billion yuan to 2.8 billion yuan, around 20% of the 11.1 billion yuan to 14.3 billion yuan it spent on public services and government operations. The gap was filled mainly by transfer payments from higher-level governments.
The city was also struggling with the budget for government-managed funds, whose revenue comes mainly from the proceeds of local land sales and which finances capital expenditure. It relied heavily on transfer payments to plug the shortfall — in 2020 it received 486.3 million yuan in transfer payments, more than double the 211 million yuan it raised locally. But spending amounted to 1.2 billion yuan. The situation deteriorated in 2021 when revenue from land sales plummeted 56.6%, according to Zhou.
Subsidies from higher-level governments are set to fall this year, dropping 40.9% from 2021 to 5.7 billion yuan in the general public revenue.
Hegang's debt-to-fiscal resources ratio exceeded 300% in 2018 and rose to 522.3% in 2020, according to Zhou's calculations. That compared with around 100% for local governments overall, according to figures given by a Ministry of Finance official in December 2020. The ratio measures debt as a percentage of what's known as "comprehensive fiscal resources," which includes on-budget local fiscal revenue, transfer payments, land sales proceeds and some off-budget revenue.
Hegang is a victim of the "resource curse," said Xiao Jincheng, a scholar at a research institute affiliated with the NDRC. It made little effort to transform its economy during the boom times when it had the money, and when the bust came, local government finances suffered and the coffers were empty. As an old northeastern rustbelt city, attracting new business and talent was especially difficult, he said.
That's not to say Hegang didn't try. As home to three national forest parks and a wetland nature reserve, it made efforts to develop the tourism industry, but was held back partly by the government's financial difficulties.
Officials also turned to another natural resource to help revive the city's fortunes — graphite, a mineral used in products including electric-vehicle batteries, lubricants, and the cores of nuclear reactors. The Heilongjiang government boasts that Hegang is home to Asia's largest graphite deposits and in 2016, the city's mayor pledged the resource would become a new driver of the city's transformation. The plan was to build two production bases, two parks for processing and development, and one technology development and application center.
In December 2019, state-owned mining and minerals trader China Minmetals Corp. set up a graphite subsidiary in the town. But it's early days. In 2020, the value-added output of the graphite-related industry only accounted for 17.2% of the total value-added output of industrial enterprises with annual revenues of 20 million yuan or more in the city, according to an industry development plan published by Hegang in 2021. The share of the value-added output of coal mining and washing that year was 65%, a Hegang official said in June 2021.
Cutting expenditure
As well as working to boost the economy and tax revenue, Hegang needed to cut spending as part of its fiscal restructuring. Expenditure from the general public budget fell 11.4% in 2021 and the 2022 budget plan promised to cut spending by a further 4.7%, although the city has guaranteed to continue outlays on important projects including the Guanmenzuizi reservoir, and the Jiahe high-speed railway.
Hegang's long-term future is also clouded by an ageing population and outflows of working-age people in search of jobs and higher wages. These factors are making it harder for the city to fund its pension and social welfare obligations. The number of city dwellers receiving pensions in the past five years was 169,000, according to the mayor, Wang Xingzhu, in January. That's only 15.7% less than the number of workers and residents contributing to the local state pension fund in 2020, data from the Hegang statistics bureau show.
The funding strain caused by the aging population is being exacerbated by the outflow of working-age people — census data show that from 2010 to 2020, the number of residents living in the city fell 15.8% to 891,271. The share of 15-59 year-olds in the overall population dropped from 74.6% to 67%, while the proportion of those aged 60 and over jumped by two-thirds to 24.3%.
In 2020, Hegang's revenue from contributions to social insurance funds, which consist of basic pension funds, basic medical insurance and other social welfare funds, was 2.5 billion yuan, but spending was 7.6 billion. Hegang's budget report doesn't show how the gap was filled.
The city's fiscal resources are being stretched further because of the burden of rescuing Longmay Hegang. Since 2016, the city had helped the state-owned firm resolve 25.1 million yuan of debt it owed to the Hegang government, Chen Yanliang, a deputy mayor, told a press briefing in June 2021, without giving further details. The local authority had also helped resettle 5,805 former employees in other jobs, and handed out almost 500 million yuan in work and social insurance subsidies, Chen said.
Experts say cities like Hegang face a bleak future. Their populations are unlikely to recover and they will find it difficult, if not impossible, to fill the gap in their economies left by their depleted natural resources.
A recent study by Zhang Chewei, director of the Institute of Population and Labor Economics at the Chinese Academy of Social Sciences, found the exodus from the northeast rustbelt started in 2010, some 15 years before the national population reaches its inflection point and starts to decline. He told a conference in March that the shrinking trend is inevitable, not only for the northeast, but other regions of the country.
Drastic option
Xiao, the scholar, isn't optimistic either. Generally speaking, resource-depleted cities have three options. One is to follow a "hub and spoke" model of urban development, where the city becomes a regional industrial hub linking to smaller satellite towns and cities, similar to Baotou in Inner Mongolia. Another is to become a functional urban area — a lower-level administrative area that becomes a district of a larger nearby city — similar to Dongchuan in Yunnan province, which was downgraded into a county-level district in the provincial capital Kunming.
The third option, and the most drastic, is to close all the mines down and relocate workers to other regions once the resources are exhausted. The old mines and related facilities can then be developed into industrial tourism sites. One example of such a transformation is the Big Pit National Coal Museum in Wales which is now part of the European Route of Industrial Heritage.
Local government officials also need to change their mindset and improve the business environment to have any chance of attracting entrepreneurs and new sectors to turn their economies around, according to Xiao and a lawyer who worked on a failed tourism project in Hegang.
The common approach of many governments in Northeast China is to choose which industries they want to attract, but this should be left to the market and to the companies that want to invest, Xiao said.
The lack of a supportive business environment has made private companies reluctant to get involved in public-private partnership projects with some local governments, the lawyer told Caixin.
Private investors see potential in a project, do the financial calculations and agree to go ahead, he said. But as the project progresses, it hits obstacles and often gets into trouble because of the poor business environment and the government's failure to honor the promises it's made. These issues have made private investors very wary of getting involved, he said.
Reporters: Cheng Siwei and Zhang Yukun.

This article was originally published by Caixin Global. It has been republished here with permission.
(Header image: A statue of miners in Hegang, Heilongjiang province, 2019. VCG)