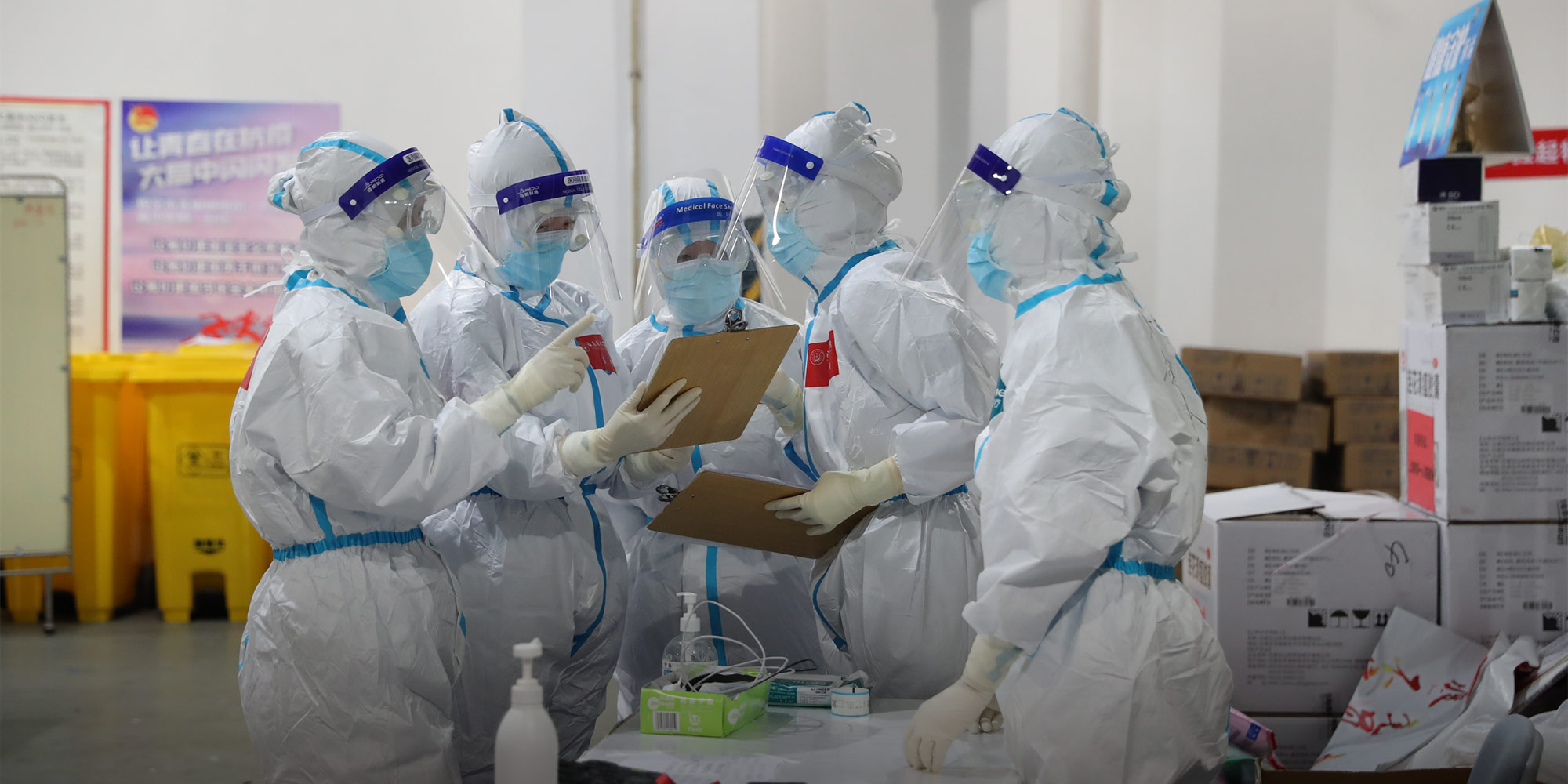 VOICES & OPINION
Behind China's Nurse Shortage, a Lack of Respect
Nurses have played a crucial role in the country's anti-pandemic campaign, but they're often overlooked, both inside and outside hospitals, in favor of doctors.
Every time China's COVID-19 case count surges, the country's medical workers are the first into the breach. In the two months since cases started spiking in Shanghai, more than 50,000 doctors and nurses from the city and across China have been mobilized to help. They've worked day and night to curb the spread of the virus, test residents, monitor asymptomatic patients, and treat the sick.
Media coverage of such mass mobilizations tends to focus on doctors. Yet it is nurses who have borne the brunt of the pandemic. When the coronavirus first emerged in the central city of Wuhan in early 2020, nearly 70% of the 26,500 medical aid workers sent to the city were nurses. Two years later, in Shanghai, nurses comprise the bulk of teams responsible for testing the city's 25 million residents. They also staff the city's vast network of temporary shelter hospitals and isolation sites, where they're responsible for everything from caregiving and responding to complaints to changing bedsheets.
Now, as the pandemic drags into its third year, mounting workloads and a lack of recognition have many nurses feeling both physically and mentally burned out. That could have long-term ramifications for China's already overburdened health care system.
Many of the profession's problems predate the coronavirus. In hospitals, the difficult and risky work performed by nurses has long gone overlooked. There is a popular saying among medical professionals in China: "Doctors talk, nurses walk." Doctors conduct diagnoses, decide on treatments, and issue advice, but it is typically nurses that carry out the actual procedures.
In interviews, some nurses told me they walk 20,000 steps per day, even in smaller wards. Their workloads are compounded by chronic staffing shortages. In 1978, the Ministry of Health stipulated that nurses should be expected to watch over 2.5 beds each in general hospitals. It also called for hospitals to hire two nurses for every doctor. In reality, the doctor-nurse ratio in China has long been upside-down. In 1980, there were 4.69 beds and 1.52 doctors per nurse. Although matters have improved somewhat over the past decade, in 2020, there were still just 1.5 nurses for every doctor — well below the standard outlined in 1978 — and just 3.35 nurses per 1,000 people. That's less than half the rate found in the United Kingdom, and a quarter that of Germany.
Driving the nursing shortage is a lack of professional respect and social status. This is only getting worse. Whenever I interview nurses and nursing students, I always start by asking why they wanted to study nursing or chose this profession. Most middle-aged or former nurses explain that it was an active choice — they either decided on their own to study nursing, or did so at the suggestion of family members.
For younger nurses and current nursing students, the "choice" of nursing is often passive. In recent years, the education level of nurses has improved markedly; more than 70% of nurses now have college diplomas or higher. But there has not been a corresponding rise in social recognition for the profession. Many young nurses and students told me that their first choice was clinical medicine, but that they were "unfortunately" transferred to nursing courses because their scores were not high enough. Their families and friends are rarely supportive: Why would anyone study nursing when they've entered a good university? Don't nurses just deal with injections and dispensing medication?
These attitudes reflect the low social prestige and professional status enjoyed by nurses. Families with ordinary economic conditions, few social connections, and kids with average test scores are more likely to consider nursing a stable career choice. However, members of the middle class and above do not want their sons and daughters to become nurses. Too many see nursing as a service job, where they will be bossed around by patients and doctors. It is not a profession that commands respect.
Public hospitals' staffing strategies aren't helping either. Many hospitals still do not offer job security to their nursing staff, which leads to frequent turnover and pushes many nurses out of the profession altogether. The number of bianzhi — or full-time official staff positions — accorded to nurses has failed to keep up with staffing needs. To close the gap, hospitals have begun recruiting contract nurses. A nationwide survey of nurses in Chinese hospitals in 2016 found that contract nurses comprised as much as 54% of nursing staff at some institutions.
Contract nurses typically perform the same work as their official counterparts, but for less pay, causing frustration and resentment. This two-track employment system also deters nursing students from sticking with the profession. After graduation, many students instead opt to become dietitians, nannies, or psychological consultants, or move into other fields, such as insurance sales or the pharmaceutical industry. Those that do choose to go into nursing often change careers or transfer within hospitals after just a few years, becoming administrators or social workers, in part because of the difficulties they face getting promoted, the high pressure of the job, and frequent night shifts.
Often overlooked, qualified nurses play a critical role in the provision of high-quality medical care. In the words of a 2020 World Health Organization report, "Annually, more than 8 million deaths in low- and middle-income countries are attributed to poor-quality care. Nurses can and do contribute to improved quality of care, and to patient safety through the prevention of adverse events."
Looking ahead, China's aging population — to say nothing of the creeping normalization of nucleic acid testing and other pandemic prevention work — means the demand for nurses will continue to rise. The country's "Healthy China 2030" roadmap calls for there to be 4.7 registered nurses per 1,000 permanent residents within 10 years. If we take the 2020 figure of 3.35 nurses per 1,000 residents as a baseline, China will need to hire an additional 2 to 3 million nurses by the end of the decade — before accounting for turnover. Hitting that goal will require improving the reputation and social status of nurses. It will also mean reforming hospital practices to better reflect the valuable role all medical workers, not just doctors, play.
Translator: David Ball; editors: Cai Yiwen and Kilian O'Donnell.
(Header image: Nurses work at a "fangcang" shelter hospital in Shanghai, April 11, 2022. Liu Xiaojing/VCG)