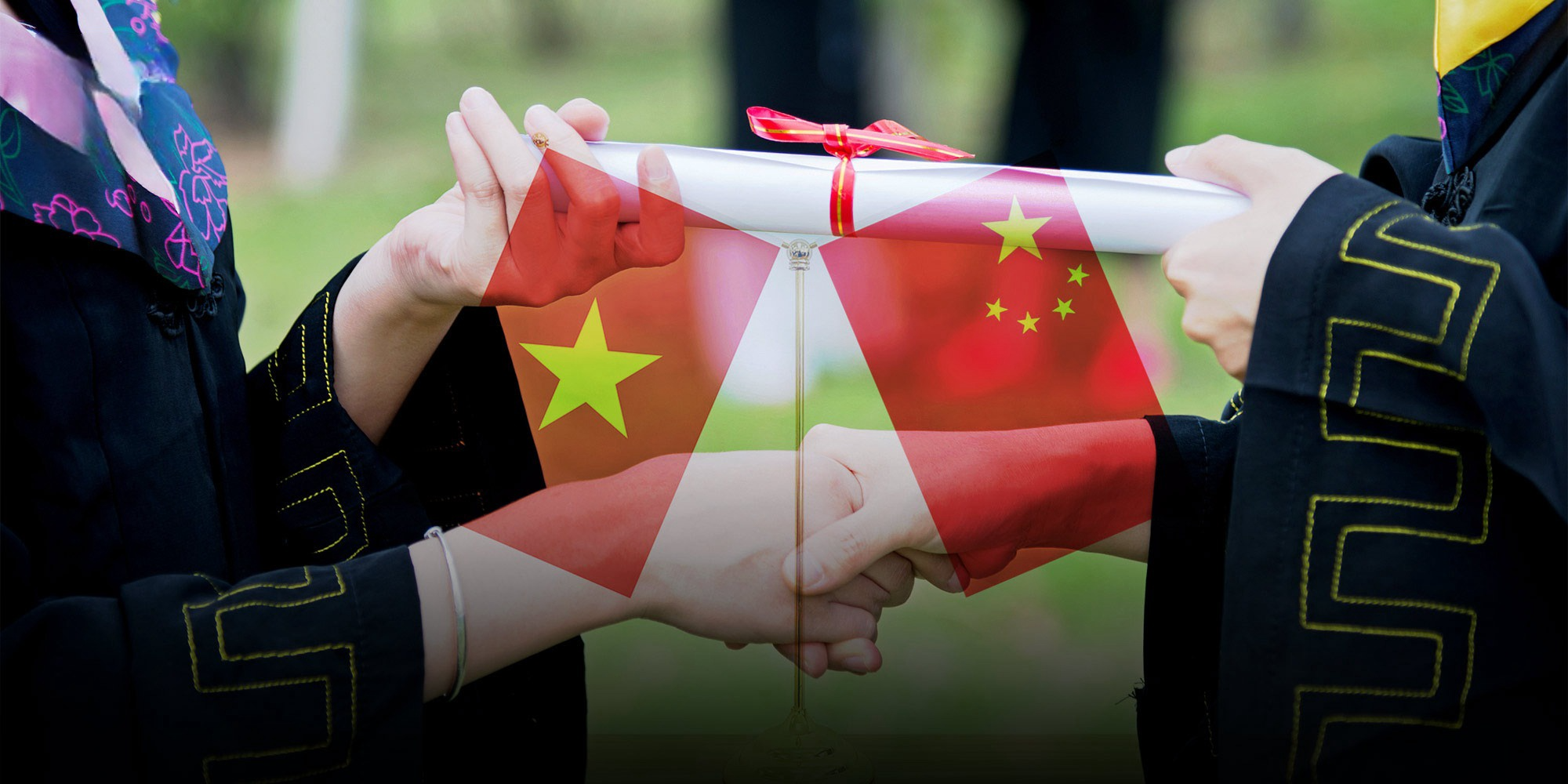 FEATURES
How Foreign Students Are Cheating China's College Admissions System
In Vietnam, students are using connections and fake documents to access lucrative Chinese government scholarships. Many are woefully underqualified.
Thuy felt her chest tighten as she read through the document on her laptop. The 24-year-old was sitting the first end-of-semester exam for her master's degree in public policy at a Chinese university. And she couldn't answer a single question.
Like other international students at the college, Thuy was taking the test remotely from her hometown, in northern Vietnam. China has barred foreign students from entering the country since mid-2020 as part of its "zero-COVID" policy. While she feverishly scanned the text, her professors watched her every move via a video call.
After a few minutes, Thuy realized the situation was hopeless. She spent the remaining time writing out the exam instructions again and again to fill up the page. She did the same thing in her second test a few days later. 
The student's exam meltdown was hardly surprising. Thuy is far from fluent in Chinese. She often struggles to follow her lectures, which are three hours long and delivered entirely in Mandarin. Plus, she has little interest in public policy. When she began revising for the tests, which took place in late January, she recalls being baffled by the slide decks. 
"Everything was alien to me," said Thuy, who spoke to Sixth Tone using a pseudonym to protect her privacy. 
In reality, Thuy isn't remotely qualified to study at her college — a respected school in the Chinese capital. Like many international students enrolled at Chinese universities, she didn't earn her place on merit. She paid for it. 
In Vietnam, buying admission to Chinese university programs — and lucrative government scholarships — has become common in recent years. Dozens of businesses have emerged to facilitate the trade, which leverage connections inside Chinese universities to help clients get selected. 
The companies are enabling large numbers of Vietnamese students to obtain degrees from Chinese colleges they're not qualified to attend. Many of them — like Thuy — are ill-prepared for the programs and struggle to keep up with their Chinese classmates. 
Yet Chinese universities, which are incentivized to boost their numbers of overseas students, often appear to be turning a blind eye to the issue. International students told Sixth Tone their professors go out of their way to give them a passing grade — even if they barely answered any questions in their exams.
Fake applications
Thuy decided to apply for a postgraduate program in China in 2019, soon after completing her bachelor's degree at a university in Hanoi. Her main reason for applying was that she wanted to improve her Chinese language skills, she said.
Chinese speakers have become highly sought after in Vietnam, as a growing number of multinationals shift their manufacturing operations from China to Southeast Asia. This is even more prominent in smaller Vietnamese cities like Bac Giang, Thuy's hometown, where people with Chinese language skills are rare.
Plus, China had other advantages. It offered an affordable cost of living, proximity to Vietnam, and a certain prestige due to the growing reputation of Chinese universities. Even more importantly, China offers generous scholarships to thousands of international students each year, which are each worth tens of thousands of dollars.
By 2018, China had emerged as Asia's top study abroad destination. Around 13,500 students from Vietnam enrolled at Chinese colleges in 2020, more than any other country apart from the United States, Japan, South Korea, and Thailand.
But Thuy had a problem: her poor academic record. She had graduated from a low-ranked Vietnamese university with a GPA of just 3.0. She knew that winning a full scholarship would be an uphill battle, let alone gaining admission to a college in a major Chinese city. 
Things changed when Thuy's classmates recommended she consult an agency. These businesses have flourished in Vietnam over the past decade. They're usually registered as Chinese language learning centers, but they also offer an extra service: assisting students with their Chinese college applications.
Thuy did some research on Facebook, and found many language centers advertised scholarship application services. Several were up-front about what they offered: in exchange for a high fee, they would provide students with all the application materials they'd need. Success was guaranteed.
Eventually, Thuy decided to use a language center in Hanoi, which was run by a lecturer at Hanoi National University. It was known on Facebook as Tieng Trung Thay Hung. 
"I asked for information at many different centers in order to compare the prices," said Thuy. "That one was credible and relatively cheap."
Thuy reached out to the agency, and she was assigned a "mentor" who would shepherd her through the application process. She then attended an in-person meeting with her mentor, who explained how the service worked.
In exchange for $4,000, the mentor would help Thuy apply for the China Scholarship Council scholarship — a Chinese government scheme that provides foreign students with a full waiver of tuition fees (typically worth $3,000 to $4,500 per year), free accommodation, and a monthly living allowance of around $470.
Thuy would need to create an account on the CSC website and upload documents to the portal. The mentor would handle the rest. He would write her a study plan, obtain recommendation letters from two Chinese scholars, and ensure Chinese officials bypassed the interview process. If Thuy failed to win a scholarship, the agency would refund half her fee.
There were some limits to what the agency could achieve. As Thuy had only passed the HSK 5 Chinese language proficiency test with an average score, her mentor said she was unlikely to be accepted by a university in Shanghai — her preferred destination. He also advised her to apply for a public policy program, as they tend to be less competitive.
Still, the mentor said Thuy could choose to apply to a range of universities where he had connections, including institutions in Beijing, Hangzhou, Suzhou, and Tianjin. She opted for a Beijing university with a decent ranking.
According to Thuy, she was quite nervous when she handed over the first payment of $2,000. She had read some stories about online fraudsters posing as language center mentors on Facebook.
But everything went smoothly. Within a week of the money being transferred, she received a high-quality study plan and two letters of recommendation. Not long after, she was accepted by the university on a full CSC scholarship.
"All I had to do was to fill in an online application form," said Thuy. "Then, I uploaded the stuff that had been prepared for me."
Thuy later helped her younger brother gain admission to a bachelor's program at a university in the southwestern megacity of Chongqing using a similar service. The second language center, named Ha Ninh, offered the same package for just $2,000.
In total, Thuy estimates she and her brother received Chinese scholarships worth $35,400 and $27,300, respectively. Though they have been unable to travel to China due to the pandemic, forcing them both to study remotely, Thuy told Sixth Tone she had no regrets about using the language centers.
"I made the right investment," she said. "Without the service, I don't think I would be able to get this scholarship."
Tieng Trung Thay Hung, Ha Ninh, and the universities in Beijing and Chongqing did not respond to Sixth Tone's requests for comment.
A web of connections
Nguyen Thao Ngoc, a law student at a university in the central Chinese province of Hunan, also successfully applied for a Chinese government scholarship through a language center.
On her friend's recommendation, the 26-year-old contacted Hoai Phuong HSK Language Center, which claimed to offer "overseas study consultancy services" on its Facebook page. Her parents said they'd help her pay the fee.
At first, Ngoc believed the company simply offered students guidance on how to ace the application process. However, it turned out they would provide key documents for a high price.
"They wrote me recommendation letters in the capacity of being my Chinese language teachers," she told Sixth Tone. "But they never taught me a single Chinese word."
Ngoc said the company also sold recommendation letters separately for around $220 each, but she decided to pay for an all-inclusive package similar to the one bought by Thuy. Most Chinese language centers in Hanoi offer similar services, according to Ngoc.
"I have tried asking some language centers that don't publicize those scholarship services," said Ngoc. "It turned out that they do have them."
An, another graduate from northern Vietnam, is an intermediary connecting students with Chinese language centers. She says the center she works with charges between $4,500 and $7,000 to get students a CSC scholarship, depending on the client's choice of university, mentor, and recommendation letter. 
The 27-year-old, who spoke with Sixth Tone using a pseudonym for privacy reasons, finds it easy to sell the merits of the service: she has previously applied for two Chinese scholarships via language centers herself.
In 2018, she paid a center $1,000 to help her secure a Confucius Institute scholarship to study Chinese for nine months at a university in Zhengzhou, central China. Then, she forked out $5,100 for a place on a master's degree program on a CSC scholarship.
Though the second fee was expensive, An said it was worth the money. She had only passed HSK5 and had a mediocre GPA of 2.9. However, the language center was able to provide a glowing recommendation letter from the head of Hanoi's Confucius Institute, a Chinese government-funded language and culture center.
According to An, the language center assured her that her application was 100% guaranteed to be successful. Paying the fee enabled her to gain a spot at her preferred school without taking time out from her job as an accountant to prepare the application.
"I knew that the consultancy services were very costly, but I didn't have time to prepare so many documents," An said. "Plus, I didn't have any connections at the university … I didn't want to be stressed out."
An became an intermediary while studying in China. Several lecturers at her Chinese university approached her to ask for her help recruiting more Vietnamese students. 
For Chinese universities, attracting more international students can help boost their rankings in domestic league tables. This in turn helps them attract more investment and international partnerships.
But low-ranked universities in less prominent Chinese cities often struggle to attract foreign students, even with generous government scholarships, An said. The COVID-19 pandemic has only made things harder, as China's strict border policies mean that international students are unable to travel to China and must attend classes online.
An agreed to help her university recruit Vietnamese students from time to time. However, she only connects the school with her personal friends and acquaintances, she said.
According to An, it's still possible to apply for a Chinese scholarship without using a language center. But the service has become more valuable as competition for places on the scholarships has increased. The mentors' personal guanxi, or relationships, with insiders at Chinese universities can give candidates a crucial edge.
"Teachers have to deepen their guanxi with those schools by making regular visits each year," said An. "Of course, outstanding students will still be selected (regardless), but the schools will also choose average students with great connections." 
Nguyen Thi Quynh, a Chinese language teacher from the Vietnamese city of Hue, recalled feeling at a disadvantage when she applied for the CSC scholarship in 2017. She was one of the only people she knew who didn't use a language center.
"Most of my peers paid for an expensive online service to make their applications look better," said Quynh. "It made me very stressed at the time." 
However, Quynh was unable to afford the language centers' expensive fees and felt confident in her academic achievements. She decided to apply on her own. She was successful.
"Because of the high success rate of average students winning scholarships, many applicants are led to believe that applications for scholarships via centers are more likely to succeed," said Quynh.
Poor outcomes 
Though she wrote next to nothing in her first exams, Thuy still earned passing grades for both classes. She has noticed that her written assignments often receive generous grades, even though they're far inferior to those submitted by her Chinese classmates.
"My Chinese professors have always been lenient toward international students," Thuy said. The teachers appear especially worried about losing their foreign students as China's "zero-COVID" policies continue into a third year, she added.
A higher dropout rate among overseas students may damage the university's reputation. In both domestic and international league tables, universities are graded partly on their ratio of international students. 
Thuy plans to continue with her studies, but she regrets choosing her public policy major. She is currently preparing for her second end-of-semester exams in theory-heavy subjects, including Chinese sports policy and organizational analysis.
"The coursework in the second semester is much more intense and more difficult," she said.
The student has been looking into the possibility of hiring a ghostwriter to help her with her exams. So far, she has had no luck. Vietnamese ghostwriters don't offer services in Chinese, while hiring a Chinese ghostwriter feels too risky. Her teachers would be able to tell the text was written by a native Chinese speaker.
"I am clueless how I will survive these exams," said Thuy.
Editor: Dominic Morgan.
(Header image: Visual elements from VCG, reedited by Sixth Tone)