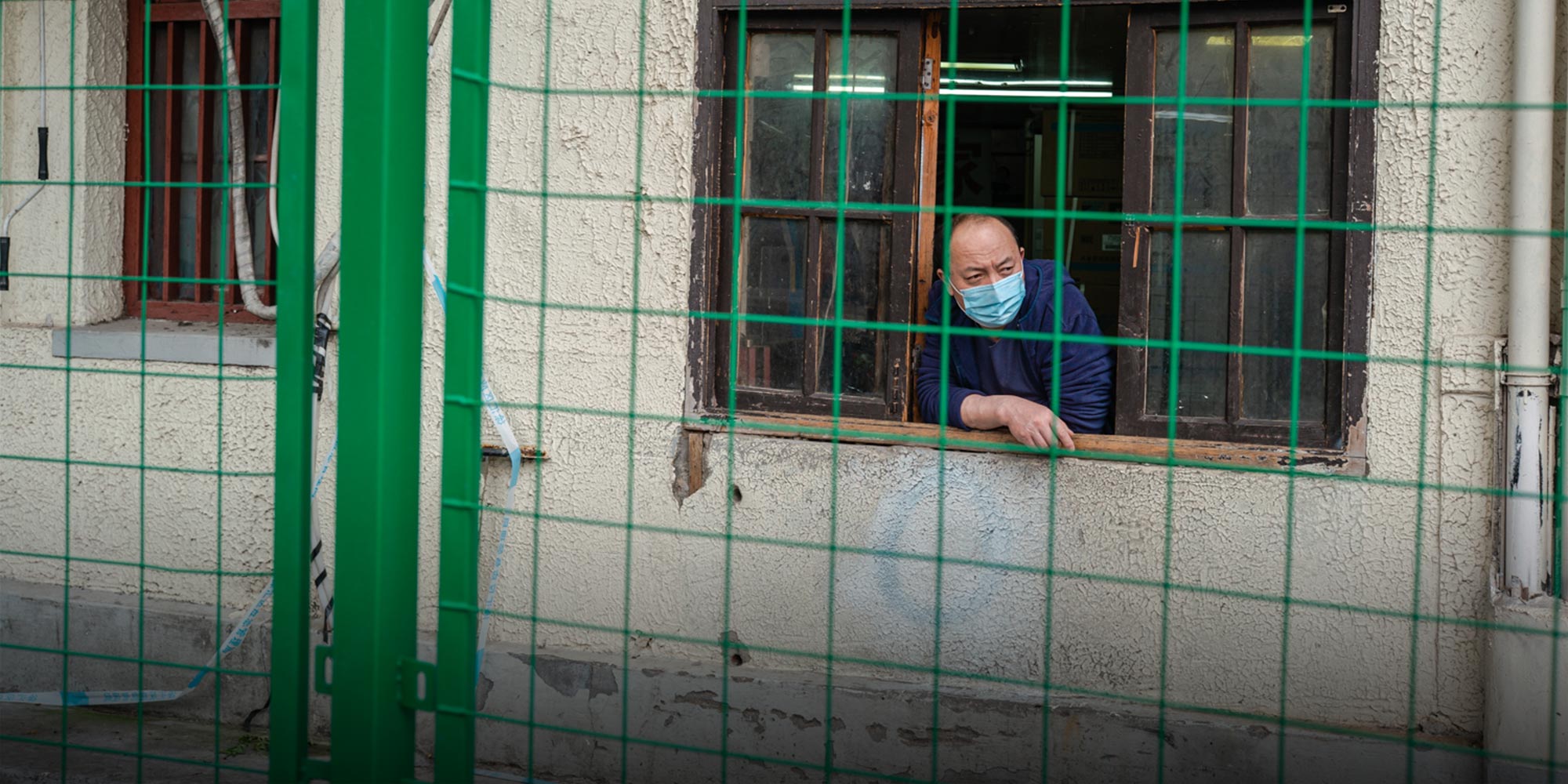 NEWS
Shanghai's 'Psychological Emergency' Warrants Attention
The city's mental health hotlines have recorded increased calls from residents seeking help amid COVID-19 lockdown.
Zhao doesn't remember what day of the week it is anymore when she wakes up — every day more or else feels the same.
The Shanghai resident has been confined to her apartment for nearly six weeks as the city of 25 million fights a decisive battle to eliminate COVID-19 cases. But thousands of city dwellers are fighting another battle, against mental health, as lockdown-related uncertainties have increased anxiety and other conditions.
"I'm losing interest and don't want to do anything," the 28-year-old, who lives with two roommates in downtown Shanghai, told Sixth Tone. "I don't know what day it is, and I cry when I read sad news."
Shanghai has been under a strict lockdown since late March to contain what has become China's worst COVID-19 outbreak since the pandemic started. Though daily infections have been gradually declining, with the city logging fewer than 1,500 cases for the first time in weeks on Tuesday, residents are largely still barred from leaving their homes.
Over the past few weeks, some neighborhood communities have even tightened restrictions by imposing barricades and fences. There were even reports that all residents in the building where an infected individual lived would be transferred to a quarantine camp, though the government later clarified that the rule was theoretically only applicable for those sharing a kitchen or bathroom.
"I couldn't sleep at all that night," Zhao said, adding she was anxious after reading such news and watching other distressing videos on social media.
Shanghai was already witnessing an uptick in mental health issues during the first few days of a lockdown that was initially supposed to last from March 28 to April 5. The city's government-run and private mental health hotlines received an increased number of calls from people with various lockdown-related anxieties.
COVID-19 and the lockdowns imposed to contain infections have dramatically affected the mental health and wellbeing of millions of people globally. The first year of the pandemic saw a 25% increase in the prevalence of anxiety and depression worldwide, according to the World Health Organization.
In Shanghai, as the lockdown continues with no end in sight, experts have been warning of similar surges in people requiring mental health screenings.
Chen Jun, chief physician at the Shanghai Mental Health Center, said Monday the lockdown would inevitably result in fear, anxiety, and depression among residents. He added they were a common psychological response to long-term stress.

"These emotions are understandable after a long period of isolation, but most of them are mild, short-lived, and have little impact on our lives," Chen said during a press conference. "Most of us can return to normal through our own adjustments."
But not everyone copes with mental health issues in the same or even similar ways. Those struggling are reaching out to counselors, mostly through mental health hotlines.
Qiu Jianyin is a supervisor at Shanghai's government-run 24-hour mental health hotline that has 350 operators. In April, when coronavirus infections were surpassing 25,000 for days, the center received thrice as many phone calls compared with other times. Over 80% of callers shared problems related to the outbreak.
"Shanghai was in the 'psychological emergency' stage in April," Qiu was quoted as saying in a video published by state broadcaster China Central Television earlier this month.
In May, when the pandemic eases and the city gradually returns to normal, new emotional problems might arise, resulting in psychological problems that would require society's acute attention, Qiu said.
The government-run hotline received 300 to 400 calls daily during its busiest period in April, according to its manager Jin Jin. They, however, gradually dropped to about 200 in the third week of that month.
"It takes about 20 minutes to answer a call usually, and longer calls may take 30 minutes," Jin told Sixth Tone's sister publication, The Paper, in early May. "We listen to them talk, vent, and even complain. We try our best to answer or solve their practical problems."
But not everyone is willing to pick up their phones to talk to a stranger on the other end of the line. Zhao said she tried calling a mental health hotline once before but it "didn't make any difference."
Meanwhile, Chen Aiyi said she instead complains and vents her lockdown frustrations with friends and her daughter. The 60-year-old in Xuhui District is often worried about securing daily supplies, even though deliveries have relatively improved from last month.
"I fight for food on the shopping app at 6 a.m. every day," she told Sixth Tone. "I get depressed when I don't get anything."
Chen said she is also often anxious while waiting for nucleic acid test results that residents are required to take frequently, sometimes imagining symptoms such as sore throats and headaches. She's also been concerned over the prospect of people entering her apartment to disinfect it.

"I'm afraid they will destroy my furniture and valuables with no way to complain afterward," she said. "A lot of people around me are very tense."
Whenever such thoughts cross her mind, Chen said she often distracts herself by reading or gardening with her husband during the day. Shen then spends the evening watching TV late into the night, trying not to scroll through distressing news and videos likely to induce anxiety.

Editor: Bibek Bhandari.
Shanghai's 24-hour mental health hotline can be reached at 962525. Phone numbers for the city's other hotlines can be found here and here.
(Header image: A man looks out his window in Shanghai, May 3, 2022. Gao Zheng for Sixth Tone)