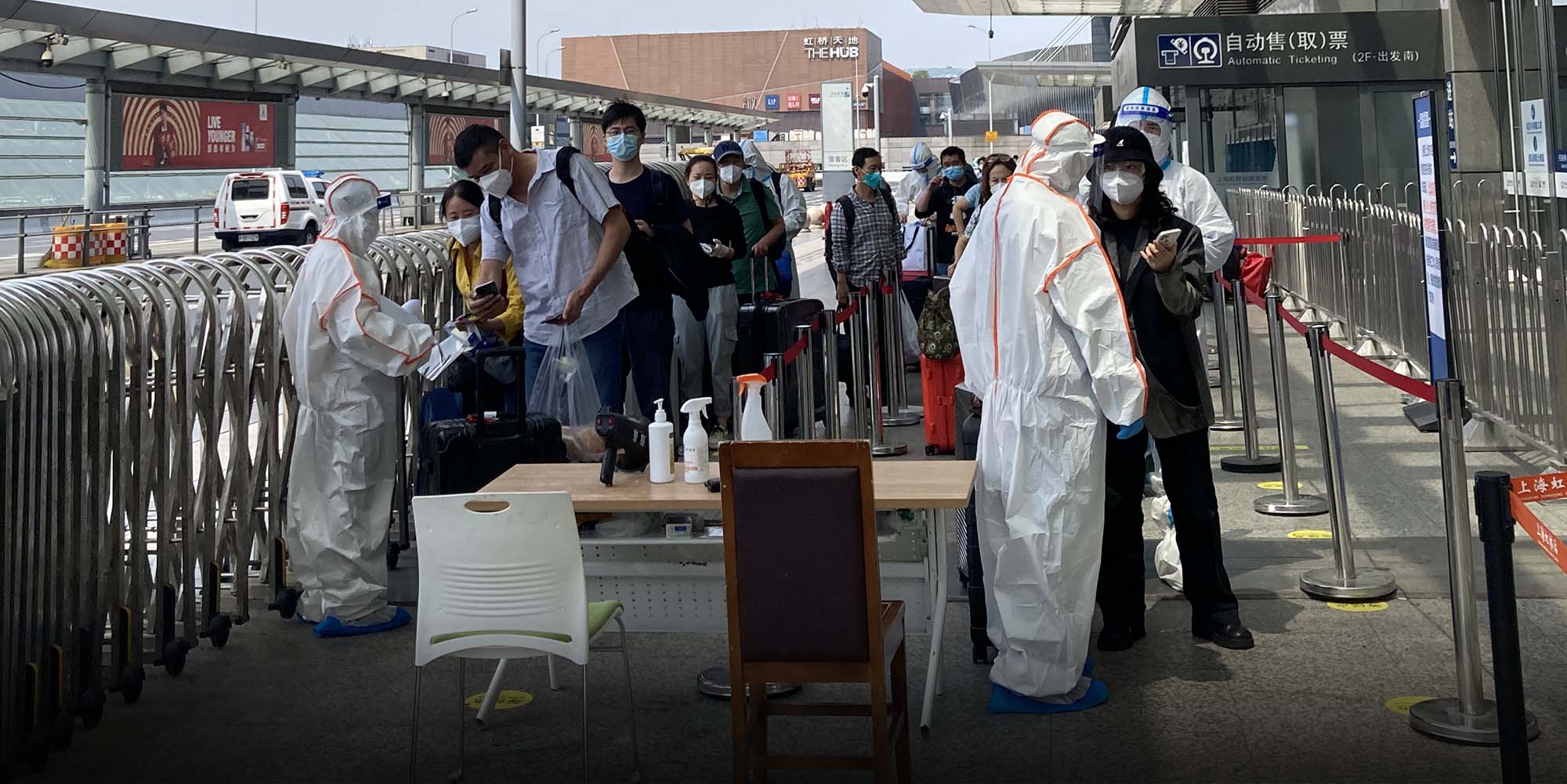 NEWS
Escaping Shanghai's Lockdown
Losing income and patience, some freelancers are finding ways to leave the city for work.
Paloma Fu had the option of taking a stroll in Shanghai's streets last week just as her neighborhood in Xuhui District temporarily relaxed some COVID-19 restrictions. Instead, the independent advertising director spent the day planning to escape the city.
Two days later, she hopped in a car to Shanghai Hongqiao Railway Station, where she boarded a train to the coastal city of Xiamen, some 1,000 kilometers away.
"I have to resume shooting," the 28-year-old told Sixth Tone from a quarantine hotel in Xiamen on Sunday. "We can't work from home. We earn our salaries through on-site projects."
Fu is one of many in the advertising industry — including photographers, stylists, and cinematographer — commissioned by domestic and international brands. But with the lockdown now in its sixth week, she said many brands have canceled their shooting in Shanghai and commissioned projects elsewhere.
For many in advertising, Xiamen, Hangzhou, Chengdu, and Shenzhen have emerged as lucrative alternatives to Shanghai, Fu said. She and her three peers followed the strategies of those who had already left the city, whom she called "escapers."
"Hundreds of independent directors, producers, and cinematographers, as well as some film equipment rental companies, are on the move, either taking high-speed trains or rental cars," she said.
Many people wanting to leave Shanghai were said to have mostly misinterpreted the city government's announcement from April 15, saying that the city would allow those "who meet conditions" to leave Shanghai for where they lived or worked.
But amid confusion, Shanghai authorities clarified on April 25 that people were not allowed to leave the city unless necessary. The previous policy, officials said, was only applicable for people with no fixed address in Shanghai.
Currently, there is no official approval process for leaving Shanghai. Permission is often granted by neighborhood committees provided that their counterparts in the other city are also willing to accept the traveler.
Fu said the group of four who traveled together secured their permits and started their 20-hour high-speed train trip to Xiamen — it usually takes just over six hours — on Friday, with a transfer in Wenzhou. The trains were specifically designated for those leaving Shanghai, and no other passengers were allowed to board during stopovers along the route.
Though the lockdown has disrupted regular schedules, there are about 10 daily train services from Shanghai to other cities, according to the official railway ticket booking website. However, seats are limited and often get snapped up in seconds once they go on sale.
Fu said she and her peers bought tickets from travel agents for about twice the original price. She then had to hire a car that was allowed to operate during the lockdown to get to the station.
The entire trip cost around 7,000 yuan ($1,040), including a 14-day hotel quarantine bill in Xiamen, Fu said. She added that others who end up renting a car to their final destination had shelled out as much as 20,000 yuan.
Fu said the expenses were a fraction of the money she and her peers would have lost if they had continued to stay in Shanghai without regular work. However, she acknowledged that finding work would be relatively more difficult than before having escaped from the locked-down city.
Just hours before her Xiamen trip, the international company that commissioned the advertising project canceled their shoot and only reimbursed some of the expenses. But she and her team decided to travel anyway.
"My contacts say that global brands are cutting advertising budgets in China," she said. "Staying here and waiting for Shanghai to open up won't bring me any income."
And Fu said more and more people just like her in her professional circle were also leaving or trying to leave Shanghai for work. But some neighborhood committees, including hers, had stopped issuing exit permits over the weekend. Many taxi drivers had also stopped taking requests after being warned and fined by police officers.
Fu follows the conversations in a WeChat group. While some like her have left, others are online night and day, trying to get on any available train.
"Those who are still planning the trip are very anxious," Fu said. "They feel like the policies in Shanghai and the receiving cities can change at any time."
Editor: Bibek Bhandari.
(Header image: Passengers wait to enter Hongqiao Railway Station, Shanghai, May 6, 2022. Courtesy of Paloma Fu)