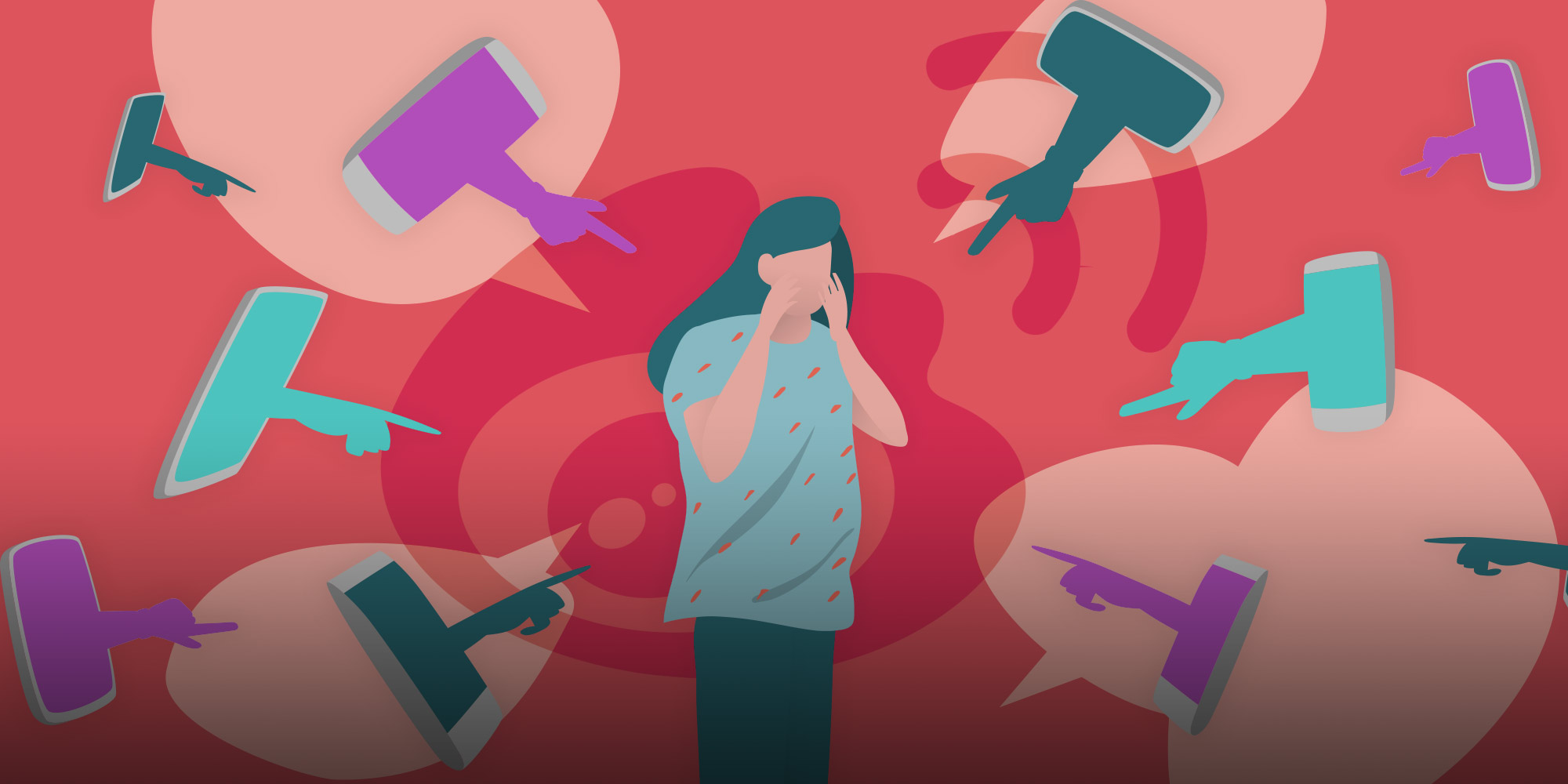 VOICES & OPINION
Weibo's Doctrine of the Mean
Why is moral condemnation such a popular weapon on the Chinese internet? It starts with the breakdown of the traditional moral order.
This article is the third in a series in which Chinese experts share their thoughts on the deterioration of the country's social media spaces. Part one can be found here and part two here.
On April 3, days after Shanghai entered a state of lockdown, a woman in the city's Hongkou District wanted to send supplies to her hard-of-hearing father. Unable to leave her home, she eventually found a delivery driver willing to make what turned out to be a four-hour journey from her house to the neighboring district of Qingpu. After his scooter ran out of power, he pushed it the final two kilometers to her father's house. Grateful for his help, she offered to pay him, but he declined. Instead, she credited 200 yuan ($31) to his phone card before sharing the heartwarming story on her personal social media account.
The response was a torrent of abuse. Users on the microblogging platform Weibo accused her of stinginess toward a hard-working driver. The attacks continued even after she explained that she was not rich and had given as much as she could. Her critics even dug up her old receipts from e-commerce shopping holidays and online video games to "prove" she was lying. On April 6, after enduring days of escalating harassment, she leapt from her building to her death.
Even to those familiar with China's increasingly frenzied social media mobs, this tragedy felt different — more extreme. But it followed a familiar pattern. Online, "morality" — at least how it's defined by angry social media users — has become a cudgel, as users demonstrate their collective power by swarming anyone who draws their ire, often in the name of defending social norms.
Their victims include everyone from movie star Zheng Shuang, who was attacked for her use of a pregnancy surrogate and later apparent abandonment of her children, to Liu Xuezhou, a Chinese teenager who sued his biological parents for abandoning him as a child. Then, after Liu's death by suicide last January, netizens attacked the media outlets that covered the story.
Partisanship and verbal abuse are rampant on social media in every country. But the primacy of moral outrage here presents a somewhat unique case with deep roots in Chinese culture.
The 20th century philosopher Liang Shuming belived the fundamental difference between China and the West lay in China's adoption of morality and ethics — in the form of Confucianism — over religion. Forgoing the worship of heaven and God, Confucian Chinese emphasized the rationality of humans in making their own moral judgments.
It is worth noting that the Confucian rationality Liang spoke of is different from the concept of rationality, or reason, as it is thought of in the West. According to Liang, Confucian rationality emphasizes that individuals form their sense of right and wrong intuitively, through their subjective likes and dislikes: virtue is essentially an emotion. Western rationality, on the other hand, requires the elimination of emotion.
This manifests itself in Confucian ethics, which refer to a relationship of mutual obligations between people. This kind of ethical relationship, first and foremost, is centered around immediate or extended family relations, rather than individuals or society. People, in Liang's view, have a natural inclination toward familial love, which forms the basis for honest, ethical connections. These, in turn, create harmonious communities, obviating the need for the laws and contracts favored by Western societies for managing interpersonal relationships.
Reality is more complicated. In order to maintain the appearance of harmony, many Chinese feel pressured to pursue a "philosophy of loss" (chikui zhexue). We are taught to be indifferent to other's business and submissive to power. Only in the private sphere of the home do people feel like masters over their own lives. The power and judgment of the head of a family — traditionally male — is absolute.
This leads to polarization of personality: On the one hand, the self is constricted and people act as docile subjects in public; on the other, there is only the self to rely on for morality.
Instead of helping to repair this relationship, the infiltration of new media technologies into everyday life has turned it into a structural, pan-cultural, and surprisingly addictive pattern of behavior.
The anonymity of social media has freed users from the constraints of traditional ethical principles that restrained conduct outside the home, including the need to maintain face and respect others. The self-expanding part of people's personalities, once confined to the home, are now spreading online.
There is no obligation to observe social niceities in cyberspace. Meanwhile, the collapse of traditional morality has made users hypersensitive to moral judgment. Physical isolation during pandemic lockdowns has taken this pattern of behavior to new heights.
Each round of moralizing only raises the standards to which our own conduct is held, rendering our own moral judgments fodder for others to evaluate. To update a line from the German legal scholar and philosopher Carl Schmitt, sovereign is no longer the one who decides on the exception — but the one who controls moral judgment online.
Translator: David Ball; editor: Wu Haiyun.
(Header image: worldofdots and mattbadal/VectorStock, re-edited by Sixth Tone)