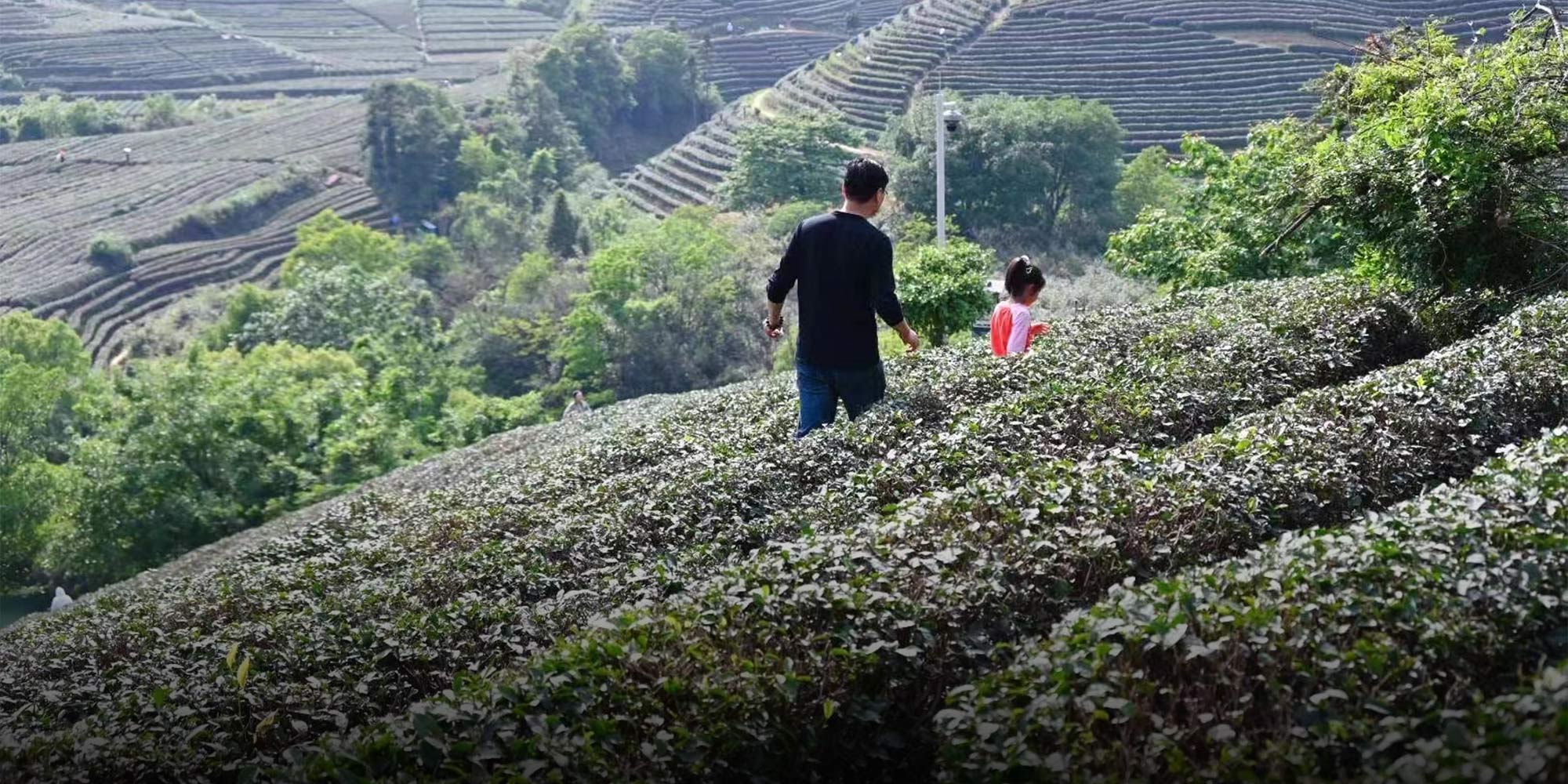 NEWS
As Long-Distance Travel Plummets, China Vacations Close to Home
First, the pandemic meant staying in China for vacations. Now, it means staying in the same city.
Before the pandemic, Xia Chaoyun, usually spent the May 1 holiday traveling with her family. A resident of Hangzhou, sometimes she went to other cities in Zhejiang province; sometimes, or neighboring countries like Japan and South Korea, if the holiday is extended to five days.
This year, China's Labor Day holiday was five days, including a weekend. But both Xia's company and her daughter's school both told them they weren't allowed to leave Hangzhou. Instead, Xia and her friends took their children to villages and parks on the outskirts of the city.
The first wave of COVID-19 sealed China's borders, keeping China's tourists at home. Now, China's biggest-ever outbreak is estimated to cut domestic travel by more than half, and people are taking holidays even closer to home.
The Ministry of Transport said on Thursday that passenger traffic on Labor Day would be "significantly lower" than last year. It estimated that the total number of trips made during the holiday would reach 100 million, down about 62% compared with the same period last year.
"Before the epidemic, we were always busy seeing the outside world," Xia told Sixth tone. "But because of the epidemic, I found that the most natural and beautiful scenery is actually right next to me."
The 35-year-old said that all public places in Hangzhou require a 48-hour COVID-19 test for entry. "Prevention and control have reached a high standard," she said. "We drove from village to village, and even though they were only a few minutes drive apart, we were still asked to show various QR codes, and the checkpoints were very strict," she recalled.
Ahead of the Labor Day holiday, online travel platforms forecast that local trips would be the dominant form of travel, especially trips to the rural outskirts of the same city. Chinese authorities have urged people to avoid long-distance travel to prevent the spread of COVID-19.
Online travel operator Trip.com wrote in a WeChat post that "the popularity of rural travel is growing." It said that rural hotel bookings rose by 560% compared with the three-day Qingming Festival in early April, and 88% of the orders were for stays of one to two days.
Of all the ways to visit the countryside, camping, or "glamping," topped the list during the holiday. According to travel booking site Qunar, ticket sales for parks that allow camping increased by over 50% compared with the same period last year. Figures from vacation rental company Tujia also showed that bookings for homestays that provide camping-related services such as RVs, tents, and campsites jumped four times over the holiday compared with last year.
Du Xiaoxuan and several friends went camping with their golden retriever during the Labor Day holiday on the outskirts of Chongqing, in southwestern China. "We can't leave Chongqing during the holiday, so we found a place 150 kilometers away from home with a wide area and fewer people," he said. "Camping is carefree and relaxing, the cost is low and all friends can accept it."
Du said the cost of the two-day, one-night camping vacation was about 300 yuan ($45) per person. He and his friends had a barbecue and hot pot with tea and alcohol, and they chatted a lot. "We stayed in the camp and didn't go to crowded places, so I wasn't worried about the outbreak," the 39-year-old told Sixth Tone.
Another outdoor enthusiast surnamed Qian, who lives in the eastern city of Ningbo, said she and her family usually visit nature sites during the holiday. This time, they spent three days camping in the wild, but due to the outbreak chose to sleep at home instead of staying in tents.
Although Qian couldn't leave the city, she wanted to give her 15-year-old daughter something different during the holiday. "Otherwise, she would have to stay at home all day, and her studies are already stressful and her life is so boring," she said.
In the past few days, they climbed a mountain, hiked in the forest, picked raspberries, played in streams, and set up tents to hang out during the day.
"I want my daughter to know that even though we are fighting the virus every day, life can still be beautiful," Qian said. "This in turn teaches us that we adults should love life, too."
Editor: David Cohen.
(Header image: Xia Chaoyun's husband and daugher at a tea plantation in the suburbs of Hangzhou, Zhejiang province, May 2022. Courtesy of Xia Chaoyun)