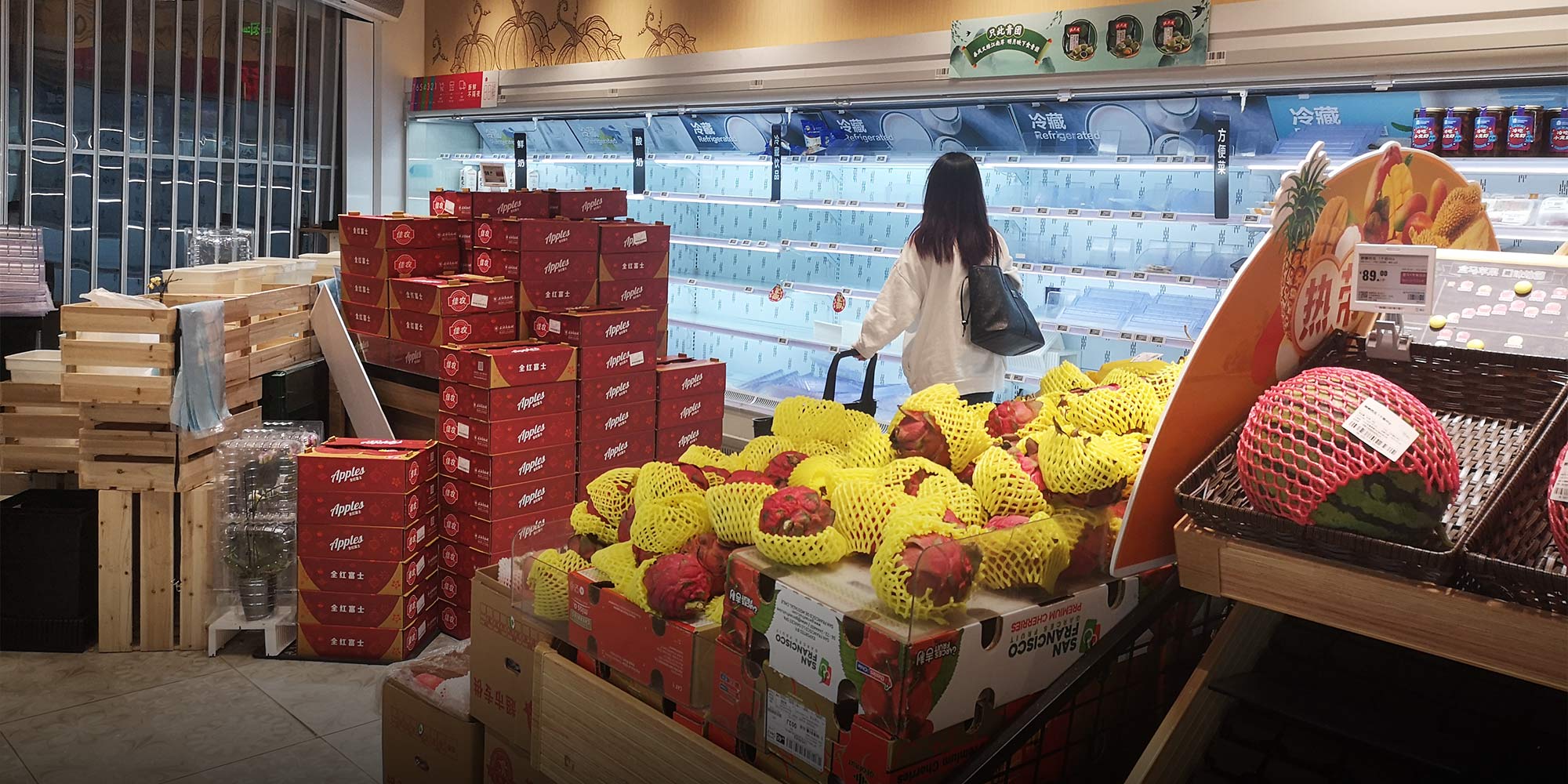 NEWS
Shanghai Supermarkets Reopen, Kind Of
You can't always get what you want, but if you try sometimes, you might find some potato chips.
After 37 days locked down in her apartment compound in Shanghai's suburban Fengxian district, Zhang Haiyue got on a bike to the supermarket Tuesday afternoon.

Zhang went to a Freshippo, an upscale Alibaba-owned chain. She waited half an hour to get in. "Only 20 people can go inside at a time, for 30 minutes," Zhang told Sixth Tone.
As some residents of Shanghai are freed from lockdowns, supermarkets are starting to re-open.
More than 15 million Shanghai residents, over half the population, are now in "prevention zones," residential areas that have not had confirmed COVID-19 cases for two weeks, the health authority said at the news conference held Tuesday. In principle, residents of these zones are allowed to go out at certain hours for activities including shopping at nearby supermarkets.
Many residents of prevention zones say they have not yet been allowed to go out.

Supplies are still limited. "When I was there, soy products, yogurt, milk... the shelves were already empty, and there weren't many kinds of fruit to choose from," Zhang said. In the end, she spent about 270 yuan ($41) on beef, seafood, buns, snacks, fresh vegetables: kinds of food she doesn't get in government rations.
"I feel a lot better, that finally, I don't need to stare at the phone all the time to fight for food, but can see the food, and choose what I want." During the lockdown, logistics shortages have turned online shopping into an hours-long race to check out akin to buying hot concert tickets.

Chinese media outlet Yicai reported that the French hypermarket Carrefour has re-opened nine stores in six districts, and by May 8, the company plans to re-open 80% of its stores.
Monday morning, Yicai reports that customers were queuing at the entrance of a Carrefour.

Customers were required to social distance while waiting and present a QR code, 48-hour negative COVID-19 test results, and a "temporary travel pass." Then, if they pass temperature and mask checks, they're in.

Carrefour is running limited hours, and restricting stores to 50 customers at a time, in 30-minute windows.
The city reported 5,514 new cases on Monday, down from a peak of over 27,000 on April 10.

According to domestic media, besides Carrefour and Freshippo, large retailers such as Walmart, Metro, RT-Mart, and Sam's Club, are also gradually resuming their business in Shanghai.

Local authorities said at a news conference on Saturday that 1,164 supermarkets, or 72.4% of the total, had reopened by Friday.

Shanghai retiree Chen Ziyan told Sixth Tone that the supermarket next to her compound in Xuhui District had been open since mid-April, but instead of allowing residents to shop inside, the store staff takes orders at the entrance and then brings goods out to shoppers.

"I've seen young people buying dozens of bags of potato chips," said Chen. "The goods are a bit expensive, but I still bought some dumplings. My husband purchased cigarettes, which are not easy to get online."

Another Shanghai resident surnamed Wang who lives in a "prevention zone" in Pudong New Area said that she was just issued a temporary entry-exit pass which allows her and other residents in the compound to leave twice a week, four hours per time.
Monday afternoon, she planned to do grocery shopping in the supermarket two blocks away, only to find the line was nearly 100 meters long.

"I decided to go back home after seeing so many people," Wang said. "What if we get infected and the compound gets locked down again? Who's responsible for that?"

Editor: David Cohen.
(Header image: A woman shops at reopened supermarket in Fengxian District, Shanghai, May 3, 2022. Courtesy of Zhang Haiyue)