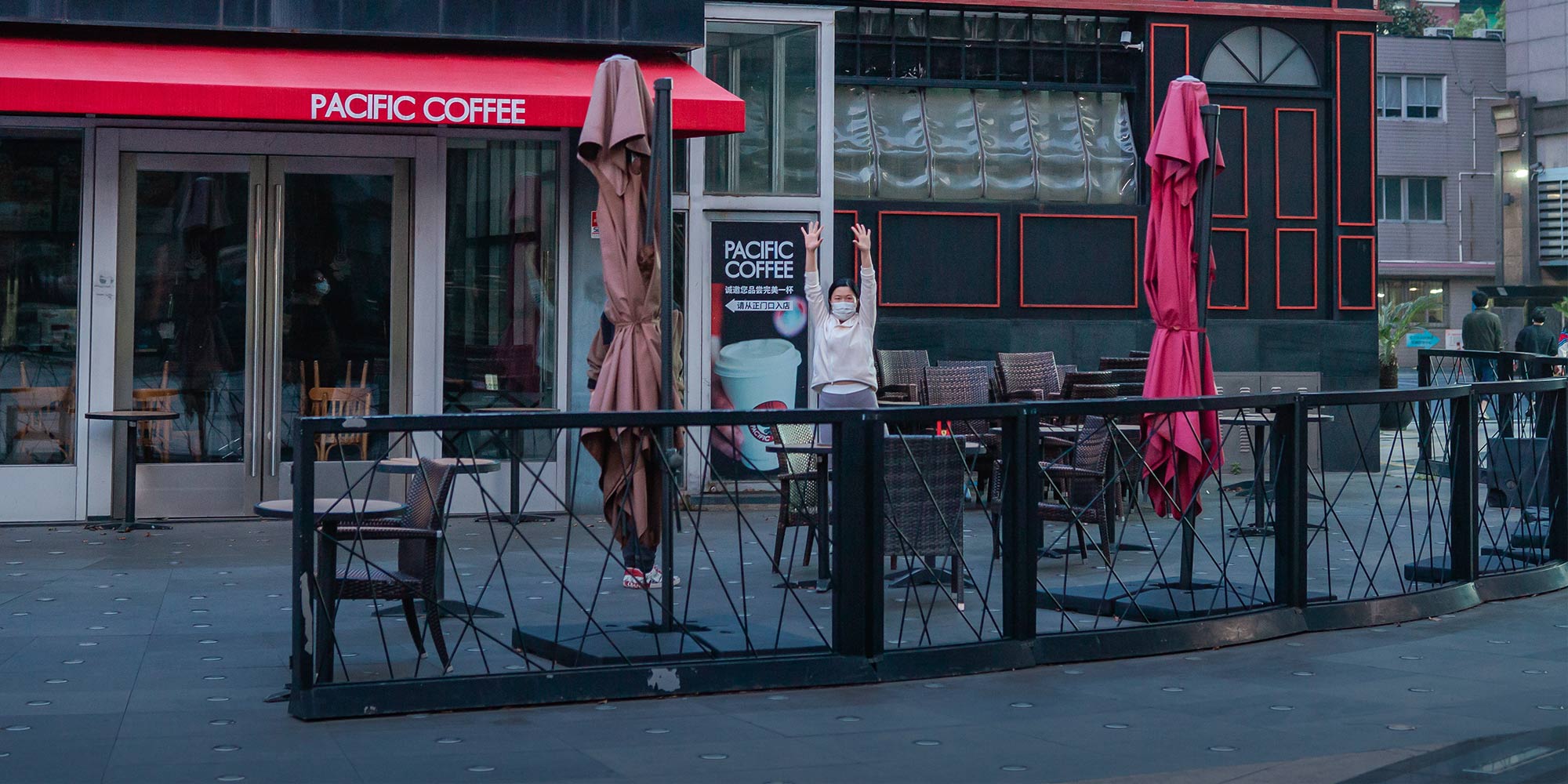 MULTIMEDIA
Photographs of an Empty Shanghai
Photographer Gao Zheng was one of the lucky few allowed to leave lockdown in mid-April. He felt like the last person in Shanghai.
On April 12, about two weeks into a citywide lockdown, Shanghai allowed a few people to go outdoors under a "three-zone" policy. I was one of the lucky ones. I took my camera and set out to wander the city on a share bike, trying to document a moment in Shanghai the likes of which I had never seen in my 36 years.
Some people say that if you have WiFi, water and electricity, delivery, and takeaway food, you can stay at home for the rest of your life. I used to think the same way, but when lockdown started, I found that I could only take a week. I felt terrible without human interaction. When I got out, I thought many people would be outside to replenish supplies, exercise, walk pets, or get some fresh air. But almost everyone was still home, and I was alone in the vast city, feeling like a single pixel of a digital photo.
Outside, the street was almost empty. There were police officers, volunteers in hazmat suits, and a very few people like me. The rest were delivery drivers carrying food and daily necessities. For almost all of April, most of Shanghai has relied on drivers like them for the basic essentials of life. A few shops, convenience stores and pharmacies, were open.
The places where I used to eat and drink were all closed. They were sealed up with police tape, like a crime scene. It made me wonder if my past life was a crime. Someone I met on the street said, "I thought I would be a little happier when I am out, but I didn't expect to see the city the way it is now. Now I feel even more desolate."
Riding through the city, I saw different lives. Delivery men set up tents under highways., Many have been living like this since the lockdown on April 1. Passing a financial company, I met several employees living in the office. They gathered on the balcony, and one of them asked, "Can people go out now?" The people watching me from standing on their balconies or through their windows make me feel guilty.
Some people are trying to live their normals lives. Near the famous Wukang Building, people walk outside sit in in their usual places. It was just like a normal afternoon at the cafe, except they were behind an iron fence and the shop was locked.
Some people keep to themselves, such as the volunteers who enforce the lockdown. A volunteer told me that her daily routine is to get up at 5 a.m., and the only thing to do is look at empty streets and locked doors. She has been guarding this compound for almost a month. Standing on an overpass, I saw a lonely volunteer on the road, facing the empty highway. I came down, and he told me he checks a car every hour or two. He's not allowed to look at his phone. I can't imagine what it's like spending all day staring at an empty road.
I saw a homeless man sitting alone on the other side of the overpass with his things. He might be the only person in Shanghai who doesn't need to wear a mask. He told me his life hadn't changed much. Every day, he goes to look for food, and then comes back to the same place.
On WeChat, a friend told me his restaurant hasn't made any money this month. He's got enough saved to stay in business for a month, at best. I don't know what to say.
Every day on the way home, I feel like an orphan.
As told to Sixth Tone's Wu Huiyuan.
Editor: David Cohen.
(Header image: Gao Zheng for Sixth Tone)