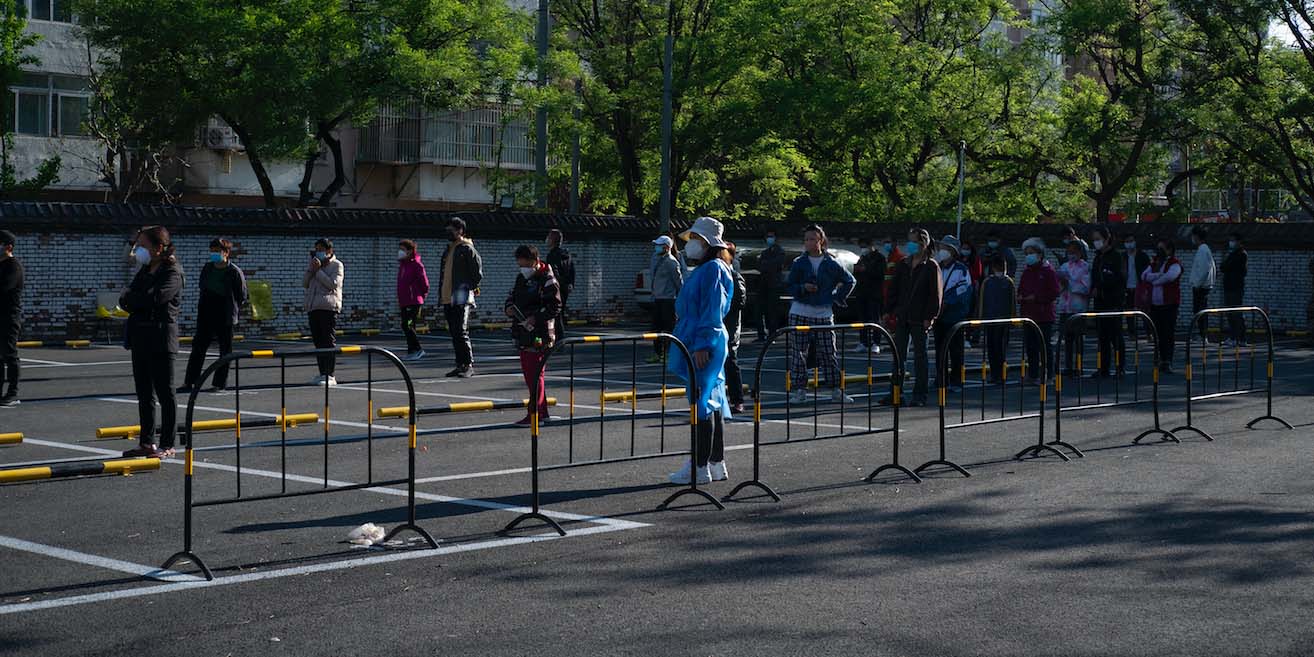 NEWS
Beijing Suspends In-Person Dining In Bid to Prevent Outbreak
The Chinese capital is shutting bars and restaurants for four days in a bid to avoid a major outbreak. It reported 59 cases Saturday.
Authorities in Beijing announced tighter restrictions on gathering during the five-day May Day holiday, as the city fights an outbreak.
The city government ordered bars and restaurants to suspend in-person dining from May 1 to the end of the holiday. The city also recommended that restaurants make more prepared and semi-prepared dishes, and urged residents to "cook at home" to reduce the risk of infection. The government said that restaurants have accounted for many recent transmissions.
Parks, tourist attractions, and sports and entertainment venues will remain open at 50% capacity, and will require reservations.
When the holiday ends on May 5, officer workers and students will be allowed to attend in person, but required to have negative nucleic acid test results from within 48 hours. People who enter various public places and take public transport will need a test within less than seven days. The city will offer free COVID-19 testing from Tuesday.
According to the National Health Commission, 59 new local cases were identified in Beijing on Saturday. At a news conference on Wednesday, officials called on eligible people, especially the elderly and children, to get vaccinated and booster shots as soon as possible.
Beijing has added 4,000 quarantine center beds, said Li Ang, deputy director of the Beijing Municipal Health Commission, at the news conference on Saturday. The city is also planning to build more large makeshift hospitals, and some districts have started the work on site selection, planning, and reconstruction of shelter hospitals.

"Don't panic," Li said. "There aren't that many patients in Beijing, but we need to be prepared for a rainy day."
A Beijing resident surnamed Feng, who lives with her husband in Chaoyang District, the city's largest and the center of the outbreak, told Sixth Tone that she and her husband went to the supermarket near their home to buy some frozen food and fast food on the evening of April 24, shortly after the government announced that three rounds of mass COVID testing would be conducted in the district starting April 25.
"Everyone around us was discussing stocking up, and many people were panic-buying," Feng said.
Feng, who owns a small company, decided to let all her employees work from home on Friday. Feng said her biggest concern was the effect on business.
"Because of the epidemic, many of our projects have been unable to move forward," she said. "Half the employees are required to quarantine at home, and there is no way to find out if they can come to work."
Feng and other residents of Chaoyang District have already done three mandatory nucleic acid tests. Two more district-wide COVID-19 tests will be held on Sunday and Tuesday.
Another Beijing resident, surnamed Yang, whose community has no confirmed cases so far, visited the Summer Palace with his friend Sunday, the second day of the Labor Day holiday, but said he would spend the rest of the holiday at home.
"I think today will be our last day (of freedom). Then we'll go into a state where we can't go anywhere at any time," Yang said. "Restaurants have been closed and parks will follow."
Editor: David Cohen.
(Header image: People line up for COVID-19 tests in Beijing, May 1, 2022. VCG)