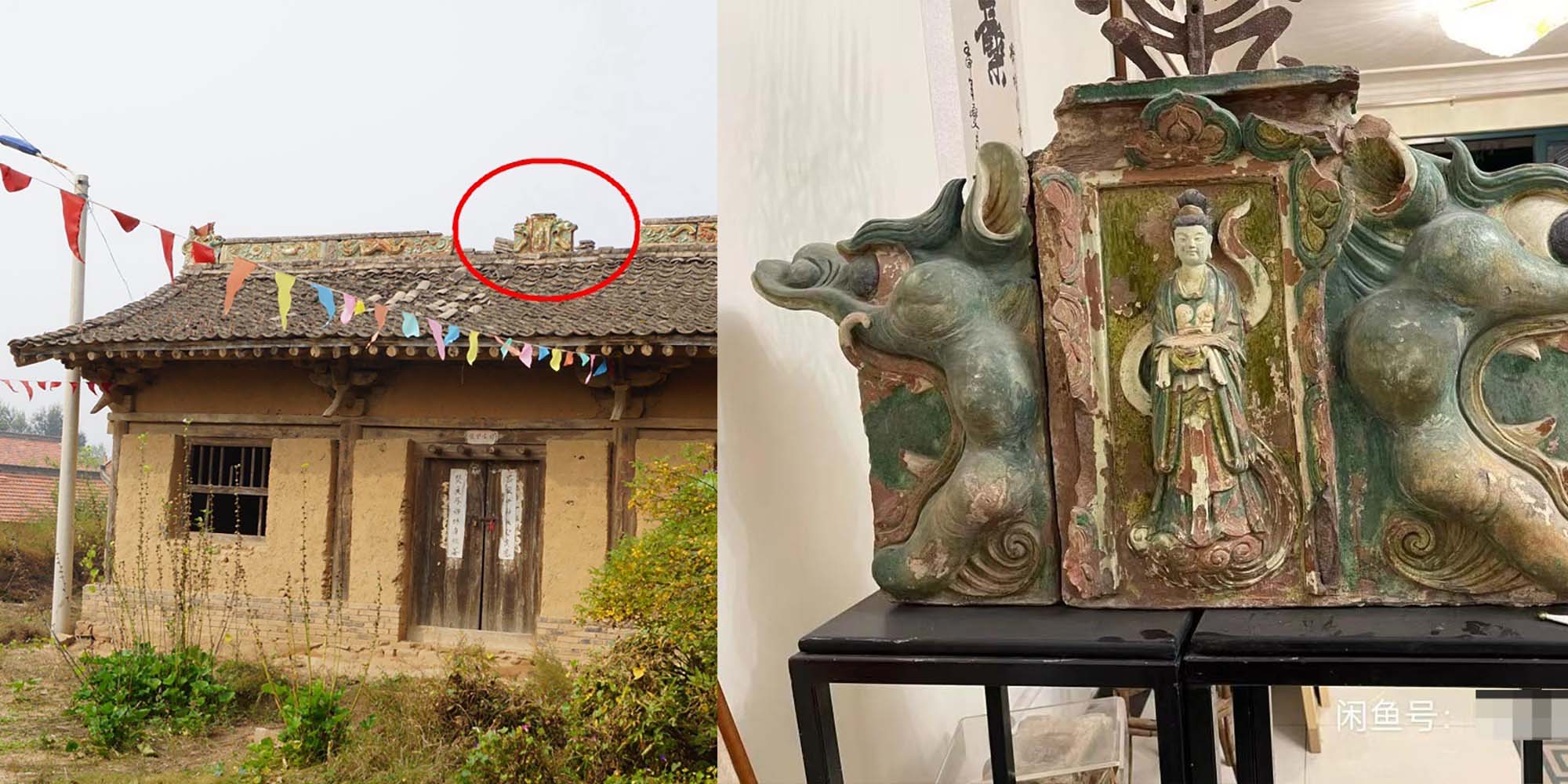 NEWS
Missing 700-Year Old Dragon Ornament Found in Online Sale
If you're trying to fence a stolen artifact, maybe don't list it on eBay (or in this case, the eBay-like Xianyu)?
History and architecture blogger "Tower-Loving Legend" (Aita Chuanqi) was browsing Xianyu, China's equivalent of eBay on April 28, when he came across something that looked familiar. A large "roof ridge ornament," it was flanked by a pair of the open-mouthed dragons common to Yuan dynasty buildings.
"Yuan dynasty, Taiding Emperor set of glazed tile. Some repairs on the mouth, this sculpture is about culture and taste; if you want something in perfect condition please don't buy!" The seller asked 88,000 yuan ($13,316).
The Taiding Emperor, a great-grandson of Kublai Khan, ruled from 1323 to 1328. An inscription on the ornament dated it to 1324.
It looked authentic. In fact, it looked identical to an ornament the blogger had photographed 11 years before, on the west hall roof of a protected ancient building in north China's Shanxi province.
He then wrote a post comparing the two objects. It quickly went viral, and within hours the listing was taken down from the platform.
Another antiquarian, surnamed Li, told local media that on the evening of April 27, he also saw pictures of the Xianyu listing on a QQ group. "I didn't pay much attention to it at first. Later, I looked at the pictures and realized that it was from a national key cultural relics protection. Judging from the pictures on Xianyu, the object has been repaired."
Local authorities investigated, and police recovered the piece in the provincial capital on Thursday afternoon, tracked down the online seller, and are continuing the investigation. Wuxiang County Cultural Relics Protection and Tourism Development Center confirmed Friday that the roof ornament came from the building "Tower-Loving Legend" identified, known as Fuyuan Court.
It's not clear how the object was removed from the hall, or how long it has been missing.
Under Chinese law, the seller could face up to 10 years in prison if convicted of "selling protected cultural relics for profit." The platform, and local cultural authorities, could also face penalties if found to be negligent in the case, Chen Ying, a lawyer at the Beijing Yingke Law Firm, told Sixth Tone. Local officials could even face jail time if found to be "seriously irresponsible." 
Editor: David Cohen.
(Left: A photo taken in 2011 shows a glazed tile roof ridge ornament (circled in red) on the west hall of Fuyuan Court, Wuxiang County, Shanxi province; right: The ornament, identified as the same one, listed on Xianyu. From @爱塔传奇 on Weibo)