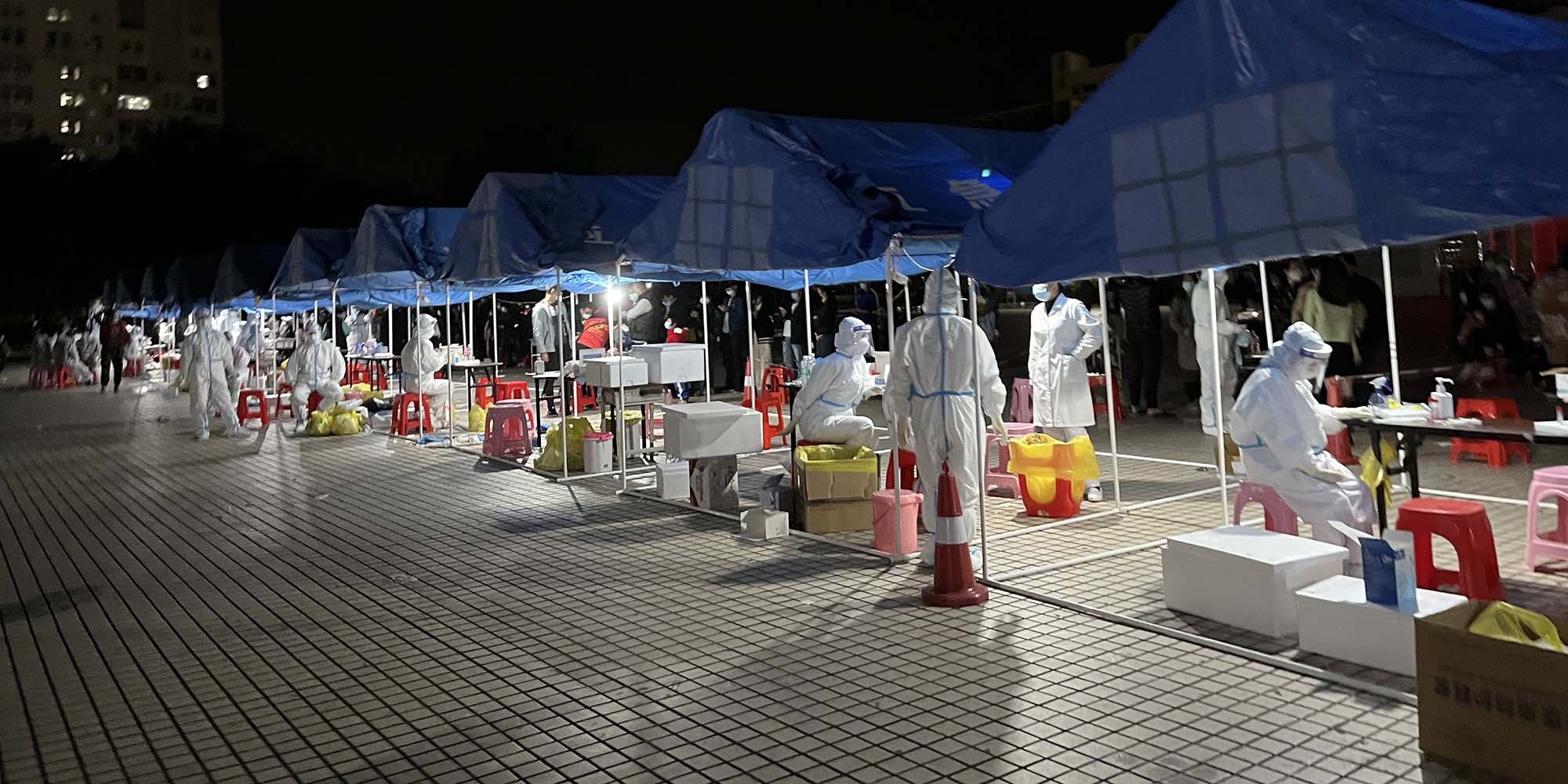 NEWS
A Small Border City Grapples With Post-Lockdown Survival
Some business owners in Dongxing are considering shutting shops and even relocating.
While the lockdown in China's financial hub of Shanghai is taking a direct hit on the country's economy, local businesses in far-flung smaller cities are scrambling to survive even after the relaxation of stringent COVID-19 restrictions.
Dongxing in the southwestern Guangxi Zhuang Autonomous Region lifted some of its virus control measures Sunday after a two-month lockdown. But some residents in the city of 216,000 people bordering Vietnam said they found themselves in limbo and were considering shutting their businesses amid uncertainty over future lockdowns.
Their stories offer a glimpse into how local businesses in small cities, especially those sharing borders with other countries, are grappling with gloomy future prospects. The frequent virus flare-ups, which authorities have often blamed on imported cases, followed by the abrupt lockdowns have dealt a blow to their economies, which are largely dependent upon tourism and cross-border trade.
Ruili in the southwestern Yunnan province bordering Myanmar has gone through nine rounds of lockdowns totaling 160 days since 2020, according to domestic reports. The city has gradually resumed work, production, and businesses since mid-April, but residents have complained that persistent lockdown-like situations are disrupting daily life and livelihoods.
In Dongxing, authorities have imposed two lockdowns since the pandemic. The first shutdown in December 2021 lasted for about half a month, while the latest two-month lockdown went into effect on Feb. 25.
Official data shows Dongxing's annual import and export volume has been shrinking since 2020, with the 2021 figure down by 40% compared with 2019. Meanwhile, revenues from domestic tourism dropped by 29% year-on-year in 2020, compared with a 37% growth rate in 2019.
And business owners like Liu Gang are feeling the brunt. The 53-year-old has been running a local specialty store in Dongxing for 12 years but is now ready to pack his bags and head to his hometown in the northeast when his store lease expires this year.
Liu said nearly a half of more than 1,000 small business owners like him had closed their stores in the past two years, as domestic tourists fell by 80% compared to pre-pandemic levels. Most of them have shops at wholesale markets at a Dongxing port near the border often frequented by tourists.
"If the situation hasn't improved by the end of this year, I would rather leave," said Liu, adding that he has had about 40 nucleic acid tests in the past two months. "I thought the pandemic would end in a few months, but never expected the impact to last for years."
Liu earned about 3,000 to 5,000 yuan ($450-755) a month by selling bracelets, jade, and handicrafts before the pandemic. In mid-2020, he closed two of his three stores to save rent as income shrank.
He renewed his annual rental lease for his remaining store last November, but business has since come to a screeching halt. The lockdowns have swallowed most of his savings — Liu only has 5,000 yuan left which he can stretch for four more months.
"I cut monthly expenses on food by half to around 1,000 yuan," Liu said. "I cannot be at peace of mind when buying food supplies and have to plan for the next few months when I may fail to make money."
Mei Rong, a Dongxing native who runs short-term rentals, said she was ready to close her business, but felt unsure of the next step yet.
"I don't know what I can do here, as we mainly rely on tourism," said the 34-year-old using a pseudonym for privacy concerns. "But it's a difficult choice to leave my hometown where I grew up, live, work, and have a family. I'm really confused."
Mei said she was among the first group of people in Dongxing to open a hotel in 2017. The city saw over 100 hotels in the following years, and her two apartments with eight rooms were mostly booked during the holiday season. She also hired temporary help during those seasons, providing employment for locals.
But Mei's apartments have been vacant since late last year. She said her business is running at a loss and is struggling to feed her family of four while paying the mortgage, which together totals around 6,000 yuan.
"I was optimistic at first about the latest lockdown, but I had a mental breakdown after being confined at home for over a month," she said. "There were still new cases, and we saw little hope. We don't know when life can return to normal."
Both Liu and Mei are waiting for further government notice to resume business. So far, local authorities announced a one-time subsidy of 60 yuan per person during the two-month lockdown but have yet to roll out any relief for local businesses.
"We understand the importance of lockdown in Dongxing to curb imported infections, but the question of how to prevent the virus while ensuring local residents' livelihoods needs more attention," Mei said.
"I hope to start my businesses soon — it'll at least support daily expenses despite having no profit," said Liu. "A store supports a family. If it makes no profit for two years, not two months, many would get into trouble."
Editor: Bibek Bhandari.
(Header image: Residents wait to get COVID-19 test in Dongxing, Guangxi Zhuang Autonomous Region, Dec. 22, 2022. VCG)