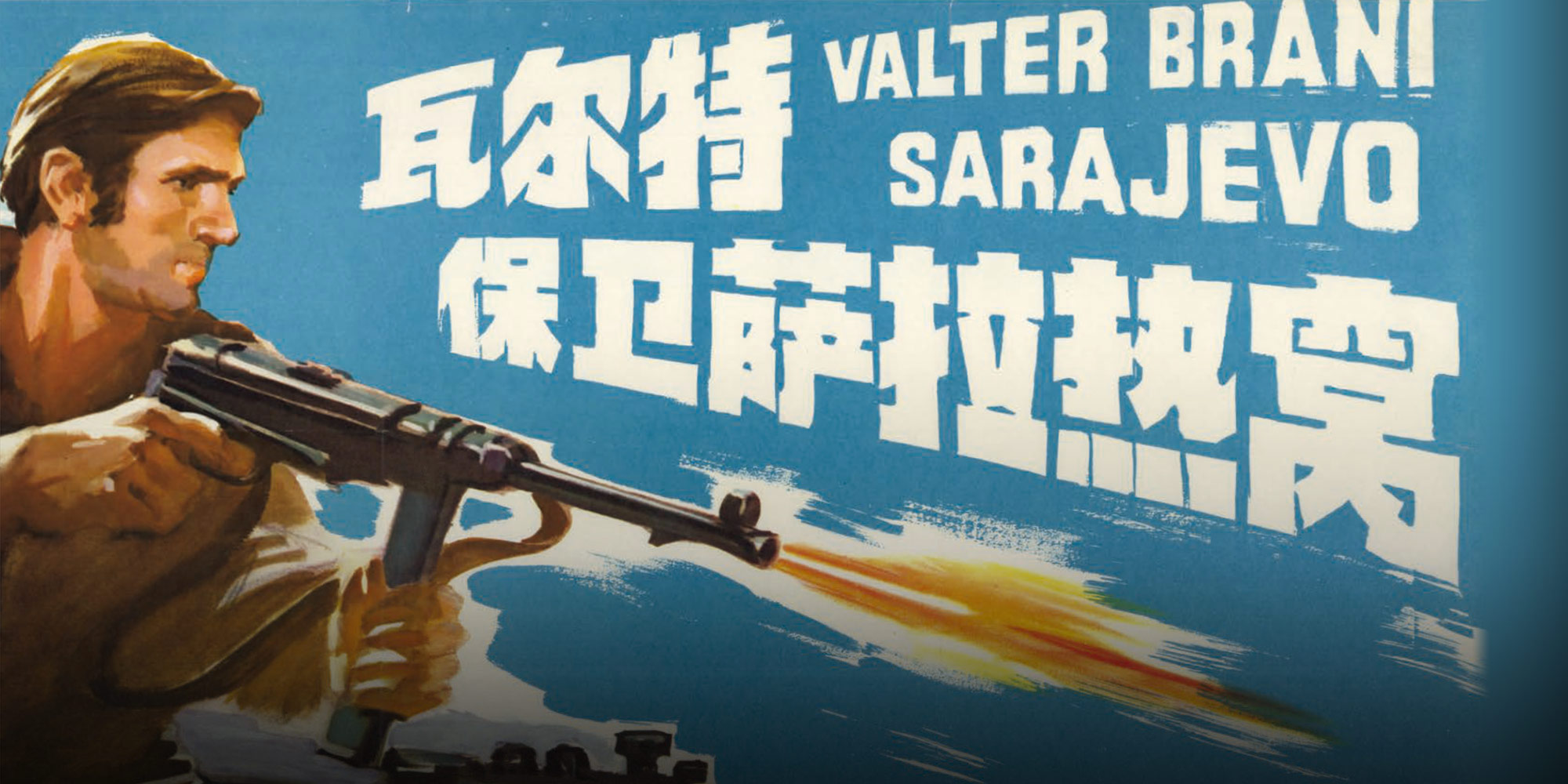 FEATURES
China's Favorite Foreign Movie Is a Yugoslav War Film From 1972
"Walter Defends Sarajevo" was one of a tiny selection of foreign movies screened in China during the Cultural Revolution. Fifty years later, it's still adored by millions.
When "Walter Defends Sarajevo" was released in the former Yugoslavia in April 1972, no one involved could have predicted it would become one of the most-watched films of all time.
But that's exactly what happened, after the war movie unexpectedly became a sensation half a world away — in China.
"Walter" arrived in China toward the end of the Cultural Revolution. One of a tiny number of foreign films approved for release during this period, it enraptured a people who had been starved of entertainment options for over half a decade.
The tale of a heroic partisan resisting Nazi occupation, the film offered everything Chinese revolutionary operas of the time did not: complex characters, exotic locations, and set-piece action sequences.
It was seen by upward of a billion people as it toured the land, playing to entire factories and villages in makeshift screenings. Fifty years after its debut, many in China can still recite entire scenes line for line.
Zhong Lei was among the youngsters in 1970s China who fell under "Walter's" spell. Growing up in the central city of Wuhan, he had managed to see a few international films — mostly documentaries — but "Walter" was another experience entirely.
"It was unlike any film any of us had seen," says the 58-year-old Zhong, a now-retired architect. "It showed us another side to the world."
The film also inspired a generation of young Chinese filmmakers, who would go on to create China's first modern action movies in the late '70s and '80s. "Walter's" influence on Chinese cinema can be seen for decades afterward, says Wang Yao, an assistant researcher at the Beijing Film Academy's China Film Cultural Institute.
"'Walter's' major set-piece battles were the first time many in China had seen pyrotechnics up on the big screen," says Wang. "Certain tropes from the film — the use of codewords, the swapping of uniforms and identities to infiltrate the enemy camp, and gun battles on moving trains — have been adapted by Chinese filmmakers time and time again."
The movie entered China thanks to a shift in Cold War politics. During the late 1960s and early '70s, China's market for international films was miniscule. The features on release were almost entirely limited to Chinese government-produced documentaries or film versions of "model operas" — musicals with heavy-handed themes of class struggle and patriotism.
But times were slowly changing. As tensions between China and the Soviet Union rose, China sought closer ties with Albania and Romania, and restored relations with Yugoslavia. A byproduct of this was an increase in cultural exchanges, which gradually led to the screening of films from the three Eastern European countries.
"Walter Defends Sarajevo" was one such film. By 1973, the Chinese film industry — which was largely under the control of Jiang Qing, Chairman Mao's wife — had started showcasing select foreign works and taking them to the masses, says Wang. The Yugoslav title proved to be an instant hit.
"Sometimes there were open-air screenings, or they'd take a 16-millimeter projector from village to village and organize screenings," says Wang. "There were also screenings in army camps, factories, and schools, so I think you can say it was seen billions of times."
It helped that "Walter" was an excellent movie — the product of a thriving Yugoslav film industry that had been heavily influenced by Hollywood. Directed by star Bosnian filmmaker Hajrudin Krvavac, the film was loosely based on the story of Second World War partisan leader Vladimir Peric, who fought against the Nazis under the codename Walter before being killed in the battle to liberate Sarajevo in 1945.
Starring hardman actor Velimir "Bata" Živojinović as the titular character, the film turns on the Nazis' attempts to unmask Walter, whose true identity is a closely guarded secret among the partisans. Worried the partisans will threaten their plans to use Sarajevo as a fuel base for their tanks, the Nazi occupiers hatch a plot to infiltrate the city using a man posing as Walter, hoping this will flush the real man out of hiding.
There's betrayal, intrigue, and a string of impressively staged action sequences along the way, with Krvavac taking inspiration from Hollywood blockbusters such as the 1961 Second World War actioner "The Guns of Navarone." To this day, "Walter" remains arguably the most popular Yugoslav film of all time.
"If you are into Yugoslav cinema, you cannot really avoid it," says Nebojša Jovanović, a Sarajevo-based film theorist and historian. "It's the most quoted Yugoslav film of all time ... For the generation here that were in elementary school in the early '70s to early '80s, it was sort of a rite of passage to know all the lines from the movie."
The film had the same effect on its Chinese audience. At the time, China's entertainment industry often released the dubbed dialog of international films as a form of radio play — in many cases, months before the film reached many communities. By the time "Walter" was screened, many viewers already knew the script by heart, Wang says.
Wang, who was born in the '80s, was too young to see "Walter" himself, but he recalls it being one of the few films his parents talked about. Since joining the BFA, he has heard countless tales from the '70s generation of schoolchildren re-enacting scenes from the film on the playground.
"The radio program, around one hour for each film, was really popular in the '70s and '80s," says Wang. "A lot of people didn't have access to the film, but they had access to a radio … My mother told me she learned a lot of these films by heart before she watched them."
As the legend around "Walter" grew, an entire cottage industry related to the film emerged. A Chinese "Walter"-branded beer was launched, featuring a picture of the hero on its label. Later came "Walter" comic books, stage plays, and even a musical.
Živojinović made regular trips to China after the movie's release, receiving a hero's welcome wherever he went. The star, with his charm and fix-jawed resolve, had become an icon in the country. Yet Jovanović, the historian, puts much of "Walter's" success down to Krvavac's skill as a filmmaker.
"He had this theory that filmmaking should really be about acting," says Jovanović. "He saw actors as very fragile beings, people whose sole existence depends on their visibility and looks that will vanish at some point … Actors were really crazy about that."
Later Chinese directors drew heavily on Krvavac's work, Wang says. The explosions, fight scenes, and spycraft in "Walter" were hugely influential, but so were the film's sophisticated editing and its delicate themes around identity. Unlike traditional Chinese patriotic movies, each character in "Walter" is multi-layered, with shades of light and dark.
"You never know who Walter is, who are the good guys and who are the bad guys," says Wang. "The film had a great influence on Chinese film — in everything."
In recent years, several of the Balkan nations that emerged from Yugoslavia's collapse have used "Walter" as a tool to build diplomatic and economic ties with China. When President Xi Jinping visited Serbia in 2016, the hosts began playing the movie's theme song during a state banquet, prompting the Chinese leader to wax lyrical about the film.
Sarajevo, now the capital of Bosnia and Herzegovina, also aims to harness the film's popularity to lure Chinese tourists. In 2019, a small museum dedicated to "Walter" opened, and tours of the city themed around the film were in the works. 
However, the disruption to global travel during the pandemic has derailed many of these plans. A "Walter" remake — a co-production between Chinese and Serbian studios — has been shelved, as have any formal celebrations to mark the original movie's 50th anniversary.
At the Film Center Sarajevo, curator Mija Sego hopes that the freeze will be temporary. The facility is working to expand its collection of exhibits paying tribute to the film, banking on renewed interest from Chinese visitors once international travel becomes easier.
"In China of the 1970s, 'Walter Defends Sarajevo' was for many viewers a window into the unfamiliar outside world," says Sego. "Iconic lines from the film — including 'Do you see this city? This is Walter!' — became ingrained in the collective memory of an entire Chinese generation. Because of all this, the film, and now the museum, connect the people and culture of Bosnia and China."
Editor: Dominic Morgan.
(Header image: A Chinese poster for the 1972 film "Walter Defends Sarajevo." Courtesy of Nebojša Jovanović)