As Shanghai's lockdown stretches into its fifth week, thousands of delivery workers have become a lifeline keeping the city running. Many are zooming around the metropolis for over 12 hours a day, delivering necessities to the city's 25 million residents who have no other way of accessing supplies.
Yet, despite being hailed as the city's "unsung heroes," many riders are living and working in dire conditions. Considered an infection risk, delivery workers are often banned from entering their own housing compounds by local residential committees. 
Instead, riders have been sleeping in cars, underpasses, or on the street — often for weeks on end.
The issue came under the spotlight after reports emerged of several dozen delivery drivers sleeping under a bridge in the central Putuo District. The story sparked widespread public concern. Many residents organized deliveries of bedding, food, and face masks to the drivers, hoping to make their situation a little more bearable.
Among them were Jennifer and Sy, who gave only their first names for privacy reasons. After reading the news, the American couple launched a fundraising drive among their close friends. For the past week, they have been using this money to purchase meals and other supplies for the drivers.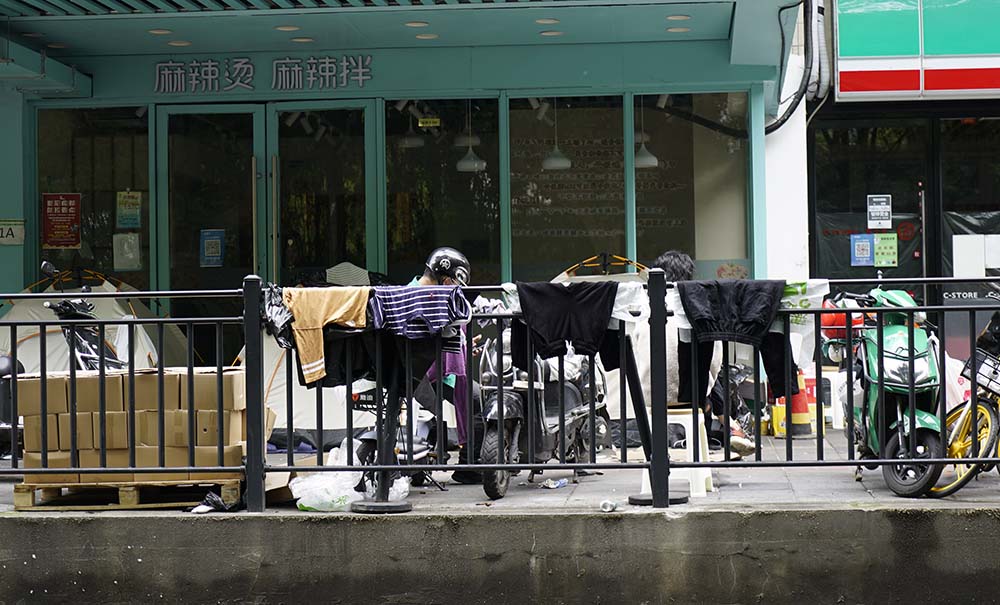 A delivery man waits by the tent where he lives in Shanghai, April 24, 2022. Fu Beimeng/Sixth Tone
Jennifer and Sy spoke with Sixth Tone about the project and the living situations of the drivers they've been helping. This is their story, edited for brevity and clarity.
The pandemic has obviously put everyone living in the city in an uneasy situation. For ordinary people like us, stringent prevention measures and insufficient food supplies have added a lot of stress to our lives. However, it is even more draining to see people not getting enough help and suffering from more severe consequences at this time.
So, when we saw the video on social media, we decided to do something to help. We initially discussed sending a package of frozen dumplings, but then we noticed the drivers might not have the cooking resources available, so we ordered some hot meals online instead.
That was when we met Zhu. He picked up the delivery order from the restaurant, and told us he was living under the bridge together with some 20 or 30 other delivery workers. He accepted the package with gratitude, and said he was happy to undertake the delivery if we would like to provide hot meals for them.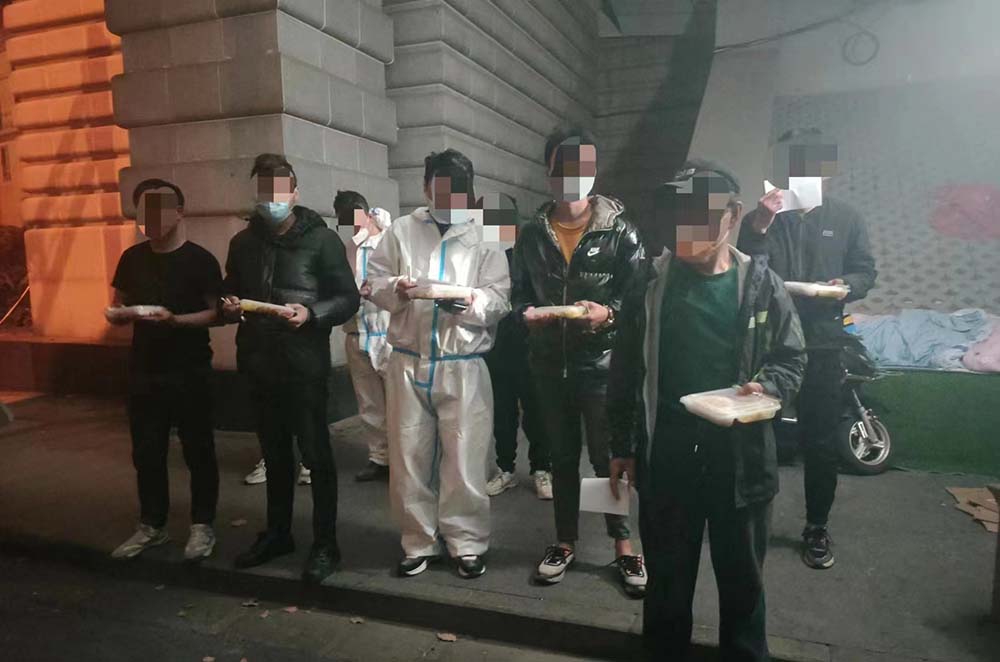 Delivery drivers living under a bridge eat dinner in Putuo district, Shanghai, April 20, 2022. Courtesy of Zhu.
We realized we needed more money, and decided to ask our friends if they would like to donate some. We didn't aim to make it a big project, so I wrote a brief note and only shared it with our closest friends in a small group on the social app WeChat.
We planned to donate 1,000 yuan ($153) at first, but within three hours, more than 10,000 yuan had arrived in our payment account. We didn't expect the message to travel that fast and far. A girl from neighboring Jiangsu province reached out to us on Instagram and asked if she could join the group. She said she just wanted to help. 
The first order went out smoothly. Zhu created a WeChat group to communicate with the other drivers. He picked up the meals and distributed them on a daily basis after we placed the order with the restaurant, which gave us a discount. 
When we talked with Zhu and other drivers, we were able to get a better understanding of the challenges they're experiencing at the moment. Many have been living on the streets and under bridges for three to four weeks. To keep up with demand, they work over twelve hours a day and have not been able to shower or eat properly.
But we were also deeply touched by their sincerity and kindness. When we were added to the drivers' WeChat group, we were welcomed with great appreciation. They tried to send us a fruit basket as a thank you, but we kindly turned it down. It was great to see how they have banded together to confront their difficulties. A man in the group asked us if we could provide an extra bowl of rice. He wanted to give it to the homeless guy who also slept under the bridge.
I always knew delivery workers were extremely hardworking. However, this situation just proved it's on another level. It'd be great to meet Zhu and the other drivers when the lockdown ends. Perhaps we'll grab a meal together after they've had time to rest up.
Editor: Dominic Morgan.
(Header image: Tents where delivery men live outside a subway station in Shanghai, April 24, 2022. Fu Beimeng/Sixth Tone)