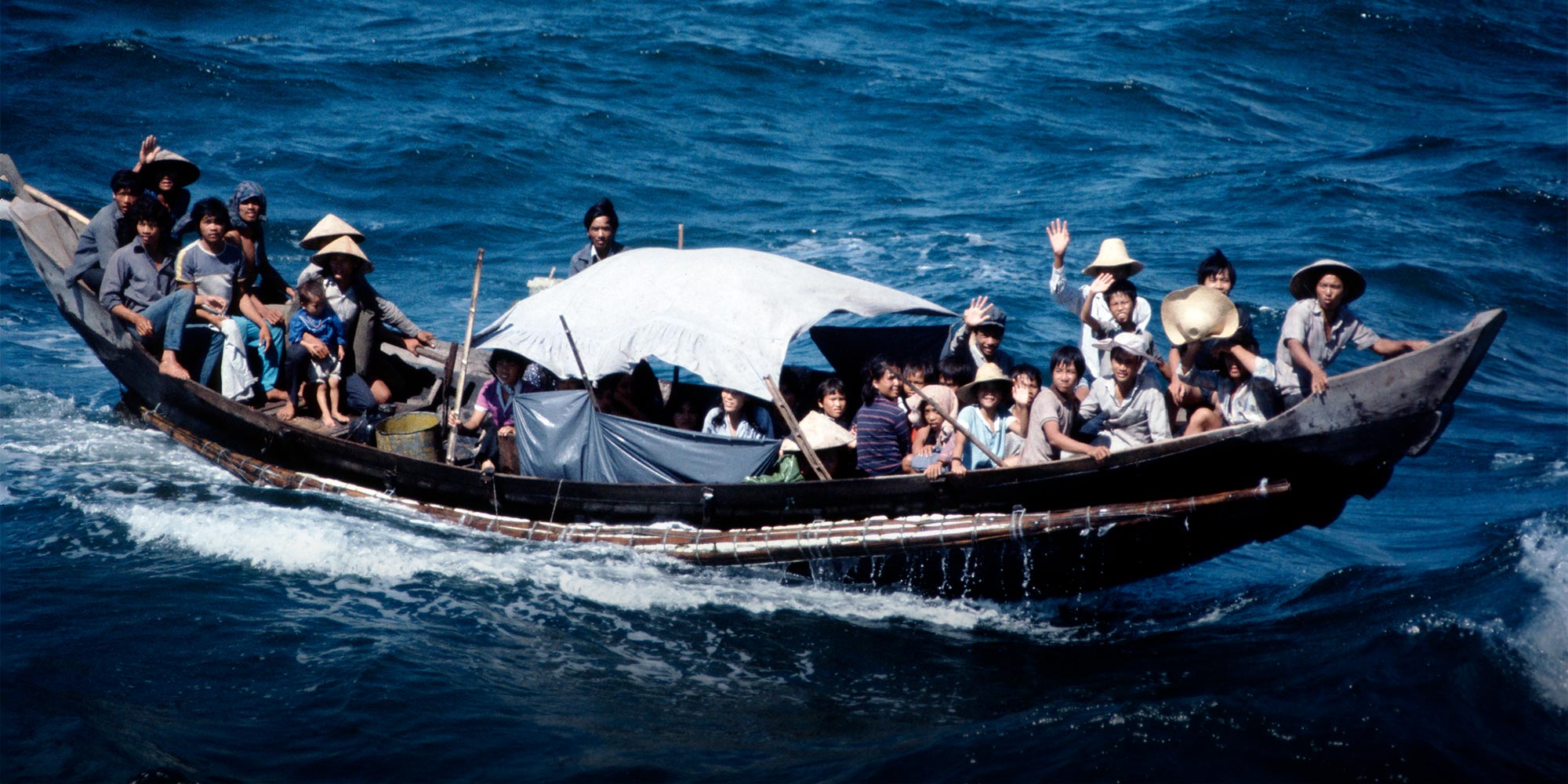 FEATURES
When the Boat People Came to Hong Kong
In the late 1970s, hundreds of thousands of refugees fled to Hong Kong by boat from war-torn Southeast Asia. A new book explores what happened next.
Les Bird still recalls his first encounter with the Vietnamese boat people. The year was 1977, and the Englishman was out patrolling with Hong Kong's marine police force. In the distance, he saw a cluster of small, rickety boats chugging toward him.
Each was crammed with 20 or 30 people. They had sailed over 1,000 kilometers on the barely-seaworthy vessels, fleeing poverty, war, and political repression in Southeast Asia. Bird was dumbstruck.
"It was very surreal," he tells Sixth Tone. "These first people — many of them families — were coming directly across the South China Sea. The journey was long, so they were malnourished and very dehydrated."
It was the beginning of a wave of migration that would upend countless lives. As the North Vietnamese army finally conquered the South, vast numbers of refugees took to the sea in the hope of finding sanctuary in Hong Kong, which was then under British rule.
Nearly 200,000 Vietnamese would seek asylum in the city over the following years. Thousands more died trying to make the journey.
Bird and his fellow officers — stationed at Hong Kong's "southern boundary" of Cheung Chau — were tasked with rescuing these migrants. As each boat arrived, the marine police would intercept, feed, and clothe them before handing them over to Hong Kong's health authorities.
Now retired, Bird has spent years documenting the arrival of the Vietnamese boat people — a term coined by Hong Kong to describe migrants arriving by sea — collecting photographs and oral testimonies from his former colleagues and the migrants they met between 1976 and 1997.
The result is his new book, "Along the Southern Boundary." Featuring historical photos accompanied by Bird's research and memoirs, it offers a unique eyewitness account of a turbulent period in Hong Kong's history.
Distant shores
Bird ended up in East Asia purely by chance. Hailing from Staffordshire in the United Kingdom, he originally planned to join the Royal Navy, following in the footsteps of his father, grandfather, and three uncles.
But when those plans fell through, he decided to look further afield. One day, he spotted a posting in The Daily Telegraph for a job in Hong Kong's civil service. He joined the Royal Hong Kong Police in 1976, and — after an intense nine-month training program — chose a position in the marine police.
Specializing in search and rescue, Bird expected to live a fairly quiet life. The Vietnam War, after all, had ended the previous year. "Everybody was aware that the war had finished, and nobody thought we were going to be involved in any way," he recalls.
The new recruits couldn't have been more wrong. In fact, Vietnamese refugees had already begun to arrive in Hong Kong — initially, in a trickle. As the North Vietnamese army conquered the South, many with ties to the American or South Vietnamese governments chose to flee. Others were displaced due to ongoing fighting or poverty.
Crossing overland into neighboring countries was difficult; Laos and Cambodia were still mired in intense fighting. For many, the only viable escape route was to cross the South China Sea.
But it was a perilous journey. The boats refugees used were often totally inadequate, Bird recalls. Most were ramshackle, broken vessels built for use on the Mekong River Delta rather than the ocean.
"They were grabbing what they could in South Vietnam, which was usually a small riverboat," says Bird.
Many boats were sunk by typhoons. Others were intercepted by the Vietnamese authorities. In the early days, a large number fell victim to piracy: the perpetrators — mostly from Thailand — robbing the refugees of their possessions before murdering everyone on board.
The number of boat people who died attempting the crossing is unknown. The United Nations High Commissioner for Refugees estimates it's in the hundreds of thousands.
Those who did make it to Hong Kong often arrived traumatized and weak from excess sun exposure and dehydration, Bird recalls. The situation escalated following the outbreak of the Sino-Vietnamese War in 1979, as the Vietnamese government began oppressing its ethnic Chinese population.
"There were about 10 to 12 boatloads coming in at the same time," says Bird. "It was a very busy year."
That year, Hong Kong declared itself a "port of first asylum" for all refugees from Vietnam, meaning no refugee would be turned away upon arrival. The city's attitude offered a stark contrast to neighboring territories such as Malaysia, Singapore, and Thailand.
Despite later controversies, Bird and his colleagues remain fiercely proud of the role Hong Kong played during the crisis, he says.
Closed camps
Yet Bird's book does not shy away from the darker side of Hong Kong's response. The Vietnamese arrivals also included a significant number of economic migrants who weren't entitled to refugee status. Hong Kong, with its small territory, viewed the surge in migration as a serious challenge.
As more Vietnamese arrived by boat, government officials held in-depth interviews with new arrivals to determine their status. Those not classified as refugees were sent to "closed camps" — heavily guarded facilities set up by the city in an attempt to reduce the influx of migrants.
Thanh Vu, a Vietnamese refugee who shares her story in "Along the Southern Boundary," was just 16 years old when she was sent to Hong Kong's Sham Shui Po Camp. She describes the camp as "hell on Earth": a place where criminal gangs fought to the death.
Some asylum seekers stayed in the closed camps for up to eight years as they waited for a decision on their refugee status. It wasn't until the late '90s that Vietnam agreed to take back the remaining internees in the camps.
A smaller group, rejected by Vietnam due to criminal convictions or a history of drug use, was granted permanent residence status in Hong Kong by the early 2000s. The remnants of the last refugee camp, Kai Tak North, were torn down in 2019.
Of the nearly 200,000 Vietnamese refugees who sought asylum in Hong Kong between 1976 and 1997, the majority eventually settled in wealthy nations, including the United States, Canada, and Australia. Around 1,400 applied for resettlement in Hong Kong itself.
Collecting stories
Bird and his colleagues often formed close emotional bonds with the refugees they worked with, and kept in touch for years afterward. He shares a remarkable story — one not included in the book — of a girl who arrived in Hong Kong on the freighter Skylark with thousands of other Vietnamese in 1979.
She was eventually granted asylum in Canada, but six years later traveled back to Hong Kong with the intention of finding the police officers whom she'd met on arrival. Not knowing what to do, she dialed 999.
The emergency number referred her to the Marine Police headquarters, and miraculously someone she'd known all those years ago picked up the phone. The team invited her to visit and they spent a day out together, Bird says.
The refugees' fortunes have varied in the years since, Bird says. Some have found success, such as Carol Xuan, who now works in Hong Kong as a lawyer. Others developed drug habits and struggled to adapt to normal life after leaving the closed camps.
Bird left the Hong Kong police force in 1997 and spent the next 20 years working in the security industry across Asia. Since retiring in 2020, he has been writing his memoirs and reconnecting with the people he first met as a young man in the 1970s.
"I've rekindled a lot of relationships," he says. "It's been very rewarding."
The former police officer is currently in the United States, where he plans to meet up with a number of former refugees over the coming weeks.
One emotional reunion will be with Caroline Wu, who was 9 years old when she arrived in Hong Kong on the people-smuggling ship Sen On. Forty years later, Wu says she is glad the stories of Vietnamese refugees are finally receiving public attention.
"We are not just a drop in the ocean; our stories now can be seen and heard," she says. "My heart is full of excitement to see Les again."
Bird has been invited to host a book launch at the Vietnamese Heritage Museum in Santa Ana, south of Los Angeles, on May 14. He says he'll be taking his old Olympus OM-2.35m camera — the same one he used to document the boat people's journey in the '70s — and will present it to the museum along with a selection of his photos.
"I know that others that were refugees in Hong Kong will be there, so it really has a bit of an unknown feel to it," he says. "I'm sure there will be many stories told at this event."
Editor: Dominic Morgan.
(Header image: A small motorized boat filled with migrants arrives in Hong Kong waters in 1988. Courtesy of Les Bird)