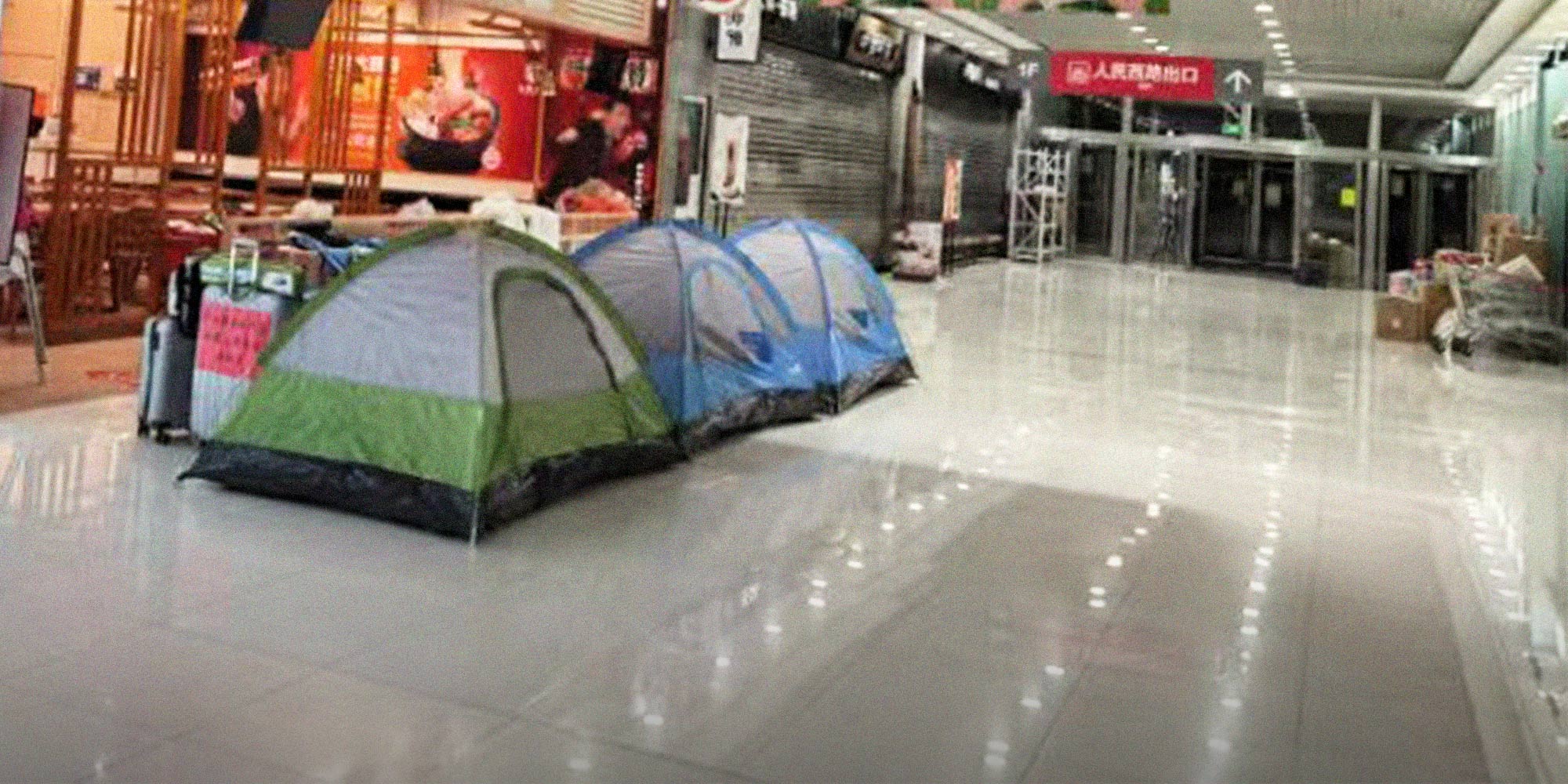 SIXTH TONE ×
Lockdown on Aisle 5: From Shanghai Supermarket to Crisis Depot
Dozens of workers have spent weeks sleeping in their store to provide supplies to a closed-down town.
Once Wang Zhongkui's phone started ringing, it wouldn't stop. One caller was in desperate need of milk powder for her newborn; another asked for a phone charger so she could stay connected to the outside world. Quarantine centers required blankets, and construction workers building temporary hospitals called for meat and vegetables.
Wang, 41, is the manager of an RT-Mart supermarket in Huinan, a Shanghai satellite town close to the city's largest airport. Ever since the city locked down in the face of an unprecedented wave of COVID-19 infections, the massive store, with over 10,000 square meters of floor space, has been one of the rare businesses that has remained open. It was designated by the government as a supplier of essential goods.
In early March, when Shanghai's COVID-19 case counts began creeping up, Wang started sleeping in his office to evade the risk of being quarantined at home and jeopardizing his store's operations. When the eastern part of Shanghai went into lockdown on March 28, he was joined by 105 employees.
Over the past two months, the city has recorded over 400,000 cases. To many residents, the continuing lockdown has been characterized by problems with deliveries of food and other household products. In Huinan, many people would probably be worse off were it not for Wang and his workers camping out among the aisles for weeks.
The following is Wang's story, as told to reporters Ming Que and Wu Jiaying:
"The charger is important to her"
I didn't realize what was happening when I received the first call for supplies early in the morning on April 1.
Only later did I realize that the government's list of companies that would secure supplies during the lockdown period, which included us, had mistakenly listed my personal cell phone number.
From that first call on, it hasn't stopped. Sometimes, I receive hundreds of calls a day.
I was very moved when an anguished young mother called late one night, saying that her baby, who was crying in the background, was just 20 days old. She wasn't producing any breast milk, and she had run out of formula. I remembered how my son would be when he was hungry just after he was born, and arranged a delivery for her.
The phone calls came one after another, and I started to think about what people needed most urgently. Besides vegetables, meat, and rice, ready-made food is a life-saver for young people who can't cook or who don't have any pots and pans in their apartment.
One young woman called and said that her cell phone charger was broken, and that she had less than 10% of her battery left before losing her lifeline to the world beyond her front door.
There are also people who say they want cigarettes, lighters, and alcohol — but we don't currently deliver non-essential items.
When I get a call, I delegate the tasks: our employees are separated into teams that sort, pack, and arrange delivery of goods for residential communities, individual apartments, and businesses.
After a few days, the government replaced my phone number with that of our customer service manager, and the number of calls to me slowly went down.
Our store has a van with a lockdown pass, and it's in use around the clock. The driver, Tang Feng, is a big-hearted guy. Before the lockdown started, he called me and said he didn't want to hunker down at home. He wanted to help. He applied for permission, and went to live in the store with his wife. Now he drives hundreds of kilometers every day. The milk powder delivery for that young mother? That was him.
"Supermarket by day, bedroom by night"
In early March, cases were popping up in Pudong, the eastern part of the city where Huinan is located, and government officials began locking down residential communities and businesses wherever they found infected individuals or their close contacts — under a policy called grid management.
I live in Yangpu District, about an hour away in the western part of Shanghai. Since March 5, I've only been back home once, to get clothes. I didn't stay overnight. Around that time, one of our employees tested positive, was quarantined, and never came back to work.
On March 12 we were informed that three people who had tested positive for COVID-19 had recently visited our supermarket. For two days, our building had to go into closed-loop management — collective quarantining with daily testing. Our supermarket is on the building's second floor; the first floor has smaller shops and the third and fourth floors are the parking lot. I called everyone who had worked here during that week. We managed the quarantine of more than 650 people.
In those two days, the workers on the first floor slept in their shops or in their cars. Most of our staff slept on makeshift beds on the floor of the supermarket and its office.
We resumed business on March 15. Every employee was required to wear a mask and maintain social distance, and the area was decontaminated daily. No one expected that positive cases in Shanghai would continue to grow, and that the number of neighborhoods under lockdown would increase by the day. It became difficult for employees to leave the supermarket, and fewer customers came in. At the end of March, another employee tested positive. The store hasn't had any cases since then.
On the evening of March 27, the government announced that all of Pudong was going into lockdown. We had just over four hours to prepare. We immediately got to work, putting all the basic necessities on the shelves.
A flood of people descended on the store. The government arranged for police and urban management officers to maintain order. We were open until 12:30 that night, selling out of most of what was on the shelves.
Before the end of the shift, we had an emergency meeting to determine who would stay. Of the 170 people working the night shift that evening, 105 employees stayed behind. In the following days, as the situation in Shanghai became more and more severe, we let some people go back home to reduce the risk of infection in the store. Finally, we were left with 88 people. In accordance with Shanghai's pandemic prevention policy, we do one day of nucleic acid testing, followed by one day of antigen testing, rinse, repeat.
In the morning, we eat stuffed buns, milk and eggs. For lunch and dinner, we cook and stir-fry our own food, usually two vegetable dishes and one meat dish. The store has all kinds of fresh ingredients, and the staff in charge of the ready-to-eat food is here. The staff in charge of security can cook curry potatoes and sweet and sour pork ribs, which are pretty good. I appreciate their dedication and I thank them wholeheartedly for sticking with me.
"Everyone is doing their part"
Normally, our sales are predictable — but not anymore. For example, there is a centralized quarantine site in our town that suddenly needed a batch of quilts in the middle of the night; some construction site canteens suddenly doubled the orders of vegetables and meat; and there has also been a sharp increase in demand for milk powder and diapers.
Early on, we prepared well, and built up sufficient reserves of rice, noodles, cooking oil, instant noodles, eggs, and other essentials. Vegetables, fruit, meat products and so on are a little bit tight, but we receive shipments every other day. We used to restock every day and could offer more variety, but we can't do that anymore.
During the earliest days of the lockdown, we ordered vegetables, fruit, and poultry from areas neighboring Shanghai. But because Pudong was locked down, the driver would have no way to leave after entering the district. So we had drivers from Shanghai meet them right outside the city and pick up the goods. This way nobody had to quarantine. Recently, the Shanghai government took over management of the city's wholesale vegetable markets, and we began ordering from them.
In the beginning, we delivered mainly combo bags of vegetables, poultry, and meat. Later on, different demands gradually emerged, such as for fruit, napkins, instant noodles, milk powder, diapers, and so on. There were days when we took mainly group bulk orders — from a neighborhood, from volunteers, and from the government. When individual residents called, I suggested that they purchase through their neighborhood and we deliver uniformly to save on labor.
The situation is slowly improving. The Huinan Town government took the lead and arranged for a logistics company to help with our deliveries. Since April 7, we have allowed online ordering. We have capped orders at 300 a day, and they are filled within minutes of opening up.
By the 12th, we had sent about 30,000 orders into residential neighborhoods. At the peak, we were responsible for supplying 5,000 food bags a day.
Among employees, spirits are good, all things considered. On the 12th, our headquarters bussed in two dozen employees from outside Shanghai to help with sorting and packing. They also brought masks, cotton gauze, and tents.
Some of our employees who are in lockdown at home feel bored, and have offered to come back to work. The Shanghai government has asked us to increase supply, so they may be called in soon.
Through all this, every retailer is doing their part. We are just a node in a network, a microcosm of the industry.
A version of this article originally appeared in The Paper. It has been translated and edited for brevity and clarity, and published with permission.
Translator: Matt Turner; editors: Zhi Yu and Kevin Schoenmakers.
(Header image: RT-Mart staff from other cities sleep in tents on the floor, Shanghai, April 12, 2022. Courtesy of Wang Zhongkui)