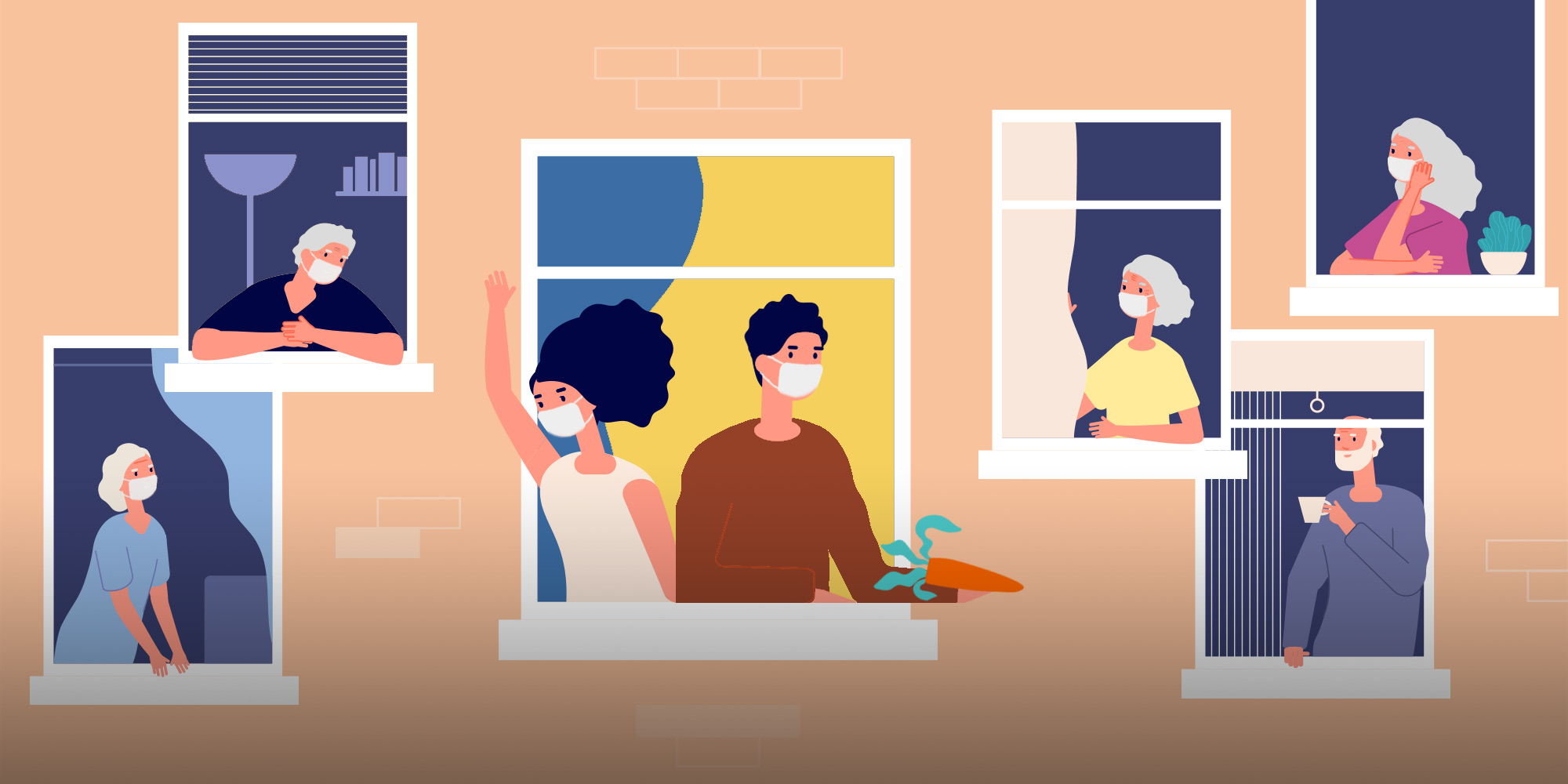 SIXTH TONE ×
The Tech Support Next Door
When their elderly neighbors struggled for supplies amid the Shanghai lockdown, one young couple stepped up. Soon, many followed.
Wang Ye, from China's eastern Shandong province, and his girlfriend, who is from Shanghai, rent an apartment in an old colony not far from the Huangpu River in Shanghai's Pudong area.
Both are introverted, in their mid-20s, and working professionals. Across their apartment, the young and elderly hardly interact, and the one time the couple requested help from an elderly neighbor, things didn't go as planned.
But on March 22, all that changed. That day, the community was locked down in the aftermath of the recent COVID-19 surge across the city.
In the pandemonium that followed, most elderly residents struggled to participate in their apartment's efforts to buy food and supplies through WeChat, China's social super-app. Concerned, Wang Ye and his girlfriend put up a notice on their building's main door offering help.
In no time, the couple assisted eight elderly households in their building. When more and more aged residents began seeking help, other young people in the community volunteered to lend a hand.
On April 9, Wang, in a WeChat post, detailed his thoughts and methods to help elderly neighbors. The post not only gained instant traction online but also spurred several others into action, including one friend who said he'd also helped an old man in his community buy much-needed blood pressure medicine.
The following is Wang Ye's story, as told to reporter Li Jianan.
Need vegetables, not refunds
There are more than 30 buildings in the community where my girlfriend and I rent an apartment, and each building comprises around 25 households. Like lots of similar, older neighborhoods in Shanghai, announcements are mostly made via megaphones and public notices.
Between 4 and 5 p.m. on March 22, we were just getting ready for a round of shopping when we realized the gate to the community had been cordoned off. An announcement over megaphone soon followed: we were locked down.
At first, they said it would last two days, but that was extended for two more days, and then another two. Now, it's been almost a month under lockdown.
Initially, we managed to order takeaway and also bought groceries from online platforms. But then all of Pudong was locked down, deliveries were suspended on March 28, and ordering groceries online became difficult.
That's when the community finally created a WeChat group that offered group buying — the preferred model of buying groceries in post-lockdown Shanghai, where communities band together and place bulk orders directly with food companies. A lady we once met while feeding the apartment's stray cats added my girlfriend to the group.
I was reluctant to join at first since I felt the elderly in Shanghai were not very welcoming to outsiders. But the system was complicated — there were just too many messages in the group for one person to handle. When my girlfriend couldn't keep up with them all, I finally joined too.
Between March 22 and April 2, the neighborhood committee sent us barely anything; it only organized two bulk purchases of vegetables. The first was a 30-yuan ($4.7) box of assorted vegetables, but we missed the message. We managed to sign up the second time, but when it finally arrived, the price had gone up from 30 yuan to 50 yuan.
Over two days starting April 3, we received four packages from the committee containing the most basic necessities — rice, flour, oil and salt, a carton of milk, a pack of luncheon meat, some sausages, and cucumbers. Later, we also got two packs of Lianhua Qingwen Granules, a Chinese medicine used as a treatment for COVID-19. Without the group buying, we would have struggled to get other necessary supplies.
One day, my girlfriend suddenly began wondering about the older people in our apartment. She counted that at least around a dozen of the 200-plus members in the group buying chat were possibly senior citizens.
The signs were clear: they had profile pictures only older people used: some had likely only recently registered on WeChat and didn't have a profile picture; others had bland status messages like "happy every day."
Some seniors put their names down in the chat — a process termed jielong — to participate in the group buying, but failed to pay and ended up getting nothing.
Others posted messages complaining about price increases and demanded refunds. In such situations, tuanzhang, or "neighborhood group-buying coordinators," replied tersely with: "If you can't use a cellphone, don't take part."
My girlfriend once noticed an old person mention in the group chat that when they asked the neighborhood committee for food, he was given two bamboo shoots. On another occasion, the head of the group ordered 128-yuan vegetable blind boxes, which were not delivered due to the lockdown, and so everyone was given a refund.
One old man in the group said bluntly, "We want vegetables, not refunds."
After being bombarded with so much news about the pandemic, I started to feel depressed, as did my girlfriend, who often started crying after watching the news. Unwilling to remain mute bystanders, we came up with the idea of helping the senior citizens.
On April 4, we wrote the note offering our services and stuck it on the main building door.
Stock sharing
When nucleic acid tests are conducted, the building's pointsperson knocks on each door to notify all residents. It's why I presumed they must also know of the difficulties the elderly in the building face. Our little endeavor was just to help pick up the slack.
But soon after posting the note on the main door, we were surprised when eight elderly households in the building contacted us.
The first was the very next morning. I was collecting group-ordered groceries when an old man asked me where I got them from. On discovering that he lived in the same building, I pointed to the notice I'd put up and said I would be glad to help him.
The man was quite nearsighted and couldn't read the notice. So he just went home and then sent his wife to take a look at the note. Neither of them could use a cellphone and hadn't eaten meat in several days.
They asked for meat and mantou, or "steamed buns," items that I'd recently bought and so gave to the elderly couple. They thanked me profusely. The old man then paid me for the supplies in cash.
My girlfriend is from Shanghai, and she told me that for older people here, "steamed buns" actually meant filled buns. Later, when I went to deliver food to them again, an elderly lady next door poked her head out to speak to me.
That's when I realized another aged couple in the same building faced the same problem: they couldn't use a cellphone well either.
One elderly neighbor came straight up and knocked on the door after seeing our note. I saw she had a phone, so I added her to the group buying chat. But since she was not very familiar with using it, we basically ended up doing it for her.
Of the eight elderly households we helped, maybe only one person managed to complete a purchase on their own, which, in the end, wasn't necessarily successful.
Their basic needs were filled buns, milk, meat, and eggs. Sometimes while delivering supplies, several seniors came out of their apartments to speak to me, almost like children waiting to be fed.
On April 8, I bought a large tray of eggs, and seniors from three apartments all rushed out, so I divided the eggs, giving 10 to each family. Though many have lived here for more than 20 years, they were not familiar enough with each other, and so did not know others were in the same boat.
It's extremely stressful both working from home and having to keep an eye out for group buying messages.
On the busiest day, I started work early in the morning and also ordered the meat and vegetables we needed from one of the groups. Another group had contacted an import supermarket selling coffee beans, and since my girlfriend likes coffee, I placed an order. I also saw a message that milk was available, so I asked my neighbors if they needed any and then placed an order for everyone.
The biggest community chat group bought eggs, so when several old people I recently met said they wanted some, I tried to place an order, succeeding only on the second attempt.
One group was selling packs of chicken legs and shrimp. Since someone there didn't want them anymore, I asked the residents of another building to share the order. I had a nucleic acid test at 10 p.m. that day and then an online work meeting for another hour. I went downstairs to pick up the orders that had arrived and finally called it a night.
I was really struggling to keep up, so on April 8, suggested that other young people in our building buddy up with our elderly neighbors, each taking care of two to three households. Everyone was very positive, and we soon put the plan into action.
Over the next few days, the seniors gradually built up a bank of supplies, with one even mentioning that he'd like some apples and pears. I purchased a 120-yuan fruit basket via group buy, deducted the cost of the other fruits, and charged him just for the apples and pears.
Among the senior citizens, except for one who uses Alipay, the others all ended up using cash. By April 9, I had probably collected around 300 or 400 yuan in cash.
Also, since many don't speak Mandarin well and I understand little Shanghainese, I relied on my girlfriend to either translate or speak with them directly. However, now that I've heard so much, I've managed to pick up on some of the patterns.
"The kid who cries gets the candy"
I moved to this community from Beijing late last year. Because I'm quite introverted, I rarely communicated with the older people in the building. When I first arrived, I had to ask a neighbor for help, but the experience wasn't very pleasant.
My TV had arrived from Beijing in a wooden crate. Needing a hammer to open it, I gathered the courage to knock on my neighbor's door. The man wasn't very pleased and told me to ring the doorbell rather than knock, before reluctantly lending me a hammer.
Some months later, there was a loud knock at our door at midnight. We were so scared that we opened it with scissors in hand. Standing there was the same neighbor, who told us we were required to get a nucleic acid test.
Until a few days ago, we were always on our guard against each other. When my girlfriend went downstairs to pick up the milk we'd ordered, she bumped into the same elderly man looking through the things we'd bought. He asked her for some help buying a couple of bottles of milk.
I told him the price, and possibly because he suspected we were cheating him, he asked for just a single bottle instead. Trust had to be gradually established during this lockdown, a little bit with each group purchase and door-step delivery.
I believe I now have a better understanding of the old saying, "The kid who cries gets the candy." A lot of older people will not ask for help until they're actually starving. As long as they have something to eat, they are reluctant to let on their distress to their children.
Most seniors in our building are couples. These past couple of days, I found out about an older woman living alone whose daughter lives elsewhere and was struggling to take care of both her mother and her own family. So, the younger people in our group did the shopping for the woman, and the daughter just paid for the food.
Now, the residents are helping each other through the group chats. There was a positive case in one of the community's buildings — a couple in their 80s, one of whom had a fever and the other a bad cough.
Their niece then asked for help buying medicine in a group. Finally, a resident in a neighboring community managed to throw some over the main gate, and a volunteer delivered it to them.
I also read in one group about someone who said they had been using A4 sheets of paper instead of toilet paper for several days, that it was too rough, and they couldn't manage anymore, so someone delivered some toilet paper to him.
The first time I delivered food to a neighbor, I was surprised that he thanked me over and over again and called me a "lifesaver." Even now, he still stops to express his gratitude.
For example, the second time I brought him bread, he said, "That beef you brought me the first time was delicious." On my third visit, when I delivered some fruit, he said, "The bread you brought me last time was great."
I could sense that he was trying to bond, and he said I should let him know if I needed any help in the future. Actually, it made me feel pretty bad. For young people like us, it's really the least we can do.
Neighborhood watch
My girlfriend and I also want to thank the other residents. If not for the lady we met while feeding the stray cats, we'd never have joined the WeChat group, and we'd be the ones starving today.
The young people in the building are now more connected than before. The community is friendlier and is no longer just a place where we clock off to go to sleep.
We say hello to each other, collect deliveries together, and chat. One woman in the building had stocked up on a lot of food and offered to share it, giving us a pack of ham for sandwiches.
Later, when we spotted in another group that she wanted cake, we gave her one we had. Another time, she said she wanted to eat glutinous rice balls filled with sesame paste, so my girlfriend took her some. She then gave us some mandarin oranges and invited us to visit her home for a meal when the situation improved.
One resident who lives on our floor managed to buy a whole heap of vegetables and gave us a big bag of celery, onions, potatoes, and tomatoes. We thought it was too expensive and more than we could eat, so we just kept the tomatoes and gave him a few leafy greens in return. At first, he didn't want anything in return, but when he saw the greens he relented.
On April 9, one of the group-purchased vegetable packs included celery. Though my girlfriend and I don't particularly like celery, I ordered two packs so we would have something to trade if anyone in the building needed it.
My hometown is Changdao in the eastern Shandong province. In our community there, residents often visit each other. Though I'm introverted, I understand the importance of good neighborly relations. To me, neighbors are really important, second only to relatives.
On Lunar New Year's Day back home, we don't only visit our relatives, but also our current and past neighbors.
On April 10, another batch of vegetables I ordered arrived, and I distributed it among two elderly households. Unexpectedly, the 30-yuan vegetable boxes from the neighborhood committee group buying also showed up.
I thought that the elderly residents were unlikely to be able to finish so much in such a short time. To be honest, I hope that the subdistrict and neighborhood committee can do things a bit better.
I remember reading somewhere that Shanghai's problems could be solved by letting the advertising industry design the nucleic acid testing process and putting community managers from tech companies in charge of the group buying. However, I think this raises the bar for ordinary people looking to do a little good.
Personally, I'm really pleased with what we ordinary folk have managed to achieve. In such precarious situations, if everyone could just take the time to check in on their neighbors, that's already a step in the right direction.
Wang Ye is a pseudonym.
A version of this article originally appeared in Beijing Youth Daily. It has been translated and edited for brevity and clarity, and published with permission.
Translator: David Ball; editors: Zhi Yu and Apurva.
(Header image: Visual elements from MicroOne/VectorStock via VCG, reedited by Ding Yining/Sixth Tone)