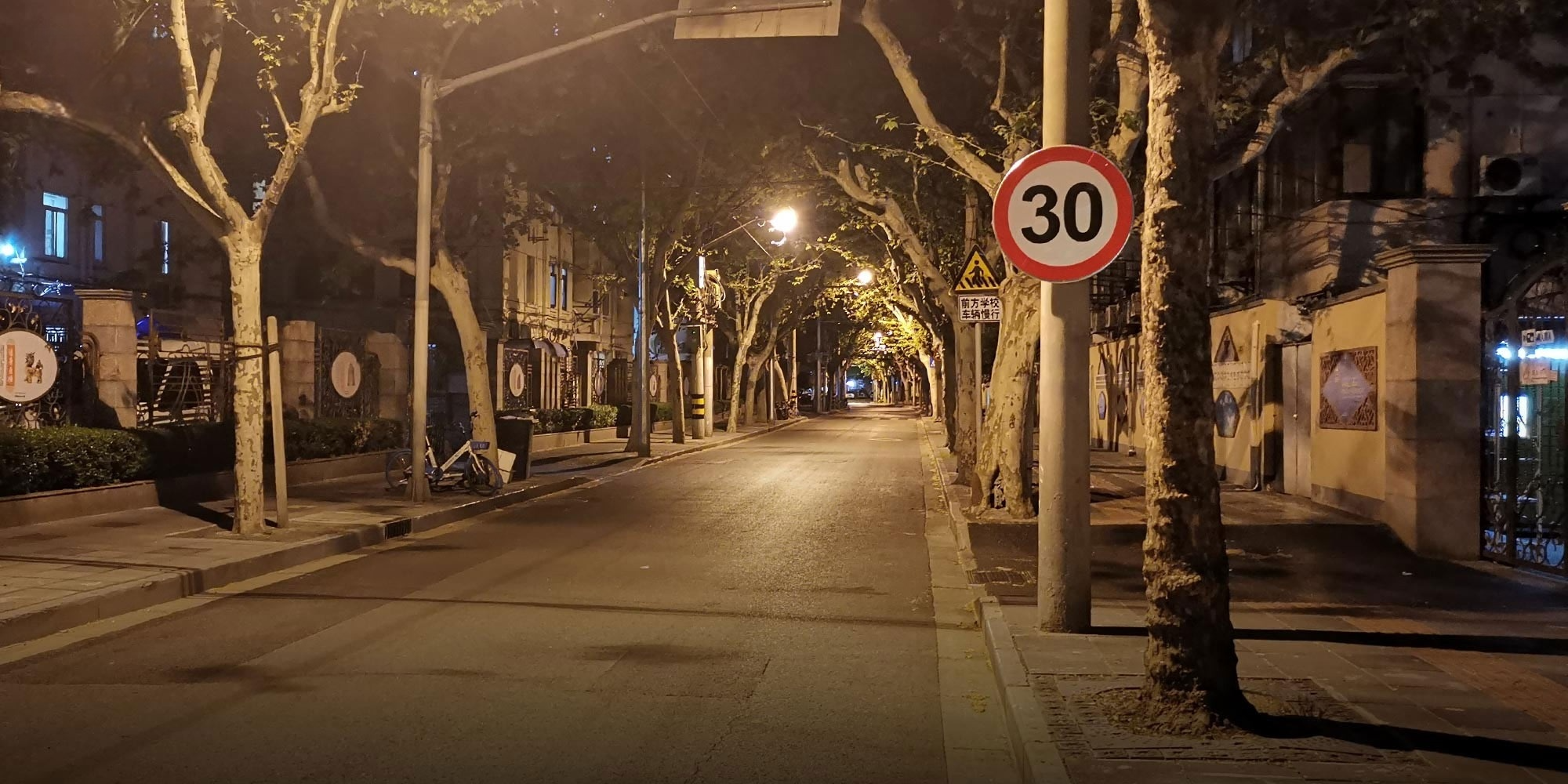 FEATURES
He Was Visiting Shanghai. Then His Health Code Turned Red.
A Shanxi native describes his harrowing journey from homelessness to finding shelter during the citywide lockdown.
As Shanghai's 25 million residents hunkered down for a citywide lockdown on April 1, one visitor found himself wandering in the city's deserted streets over the following days.
The man, surnamed Liu, was visiting Shanghai from nearby Suzhou to see friends when he was deemed a close contact of a COVID-19-positive individual who was staying at the same dormitory. His color-coded health pass turned red just two days after the lockdown, ending prospects to reenter the dormitory in the city's Baoshan District.
A native of northern Shanxi province, Liu was homeless for 10 days. The 29-year-old has since had a temporary job and his health code also returned to green.
The following is an account of how the country's color-coded health app affects people's lives, as told by Liu, who only gave his surname for privacy concerns.
The interview has been edited for brevity and clarity.
Turning red
I arrived in Shanghai from Suzhou to visit friends on March 11. But I decided to extend my stay after Suzhou decided to quarantine those coming from Shanghai for 15 days. It would have meant 500 yuan ($80) a day for hotel quarantine and meals. It was too expensive. So I waited for the situation to get better.
Meanwhile, a friend helped me find cheap accommodation and shared a job opportunity to work as a temporary community worker in Yangpu District. I was bored and hoped to make some money.
On March 31, more than 50 of us boarded a bus headed for the residential community where we would work. I packed a sleeping bag along with bread, eight cans of rice porridge, and a big bottle of water.
We did a rapid antigen test before the bus hit the road. One of us tested positive.
We felt uneasy inside the bus and many of us asked to leave. But the recruiters said no. Someone called the police, but it didn't help. We got tested twice more, and all of us showed negative results. Relieved, we spent the night in the bus.
All of us took another antigen test and a nucleic acid test the following day so we could start working. But it turned out the residential compound only wanted a dozen people. I was cut off when they started counting. Those left out argued with the recruiters, and we were eventually promised 400 yuan compensation for the two days of our time.
I wanted to return to the place I was staying, in Baoshan. But all of Shanghai was already locked down, and transportation was restricted. So I got off the bus with some others in Hongkou District. At the time, we heard that the lockdown would end in a few days, so I was hoping to return to my accommodation after public transportation resumed.

Meanwhile, we tried to find hotels but failed. We were told we needed an official permit showing we could move around during the lockdown. We spent the next two nights on the stairway of a fire escape outside a shopping mall. The floor was so cold that I couldn't sleep.
On April 3, my roommates from the dormitory said in our group chat that their health code had turned red. I opened my app immediately. It was red, too.
One of the roommates had tested positive over a week ago and was asymptomatic. I guess that's why our codes turned red. I wasn't scared of catching the virus, but a red code means you're restricted from going anywhere. I read online that it generally takes 21 to 27 days for the code to turn green again.
Access denied
I can't even remember how many times I was questioned on the road.
Whenever I shared my story with the police, they told me to do a nucleic acid test. I went to two nearby hospitals but was denied entry because of my red code. I then started cycling to Baoshan on a shared bike, but was stopped at a checkpoint on the way. I made a U-turn to Hongkou. I was stressed. I rested on a chair in front of a shuttered restaurant there.
A security guard soon asked me to leave. I ignored him. He started yelling, saying I wasn't cooperating with the epidemic prevention rules. He called the police. They questioned me and suggested that I go back to Baoshan. They told me to call 110 (the police hotline) if I was stopped.
So I left.
A police car followed me until I crossed into Hongkou. When I arrived at a checkpoint in the afternoon, I called 110. The police saw my red code and held me immediately. They started making phone calls. Dressed in protective outfits, they took me to a nearby park and cordoned me off. I gathered an audience — delivery workers, people from nearby households. Some even took photos.
Homeless
I have bronchitis and was coughing badly at the park. The police offciers might have thought I was infected.
I sat near a flower bed and waited. I didn't eat breakfast or lunch. The police officers gave me some porridge, chocolate, bread, and cookies, and eventually an antigen test. I tested negative. They took a picture of the result, and I was let go after almost three hours.
It was dark when I started cycling again. It was past 10 p.m. when I finally reached where I lived. But the security guard wouldn't let me in.
I had no choice but to find a place nearby to sleep. I biked to a mall and slept on the corner of the first floor. My roommate had passed me a tent from inside the dormitory compound, so I slept against the wall. It was slightly warmer.
I regretted coming to Shanghai, and I regretted not returning to Suzhou soon enough.
I called 110 repeatedly and they referred me to 12345 (the city services hotline), which was very hard to get through. I also called the medical assistance hotline. They told me to call the Center for Disease Control and Prevention, which was even more difficult to get through.
During those days, I only got through to 12345 once. They said they would handle the situation. I received a text message saying that my case had been reported. There was no follow up.
Helping hands
I messaged a WeChat group with many people seeking help, and was approached by some volunteers. They posted my plea on Weibo on April 5 along with my phone number, and the volunteers also added me to a rescue group on WeChat. I then realized there were many others needing help: Those requiring medicine, others with sick family members, children lacking milk powder, and COVID-19-positive patients waiting for central quarantine.
A woman near the dormitory told me to pick up some supplies. She gave me two packets of instant noodles, hot water, fruit, and cookies. I was so hungry that I ate both packets at once. Instant noodles never tasted so good.
An older man also asked people who lived in the area to cook for me. Then I ate steamed buns, tomatoes with fried eggs, and bacon. They were the only meals I had besides bread and porridge during those days. I had to calculate my rations and eat economically. I was constantly hungry and could barely ride the bike.
On April 9, a woman told me that there was a hospital that could give me a nucleic acid test without checking my health code, so I headed over there. But on my way, a police officer stopped me, and again I told my story. Then I opened my health app — and my code was downgraded to yellow.
The officer suggested a place to stay. I checked the location online and found it was a warehouse. It also seemed like a disposal site, and it was a hot day. So when the police left, I continued to the hospital. They didn't check my health code, and I finally got a nucleic acid test.
That night, I moved from the shopping mall to the entrance of a subway station. I saw other people sleeping there, and it felt better to have company.
One of the men there was over 40. He had been a construction worker at a quarantine center.
Like myself, he wasn't allowed to go back to the place he was staying. But he had no sleeping bag. He just wrapped a quilt around himself and slept in the corner between a car and the wall to avoid the wind. The two other people also only had a quilt.
It was from them that I finally found out where to buy food and water. I felt somewhat relieved.
Ray of hope
When I was resting near the subway station the next day, a man told me about a job opportunity nearby, suggesting I go check. He was also applying for the job. The four of us sleeping by the subway station went to inquire, but only I managed to get through. The others didn't have a nucleic acid test result.
I had heard they were hiring security guards for a government job, but it turned out we'd be helping carry food supplies to a nearby residential compound. The job provided food and accommodation. I was finally able to sleep on a bed, with a quilt. It felt so comfortable.
I woke up every day at 6 a.m. and finished work around 7 p.m. I was responsible for receiving daily supplies for the residents. It was exhausting, and it paid 200 yuan per day.
In Suzhou, I deliver goods for supermarkets, but it wasn't as exhausting. I went to sleep immediately after work. Sometimes, we also worked as dabai ("big whites," or workers in protective clothing) to maintain order during the nucleic acid tests in the compound. That was easier.
The place where I worked is an apartment complex with tens of thousands of residents. I had heard hundreds of people there were infected but were yet to be transferred to central quarantine. So I was stressed and a little scared.
On April 11, my health code finally turned green, exactly a month after I arrived in Shanghai. The code turned red, yellow, and then green in just a few days. It was exhilarating.
On April 17, I left the job after some of my coworkers tested positive for COVID-19. I'm now sharing a hotel room with two other colleagues. The hotel owner was nice enough to allow us in.
I haven't told my parents about my experience. I don't want them to worry. I'll probably just bury this whole saga in my heart. I wouldn't go back to where I stayed in Baoshan now, because my roommates are all infected. 
I have gone through a lot in life. I think I've faced harder times before — my relationship issues were much tougher.
Editor: Bibek Bhandari.
(Header image: A night view of an empty street in Shanghai, April 18, 2022. Chen Yuyu/VCG)