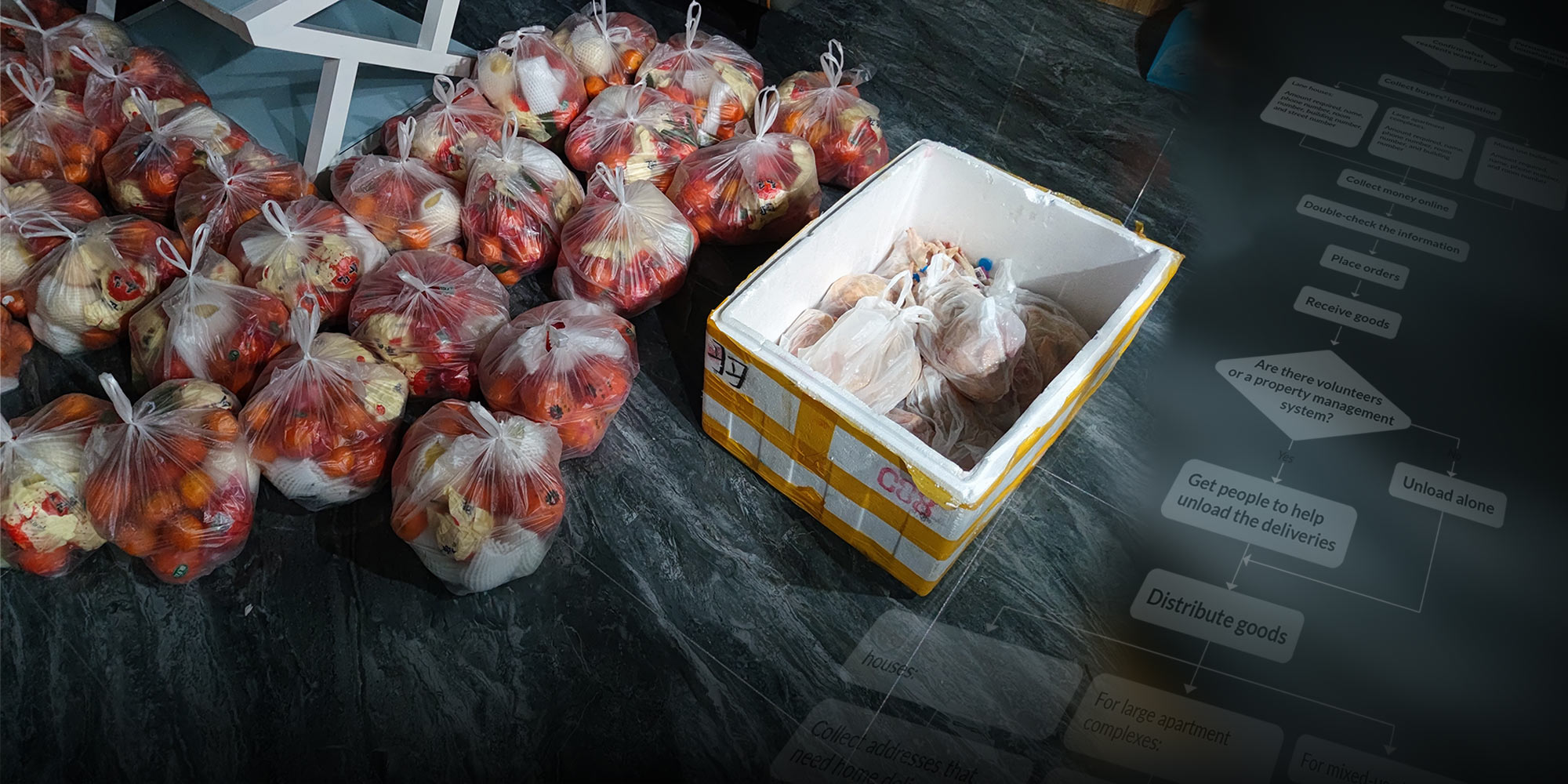 MULTIMEDIA
What it Takes to Organize a Group Buy in Locked Down Shanghai
All you need is to stay online 24 hours a day, be ready for a barrage of messages anytime, and sometimes unload 45 kilograms of strawberries all alone at 2 a.m
Check out this brand-new job opportunity in locked-down Shanghai: group buy organizer. It requires you to stay online 24 hours a day, be ready for a barrage of messages anytime, and sometimes unload 45 kilograms of strawberries all alone at 2 a.m. Most importantly, the job offers absolutely no income.
Under full-scale lockdown for more than two weeks, Shanghai, a city of over 25 million people, is facing its worst food crisis in decades. Stores, supermarkets, and grocers are closed. People are forced to stay at home. Online grocery shopping apps can only satisfy a small percentage of people due to the lack of delivery drivers. Increasingly desperate residents have banded together to order food wholesale.
Sixth Tone interviewed four group buy organizers, trying to figure out who they are, what they do, and how they've managed to feed a bunch of hungry and angry people while commercial services went missing in action.
They've got some things in common. All the organizers we reached were women in their twenties. Cui Lili, a professor at the Shanghai University of Finance and Economics, said in an interview that she estimates that 95% of Shanghai's group buy organizers are female, based on groups she's seen. These women all have full-time jobs that have nothing to do with the food industry or supply chain, and all are organizing group buys as volunteers. They don't earn anything from it, no matter how heavy the workload is.
Group buy organizers are busy around the clock. They have to find suppliers, take between dozens and hundreds of orders per day, place orders, and then distribute the goods when they arrive.
There are two ways to source food. One is through designated suppliers on lists published by the district governments. The other is through private connections, such as a friend who works for a food company. Designated suppliers are limited to providing essentials, such as vegetables, eggs, meat, or instant meals — no alcohol, tobacco, or junk food. Some organizers exclude fruit.
If you want bread, milk, or Coca-Cola (it's practically hard currency in Shanghai nowadays), the only way is to start or join a private group purchase. Sometimes companies release contact information for group purchases in their own app or on social media. Those lines can get jammed, organizers said, and as soon as they can be connected, the supplies have often already been snapped up.
Things can also be different depending on what kind of housing you live in. Most of Shanghai's housing stock fits in three kinds: traditional lane houses, large apartment complexes, and apartments in mixed-use commercial buildings.
In older lane houses, the population density is relatively low and the boundaries between communities are often blurred. This can make it difficult to get enough people together to complete a group buy with a larger minimum order, such as a vegetable box that starts at 100 orders.
It can also complicate deliveries. In an old neighborhood, a group can cover a whole block, meaning the organizer needs to hire a helper who's not locked down to carry goods between different compounds. The cost can be huge. In one case on April 11, a delivery person charged 600 yuan ($94) to help bring a group purchase of fruit to 19 houses. It worked out to 80 yuan per household for a box of fruit, and 30 yuan for delivery.
At apartment compounds, things are easier. A single building or compound can form a group, and the building management office can help with deliveries.
For apartments in office buildings, some neighborhood councils refused to distribute supplies to them at the beginning of this outbreak because they're technically located in commercial areas. Group buys became their only way to get food. But since they have much fewer people than in commercial residential buildings, those who live in mixed-use buildings often can't meet the minimum purchase amount. Organizers said they wound up ordering more than they could use just to meet a minimum order of 50 packages of food.
When it comes to the obstacles in group buying, everyone has something to say.
The most painful thing is an unreliable supplier. Long Wuwu, a 25-year-old who works in the art industry, told Sixth Tone that wholesalers don't always come when they promise. In the beginning, she had no intention of becoming a group buy organizer. But after another organizer was unable to collect money for order, she was put in this position as the second person on the group members' list. She didn't take time off from work — in fact, when Sixth Tone contacted her, she was able to speak only at 9 p.m. She gave a pseudonym in order to protect her privacy.
Long contacted the supplier through information published by the local government. They offered four packages: 3.5 or 7 kilograms of vegetables, a chicken, or 4 kilos of fruit. After hard work gathering 51 orders from her neighborhood, she placed a bulk order on the afternoon of April 8. The supplier promised her that the food would be delivered late at night on April 9.
April 10, Long waited until 3 a.m. The food still hadn't come.
Long began to worry that she'd failed her neighbors. Some had skipped other group buys in order to join hers — so if she didn't get the food, they could be without supplies for a long time. "You're responsible for them," she said.
Angry, she contacted the supplier to complain and ask for a refund. After a long time, the supplier finally said that the goods would definitely arrive that night. Long kept waiting that night and finally the van came, at 2 a.m on April 11.
Perishable food has to be delivered right away. Exhausted, Long managed to deliver all the food to each room by 3:30 a.m. with the help of volunteers. She got to sleep at 4 a.m. that night.
Arranging one delivery meant four days of constant stress, Long said. "Everything was up in the air." She needed to constantly contact the supplier to push things forward. And not all the goods were delivered. "When talking to that supplier, he really acted like a robot. I asked when the goods would arrive and if he could come tonight. He just replied: 'Too many orders, not sure.' Again and again, only one sentence: 'Too many orders, not sure.'"
Editor: David Cohen.
(Header image: From a member of Long's group, reedited by Sixth Tone)