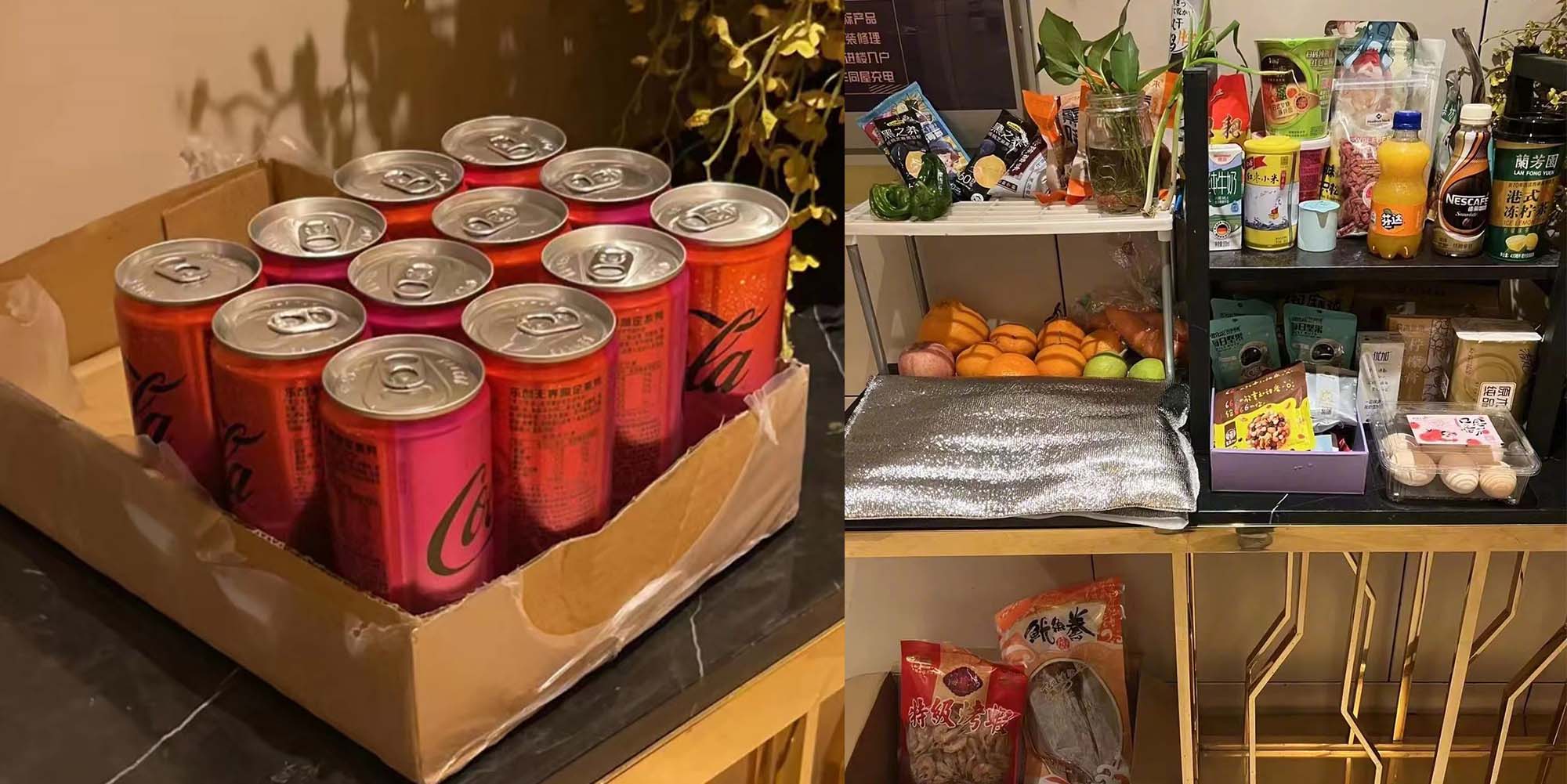 NEWS
In Locked-Down Shanghai, Neighbors Band Together to Ease Crisis
From buying groceries in bulk for the entire building to sharing virus-related updates, many are forming new bonds with former strangers.
As Shanghai grapples with COVID-19, the city's 25 million residents are cooped up indoors. But that hasn't stopped them from getting to know their neighbors.
In a metropolis where people rarely get to know their neighbors, residents are now finding time to familiarize themselves with their surroundings and people who live there. From collective purchases of daily essentials to sharing news updates, citydwellers have formed an unlikely communal affinity.
"The lockdown has given me the chance to get to know my neighbors," one resident who identified herself as Freya told Sixth Tone. "Many of the families have lived here for generations. I was planning to move out from this apartment before, but now I feel there's a bond here."
Freya relocated to Shanghai after studying abroad and now lives in the city's former French Concession area. The building where she lives is mostly home to the city's natives and young tenants, though they previously never mingled.
Three weeks into the lockdown, Freya felt that she had emerged out of the "digital cocoon" into the real world. Her connections are not just limited to social media now.
Stories of neighborly bonds have been widely shared on social media over the past weeks, as they relied on each other for help. As individual deliveries came to a halt, many apartment complexes formed chat groups on messaging app WeChat to buy groceries in bulk directly from wholesalers.
With time, many such groups have morphed into more than a shopping outlet for daily necessities. Neighbors share news — with a fair dose of rumors circulating online — and photos of their supplies of occasional government rations. Some share memes to lighten up their otherwise gloomy spirits while others send funny videos and recipes found on short video platform Douyin.
Freya joined her community WeChat group where they mostly talk about lockdown updates, COVID-19 test arrangements, and group buying. She said she had spoken to many of her neighbors for the first time though she had lived there for years.
"Many residents had to pay high prices to get their coffee delivered after the lockdown started — they were already cold by the time they arrived," she said. "I have coffee machines at home, so I thought I could take this opportunity to make free coffee for my neighbors."
This type of community mutual aid was relatively amiss in neighborhoods across the city before the current outbreak, according to observers.
Jin Jing, co-founder of Big Fish Community Design Center in Shanghai, said busy schedules coupled with such accommodations makes community building difficult. In bigger cities like Shanghai, people usually live in high-rise apartment complexes with thousands of neighbors.
"The lockdown has definitely changed Chinese people's relationships with their neighbors," said Jin. "Before, people didn't have many connections with their neighbors, especially for fast-paced cities like Shanghai. They don't have time for their neighbors."
But now many residents are realizing the importance of building personal connections. A Shanghai resident who only gave her first name Qiuyu said people are even taking to social media to find their neighbors.
Qiuyu told Sixth Tone that she has helped over 7,000 people find their neighbors through some three dozen WeChat groups she created since the lockdown started. Along with her friends, she later collected information from various neighborhoods along with their community groups' QR codes and posted them on a shared document that later went viral.
"At first we were just helping friends who don't know where their neighbors are," she said. "After a while, more and more people contacted us asking if we also have group chats for their streets."
Qiuyu said she has witnessed hundreds of stories of community mutual help everyday from group buying to helping the elderly.
"It feels like I'm going back to the old days, when neighbors all knew each other very well and always helped each other," she added.
However, the neighborhood groups haven't always remained cordial. Residents have shared their petty squabbles in the chat groups over what's deemed essential daily supplies — some argued that bottled water and fruits weren't as essential. Social media posts have shown some people disparaging neighbors after they tested positive for the virus, while revealing their health status online.
A Chinese man even appeared to joke about whether he should "eat the Black guy" in the same compound when raising concerns over food shortages.
Jin from the Shanghai-based community design center believes disputes and disagreements show another side of the community.
"People's nature and values can be easily seen and tested by the public health crisis," she said. "But after all, it's not always bad to have disputes in the community. It can actually help the community become stronger if people discuss it in a rational way."
Meanwhile, many residents like Freya are not just forging good relationships with their neighbors. They are also helping those in need — especially the older residents. Upon realizing a next door older neighbor was not active in the group chat, she visited him.
He was the same man who previously entered her yard without permission and collected her discarded cardboard boxes. Freya had initially thought he "lacked a sense of boundary" but came to trust him over the months that followed.
"For the first time I realized he lived alone after living next door to him for years," she said. "He doesn't have wireless broadband and saves on his phone's data."
Freya said she later handed him nearly all of her meat, vegetables, and eggs. She also applied for rice rations for him from a charity. Days later, the man knocked on her door to hand over two corncobs sealed in a vacuum pack.
"He told me 'This is good stuff, different from normal corn. You must try it,'"she said. "I couldn't help tearing up after closing the door."
Jin said that the community bonds among neighbors could continue even after the pandemic. Although people are likely to return to their daily routine, they've already formed a relationship that could remain in place.
"The memory that 'I have helped you, you have helped me' is very self-evident and will continue to fester for a long time," she said.
But amid all the goodwill and the heartwarming stories from the crisis, Freya said it was also important to remember how the government handled it.
"Relying on mutual aid between neighbors only means that there's an absence of responsibility from the relevant authorities," she said.
Editor: Bibek Bhandari.
(Header image: Left: A man leaves Coca-Cola cans for his neighbors; right: Neighbors swap Coca-Cola with different daily supplies, Shanghai, April 2022. From The Paper)