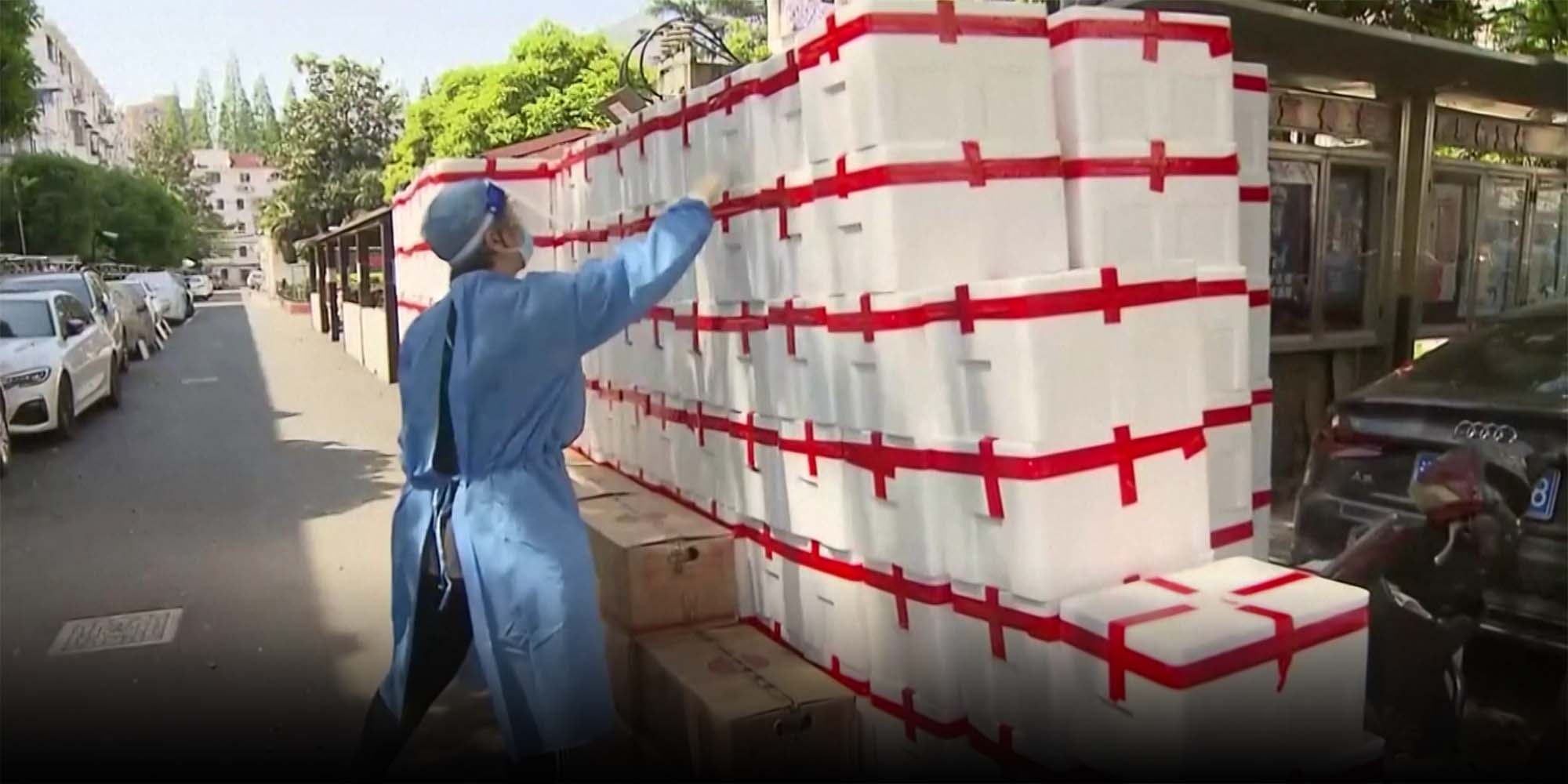 NEWS
With Food Delivery Paralyzed, 'Microbusinesses' Step up to the Plate
With no one to help with sourcing or logistics, Shanghai residents are learning how hard it can be to put food on your family.
For Jasmine Zheng and Xu Yanfeng, selling food to their neighbors was just a hobby. Last year, the two Shanghai full-time mothers started organizing groups to buy cooking oil from Chinese oil giant Jinlongyu and meat from the US meat giant Tyson Foods, BLT Beef, and other food wholesalers.
"We were both addicted to online shopping, and we liked the idea that becoming a salesperson ​​on WeChat would get us discounts," Zheng told Sixth Tone.
Now, they're working 20-hour days sourcing food and coordinating truck drivers, with nearly 100,000 customers counting on them for food.
As Shanghai's 25 million residents remain mostly locked down, improvised grassroots networks like Zheng and Xu's are an essential source of food, largely replacing commercial food delivery services.
Almost all residents of the city have been confined to homes or apartment complexes since April 1 or before as the city battles a massive COVID-19 outbreak. During the first week of lockdown, most tried to get supplies from China's enormous home delivery sector, overwhelming the system. Trying to buy vegetables came to resemble getting tickets for a hot concert — customers sat on phones waiting for the moment the app started sales for the day, and then hammered checkout buttons, with most failing to secure a slot for delivery.
On Saturday, e-commerce giant JD.com organized a livestream offering nearly 200 types of food and essential goods to Shanghai, promising most goods would arrive within five days. The livestream room received over 4 million viewers, with most products selling out immediately. However, many in Shanghai who managed to buy found out Tuesday that their deliveries had been postponed to the end of April.
In theory, logistics-light "community group buy" platforms should have been able to help. A hybrid of Fresh Direct, GroupOn, and Tupperware parties, companies like Alibaba, Meituan, and Didi Chuxing became investor darlings in the wake of first-wave lockdowns. These companies offer deals on groceries, keeping costs low by making daily bulk shipments to apartment complexes instead of on-demand delivery. Typically, a company will hire one resident as "group organizer," leaving them to invite their neighbors into a group chat and gather the day's orders.
Although several e-commerce giants, including Alibaba, Pinduoduo, and Meituan, have pledged in the past few weeks to provide group buying services to the city's residents on their food delivery platforms, users have grumbled that services mostly remain inaccessible in the apps.
"Community group buying requires shoppers to collect from a pickup point. This pickup point was often a local grocer. With lockdown restrictions in place, pickup points outside residential compounds are unworkable," Michael Norris, research strategy manager at Shanghai-based consultancy AgencyChina, told Sixth Tone.
The exceptions are tools, such as Pinduoduo's Kuai Tuan Tuan, which offer group organizers a way to collect orders. Organizers using these tools still have to source products themselves, half a dozen group organizers who have used the platform told Sixth Tone. Zheng and Xu use a similar tool, called Qun Jielong ("group name list") to bundle orders.
"Over the past few days, community group buying delivery models are being reworked," Norris said. "This has led to less platform intermediation. Residents are getting into contact with food suppliers and couriers to facilitate delivery to residential compounds."
A new network is forming from the bottom up. Zheng and Xu have helped thousands of neighborhood volunteers organize bulk buying groups without the backing of a tech company.
"We are now in touch with over 2,000 group leaders. The number of customers they serve varies from a few hundred to over 10,000. My direct clients also increased tenfold," Zheng said.
Compared with the shop owners who were hired by platforms as group leaders, the current group leaders are mostly stay-at-home moms who have limited business experience.
Norris said it is a two-way adaptation. "Just as users are working around platforms to reconstruct the supply chain, some large food companies, like Bright Foods and Mondelez, have quickly adapted to this new reality too."
Zheng and Xu are very proud that they accumulated so many food suppliers before the lockdown. "When I started to do this microbusiness, I was determined that the things I sold must be sourced first-hand. Unexpectedly, my determination from the beginning has played a huge role now. Fewer middlemen make it easier to coordinate," Zheng said.
The lockdown also forced Zheng and Xu to learn new skills. "The original system we relied on collapsed completely," Zheng said.
"Before the lockdown, we didn't have to worry about delivery; it was on the suppliers' shoulders," Zheng said. The qun jielong tool collects addresses from customers, and then suppliers would arrange door to door delivery.
Zheng now spends her days manually sorting out thousands of addresses according to their areas and districts, and helps the suppliers to organize the shipping. She only sleeps for two hours on the busiest days. "My husband was amazed to see me burying myself in paper, surrounded by pens, scissors, and glue," Zheng said.
"I have years of experience in the logistics industry, but this is the first time I've worked with the real people at the end of supply chains, the truck drivers," Zheng said, adding she worked in a logistics company before she became a full-time mother. "It's a strange situation as orders can be canceled any time, so I have to monitor all the drivers closely, writing down all their numbers, and tracking where they are. If a driver can't enter the city, I have to call another driver who has delivered goods for us before, to see if he can help. If a driver runs late, I need to ask all the group leaders to stay up at night to receive the goods, as food can't be left outside overnight."
Xu said that although the scale of their business seems huge at the moment, there is almost no profit margin, as freight fees have increased over ten times, and goods occasionally go missing during last mile delivery within the residential compound. "If that happens, we pay for those missing orders to settle the dispute."
"No one is doing it for money. Everyone involved just wants to help," Xu said. "Commissions are really low. Dozens of hours of work a day and the anxiety you have to endure while sleeping is not worth it for the money."
Once the crisis is over, Zheng said, she expects orders will fall off, but her customer base remains bigger than before the lockdown.
The duo also aims to connect to more food companies."I am thinking about naming the WeChat group 'Wishing Well'. Come here and ask for whatever you want," Zheng said. "I will make it happen."
"More importantly, I believe more full-time mothers will start to do similar things we do," Zheng said. "Many group leaders have learned about how the logistics system works, and got connected to various food suppliers. Though exhausted, they are all amazed by the fact that they can actually run such a huge project."
Additional reporting: Ye Zhanhang; editor: David Cohen.
(Header image: A volunteer checks goods purchased by group buy at a compound in Shanghai, April 2022. VCG)