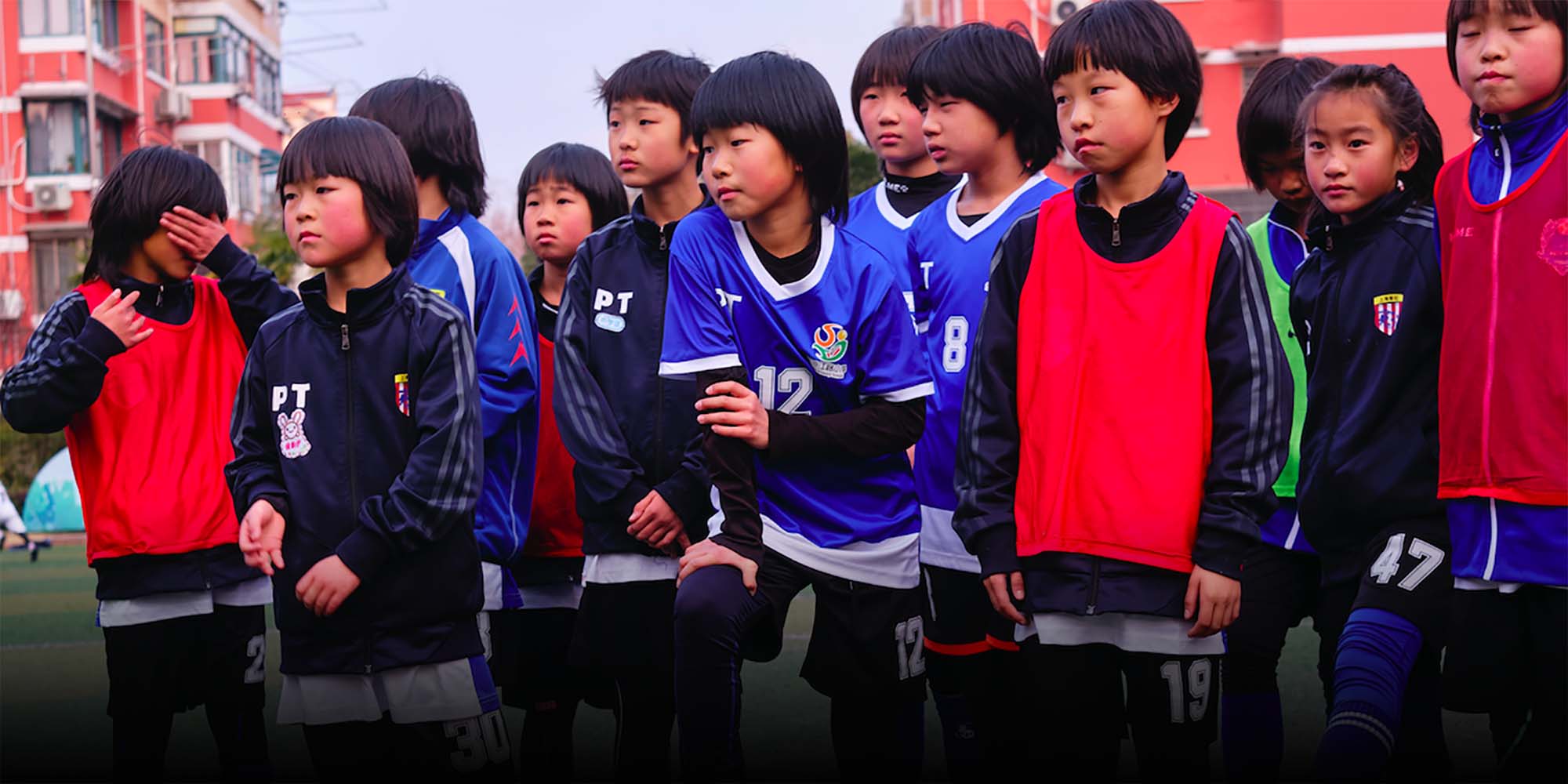 MULTIMEDIA
Inside China's Top Women's Soccer Academy
Unlike the much-maligned men's side, China's women's national soccer team is a force to be reckoned with. That has a lot to do with a primary school in central Shanghai.
SHANGHAI — In February, China's women's national soccer team swept to victory in the AFC Asian Cup, clinching the title after a thrilling 3-2 comeback in the final against South Korea.
The win triggered wild celebrations across China, as soccer fans enjoyed a welcome distraction from the dismal form of the country's men's side. But for one school in Shanghai, the triumph was extra special.
Jinshajiang Road Primary School looks unassuming from the outside: a small cluster of buildings wedged between residential compounds in the central Putuo District. But it has played an outsized role in training up China's top women's soccer players.
Over the past three decades, 26 students from the school have gone on to represent the women's national team — including four members of this year's tournament-winning squad.
On a midweek afternoon in March, dozens of students dressed in red and blue training kits troop from the school's classrooms onto a plush astroturf soccer field. There, they launch into a series of passing and dribbling drills under the watchful eye of their head coach, Qian Hui.
Qian has been one of the masterminds behind the project. A former professional soccer player, she began coaching at Jinshajiang Road Primary School after hanging up her boots in the early 1990s.
At the time, there were only 11 girls playing soccer at the school. But over the following years, Qian managed to build an entire system for identifying talented young players in Putuo and bringing them to Jinshajiang Road for training.
It wasn't a popular idea at first. Qian recalls showing up at the gates of every kindergarten in the district "like a saleswoman," trying to convince parents and teachers that it was worth letting their children play soccer. She received countless rejections, she says.
"Some parents would tell me bluntly, 'What's the point of playing soccer? Chinese soccer is so terrible already,'" she tells Sixth Tone.
But the coach's persistence paid off. By 2000, she had created a youth system that trained girls from kindergarten till they were ready to turn pro — and few doubted her methods.
Putuo's girl's side were already demolishing all their rivals. The district won every Shanghai City Games soccer championship between 1998 and 2018.
Qian is a demanding coach. Standing in the center of the field wearing a tracksuit and baseball cap, she shouts at her players at the top of her voice. "Move! Keep going! Hold the ball!" Any girl who misplaces a pass or takes a sloppy touch gets a swift tongue-lashing.
"My coaching style may be a bit rigorous," she says. "It's because I want them to do better."
But Qian also looks out for her players. Unlike traditional Chinese sports schools, which often fail to provide students with a good education, Jinshajiang Road Primary School insists that the girls attend all their classes and finish their homework before going to training.
"From my perspective, I want to help them become great players," says Qian. "But I also have to make sure they're good students, as I'm responsible for them and it makes me less worried."
The realities of soccer can be brutal, Qian says. Even fabulously talented players often don't make it as professionals: bad luck or a serious injury can end careers before they've even begun. Every young player needs to be prepared to make a living outside the game.
"For the players, success isn't just about playing for the national team," says Qian. "I think that the definition of success is that, whether or not the player is a gifted footballer, she can become a great athlete, a great teacher, or a great journalist. Anything she wants to be."
Editor: Dominic Morgan.
(Header image: Students listen to their soccer coach during a training class at Jinshajiang Road Primary School in Shanghai, March 3, 2022. Wu Huiyuan/Sixth Tone)