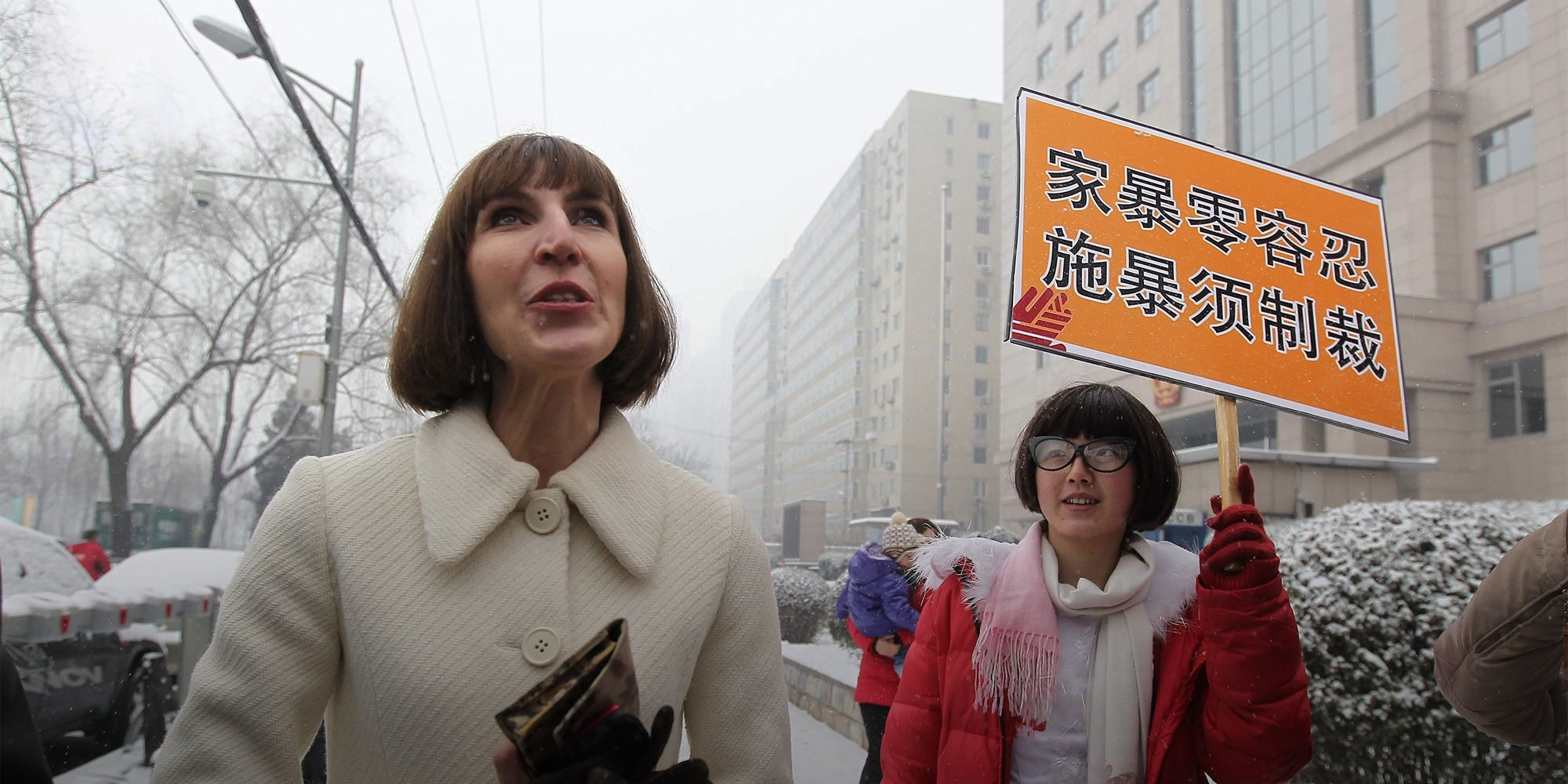 FEATURES
The American Fighting for the Future of Women's Rights in China
Kim Lee became a feminist icon in China after publicly accusing her celebrity husband of domestic violence. Now, she's locked in a legal battle to protect other women's right to call out abusers online.
Kim Lee thought her days as a leader of China's feminist movement were over. Now, she's facing arguably the most important fight of her life.
Eleven years ago, the American became a hero to women across China when she took to Weibo, China's Twitter-like social platform, and accused her then-husband Li Yang of domestic violence.
The post, which included photos of Lee's bruised and bloodied face, shocked the nation. Lee was one of the first women in China ever to speak publicly about her experience of abuse.
And her husband was no ordinary figure: Li Yang is a household name in China, the founder of a wildly successful English teaching company called Crazy English. He regularly gives lectures to stadiums packed with thousands of devoted fans.
Lee's case proved to be a watershed moment. Over the following years, more survivors began to speak out. Pressure grew on Chinese policymakers to take action on domestic violence.
During Lee's divorce hearing two years later, the Beijing court took the rare step of recognizing her partner's behavior as domestic violence and granting her a protection order. In 2016, China implemented its first anti-domestic violence law — a historic move that many believe was directly linked to Lee's advocacy.
After the law came into effect, Lee took a step back from campaigning in China. She had already returned to the United States with her three daughters, and felt ready to move on.
Yet, six years later, Lee finds herself at the center of another Chinese legal battle — one that threatens to undo much of the progress she helped achieve.
Last August, Lee accused her ex-husband of domestic violence via social media once again. This time, Li hadn't beaten her, but two of her daughters, she said.
Many Chinese netizens were horrified, with the post receiving more than 37,000 shares on Weibo. Days later, Li responded to the scandal — with a lawsuit.
The Crazy English founder is suing Lee — together with two Chinese social platforms that published her accusation — for "network infringement," a general charge that covers all violations of an individual's rights caused by online activities. He has requested damages worth 10 million yuan ($1.6 million).
The trial, which is expected to take place within months, could have serious consequences not only for Lee personally, but also for every survivor of gender-based violence in China.
At stake is a key principle: Are victims allowed to speak up online? If Lee loses, it would deal a bitter blow to China's women's rights movement.
"Li's move may drive platforms to introduce stricter vetting policies or silence any controversial messages," says Wu Keying, Lee's lawyer. "We have reason to worry that victims will find it tougher to speak out."
'I'm going to fight back'
It's 6:30 a.m. in Chicago, but Lee is already sitting at her desk, coffee cup in hand, ready to start her day. She's used to waking up before sunrise, she says, to talk with her legal team in China.
The past few months have left Lee feeling "very, very angry," she says. After moving to the U.S., she'd had little contact with Li for years, and her life had been relatively peaceful.
But her calm was shattered last year, when her daughters traveled to China to spend time with their father. A 30-second video the girls recorded shows Li yelling, while his daughters scream and cry.
After her daughters returned to the U.S. in August, Lee posted the recording on Weibo along with a handwritten letter from her daughters. In it, they accused their father of "punching … choking … slapping … and pulling hair."
Li has denied the accusations, saying the video was "edited with malicious intent." In February, his lawyer told Sixth Tone the dispute was a result of "differences between Chinese and Western cultures and different parenting styles."
Lee received confirmation of the lawsuit last month, via an email from a court in Beijing. In her view, it's yet another example of her ex-husband's abusive nature.
"This lawsuit is a textbook case of an abuser who simply cannot give up control over his victim," she says. "It's a form of abuse. He wants to keep on costing me time and money, to have control over my life, even though I have no contact with him at all now."
At first, Lee didn't want to engage with the case. But she quickly realized that she needed to fight it — and win — because the outcome would impact other victims trying to hold powerful men to account.
"I realized that so many women in China do not have that advantage," says Lee. "Famous TV hosts, shopping network CEOs, high-level politicians … they can upend victims' lives permanently. So, I'm going to fight back."
In China, celebrities are increasingly using defamation suits to silence their accusers, says Wu, the lawyer. Two recent high-profile examples include Zhu Jun, a well-known TV personality, and former journalist Deng Fei, who both sued women who had accused them of sexual harassment.
"What makes it sinister for me is how people with power are pretending to be victims for their own benefit," says Wu, who works for Huiye Law Firm in Shanghai. "It's extremely difficult for victims of gender-based violence to collect evidence, but it's easy for the abuser to collect evidence of defamation — the evidence is the post itself."
But Li's legal action goes even further by including the owners of Weibo and Toutiao, a Chinese news aggregator app, as defendants. By going after the platforms where his ex-wife published her accusation, Li is sending a message that "platforms will be in trouble if they don't remove negative news posted by Kim about him," Wu says.
Li's legal team did not respond to Sixth Tone's request for comment on the trial by time of publication.
A force for change
The lawsuit has triggered anxiety among Chinese women's rights groups. Social media has helped drive social change all over the world, but in China it has played a particularly crucial role. In many cases, social platforms have been the only channel for women to make their voices heard — as Lee knows all too well.
After Li assaulted her in 2011, Lee recalls dragging her injured body and three crying babies to the police station near her home in Beijing. When she arrived, however, the officers on duty told her there was nothing they could do.
"Of course the police didn't know what to do or how to handle my situation," Lee says. "How could they possibly have a procedure to handle something that wasn't against the law?"
Things have improved since China passed the anti-domestic violence law — a process to which Lee contributed by collecting and sharing the testimony of hundreds of victims with Chinese policymakers during the public consultation period.
Domestic violence is now officially illegal, and perpetrators can face administrative detention. Courts are able to grant victims protection orders, while police have the power to issue warning notices to abusers. Institutions including schools, residential committees, and health care providers are legally required to report incidents of violence.
Yet, in practice, many women still don't receive these protections. Lee advises victims to take a paper copy of the law when they report acts of domestic violence to the police as a way of convincing them to take action. "At least it's something," she says.
Even today, survivors often have to turn to social media to get the authorities to pay attention. In 2020, beauty blogger Yuyamika posted video footage of her then-boyfriend beating her in an elevator. After the clip went viral, the authorities detained the man for 20 days.
For Lee, the biggest change over the past decade has been in Chinese society. As more victims have told their stories online, domestic violence has become a much more prominent social issue.
"If you just go by the ratio of critical versus supportive comments I receive, society has a very low tolerance for domestic violence (these days)," says Lee.
The price of speaking out
But speaking up online brings its own dangers. Even Lee — widely regarded as a "perfect victim" since her own case of domestic violence was so well-documented — has paid a high cost for her prominence on social media.
As an American, she has faced xenophobic abuse from Li's fiercely patriotic fans. Li has long branded Crazy English as a product of national pride. "Chinese people don't learn English to pander to foreigners, but to promote Chinese culture worldwide!" he said in a recent video ad.
Some of his supporters have accused Lee of being a U.S. "spy." Li has also sought to use his ex-wife's nationality against her, arguing that "in China, people are persuaded to make up rather than break up."
Other victims experience even greater hostility. Lin Shuang, Lee's former personal assistant, says netizens are often skeptical since they fail to understand the number of obstacles victims still face when seeking justice.
"We do have an anti-domestic violence law, and many people thought it could solve everything," says Lin, who is now an anti-domestic violence volunteer in Shanghai. "So, many times when a domestic violence victim opens up about their experiences, netizens say, 'Why didn't you report it to the police?' They blame the victim."
Lee admits that she sometimes finds her status as an "anti-domestic violence icon" in China to be a burden. "There is just too much pressure in being the 'hero' for domestic violence survivors or a spokesperson for other women," she says.
In 2019, she faced backlash after saying that she had decided to forgive Li Yang, as "he did hurt me … but love is not a pool that can be switched on and off at will."
Many of Lee's former supporters criticized her comments and accused her of being weak. Lee, however, stresses that forgiving Lee does not mean she "forgives the violence."
"That forgiveness was for me, not for him," she says. "When I said, 'I'll just forgive this and let go,' I kind of just had compassion fatigue. I do want to have a happy life, and I do want to move on."
Once the trial is over, Lee hopes she can return to her quiet life in the States. Then she can finally sever her ties to her ex-husband — and the abuse that still defines her.
"Li Yang is still referred to as an educator, and I am referred to as Li Yang's ex-wife," she says. "No one who has survived abuse should feel obligated to do anything but find a path to a happier, violence-free life."
Editor: Dominic Morgan.
(Header image: Kim Lee talks to the media after her divorce case, while a supporter holds a banner saying "Zero tolerance for domestic violence, violence should be punished," in Beijing, Feb. 3, 2013. VCG)