GUIZHOU, Southwest China — On the first day of winter training, on Feb. 10, soccer coach Xu Zhaowei didn't start with a speech about the benefits of a good warm-up or the importance of sharing the ball.
Instead, the 42-year-old told his players — all girls who attend the Yuanbao Tongxin Experimental Elementary School in Dafang County — what he thought was the biggest mistake they could make.
A few years ago, a former player came back to visit the team and show off the new clothes she'd received for her engagement. "Look how pretty my new clothes are! I suppose you don't have any like this?" he quoted his former pupil, who at the time wasn't any older than 15. (Though illegal, unofficial marriages at such ages are common in some parts of rural China.)
"If you get married and have children at that age, when will you ever find the freedom to see the world?" Xu said as he imitated the way the girl preened and posed in her new outfit. "Can you imagine? A girl in her early teens holding a little baby. If she gets pregnant again, she'll have to hold one and pull another," Xu continued, miming this to his players. The girls, whose ages vary from 8 to 15, were falling about with laughter.
The futures Xu envisages for his players are more like those of the "Guizhou Five." In October 2020, five Yuanbao girls, aged 10 to 12, were recruited by the Guangzhou Football Association to receive formal soccer training at the Guangzhou Polytechnic of Sports. Located in Guizhou's much more prosperous neighboring province Guangdong, it is one of China's best athletic schools, and has produced world champions like table tennis players Fan Zhendong and Liu Shiwen, and Quan Hongchan, the 14-year-old diver who became wildly popular after winning gold at the 2020 Tokyo Olympics.
In a way, the girls' recruitment was a one-off. It was arranged by officials as part of the poverty-alleviation cooperation between underdeveloped, inland Guizhou and rich, coastal Guangdong — a common arrangement in China. But there are other reports of such rural-to-urban recruitment of young soccer players. And, over the past decade, China's government has invested heavily in promoting the sport. One of the country's biggest soccer fans just happens to be its president.
Moreover, the Guizhou Five aren't the only ones to have dribbled their way out of Yuanbao. Xu began his soccer team in 2017. Thus far, already more than 20 of his pupils have been selected by pro-track sports institutes in faraway cities.
He hopes their example can inspire his current crop of players to keep at it. "I'm not saying soccer is your only way out," Xu continued his pre-training speech. "But currently, it is your fastest, most direct option."
Then the girls were off. After doing a quick jog around the field to warm up, the girls took off their thick padded coats and scarfs, before putting on their faded soccer uniforms and starting their drills.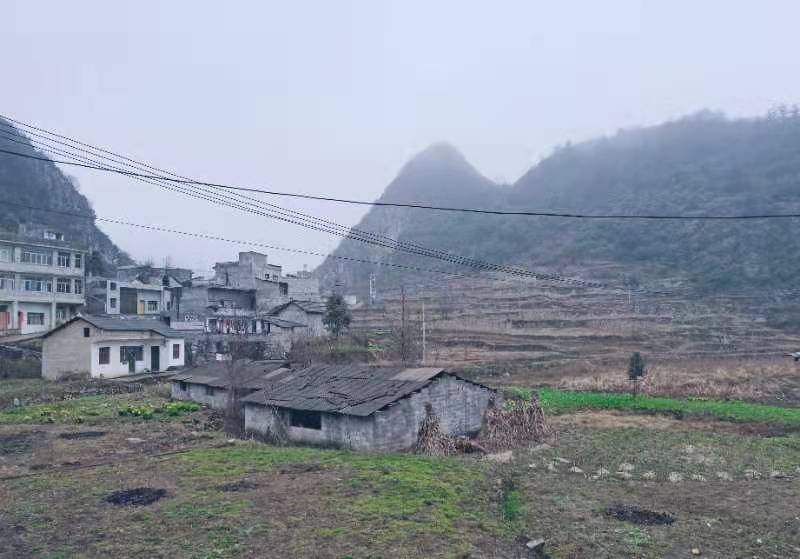 A general view of Yuanbao village, Dafang County, Guizhou province, 2022. Ji Jiawen/Beijing Youth Daily
Soccer fever in the mountains
Many of the young residents of Yuanbao Village are left-behind children, growing up without one or both parents who are earning a living elsewhere. The village is connected to the outside world via a long, winding road. Here and there, some corn and potatoes grow on the terraced fields that climb the mountains. There's rarely any human activity outside. "Everyone's all left for migrant work in the city," a village elder said.
Xu first arrived in Yuanbao in September 2013. The elementary school's director, Wang Guangwen, knew Xu had eight years of teaching experience and had reached out to him on social media, claiming his school was in desperate need of staff. Only when Xu arrived did he discover the school actually had 10 other teachers. "I sensed that Xu was a teacher who truly cared about his students, so I 'tricked' him into coming here," Wang said.
In April 2017, in the school's utility room, Xu discovered two donated soccer balls. He took them out to the small field in front of the classroom building and was soon joined by a few kids. In that moment, he had unknowingly kicked off a "soccer craze" that would take the entire village of Yuanbao — and even the surrounding Dafang County — by storm.
A few days later, Xu received some news: first, the director planned to lay down a turf field; and second, the county was about to hold an inaugural Sports and Art Festival for its public schools, which would include a soccer tournament. "Together, these two bits of news struck me as the perfect coincidence." Xu had a spark: to launch a soccer team.
Though Xu is a soccer fan, watching it and playing it are two different things. He carefully studied videos online and shared what he learned with the children. No one had particularly high expectations for the tournament. Beforehand, Xu told his players: "Our objective is to score one goal."
To his surprise, both the school's boys and girls teams won their divisions. Recalling that day, Wang excitedly said, "It's as if it had been specially organized just for our village's team."
Soon enough, the director of the county junior high school sought out Wang in the hope that he could pick some of Yuanbao's best team members to transfer to the county seat. Gradually, schools from Guizhou — and even other provinces — began contacting him for talented players. In 2019 and 2021, respectively, the Southwest Branch of the China Football Institute and the Yudong Middle School in Chongqing — a school in the southwestern city known for its athletic prowess on the national stage — expressed their desire to form long-term partnerships with Yuanbao Elementary and select outstanding students for exchanges.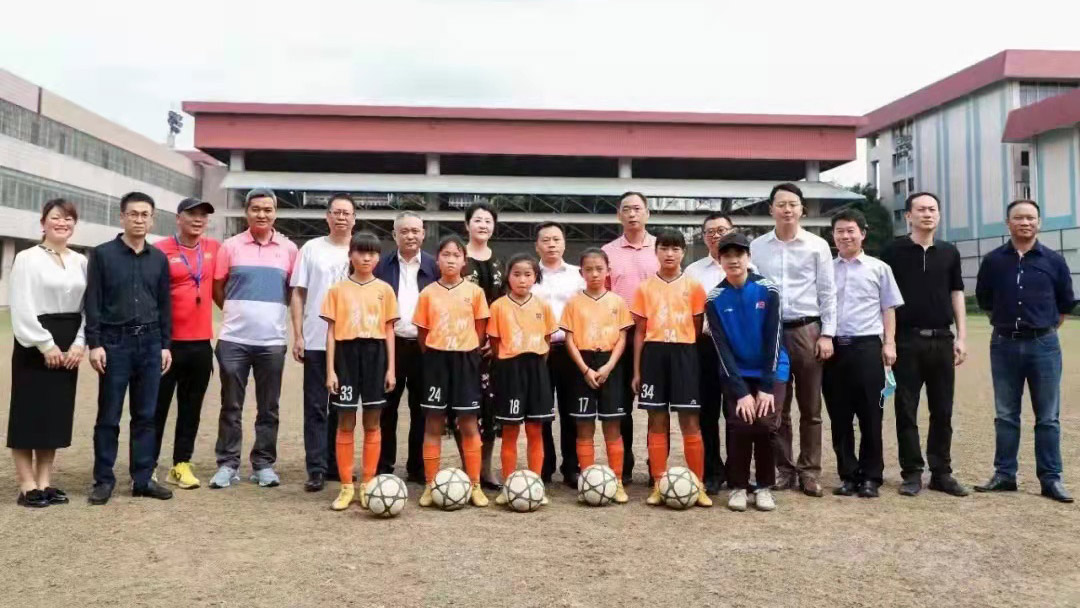 The Guizhou Five (in orange) pose for a photo before heading to Guangzhou. Courtesy of Xu Zhaowei
The chosen girls
But the school's biggest success story is the five girls selected to go to Guangzhou. To Yuanbao villagers, it's an encouraging tale of young people banking on their talents to improve their fate.
The girls themselves aren't so sure. To them, the life-altering move was a little drastic. The Guangzhou climate is too hot, and the local cuisine too bland. They used to run around the village with their friends. Now they live in a city of millions where they don't know anyone.
Several times while checking in on the Guizhou girls in the evening, the coach who is responsible for them in Guangzhou has discovered them homesick and in tears.
At Yuanbao Elementary, the Guizhou Five were the standouts. But in Guangzhou, a few days of training were all it took to make Jiayue, one of the five, realize just how far she and her friends still had to go. "The training here is much more intensive. The other players are way faster and more skilled than us," she said.
It's a difference that also shows itself off the field. Before moving to Guangzhou, the girls had never studied much English. Now, they can't keep up with their classes. "We don't understand a word," Jiayue said.
One of their current coaches, Cai Qinghui, has noticed changes in the girls' attitudes. His first visit to Yuanbao left a deep impression. The school's training facilities were rudimentary; its two soccer balls had been kicked out of shape. "But when the girls would take off their outer layers and run around on the field, they emanated joy and confidence," Cai said. Now, this enthusiasm seems to have evaporated.
Through chat messages and phone conversations, the girls often air their grievances with Xu, their former coach. He patiently comforts them. "I can understand them. When you move to a completely unfamiliar place at such a young age, you're naturally going to miss home," Xu said.
In May 2021, the Guizhou Five returned to Yuanbao to join their old team for a tournament. After five games, Jiayue was the tournament's top scorer, with 14 goals. Their old teammates discovered the five's Mandarin had lost some of its old Guizhou accent, and even came peppered with some English words. Jiayue taught everyone how to dribble with the outside of their foot, and how to warm up before and stretch after each game.
Xu discovered that the five were ecstatic to be back home, and didn't want to return to Guangzhou. He had to convince them not to give up this opportunity — for themselves, but also for the other young athletes in Yuanbao. "If you don't do well, do you think the Guangzhou Football Association will come back here to select players?" he asked.
After the girls returned to Guangzhou, Jiayue told her former coach in a chat message what she didn't dare say to his face: "You forced us to go to Guangzhou!" In her view, Xu had arranged it all without consulting them. "To us five, it was all very sudden," she said.
Xu can't help but feel hard done by. "Did I hold a knife to their necks and force them to leave?" he asked. In October 2021, the girls once more visited Yuanbao. When they were about to leave, Xu told Jiayue, "Don't contact me anymore." He was sick of repeating the usual "train hard, treasure the opportunity" line.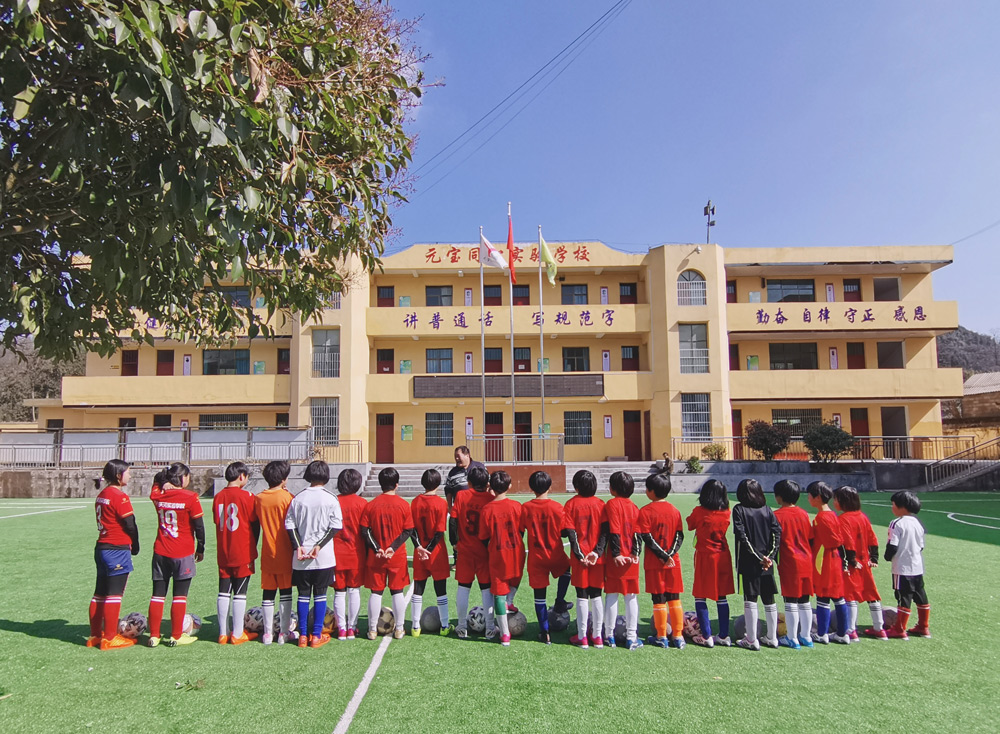 Female youth soccer players listen to Xu Zhaowei speak in Dafang County, Guizhou province, 2022. Ji Jiawen/Beijing Youth Daily
Joining the team
Though Jiayue might want to escape Guangzhou, many of her former teammates back in Yuanbao want nothing more than to follow in her footsteps. When Xu announced, before another February training, that there would be an opportunity for 11 players to go to Guangzhou for a three-day visit, excited whispers went through the group.
Many on the team would like to take a peek at the outside world beyond the mountains. A 10-year-old member of Xu's soccer team said that, if she had a choice, she'd like to go to the United Kingdom. "You can study English there; I haven't studied much English here," she said. Another 10-year-old said she'd like to go to Hawaii to see the sea.
Yujie, 11, would love the chance to go to Guangzhou.
Her father works year-round in Zhejiang province, on China's east coast, while her mother usually did odd jobs in nearby towns. Her older brother and sister board at their schools. Most of the time, Yujie comes home from school to find a completely empty house. To blow off steam, she spends her time running alone through the fields and mountains.
Her mother thinks that the empty house has made Yujie silent and reserved. "I really haven't done right by her," she sighed.
Yujie's older sister was one of the very first members of the Yuanbao girls' soccer team. Four years ago, her athletic talents earned her a place at the middle school in the county seat. Since then, she's begun high school in Chongqing. This has given their mother a sliver of hope that Yujie will also be able to escape the mountains.
Usually, Yuanbao children who finish elementary school will enroll into a local middle school with a poor reputation. Few of its pupils make it to university. If a girl ends up at the school, it means the rest of her life has basically been written: low-paid work, marriage, motherhood.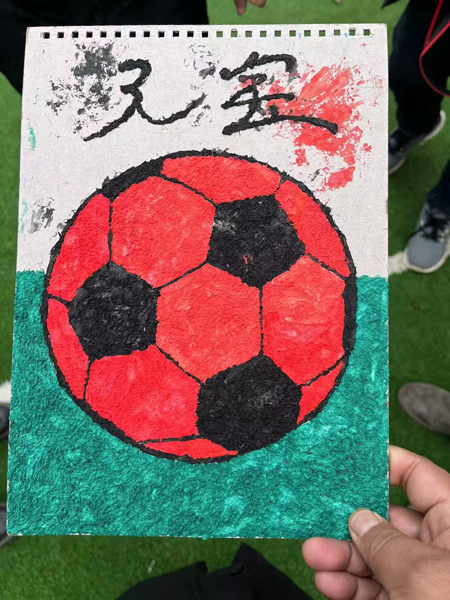 A drawing made by a girl from Yuanbao Village, Guizhou province. Courtesy of Xu Zhaowei
Three years ago, at the start of a new semester, the soccer team was looking for new players. Yujie and her classmate Ziyan signed up together.
By now, Yujie is the team captain. Her skills have improved to the point that Xu feels he already has little left to teach her. Yujie's favorite player on the Chinese national team is Wang Shuang. "She plays really hard, so I want to be like her," she said.
Though team activities start at 6 in the morning and finish at 10 at night to avoid disturbing regular classes, Yujie never complains. She helps the team out with cooking, doing the dishes, and other chores. "As the team captain, I have to do these things," she said.
When the day came that the Guizhou Five were announced, and Ziyan was selected, but she was not, Yujie told another girl she was devastated.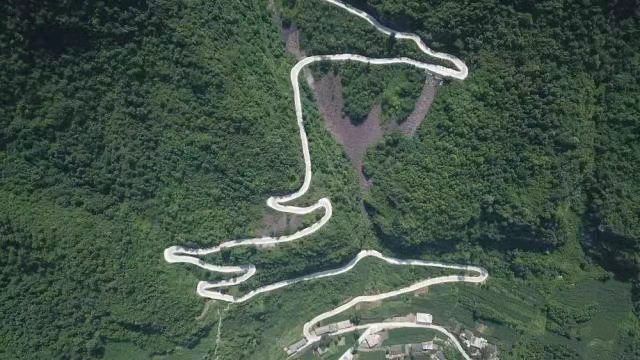 An aerial view of the mountain road connecting Yuanbao Village to the outside world. Courtesy of the interviewee
The way out
On Feb. 6, China's women's national team beat South Korea 3:2 to win the Asian Cup. "We won!" Yujie celebrated in their team chat group.
That evening, a fundraiser for the Yuanbao Girls' Soccer Club received donations of over 80,000 yuan ($12,580). Launched in October of last year, the fundraiser has a goal amount of over two million yuan, which will be used as a budget in the following three years. "Eighty thousand overnight!" Xu said. He could hardly believe it. He refreshed the page again and again to make sure he wasn't seeing things.
As Yuanbao's soccer teams become more and more famous, some children have even transferred from outside to study here. However, Xu feels like his burden is growing heavier by the day. He is most worried about the lack of proper coaches and funding. Every day, he looks at the fundraiser page at least twice.
Because some of the players live far away and need to walk for two or three hours to get to and from school, Xu suggested to Wang, the school director, to allow them to board in the school's old teaching building. A friend of Xu's donated bunk beds. It gave dozens of children a place to sleep, but also gave Xu even more to be responsible for.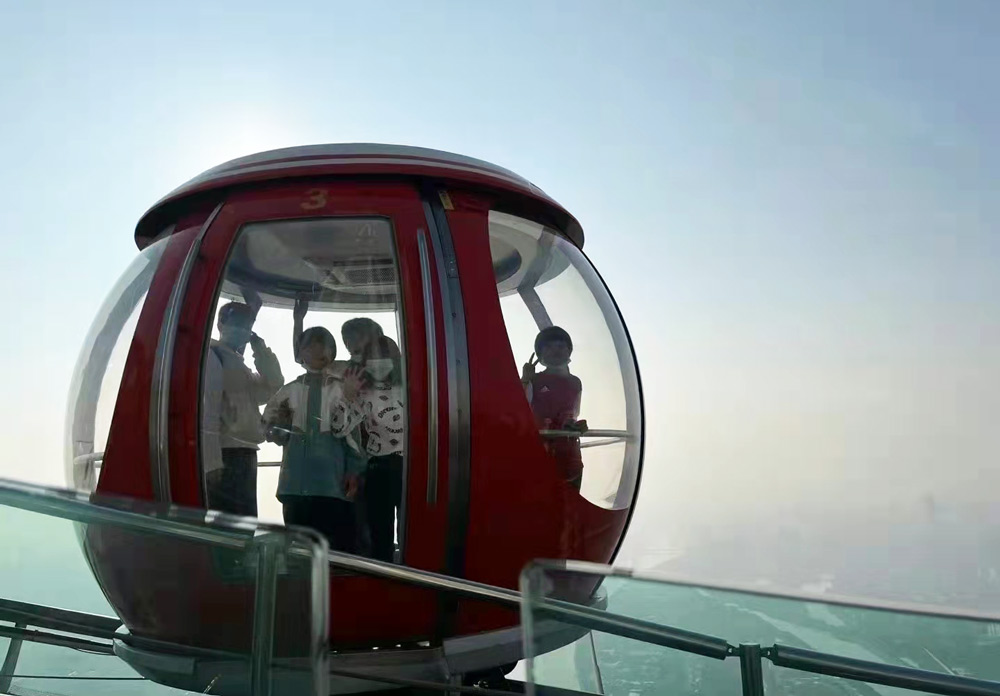 Players wave to Xu Zhaowei from the ferris wheel in Guangzhou, Guangdong province, 2022. Courtesy of Xu Zhaowei
Yet Xu isn't the type to plan — when he arrived, he had no idea how long he'd stay. Now, he has no choice but to elaborate all kinds of plans, from smaller matters like daily training programs and tournament arrangements to bigger things like the team's future development.
He often tells his students, "If a better opportunity presents itself, you have to abandon me without a moment's hesitation." One year ago, the coach of the county seat's middle school reached out to Xu and asked him to pick some of his best younger players to enroll in their elementary division. But it would have meant that the team lost essentially all of its older players.
Xu organized a group meeting and asked the children, "Is there anyone who wants to go study there?"
No one raised their hand.
Xu turned to his older players. "How about you guys?"
The kids shook their heads. "If we all left, then there'd only be little kids left on the team. How would Teacher Xu cope?"
Recalling that moment, one girl divulged how she truly felt: "The truth is that I actually sort of did want to go, but since no one else was willing, I didn't dare speak up." Ultimately, everyone chose to stay at Yuanbao Elementary.
After the meeting was adjourned, the kids spotted Xu sitting alone on a bench at one end of the field, wiping tears from his eyes.
Having long reflected on the matter, he has come to understand that all he can do is usher these kids to the doorway — whether they choose to go through it and where it leads them is out of his control. But he still hopes that the girls will realize the importance of leaving the village behind.
On Feb. 26, Xu and 11 of his players landed in Guangzhou for the three-day visit. Among them was Yujie, who finally got a taste, albeit brief, of the big city. During some sightseeing, Xu passed on the opportunity to join the girls onto a Ferris wheel.
They waved at Xu as they went up, giving him a brief moment of quiet to think about the future. ​​A diabetic, he no longer has the energy he used to. "I should be able to teach for another 10, 20 years," he said. "What do you think?"
A version of this article originally appeared in Beijing Youth Daily. It has been translated and edited for brevity and clarity, and published with permission.
Translator: Lewis Wright; editors: Zhi Yu and Kevin Schoenmakers.
(Header image: Female youth soccer players from Yuanbao Village play on a new field in Dafang County, Guizhou province, 2022. Ji Jiawen/Beijing Youth Daily)