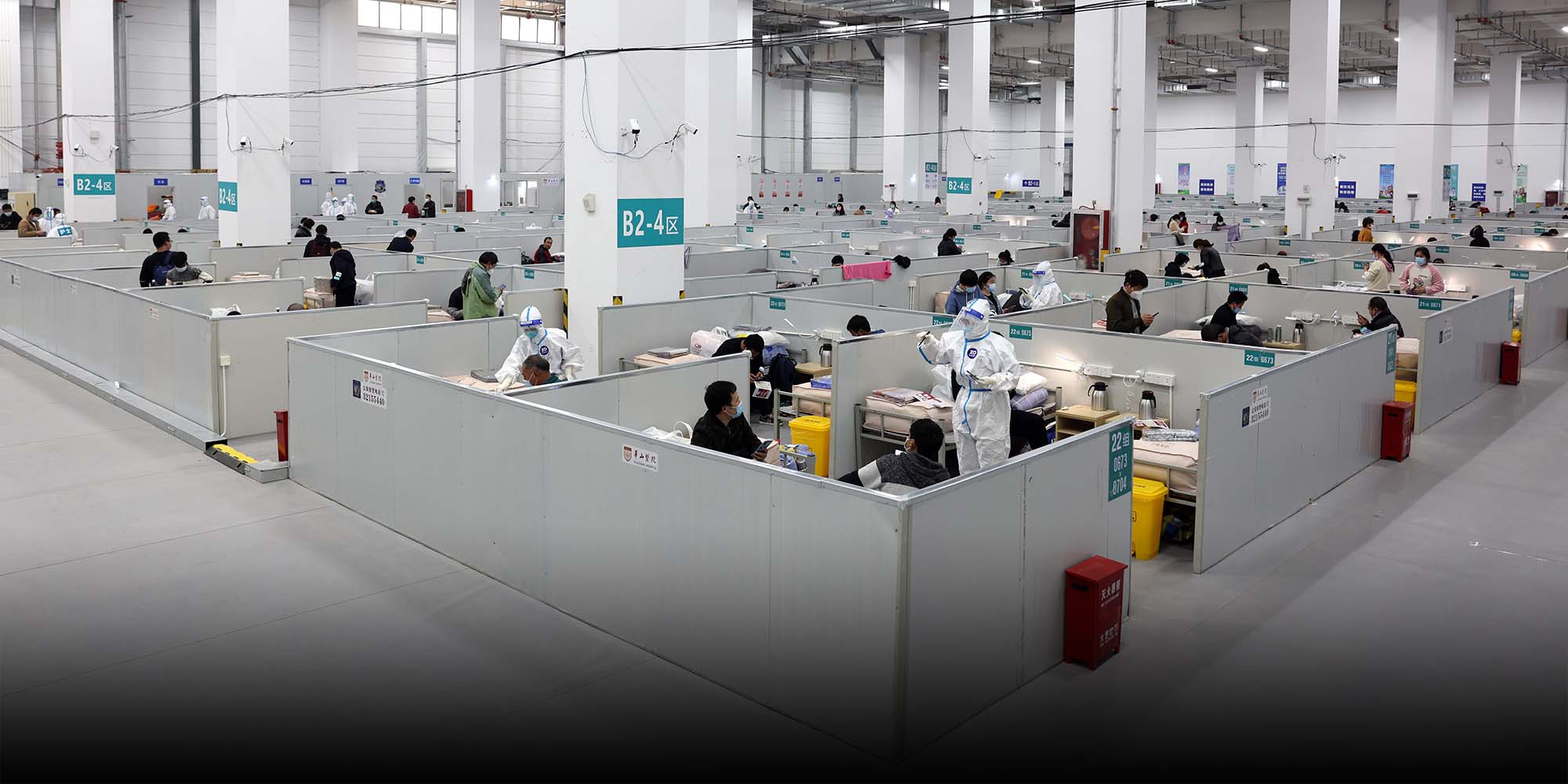 NEWS
Shanghai Readies 'Shelter Hospital' for 50,000 COVID-19 Patients
The city reported record coronavirus cases Thursday, as the country's financial hub enters its second week of lockdown.
Shanghai is set to open its largest "shelter hospital" that can accomodate 50,000 COVID-19 patients with mild or no symptoms, authorities said Friday as daily infections continue to surge.
The National Exhibition and Convention Center in the city's Qingpu District spans around 600,000 square meters — the size of 84 soccer fields — and will temporarily serve as a shelter hospital starting Saturday, according to city authorities. Known as fangcang in Chinese, the supersized quarantine venues were first put to use during the first wave of the COVID-19 outbreak in Wuhan in 2020.
Shanghai has been grappling to contain its worst COVID-19 outbreak since the first COVID-19 cases in the current wave were detected on March 1. The city logged another daily record of 21,222 cases for Thursday, with about 25 million residents in lockdown for a second week. 
China's financial hub recorded 131,524 COVID-positive cases as of Thursday, of which 96% were said to be asymptomatic. Those showing symptoms were aged between 10 days and 98 years, with one patient in a severe condition, authorities said during a press conference Friday.
Shanghai currently has four shelter hospitals directly managed by the city government, with 38,000 beds combined, according to the city's housing and urban development authority. The city's districts have also started operating smaller shelter hospitals with a total capacity of 21,000 beds, with provisions for an additional 20,000 beds.
Despite a large number of beds in shelter hospitals, many residents who have tested positive in recent days said they were still waiting to be taken to the quarantine centers.
Wu Song, who used a pseudonym citing privacy reasons, told Sixth Tone that he lives just 2 kilometers away from the Shanghai World Expo Exhibition and Convention Center, which has been turned into a shelter hospital. The 45-year-old tested positive Monday and has since been urging authorities to move him to centralized quarantine.
"I live with my mother who is in her late 70s," he said. "I tried to isolate myself in my bedroom but I'm still worried of infecting her. The Expo fangcang is my best choice and it's the closest and the conditions inside are the best as far as I've learned."
Meanwhile, those already in the shelter hospitals have been sharing their daily life from inside such facilities on social media.
A user named Dazaozi on the short video app Douyin — the Chinese version of TikTok — has been at the Shanghai World Expo Center since March 28. In his video, he said that the first patient from his designated zone at the shelter hospital since he arrived was discharged Thursday.
"One has to test negative three times in a row," the man said in a video. "They don't test us everyday though, but every other day. It will be another five or seven days till I can be discharged."
Editor: Bibek Bhandari.
(Header image: An inside view of a "shelter hospital" in Shanghai, Apirl 8, 2022. Xinhua)