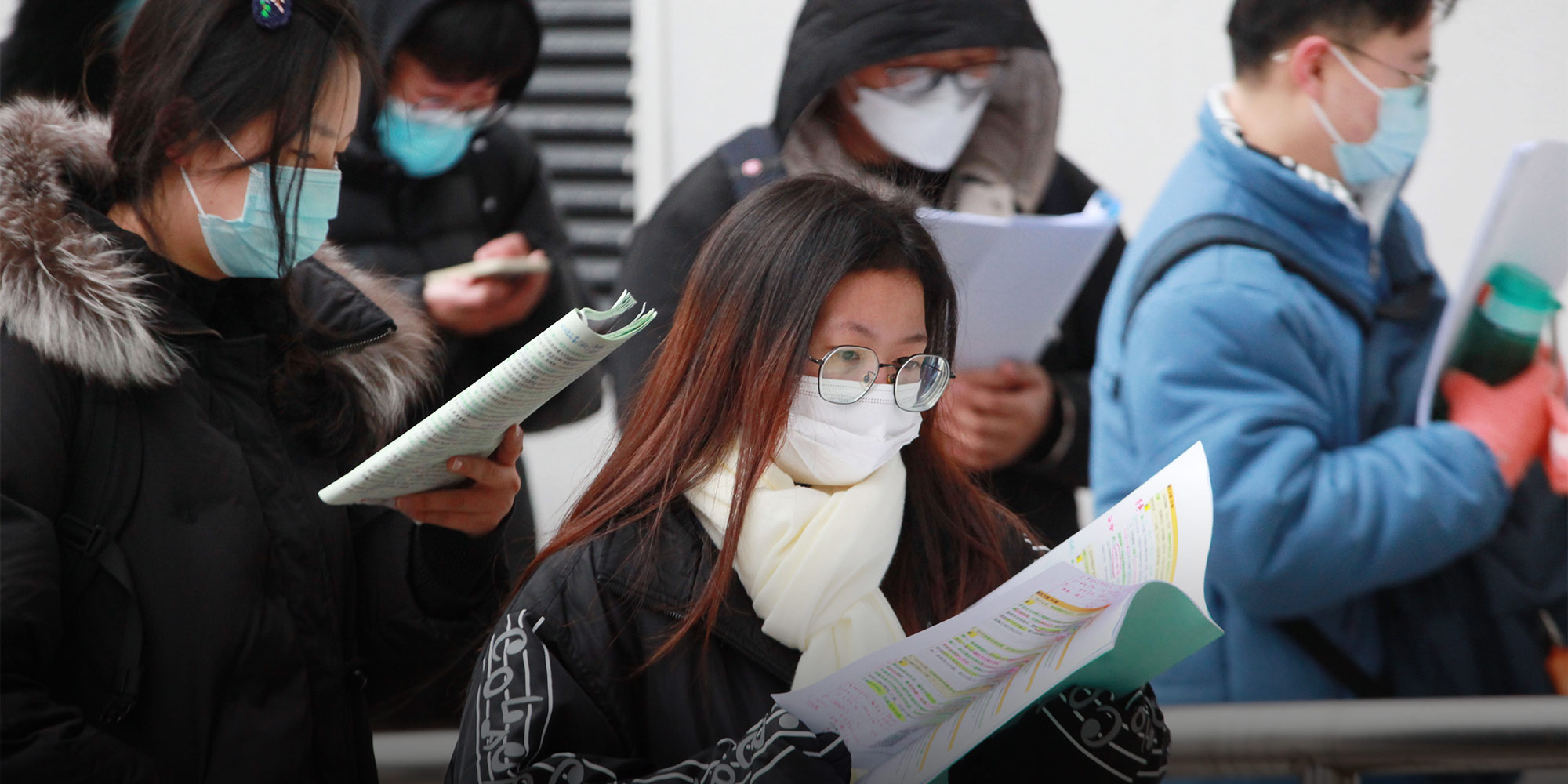 VOICES & OPINION
Think the 'Gaokao' Is Hard? Try This Year's Grad School Exam.
Worried by a weak job market, young Chinese are applying for grad school in record numbers. But are their postgraduate degrees really worth it?
The cutthroat nature of the gaokao, China's college entrance examination, is well documented. Every year, roughly 10 million Chinese students sit for a single two-day exam that essentially determines their future. If they test well they can get into the college of their dreams; if they test poorly, their options narrow dramatically — unless they opt to try their luck again the next year.
But what if I told you there was another test, even harder than the gaokao?
In 2022, 4.57 million people signed up to kaoyan, or take the postgraduate admissions exam. That's a 21% increase from 2021 and a record high. The number of places in postgraduate programs has failed to keep pace, however, which means that the admissions rate this year could be as low as 24%. This is not a one-off event. Over the past decade, competition on the postgraduate exam has become so intense that test-takers sometimes joke it's become "gaokao-ified."
It might be more accurate to say the postgraduate exam is the new gaokao. While passing the gaokao and getting into university was once a major achievement, these days it's almost a given for those who take it. Since China expanded its higher education system in the late 1990s, the gaokao admission rate has soared from 34% in 1998 to 92% last year.
Now that undergraduate degrees are commonplace, students looking to distinguish themselves on the job market have shifted their focus from simply getting into college to getting into a top-tier university like Tsinghua or Peking University. Other students — including many who tested into middling universities on the gaokao — throw themselves into preparations for the postgraduate exam, seeing it as a second chance to prove themselves and get a leg up in the job hunt.
China isn't the first country to experience degree inflation. As has occurred elsewhere, the problem has been compounded by the state of the national economy and a tightening job market. This year's crop of postgraduate test enrollees are mostly fresh graduates who began their undergraduate studies in 2018. That year, China increased undergraduate enrollment by 910,000 over the previous year. The job market was tight before the pandemic, and its only gotten tighter in the years since.
Considering the growth of higher education enrollment in recent years and broader macroeconomic trends, it's unlikely that the "gaokao-ification" of the postgraduate admission test will be reversed any time soon. Completing postgraduate studies to give oneself an upper hand on the job market is both more important and more difficult than ever before. Meanwhile, as postgraduate degrees become more and more ubiquitous, China faces a frustrating problem: an over-educated workforce.
Simply put, over-education is when an individual's education exceeds the requirements for their job. A global phenomenon, it is particularly common in industrialized economies. According to researchers, by the early 21st century, the over-education rate in the United States was 20%; in the United Kingdom it was 22%. It is the product of degree inflation — in particular, the inflation of higher education degrees — over the course of the past 50 years. 
On an individual level, over-education means that we benefit less from attending school and are less satisfied with the jobs our degrees qualify us for; at the social level, over-education represents a tremendous waste of human capital investment.
In a study published last year, my research collaborator, Li Xiaoguang of Xi'an Jiaotong University, and I evaluated the evolution of over-education in the Chinese urban workforce between 2003 and 2017. In contrast to many Western countries, educational inflation, economic transformation, and the evolution of the occupational structure essentially occurred at the same time in China. What this means is that, between 2003 and 2017, over-education actually declined here, mainly because the demand for highly educated employees increased as the country moved up the global labor value chain.
Break things down by generation, however, and a very different picture emerges. Following the enforcement of compulsory education for grades K-9 and the expansion of higher education enrollment, the problem of over-education in China has grown more acute, not less. Given that individuals on the job market mostly compete with people their age, younger job candidates face more pressure than their older counterparts and are more likely to suffer from the devaluation of their qualifications.
We estimated that, in 2017, the rate of over-education among China's workforce was approximately 35% — considerably higher than that of many Western countries. Since 2017, the gaokao admission rate has risen from 74.5% to 92%. As college degrees become commonplace, companies are adopting new selection criteria. Demand for postgraduate degrees has exploded. Previously, China's economic transformation and the resulting need for better educated workers helped absorb the supply of university graduates and to an extent alleviated the problem of over-education. However, as economic growth slows down, so too will the growth of jobs for highly educated graduates. By the time today's postgrads complete their studies, having a postgraduate degree will be even less of a guarantee of good employment than it was when they enrolled.
In the West, scholars have found that relations of supply and demand on the job market, as well as the perceived value of college degrees, determine whether students are willing to invest more money into higher education. Studies carried out by labor economists show that, since the 1970s, at times when income returns to college degrees have declined — that is, during periods of over-education — many people simply choose not to attend university at all. As the pool of university graduates shrinks, graduate salaries naturally rise in response. This makes attending university a worthwhile investment again, thus attracting a new generation of young people to enroll.
In China, however, education bears immense cultural significance. The default mindset is still the more educated one is, no matter one's field, the better. It is for this reason that the expansion of education has been so extensive: people are willing to strive for higher education even if there's little to no payoff. If this mindset doesn't change, China's over-education problem will only get worse.
Translator: Lewis Wright; editors: Cai Yiwen and Kilian O'Donnell.
(Header image: Students prepare for the postgraduate entrance exam in Nanjing, Jiangsu province, Dec. 25, 2021. VCG)