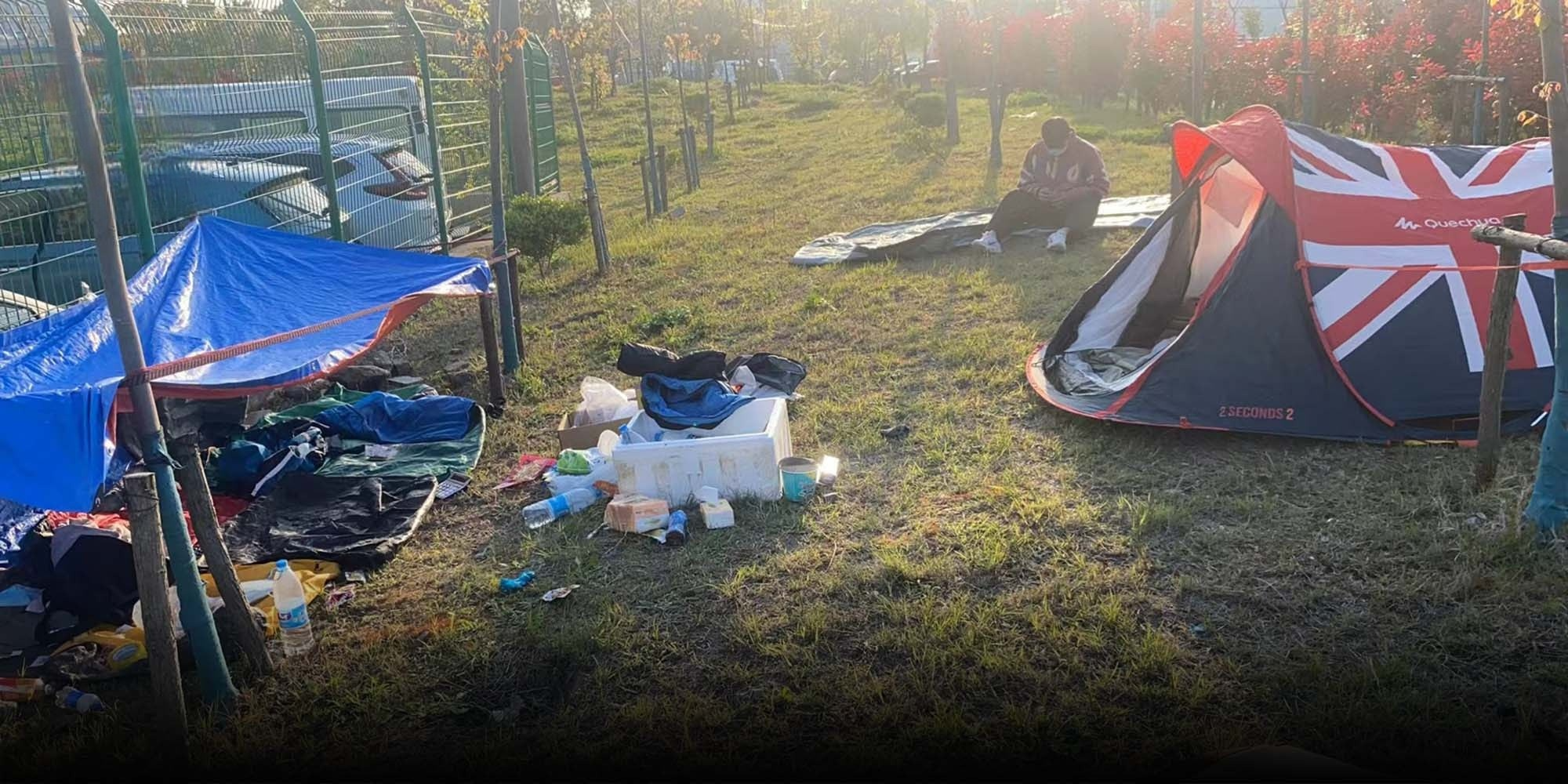 NEWS
They Wanted to Feed Shanghai. It Can Mean Living in a Van for Weeks
Empty restaurants, vans, and parks — food supply workers are searching for places to sleep as lockdowns separate them from home.
SHANGHAI — Yuan Ning has been sleeping on a pallet in an empty restaurant for nearly two weeks. The 30-something Shanghai butcher, like thousands of others, left his home while the city locked down to deliver food to residents.
The entirety of Shanghai has been under a lockdown order since April 1 as the city battles China's largest-ever outbreak of COVID-19. Some areas, including much of the massive Pudong New Area, have been under lockdown even longer. Residents are mostly confined to their homes except to undergo testing, and many have encountered serious difficulties getting food.
Shopkeepers and delivery drivers are a lifeline for millions of locked-down Shanghai residents. But to keep food deliveries running, many left their homes for improvised housing in workplaces or vehicles. As infections rose, some have stopped making deliveries, but are marooned outside locked-down homes.
When nearby residential compounds were placed into lockdown on March 19, Yuan decided to help his regular customers get vegetables and meat. Two days before his home was locked down, he moved into a fast food franchise owned by a friend that closed during the lockdown and worked 12-14 hours preparing orders and making deliveries for a WeChat group of over 200 people, waking at 4 or 5 a.m. each day. He slept on a bed made out of two tables and a child's mattress borrowed from his son, keeping the lights off at night to avoid being noticed. He gave a nickname to avoid being identified.
Yuan told Sixth Tone that he finds meaning in helping his neighbors, but having no fixed abode is not easy. The father of three doesn't know when he will go home, as the lockdown continues to be extended in the city. "Living in an unstable state is hard," he said.
Three other vendors and couriers who have been delivering food during the lockdowns told Sixth Tone that they have been sleeping in vehicles or their own grocery stores since their apartment complexes were sealed. During the full lockdown in Shenzhen last month, social media users in the city reported seeing delivery drivers sleeping on the streets; some were blocked from returning to their homes even if they had a special permit to work during the lockdown. 
The Shanghai Municipal Health Commission ordered March 27 that "health professionals, delivery workers, etc., with permits from workplaces can travel normally in the sealed districts." But in reality, even health workers with passes have faced difficulty leaving residential compounds, and, once out, many have been prohibited from returning, the online community for healthcare professionals DXY.cn reported Saturday.
For vendors like Yuan, who isn't classified as a delivery worker, getting a permit from the neighborhood committee is impossible. He's also not eligible for subsidies offered to essential workers during the pandemic. Like most wet market vendors, he rents his stall from a private landlord, so he'll also miss out on rent relief in state-owned buildings.
A 20-year-old courier at a ZTO Express station in Pudong, surnamed Geng, has been helping residents buy groceries in addition to his daily delivery job. He told Sixth Tone that he had been sleeping in a van with two colleagues since March 23, with a quilt his roommate dropped out of a window for him from their sealed apartment.

Even though his company is one of the key enterprises that help ensure deliveries amid the pandemic and employees like Geng are essential workers in official definition, it could not help with his living situation.
"Nearly half of our company's dormitories are sealed. And the apartment complex we live in neither allows people to enter nor exit," Geng told Sixth Tone.

It falls to below 10℃ in Shanghai in early spring. Some of his colleagues, like his roommate, chose to stay in the sealed dormitory, but if he does that, "I won't have any income," Geng said.

On March 29, Meituan, the largest food delivery platform in China, offered free rooms in 31 hotels to delivery workers in Shanghai. More than a hundred delivery drivers were reportedly housed in the hotels the first day.

But a lot more vendors and couriers like Yuan and Geng are still living in unstable residences.
Yuan's deliveries ended on March 25, when a stallholder in the same market tested positive for COVID-19. Scared of contracting the virus or passing it to his two-year-old son, he went into voluntary isolation in the restaurant. He's not sure about the reported 14-day incubation period, so he plans to remain there for 30 days before going home.
He said when the outbreak ends, what he wants most is to go home, reunite with his family, and rest for a few days. He's advised other stallholders to go home as soon as possible, for their own safety.
Geng's delivery station was completely closed on March 28, as Shanghai locked down the entire east side of the city. At first, he and his two partners stayed in the van and continued to help residents buy daily necessities. But on March 30, as case counts were rising, Geng lost access to the van. He stopped making deliveries and moved into a tent lent by a customer. One of his two partners found another van, and is still making deliveries with a new team.

"It is a difficult time and residents need more help than usual," Geng said. "I just think that I could not step back."
Editor: David Cohen.
(Header image: The tent delivery driver Geng is currently sleeping in. Courtesy of Geng)