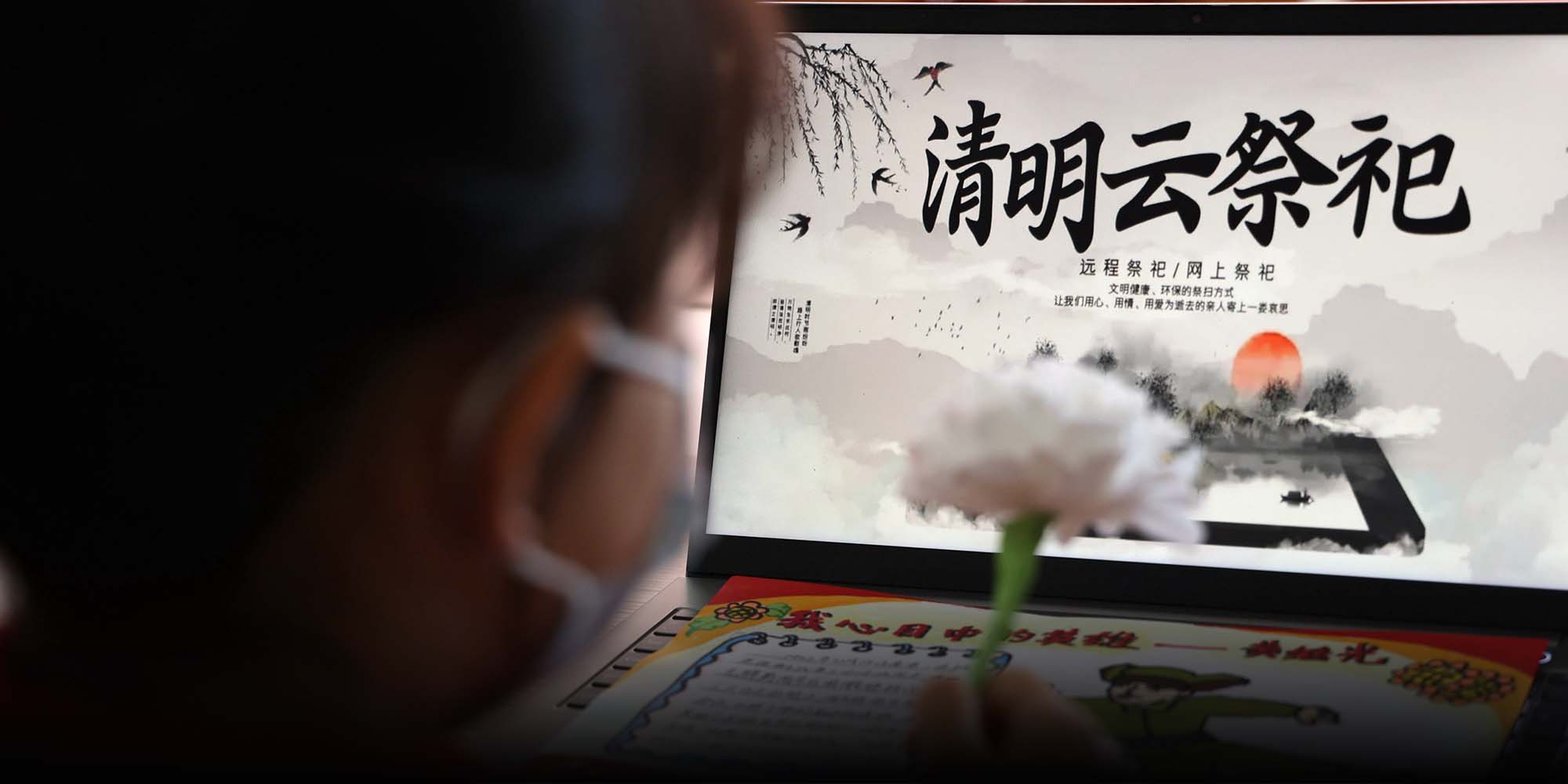 NEWS
Remembering the Dead, Without Going Outside
As China passes its third Tomb-Sweeping Day of the pandemic, millions of locked-down people are looking for digital alternatives to traditional rituals.
It's the Qingming festival, also known as Tomb-Sweeping Day — a time for Chinese families to visit their dead relatives, clean their tombs, and offer food and symbolic money in a solemn ceremony of remembrance. It's a three-day public holiday.
It's also the third year of China's fight against COVID-19, and due to the country's "Zero-COVID" strategy, many haven't been able to visit their loved one because of quarantine measures and travel restrictions.
Usually on this day, 28-year-old Shanghai resident Tang and his family would gather together, fold yellow foil into the shape of gold taels, and burn it in front of his grandfather's tomb as part of a local version of the ritual offering of money to the dead. But as Shanghai extended a lockdown that was planned to be lifted on Tuesday, he was not able to go to the cemetery in Qingpu district to visit his grandfather.
Shanghai authorities announced a pair of five-day half-city lockdowns March 28, but as cases continued to rise, the entire city is now under lockdown with no announced end date.
"Visiting my grandfather at Qingming was important for our family," Tang told Sixth Tone, only giving his surname to protect his privacy, "not only can we remember my grandfather, but was a chance for the family members to get together and bond with each other."
Zhao, a university student in Shanghai, lost her mother last October after a sudden illness. She's been quarantined on campus for almost a month due to a COVID-19 cluster, and could only look at pictures of her relatives cleaning her mother's grave.
Zhao posted a letter to her mother on the Twitter-like service Weibo: "Mom, please don't worry that I will forget you. I will never forget you. I miss you. I miss your soft voice, your warm hug, your always-warm hands and your ever-young face… When things get back to normal in Shanghai. I will come back to see you. I promise."
"This is the first year since her death and I was supposed to go back to visit her grave for sure," she told Sixth Tone. "I understand the authorities' measures, but I'm sad that I can't visit my mother at this special time."
READ MORE: When We Die, What Becomes of Our Digital Lives?
While residents of Shanghai, and other cities including Haining in Zhejiang province, and Changchun and Jilin in Jilin province, are not allowed to leave their homes due to citywide lockdowns, authorities in other Chinese cities including Shenzhen canceled tomb sweeping in cemeteries, and encouraged citizens to remember their loved ones online. Many cemeteries are offering replacement services including virtual tomb visits and digital flowers and candles.
Tang said he had heard that his grandfather's cemetery offers online services, but he doesn't think paying the staff to send flowers could replace the experience of visiting the loved one in person.
"I feel quite sorry that I can't visit him," he said, "but I'm sure he will understand."
Editor: David Cohen.
(Header image: A young woman participates in an online Qingming Festival ritual, Binzhou, Shandong province, April 4, 2022. IC)