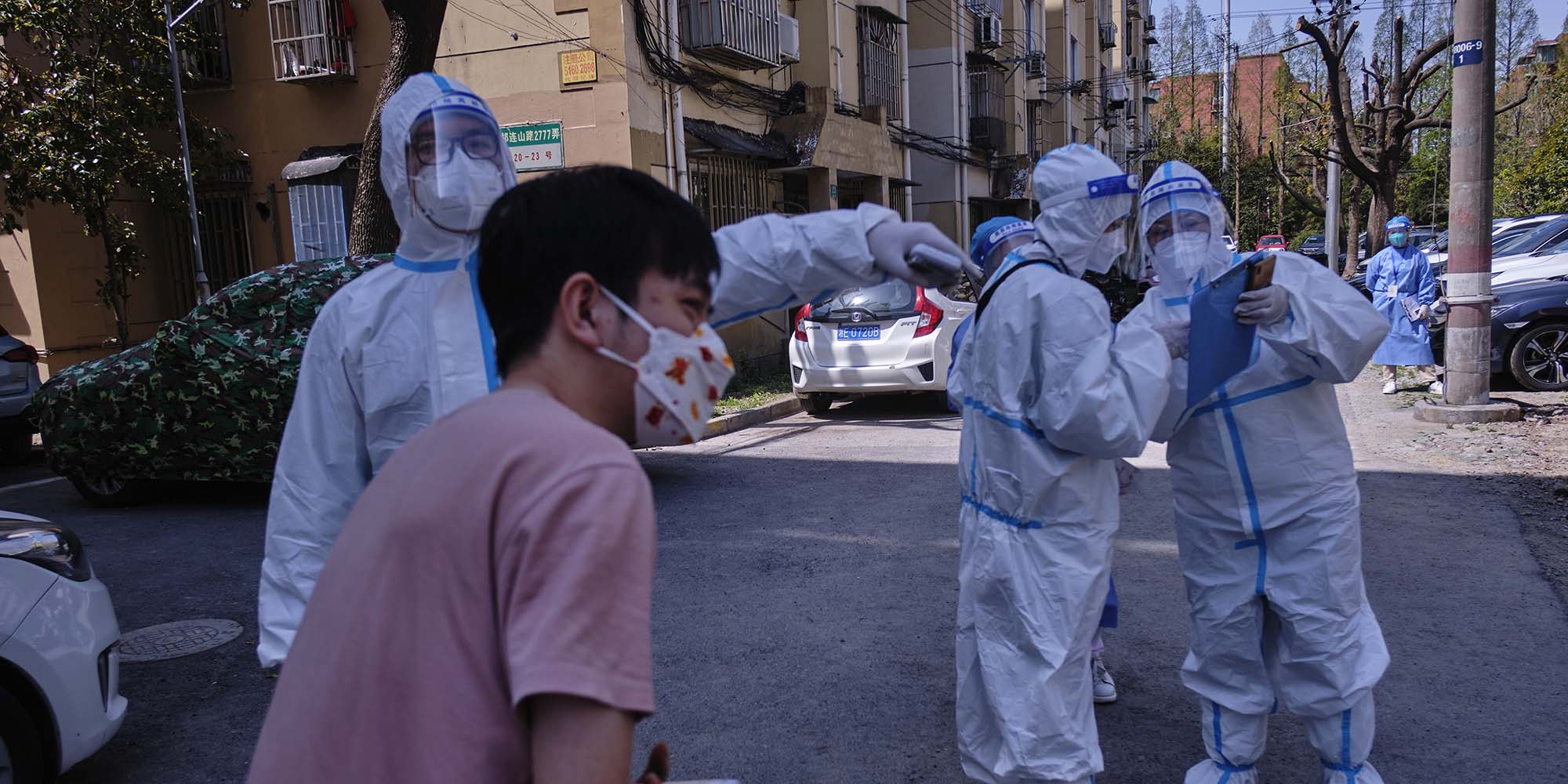 NEWS
Shanghai Seeks to Test 25 Million in One Day
Saying the city's outbreak is now larger than Wuhan, the megacity races to give COVID-19 tests to its entire population.
SHANGHAI – Millions got up early on a holiday Monday, filing downstairs in pajamas to take part in what is likely the world's largest-ever single-day COVID-19 surveillance effort. Shanghai is seeking to test its 25 million residents on Monday, following an announcement on Sunday.
While most of China is enjoying a three-day vacation for the Qingming festival, Shanghai is trying to halt the country's largest-ever COVID-19 outbreak, which has infected over 40,000 people in the past 10 days. Chen Erzhen, a vice president at the city's renowned Ruijin Hospital, said Saturday "the scale of the cluster this time is bigger than Wuhan."
Vice Premier Sun Chunlan arrived in Shanghai on Saturday, with a message that China will stick to its "Zero-Covid" strategy. The People's Liberation Army also sent 2,000 soldiers Sunday to assist Shanghai's medical work.
Wang Xiaoxiao, a 40-year-old who lives in Huangpu district, woke up at 7:30 am after hearing community officials call residents downstairs for testing.
The station is a couple of folding tables under a blue tent. Residents were asked to line up while keeping social distance, register in an app to generate a QR code, and then wait to be swabbed by medical staff wearing hazmat suits.
"The process is quite fast. I waited for less than five minutes and finished the test." Wang told Sixth Tone at the test site, still wearing pajamas. "I really hope we can finish the lockdown as soon as possible." Immediately after the test, lockdown rules require everyone to go back into their apartments.
The city government announced a two-phase lockdown March 27, running from March 28 to April 1 on the river's east bank, called Pudong; and from April 1 to 4 on the west bank, Puxi. But authorities said Saturday that the lockdown in most of Pudong will be extended by at least nine days due to rapid growth of new cases detected in the area.
It's unclear whether the lockdown in Puxi will be lifted as planned on Tuesday, 3 a.m.. A community official who works at Huaihai sub-district told Sixth Tone it has not been confirmed.
"We are all waiting for notice from the authorities. We don't know when we can lift the lockdown," she said.
Before the cluster in March, Shanghai had won a reputation for "precise Covid-19 prevention and control" strategy. Other Chinese cities and provinces including Tianjin, Xi'an, and Jilin started mass testing or lockdowns soon after detecting their first cases, slowing the spread at the cost of major disruptions to daily life.
During previous outbreaks, Shanghai managed to control the virus efficiently with targeted measures during previous outbreaks. In January, the government marked the smallest "elevated risk area" in China, a 20 square meter bubble tea shop.
Editor: David Cohen.
(Header image: A volunteer guides a man waiting to get a COVID-19 test in Shanghai, April 4, 2022. Wu Huiyuan/Sixth Tone)