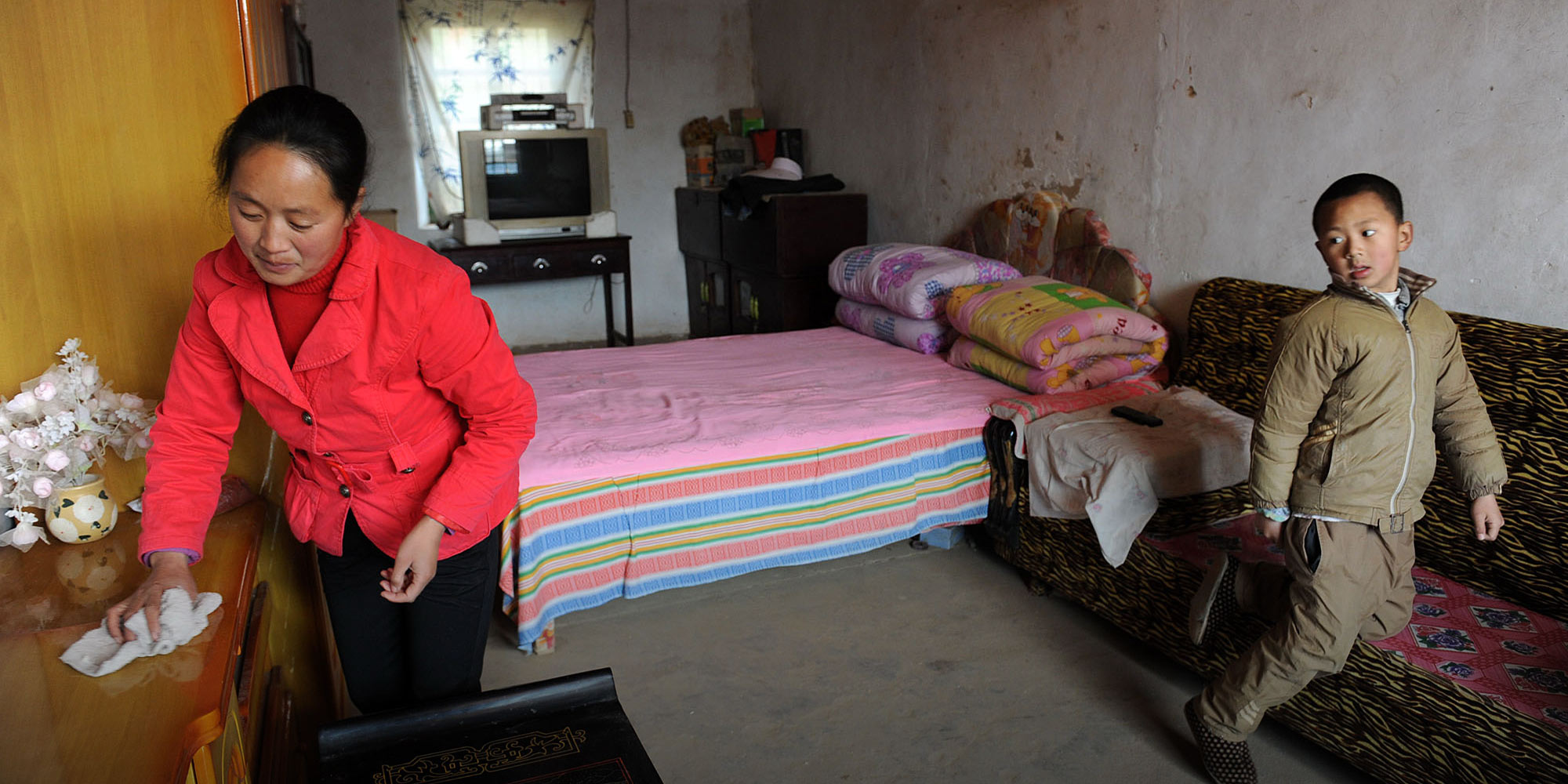 SIXTH TONE ×
A Studied Sacrifice: Why China's Moms Bet All on Education
Across rural China, peidu mothers, who rededicate their lives to supervise their childrens' education, are on the rise. But at what cost?
Across rural China, peidu mothers are everywhere: in more than 2,000 county capitals (where over half the country's students live), among relatives who abandoned city jobs to return to their hometowns, and in countless surveys and news reports.
Qi Weiwei spots them easily. She visits the countryside every year for research and fieldwork as part of a PhD in scientific socialism, and has so far traveled across several provinces including Guangdong, Henan, Hunan, and Shandong.
Last summer, Qi visited a village in Dongzhi county, in the eastern Anhui province, where she often heard people discussing peidu mothers.
In this impoverished village, the elderly residents underscored that all the young people had migrated to the cities — sons to find work in various urban centers, and daughters and daughters-in-law to look after their children studying in Yanghu, the county seat.
One local even told Qi about WeChat groups for lonely men and women in Yanghu, where they met occasionally for one-night stands. Some who participated in such trysts were young peidu mothers far from home.
Peidu, which literally translates to "accompanying education," is an increasingly common practice across China, where one parent, usually the mother, quits her job to devote all her time to supervising school-age children so they can better focus on their studies.
Such mothers — born primarily in the 1980s or early '90s — choose to sacrifice friends, social lives, careers, and time for themselves. Their lives revolve entirely around their children.
And these plans hinge entirely on hope — that their children will get better grades, test into good universities, and break the cycle of poverty.
Desolate optimism
Last year, Qi chose to visit Dongzhi county during the summer school break — when mothers usually return to the village with their children. Though Qi's research has taken her across several provinces, the peidu mothers of Dongzhi county, who are increasing in numbers, piqued her curiosity.
Qi met one mother in her 30s whose husband works decoration jobs in Beijing.
With her eldest daughter studying at junior high school in Yanghu town, the county seat, she gave up on urban work and returned to rededicate her time to her child full-time. Along with her younger four-year-old daughter, the trio live frugally — more than half of the family's income goes into rent and living expenses.
As she met more and more women, Qi found that this was the norm. Among rural families, it was almost always the mothers who gave up their jobs.
"Another mother worked in Shanghai with her husband, while their child stayed in their hometown to attend elementary school. The child wouldn't do homework, and the grandparents were helpless," says Qi.
"The teacher called the mother and said, 'If you don't come back, the child is done for.' So she returned. There are few job opportunities in the county seat, so she went to work at a store selling milk powder."
Qi found that mothers often abandoned their jobs when their child reached the third year of junior high. "The separation of students into general and vocational education has parents worried. Most parents are wary of vocational schools. So, they devote themselves to their children in the third year of junior high to ensure they get into high school and then university," says Qi.
Typically, their days unfold in small, rented apartments near their child's school, and involve a hectic schedule of cooking meals and completing the school run. After school, they even carefully study their child's expressions and keep them company all the time.
"Some mothers micromanage. For example, she might know it takes about 20 minutes to get home from school. If her child is not home within that time, she will go look for the teacher," says Qi.
"In fact, some mothers are strict because they think they themselves did not spend enough time at school. So there is a lot of pressure on such children, and they often argue and talk back, feeling they have no freedom. It strains the relationship between parent and child."
In conversations with most mothers, Qi easily noticed the anxiety and anguish. They underscored the isolation in their daily lives — far from their village homes, their limited social interaction is primarily with other mothers in the same situation, or else during occasional mahjong games and shopping trips.
Most don't have jobs, and their schedules are the opposite of ordinary office workers, making it difficult to integrate.
One mother broke down while telling her story. "She talked about the time she couldn't sleep, and ended up wandering the streets alone. She had absolutely no life of her own and felt a huge amount of burden. Her husband worked far away, and she could not talk with him about her problems every day."
Some find release in poker rooms or square dancing. Some even develop feelings for others, with divorces not uncommon once the affair becomes known.
Qi says county seats are like an "acquaintance society" for mothers, with people not strongly connected to one another and less bound by moral and ethical constraints.
Hobson's choice
Qi grew up in rural Hubei province in central China. When she was a student, very few parents from the countryside went to the county capital to accompany their children attending school. Usually, parents worked in cities, leaving their children in the village with grandparents.
But over the past decade or so, the peidu phenomenon has gradually taken over.
In 2001, China introduced a policy to merge schools in the countryside, after which many were forced to shutter their doors. Since then, the number of rural elementary schools nationwide fell from 440,000 to 155,000 in 2012. Educational resources became more concentrated in county capitals as elementary and secondary schools in villages and towns rapidly vanished.
Though it has made the younger generation more keenly aware of the educational gap, it is difficult for migrant families to transfer the hukou, or household registration, into cities where they work, for kids to go to school there. As such, studying in the county capital is the only option.
But not all young rural parents feel the need to watch their children carefully. Qi says, "For example, in richer areas like Guangdong, the countryside has developed more (so it can meet children's educational needs). As for Guangxi and Hainan provinces, parents there perhaps don't attach quite as much importance to education and so the practice of peidu is less prevalent."
In Anhui's Dongzhi county, Qi found that job opportunities for mothers were severely limited. The few that existed were in the service sector, where wages were low. Incidentally, deep in central and western China, even service sector jobs are scarce, leaving most mothers without jobs.
According to Qi, this generation of women is caught between the countryside and the city. They have experienced city life and understand the value of education more than their parents' generation who were farmers. Yet, they also carry on the tradition of putting family and children first, and so they return home to devote themselves to the next generation.
In the villages, most of the elderly left behind find it hard to keep up with the digital age. Teachers communicate with cell phones, but many of the elderly struggle to cope.
One villager told Qi about an old man who wasn't able to tutor his grandchild. When the child didn't finish his homework, the teacher criticized the grandfather openly in the teacher-parent group chat. Humiliated, the grandfather asked the child's parents to come back and take over.
Qi says, "There's also a small minority of mothers who don't want to work in the city, and so in the name of peidu, play mahjong all day long, and forget their troubles."
"However, the majority feel the pressure from society and their children — if you don't peidu, your relatives and friends will gossip about you; and when other children see kids with their mothers, they'll ask their moms to come."
Schools also impose expectations on parents. Elementary and middle school principals in the county capital told Qi that schools would obviously prefer parents to be around. That way, teaching is smoother, and it helps children develop.
It only adds to the anxiety. "I don't understand. Some schools can provide accommodation, but mothers think that's not good enough, and that if other mothers are taking care of their kids, then they should too," says Qi.
Now, more and more families have started focusing on their children early on. Mothers used to start in year three of senior high, but now begin from year three of junior high. Some even start when their child is in elementary school.
But does the sacrifice actually help?
As a researcher, Qi is pessimistic. "For the vast majority of parents, it doesn't help. In the end, only a handful of students end up getting good grades and passing their exams [to enter university]."
Other researchers studying the phenomenon have found similar results in villages and towns in China's central and western provinces of Gansu, Shanxi, and Hubei. "It's hard for them to change anything. All they can do is take good care of their children's day-to-day lives, ensuring they eat and drink well," says Qi.
One mother described the futility of the system: "I hope my child doesn't go off the rails and can navigate the rebellious phase smoothly, if only to finish high school. I'm just doing my best."
But with limited educational resources in county capitals, most peidu mothers need to face the prospect that their children will get mediocre grades or fail to test into university — no matter their sacrifice.
Vicious loop
In addition to the frustration, mothers rue their lost opportunities.
"By the time peidu is over, a lot of mothers are in their 40s or 50s and are basically unable to enter the job market. They're forced either to rely on their husbands or find unskilled jobs in the county seat, such as washing dishes," says Qi.
They often end up burying their regrets — no work, no friends, no social connections, and no personal meaning in their lives. As a mother herself, Qi empathizes with the pressures such mothers feel.
Their lives revolve around family, but they hardly have a home. "When they're sick and running a fever, they can't turn to their husbands for care. Instead, they're still expected to cook for their children and take them to school, while their husbands earn in the cities. The economic developments that they brought about by working have come at the cost of rural families," says Qi.
Husbands feel the pressure too. In one village, Qi met a man whose wife and child lived in the county capital, leaving him behind to tend to the rice paddies, his income barely enough to cover the family's expenses. "There can't be any risks at home; there's a huge amount of pressure. I feel like I'm being pushed along by life," he told Qi.
According to Qi, as parenting responsibilities increase, schools and relevant public education authorities must shoulder more responsibility. The planning and layout of education in county seats is particularly important.
"We should improve education in townships for rural residents who cannot go to the city, and try to relieve their economic burden; schools in county capitals should provide corresponding public services for these children; and finally, education is highly specialized, so should be put back in schools," she says.
According to Qi, some mothers have "succeeded." But their success comes at a price.
She met one woman whose daughter managed to get into a good university. But it strained their relationship during middle school. The mother told Qi: "Peidu is very important — it was worth the effort."
Now, this mother has turned her attention to her son, who has just started the first year of junior high in the county seat.
She feels helpless, and says: "If I don't peidu, my children will blame me for their poor grades and failure to get into a good university, right? I've done what I had to do. Whatever the result, at least I'll have a clear conscience."
A version of this article originally appeared in White Night Workshop. It has been translated and edited for brevity and clarity, and published with permission.
Translator: David Ball; Editors: Zhi Yu and Apurva.
(Header image: A "peidu" mother cleans up while her son plays, Shangnan County, Shaanxi province, April 2, 2010. Li Jie/VCG)