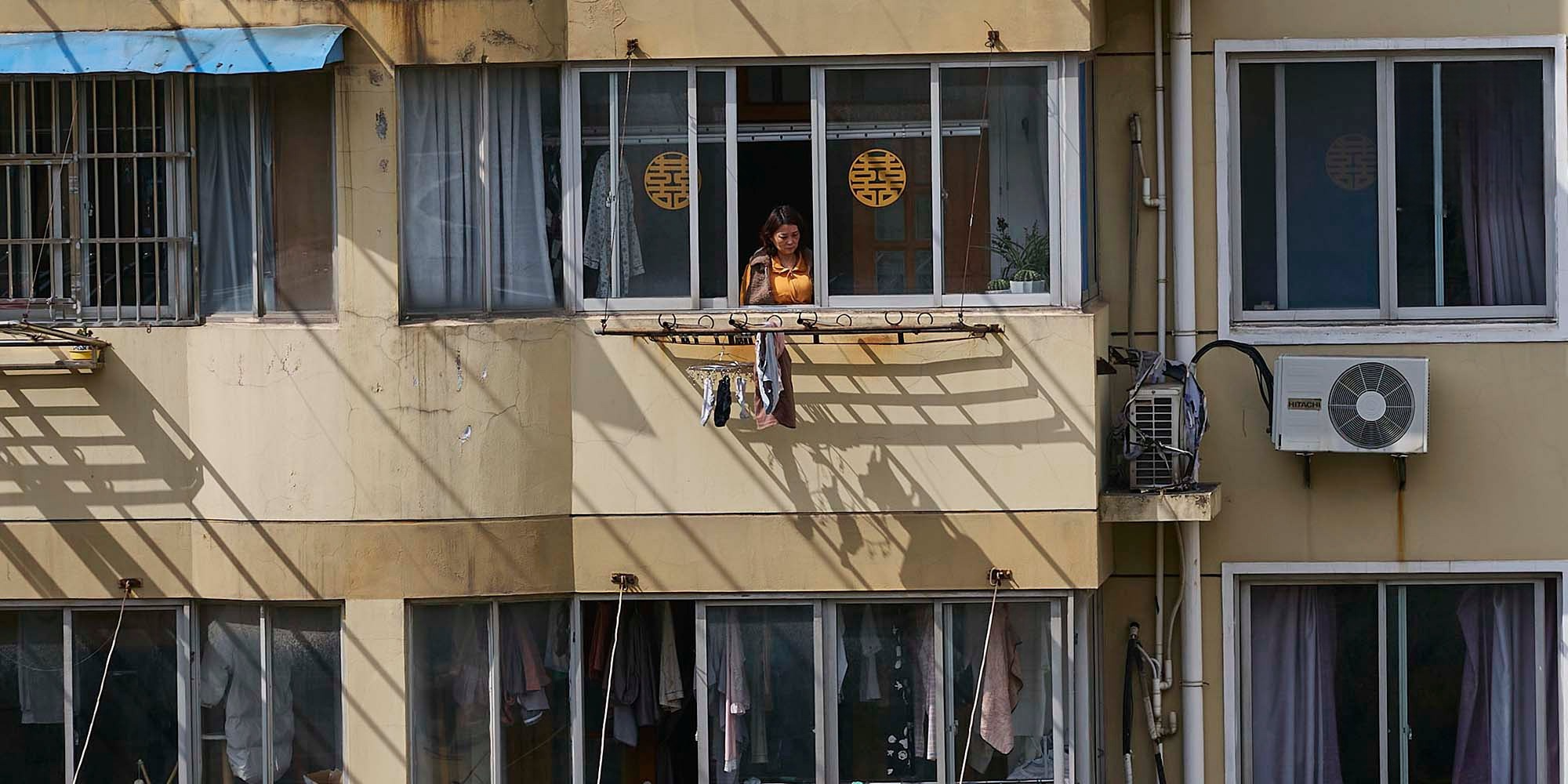 NEWS
Shanghai Sees Rise in Mental Health Issues Amid COVID-19 Surge
The city's psychological support helplines are flooded with calls, with many expressing anxiety over virus control measures.
SHANGHAI — Shanghai's mental health hotlines have been receiving an increase in calls since the city started a two-phase lockdown Monday, with many anxious residents calling to discuss conditions heightened by the city's COVID-19 outbreak.
Mental health counselors in Pudong New Area, where the lockdown that was supposed to end Friday has largely been extended, said their phones have been continuously ringing throughout the day. The district, also the city's financial hub, has five hotlines — three of them operate 24 hours — with over 100 volunteers providing various counseling services amid the outbreak. 
"I started at 8 a.m. and by 4 p.m, I have received 40 calls," one of the hotline staff told Sixth Tone.
Shanghai is currently experiencing its worst COVID-19 outbreak since the pandemic started, logging record daily infections this week. The city reported 6,311 cases on Friday and over 36,000 of them in March — and while the numbers were far less than elsewhere globally, it's a dramatic surge for a country still sticking with the "zero-COVID" strategy.
While the pandemic has affected the physical health of hundreds of millions of people worldwide, it has also taken a heavy toll on the mental wellbeing of individuals. Countries around the world have reported an uptick in mental health issues, while the World Health Organization called on governments to step up support last month after witnessing a 25% rise in the prevalence of anxiety and depression globally in the first year of the pandemic.  
In Shanghai's downtown Changning District, where the lockdown started Friday, the 24-hour government-backed mental health hotline has received over 200 calls in March, each lasting about 26 minutes on average, according to Zhu Wei, one of the people in charge. The number of daily calls was about 20% more than other times.
"Many called because of lockdown anxiety and some sought help to secure medicine," Zhu told Sixth Tone on Thursday. "Some callers didn't specifically call due to the outbreak, but we can sense that it's related. For example, a couple who called had fought over their kids' online education."
A college student, who only gave her surname Li, said that she was stressed to be in another COVID-19 hotspot again. She had left Wuhan just when the virus started emerging there early in the pandemic, only to see a surge in her hometown in the central Hubei province. Now, she is caught in Shanghai's lockdown.
"I'm having PTSD," Li told Sixth Tone, referring to post-traumatic stress disorder. "At home, the lockdown didn't seem this intimidating because I was with my family and had enough food."
Li said most of her anxieties are associated with not being able to get enough food and she started to panic after learning about the lockdown. At 5 a.m. on Tuesday, she tried to order from various delivery apps but failed.
"Everything was sold out in a second," Li said, adding she was able to buy some fruit but was later told they wouldn't be delivered due to a lack of couriers. "There was the thrill (of waiting), and then there was a huge disappointment. I can't stand uncertainty."
So far, Li said she hasn't tried psychological counseling.
"I'm afraid of being recorded in the free hotline's system," she said. "I also don't want to pay for (other) sessions. I escape reality by watching TV shows."
Meanwhile, another Shanghai resident, surnamed Yang, has been paying for weekly psychological consulting sessions for about two years, mainly to deal with intimacy and relationship issues. She had her latest session with her therapist Wednesday, where she shared how the lockdown has affected her.
"Two years ago, I was most afraid of the unknown virus, but this time the secondary problems caused by the epidemic make me anxious," the 33-year-old said. "With relationship advice, I can work on them right away and see the results, but with the (virus), I feel powerless. I don't have the individual power to make any changes."
Cheng Qing, who lives in Xuhui District, told Sixth Tone that she started to become anxious when the number of infections in Shanghai increased to over 1,000 every day. She said she was more worried about her pet cats after reading tragic news over the mistreatment of animals in other places.
"I don't know how I would react if anything happened to my cats," she told Sixth Tone.
Amid the outbreak, many Shanghai residents have resorted to self-help support groups as well. Many, including Cheng, have turned to mental health-related apps and guided meditation.
"At least now we have all sorts of help we can get with ease," said the 28-year-old. "It would be so much harder if this (lockdown) happened 10 years ago."
Carrie Jones, a counseling professional from the nonprofit Community Center Shanghai, whose clientele were mostly English speakers, told Sixth Tone on Saturday that there has been an increase in people seeking support recently and subsequently sharing information about free sessions on social media.
"I think it's comforting to the community just to know that this support is available, like a safety net, whether they actually utilize it or not," Jones said.
When the virus surge in Shanghai started in early March and residents were locked down in targeted quarantines — only buildings with infected patients and their close contacts were sealed — Jones said many of her calls were about relationship issues. As the quarantines got longer and with the beginning of lockdown, people were getting stressed in general, struggling with anxiety, uncertainty, fear, loneliness, a lack of reliable information, and a lack of control.
She said the nonprofit organization also offered similar support in 2020 when people feared the then unknown virus, with most of them experiencing separation anxiety from families. For many, the situation in Shanghai has triggered past memories.
"It comes on top of two years of many people not being able to travel home or see families," Jones said, referring to China's strict border control measures. "The situation is so fluid and rapidly changing."
Phone numbers for Shanghai's mental health hotlines can be found here. Community Center Shanghai can be reached at 13636317474 or here.
Editor: Bibek Bhandari.
(Header image: A woman looks out from her window during lockdown in Shanghai, March 28, 2022. Wu Huiyuan/Sixth Tone)