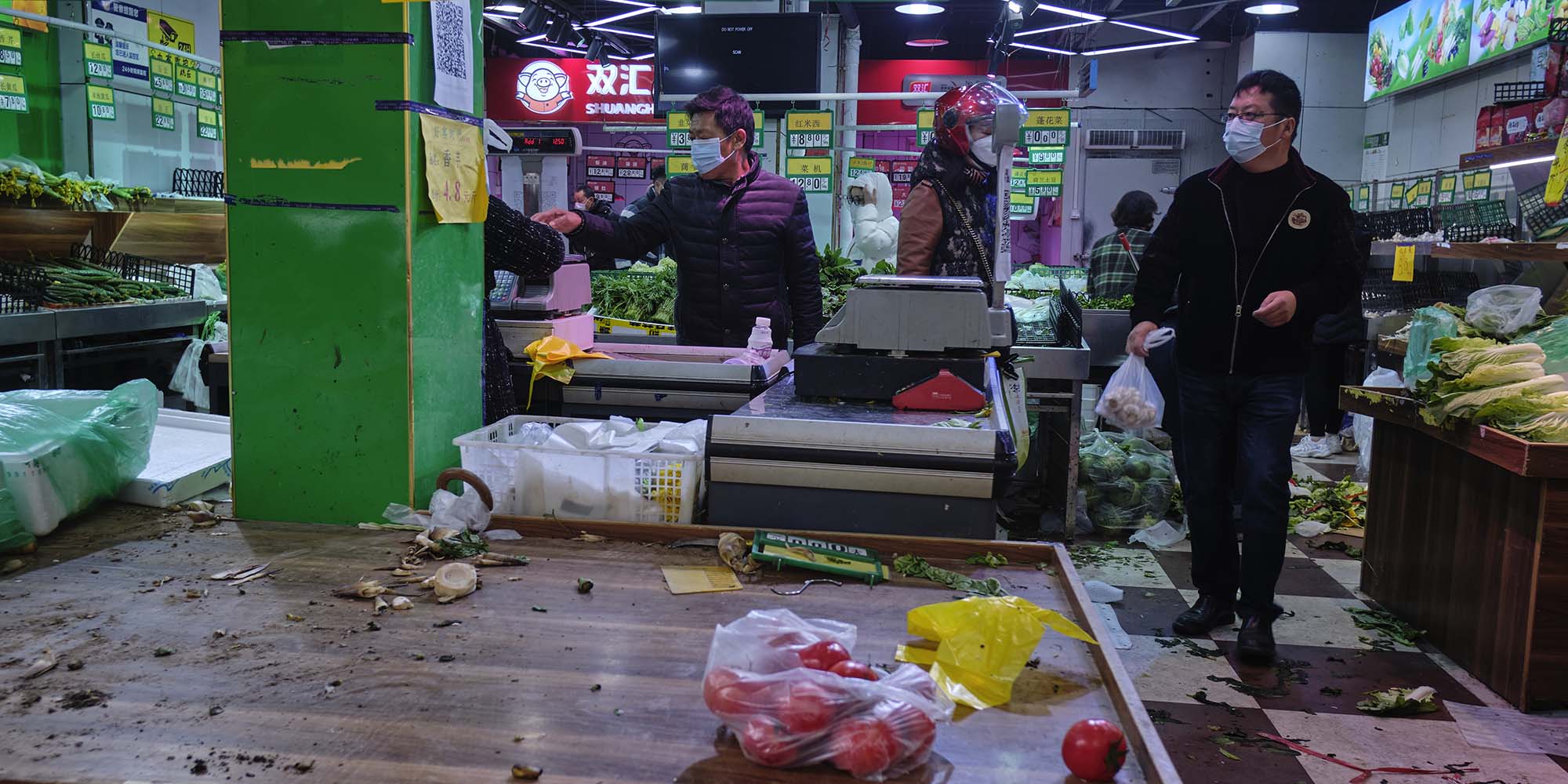 NEWS
Lockdown Tests Shanghai's Food Delivery Services
Suppliers stress the city has plenty of food. The problem is getting it into customers' hands.
SHANGHAI — It was 9 a.m. Wednesday, and hundreds of people were queuing outside of a Hema supermarket in Shanghai's Huangpu District. As the shop opened, they all had one mission: stock up on food before the lockdown.
Due to thousands of daily new COVID-19 cases over the past week, the Shanghai government announced Sunday a two-phase lockdown measure to make its 25 million residents quarantine at home. Now, many residents are facing a new problem: food.
Vegetable and meat shelves have been emptied in many Shanghai supermarkets. Residents said it's been nearly impossible to place an order to do online grocery shopping for days. Panic buying is so widespread that a rap about it went viral last weekend.
Vegetable wholesalers in Shanghai told Sixth Tone the reason for the difficulty of buying groceries is not lack of supply, but logistics.
While residents in more open areas are able to get groceries relatively easily, those living in areas severely affected by COVID-19 and lockdowns are having a more difficult time. People have sought to stock up at least five days of food in preparation for a rolling lockdown, and many have sought much larger supplies in case the lockdowns are extended.
A 45-year-old who gave his name as Li waited one hour to get into Hema Wednesday morning. He said it was his second trip in two days to the Alibaba-backed supermarket. Li spent over 1,000 yuan ($157) stocking up on essentials — vegetables, fruit, water, and rice — for the coming quarantine.
"I came here yesterday afternoon and found the shelves empty. I was very afraid we would not have enough food for the quarantine," Li told Sixth Tone. "It's better to prepare well. We don't know how long the quarantine will last."
"We have enough stock, the problem is a lack of manpower," a representative of Hema told Sixth Tone. "The empty shelves are because we don't have enough staff to put food out. And many of our delivery people are also quarantined."
To solve the problem, the company is using the "shared employee" strategy to hire employees from partner companies, including restaurants. Meanwhile, the Shanghai government is also giving free food to some of the residents under lockdown.
According to Shanghai authorities, residents must stay at home during the citywide lockdown, with no breaks for shopping. The lockdown might extend beyond five days if positive cases are detected during the mass testing.
Not everyone is as lucky as Li. Many Shanghai residents were already stuck at home due to previous lockdown measures and did not have a chance to go out for groceries after the announcement. In the east part of the city, residents had less than nine hours to prepare after the five-day lockdown was announced.
Even before the citywide lockdown, residents say, delivery services were overwhelmed by demand.
Jiang, who has been under lockdown for three weeks in her apartment in Minhang District on the west side of the city, told Sixth Tone that grocery delivery apps usually hit capacity limits within minutes after starting to take orders each day.
"I had to rely on instant noodles for several days," she said, adding that the situation got better after her community officials arranged group purchases for the neighborhood.
Ni Qingfeng, owner of Pudong-based grocery supplier Shuyuan Planting Cooperative, told Sixth Tone they have plenty of food in stock. The problem is getting it into the city.
"We do have enough vegetables and fruit, the problem is delivering them," said Ni, who has been sleeping only three hours per day due to his heavy workload.
To drive during the lockdown, vans require special permits from the city. Ni told Sixth Tone he got permits for only five vans – which were not enough to handle the influx of orders. They will need to coordinate with the Shanghai authorities to prioritize customers in need. Once they make a delivery, they'll leave food outside an apartment complex for local staff to make door to door deliveries.
Wang Fengmei, who works at another vegetable supplier in Pudong, described similar plans. She added that due to the difficulty of transportation and lack of delivery methods, they were asked to prioritize orders from Pudong, which entered lockdown first, and could deliver to Puxi beginning April 2.
Editor: David Cohen.
(Header image: People purchase vegetables at a shop in Shanghai, March 31, 2022. Wu Huiyuan/Sixth Tone)