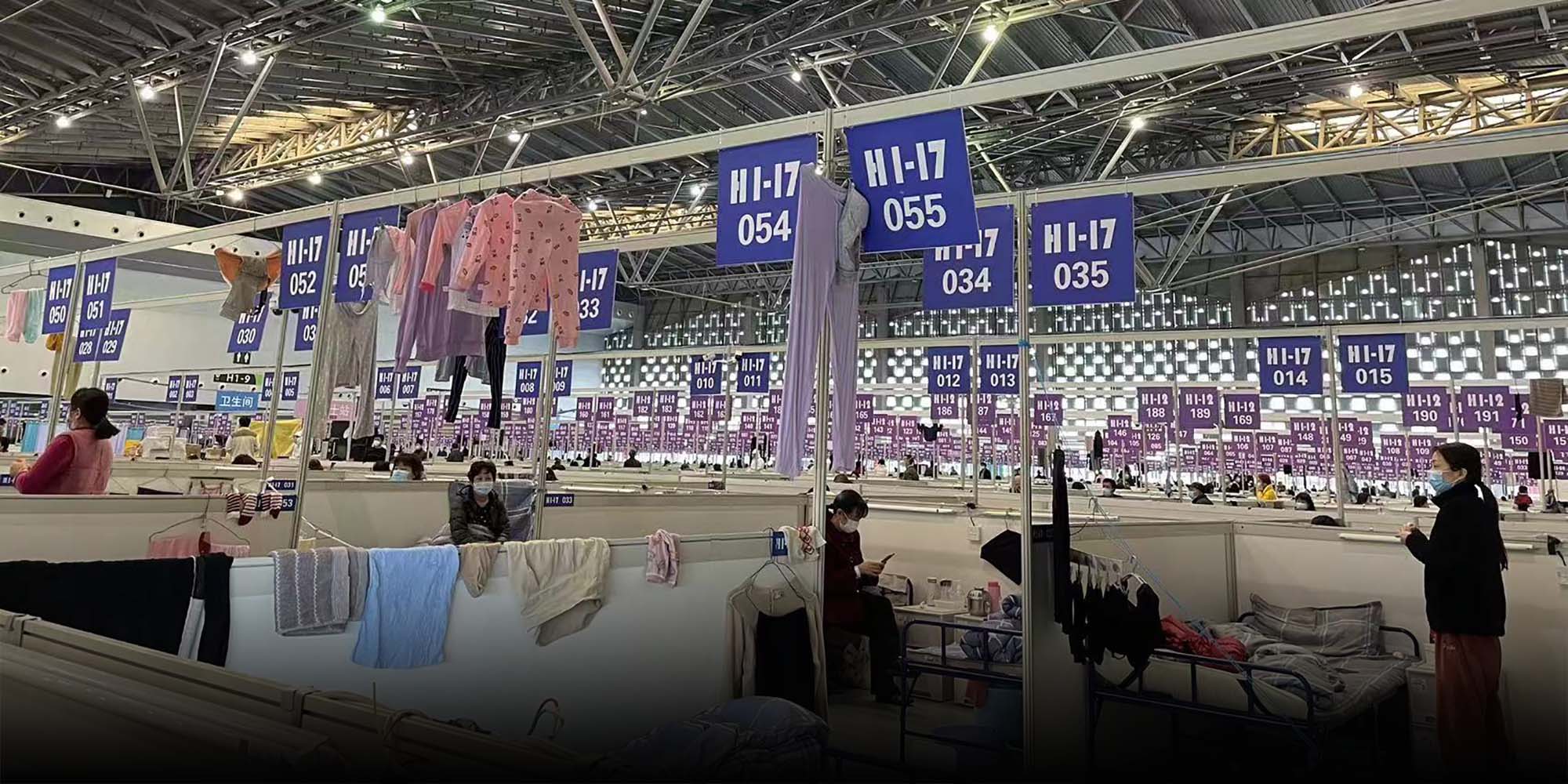 NEWS
Shanghai's Quarantine System Strained by Flood of Cases
The city is looking for beds for 30,000 asymptomatic COVID-19 carriers as it battles a major outbreak.
As Shanghai fights China's largest COVID-19 outbreak since the first wave, tens of thousands of people with mild or no symptoms are waiting in exhibition centers, stadiums, and empty apartment buildings.
Isolating mild and asymptomatic cases to prevent transmission is a pillar of China's "COVID zero" strategy. But with nearly 37,000 cases logged in March, Shanghai is struggling to find places to put them. Public buildings have been converted into temporary "shelter hospitals," or fangcang, adding tens of thousands of beds to relieve pressure on the public health system.
In the face of rising cases, the country updated guidelines on March 15 to allow patients with mild symptoms to be sent to centralized quarantine facilities instead of hospitals.
Chen Erzhen, head of Shanghai's central quarantine treatment team, told state-run media People's Daily on Friday that COVID patients admitted to centralized quarantine facilities can be discharged after testing negative twice in a row. The process usually takes seven to ten days for asymptomatic patients, according to Chen. The city has reported over 51,000 infections since March 1, including 35,949 asymptomatic cases in the last seven days.
On Sunday, the first batch of over 200 patients were set to be discharged from the Shanghai World Expo Exhibition and Convention Center, domestic media reported.
Despite two exhibition halls, two sports stadiums, and empty apartment buildings being put into place as quarantine facilities, some patients who tested positive have been stranded at home, wholesale markets, a nursing home, or at hospitals, waiting to be transferred to isolation sites.
Viral posts online showed vendors sealed in a wholesale vegetable market in Minhang District, and they had been sleeping on the concrete floor for more than ten days. They have been transferred out in batches starting from Friday night, online videos taken by vendors showed.
Guo Xiaolin, a 30-year-old resident of the Pudong New Area, told Sixth Tone that she was stuck at a makeshift quarantine site made of converted shipping containers at Pudong Hospital for about two days, after a self test came back positive on Wednesday.
"Ambulances would first transfer out the elderly, children, and pregnant women, with eight people in a car," she said, adding she was transferred to a centralized quarantine facility in Chongming District Friday night after waiting for hours on a bus.
Shanghai World Expo Exhibition and Convention Center, located in Pudong, is one of the main facilities built for the Shanghai World Expo in 2010. It now holds over 7,000 COVID-19 patients.
Video clips and photos taken by admitted patients there show dense, uncovered compartments in an open space, reminding many of the first makeshift facilities set up during the early days of the pandemic in Wuhan two years ago.
Several patients at the exhibition hall told Sixth Tone they have done their best to adapt to quarantine life, despite arduous living conditions. All said they are healthy, after suffering symptoms like fever and aches earlier in their infections.
A designer surnamed Sun said she was admitted Monday morning, and watches TV dramas and draws on her iPad to kill time at the quarantine site. She withheld her given name due to privacy concerns.
"I was nervous at first, and felt like it was the first time I was so close to the virus. I didn't know anyone around me, and everything here was confusing," said the 25-year-old.
Sun hasn't had a shower or change of clothes since Monday. Men and women are not separated in the facility.
It also takes her nearly an hour to fall asleep, as the hall is filled with noises from thousands of people, ranging from snoring and babies' crying to phone calls.
"The noise annoys me, but I can't do anything about it. I just put on my earphones," Sun said.
Zhao Jun, who runs a small dining business in the northern province of Hebei, came to Shanghai in early March to study Western-style cuisine, but got infected and was admitted to the exhibition center site before dawn on March 27 after a week in a hospital.
After testing positive March 20, the 27-year-old said he was afraid that the infection would affect his colleagues and roommates, but was relieved after they showed sympathy.
Zhao tries to keep a normal pace of life at the facility: reading, drinking a cup of coffee, and exercising for two hours a day, mainly by running five kilometers in circles inside the hall. He's also volunteered to assist medical staff in distributing meals and medicine to patients.
Zhao documents his everyday life at the exhibition center on lifestyle platform Xiaohongshu, and spends up to two hours at night editing video footage and replying to comments from netizens.
"I'm trying to deliver some positive information to people that quarantine is normal, to relieve their anxiety and make myself enriched," he said.
But for Gong Jian, a 44-year-old conference planner, life in quarantine is dominated by anxiety, with his biggest concern being cross-infection.
"Thousands of people with mild or no symptoms are staying in an open space without being isolated from each other. This is more dangerous than self-isolation. I could get infected by others again and slow my recovery from the infection," Gong said.
He said he believes he was infected when waiting at the fever clinic in Pudong Hospital on March 23, and was among the first batch admitted to the converted exhibition hall Saturday night. He uses his smartphone for about eight hours a day to keep pace with COVID-19 news and watches short videos on Douyin, the Chinese version of TikTok.
"The lights are bright all the time inside the venue, making you feel the day and the night are the same," Gong said. "You only have the space of a bed to yourself. You just stay in bed if you don't move around."
Gong said that sometimes there is a lack of manpower and supplies at the site. He received his dinner around 8 p.m. on Wednesday, about two hours late. He also didn't receive his regular dose of traditional Chinese medicine from medical staff that day, though he received three packets for the following three days on Thursday.
Shanghai New International Expo Centre, another exhibition center, has started to admit those who tested positive for COVID-19 since Thursday night. It covers over 300,000 square meters and can receive over 15,000 patients, making it the largest centralized quarantine site in Shanghai.
"We require medical staff to try hard to meet patients' needs. Many of them arrived there late night, and the quarantine site prepared bread and light snacks for them," health expert Chen told domestic media on Friday.
If there are too many cases with no symptoms, it is "likely" that those who meet certain conditions will be allowed to conduct strict self-isolation at home in the future, Chen said.
Gong hopes he can get out soon and be quarantined in a hotel or at home alone, but has to accept the reality at the moment. He walks to a glass wall three to four times a day to see the outside world and takes a few minutes of exercise.
"I don't usually think about it, but freedom matters," he said. "Even to breathe air for a bit outside would make me happy."
Editor: David Cohen.
(Header image: People live at Shanghai World Expo Exhibition and Convention Center which was converted into a temporary "shelter hospital," Shanghai, March 29, 2022. Courtesy of Sun)