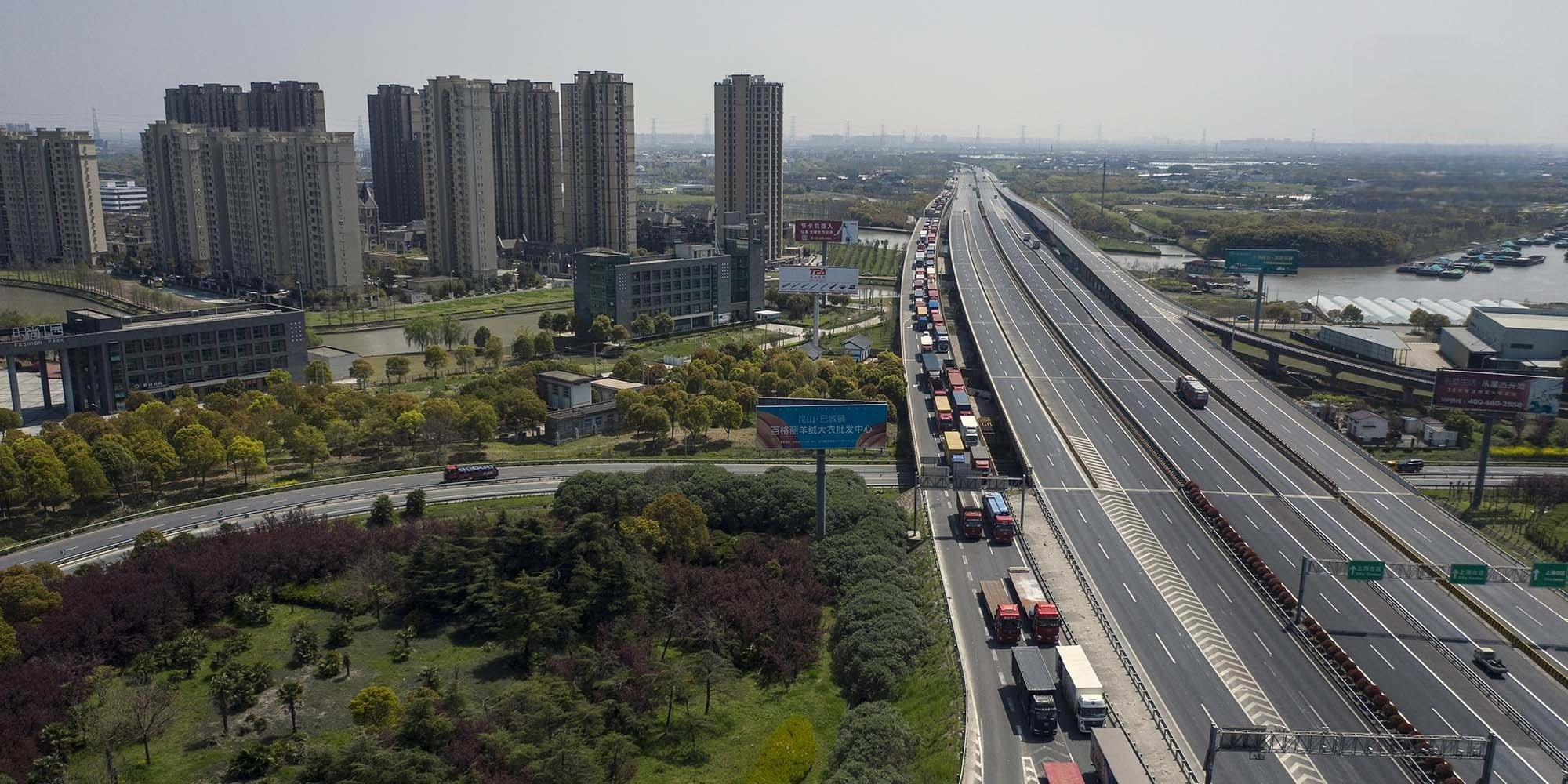 NEWS
Traders and Truck Drivers Struggle Amid Inland Transport Disruptions
Shanghai ports continue to receive international ships as normal, but surrounding provinces and cities are rejecting container trucks from the city.
As Shanghai shuts down, one half at a time, factories across east China are facing a wave of canceled and delayed shipments.
The port of Shanghai, the world's largest by trading volume according to the World Shipping Council, is continuing to load and unload ships, but getting containers into the city is another story as many neighboring cities restrict travel from Shanghai.
Truck drivers trying to leave Shanghai have described hours-long waits at health checkpoints, 100-kilometer detours, and long quarantines after journeys, among other challenges. Many said they plan to keep driving. Many exporters, however, said the delays are making the difference between narrow profits and losses.
"Export shipments by sea and by air have been greatly affected by the recent lockdown in Shanghai," Gong Peipei, a Jiaxing-based shipping agent, told Sixth Tone. "The main reason is that containers can't be shipped out of Shanghai, factories can't get containers to put their goods in, and bulk cargo can't be sent to Shanghai warehouses for air transport."
She added that almost no cities in neighboring provinces are allowing trucks from Shanghai to enter them. "Logistics delays will last a long time, even after the lifting of lockdown due to the huge amount of unshipped cargo."
Many manufacturers in the nearby provinces of Zhejiang and Jiangsu rely on Shanghai's ports to ship their goods overseas. Even in cities farther away, such as Yiwu in south Zhejiang, exporters rely on Shanghai's airports for air cargo, Gong said.
Container throughput at the port of Shanghai has remained at high levels — around 140,000 twenty-foot equivalent units — during the recent COVID-19 outbreak, according to the Shanghai International Port Group.
"Shanghai airports, railways, and international passenger and freight operations will be in normal operation," authorities said at a press conference Monday, while announcing the twin lockdown plan.
Staff at major ports in the east part of the city have lived on site since Monday, allowing them to continue working during a five-day lockdown.
But getting shipments to the ports is a major challenge. Danish shipping company Maersk predicted that truck shipments in and out of the city would fall by 30% in a note to clients on Monday, according to Reuters.
Truck drivers said it was very difficult to leave Shanghai even before the current lockdowns.
"The inspection of nucleic acid reports and travel history has been extremely strict," Liu Shengfeng, a truck driver who had been in Shanghai before the lockdown, told Sixth Tone. "If you're missing either one, the driver won't be allowed in."
Liu said he picked up some goods in Shanghai and headed to Suzhou, in Jiangsu province, on March 16, and waited more than five hours at the highway exit for inspection. Upon returning home, he faced another week in his truck. Since March, Liu's village in the eastern Shandong province requires those who came back from other cities and provinces to all go through a seven-day quarantine. He chose to stay in his truck, because if he quarantined at home, his wife and child would have to quarantine with him, he said. He's now on the fifth day.
Another driver said on video streaming platform Kuaishou March 11 that he wasn't allowed to leave the highway on a 100-kilometer trip from a Shanghai port to Taicang. He drove another 100 kilometers to the city of Changshu before being allowed to exit the highway, then doubled back and completed his delivery.
Since the lockdown, the situation has gotten worse. As the prevention and control in other cities intensified, it has been almost impossible for truckers to leave Shanghai, four sources told Sixth Tone.
"There is one way to move goods, but it will double the shipping cost and write off the profit margin," Yiwu-based trader Tony Zhao told Sixth Tone. "It is allowed to load goods into containers at service areas on highways. So we can order one container truck from Shanghai port to a service area in the middle, and then order another truck to take goods from the factory and meet them. Not many people choose this way."
For some exporters, the delays mean canceled orders. Zheng Chuanqing, a Yiwu-based trader specializing in waterproof zippers, told Sixth Tone that the recent outbreak in Shanghai inflicted a serious blow on his export business.
"My major customers are all in Ukraine. Because of the war, a lot of goods I shipped to Ukraine are now stuck in Turkey. Those goods are basically lost, as they can't be returned. Many of my customers have not paid for the goods, so I owe my suppliers millions of yuan," Zheng said. "Then I was about to ship some bulk cargo to Pudong airport before the lockdown. It was an urgent order from Sri Lanka. The client canceled the order as soon as I said it was going to be delayed."
"Truck drivers suffer the most," Zhao said. "The situation was similar when COVID-19 broke out in the port of Ningbo last year. If they came to load goods in Yiwu, all the drivers would eat, drink, and use the bathroom inside the truck. The windows of the truck were all sealed with newspapers."
Nearly 100 truck drivers were investigated and punished in the northeastern province Liaoning for concealing their travel histories, Xinhua reported Wednesday. Among them, some truck drivers carried two or more mobile phones, and showed the one without "stars" when they were inspected, the report said.
Despite the difficulties, many drivers are staying on the road. "COVID-19 can suspend a school or a factory, but the only one who can't be stopped is the truck driver," Ma Yonghui, who is quarantined in a hotel in Yichang in Hubei province, told Sixth Tone, adding he sympathized with the punished truck drivers. Ma's health code turned yellow as soon as he entered Hubei because he had passed a high risk area in Jiangsu. He placed in a 14-day quarantine, and said he's worried about the lost income.
"I will continue to deliver goods once I am out, because I know there must be someone who desperately needs their goods transported at this critical moment," Ma said.
Editor: David Cohen.
(Header image: Trucks pass through a checkpoint on a highway leading from Shanghai, March 30, 2022. Shen Qilai Shen/Bloomberg via Getty Images/VCG)