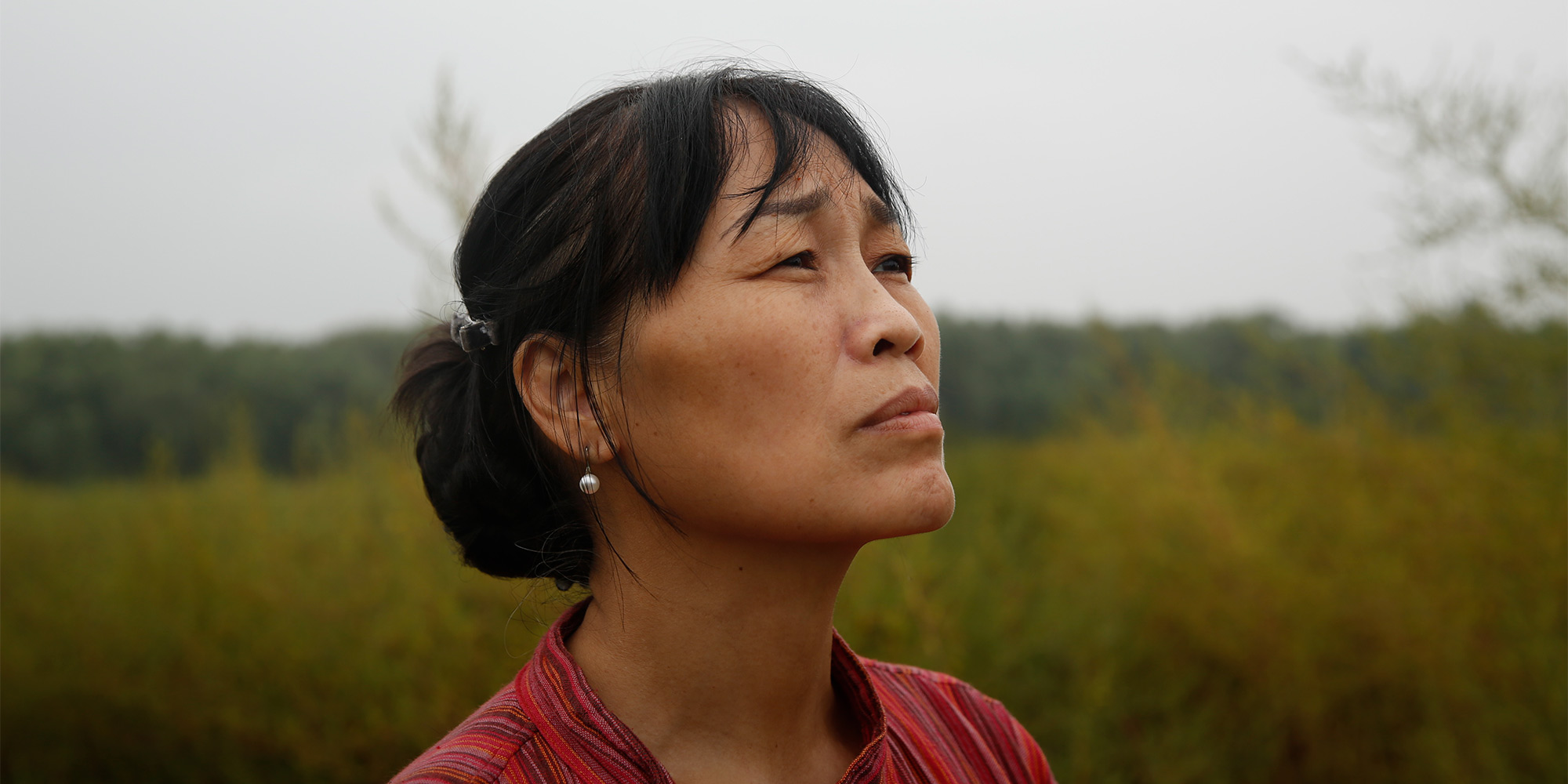 SIXTH TONE ×
The Sound of Chinese Migrant Worker Writers
Three Chinese migrant worker writers share their lives and poems.
It is a windy, sunny spring day. Amid piles of rubble from demolished houses on the south side of Picun, an urban village on the outskirts of Beijing, a group of writers and poets are holding a poetry reading. Some recite their own poems, while others sing songs and play the guitar. The wind whistles through the tall, dry grass and sparrows fly overhead. They seem completely immersed in their own world.
These writers and poets are members of the Picun Literature Group, a group of migrant workers who meet to study literature alongside academics and scholars from universities and literature institutions in Beijing, who volunteer their time. Every week, a few dozen migrant workers attend the classes here. Fu Qiuyun, who is in charge of the group, said that about 300 workers have taken part since the group was first established in 2014.
The writers' group is a part of Migrant Workers' Home, an NGO founded in 2002 by Sun Heng, Wang Dezhi, and Xu Duo to shed light on the social, cultural, and educational circumstances of migrant workers and improve their working and living conditions.
Picun is the ideal location for Migrant Workers' Home and the literature group. The village used to be home to around 20,000 migrant workers, some with a keen interest in literature. The group has produced publications such as the annual anthology Picun Literature, and, since May 2019, a bi-monthly journal called New Workers' Literature. So far, they have held four awards ceremonies for migrant workers' writing and published 18 editions of New Workers' Literature. Some of their works have also appeared in the established journal Beijing Literature.
Around the world, grassroots movements are promoting artistic expression among the working class. Since China launched its economic reform policies in 1978, countless rural people have left their families behind to move to the cities for work. Today, according to the National Bureau of Statistics of China, there are approximately 300 million such migrant workers across the country. Migrant workers' literature first appeared in China during the 1980s in Shenzhen, the first place to implement reform and opening-up. In recent years, a number of working class rural-to-urban migrants have authored works of poetry, literature, and music. Some have found wide mainstream audiences, often enabled by the internet.
Two of the best-known poets, both of whom first published on personal blogs, are Zheng Xiaoqiong and Xu Lizhi. Zheng is known for her intense descriptions of the body punished by factory work and for her activism on behalf of female workers, while Xu was a young, talented poet who committed suicide because he could not bear life on the assembly line at Foxconn, a contract manufacturer producing products for Apple.
I spoke with housekeeper-writer Fan Yusu, construction worker-poet Xu Liangyuan, and shop assistant-poet-songwriter Xiao Hai about writing literature as migrant workers in China.
Fan Yusu: "Literature is my belief"
In 2017 Fan Yusu published the online personal essay "I Am Fan Yusu." The story, about her experience as a female rural to urban migrant, went viral in hours. Fan was born in rural Hubei in 1973 and moved to Beijing when she was 20 years old. She worked as a domestic worker and endured domestic violence before getting divorced and raising her two daughters alone. Fan joined the Picun Literary Group in 2014 and is now the editor-in-chief of New Workers Literature. Fan still works as a cleaner and writes part time.
The following is drawn from a series of interviews with Fan Yusu. It has been edited for brevity and clarity.
I never thought of myself as a writer. I'm just lucky.
When I was young, I lived in Xiangyang, an ancient city in central China. The people in my hometown regard education as of prime importance: many there have cultivated the habit of reading. Even though I was born in a small village, as a girl, I could read the books shared among the villagers. Most of our books were traditional Chinese fiction. By the age of 8, I could read "Journey to the West." I read some western literature too.
I came to Beijing to make a living when I was 20. I have done many kinds of work — waitressing at a small restaurant, selling second-hand books, serving wealthy families as a domestic worker, and more. Most of the time, I worked as a nanny for young children.
I have no relatives or friends in the city. I have lived in Picun for 10 years, but I never felt at home, or had a sense of belonging in Beijing. I will always be solitary and lonely.
Though life was hard, I pursued reading. No one talked to me in real life, so I had no choice but to read.
Writing that personal essay made me famous, but I prefer writing science fiction. Many migrant workers write about their own tough lives, their inner distress and suffering, but I don't. I read this kind of thing every day when I was a child and think this kind of suffering and anger is normal, so I find that kind of writing commonplace and dated. I want to jump out of commonplace issues.
For years I have been working on a science fiction story called "Reunion After a Long Separation." In the novel, I combine the past, present, and future. A young woman washing yarns beside a river becomes a compassionate old mother a thousand years later, and then transforms into a cyborg woman on the assembly line after another thousand years.
The story of human destiny is compassion. The protagonists in my novel may have been emperors in a previous life, but thousands of years later in real life they are just common people, and their souls are identical. I hope that if my book is published, it will encourage compassion in people after reading it. This is what I want to achieve.
Literature and writing are my spiritual life, necessary in addition to survival. Literature is my belief. It is just a part of my life. I live a very simple life; it doesn't matter what I eat or wear, so long as I am not hungry. Literature gives me knowledge, gives me courage, lets me see the bigger world, and gives me a life different from others.
Now, I am famous in my hometown, and my relatives are proud of me. Most of my employers know that I am popular on the internet, but they take it for granted. As for the domestic workers around me, when they saw my big sensation, they said: "Well, if she can do it, I can, too."
For many years I had not read news about migrant workers, but with the development of the internet, I began to read articles about us. I don't like the reporters' attitude and tone. The thing I cannot stand most is when they refer to migrant workers as living on the "bottom" rung of society. I don't think that rural people or migrant workers are in the bottom position of society; we're all trying our best to live a better life.
Most of my worker friends write their own stories or write about what they have experienced in real life. What is the significance of our writing? It cannot bring us fame and wealth. Some of us believe that writing allows us to be seen and respected. Others think that writing makes us different from other people and produces the extraordinary in ordinary life.
There's a famous line in a film which states that a person dies three times. The first time is when you cease to breathe, the second is at your funeral, and the final time is when there's no one left in the living world who remembers you. But I think if one leaves some written words in this world, then he or she will put his or her limited life into infinite time and space.
Of course, we are grateful to live in this era. If there were no internet, then we could not be seen by so many people. The internet records every ordinary person's story, so later history will not only be the story of the rulers.
Xu Liangyuan: "Literature is my lifelong pursuit"
Xu Liangyuan was born in 1965 in central China's Hubei province. Xu has been interested in literature since childhood and regards it as his lifelong pursuit. He has created more than 600 works of poetry, prose, drama, and essays, totaling 250,000 characters.
The following is drawn from a series of interviews with Xu Liangyuan. It has been edited for brevity and clarity.
Whenever I settle somewhere, as long as I have free time, I always want to do something related to reading and writing. However, because I got poor grades in some subjects in middle school, I didn't enroll in high school and instead went home to work on the farm.
In 1988, I got married and had a child. I continued reading and would write until midnight. One night, I was writing until the early hours. When I got up the next morning, I found all my ink and manuscripts had been strewn across the yard. My wife said: "Can you make money doing this? Do you want to make a name for yourself? What's the point of doing this as a farmer?" I didn't dare get angry because I didn't earn any money from it. After that, I wrote in secret.
In 1994, I went to work in Guangdong as a migrant worker. Although I didn't earn much, I could at least read some books and write something. At the time, my wife and I both left home and would work intermittently. In the fall of 1998, I left my hometown again for Guangdong to reunite with my wife. It was a rainy day, and I hastily harvested the rice in the field. That was when I wrote "The Fleeing Cowherd," to express my yearning for the city and working life.
In 2003, I came to Beijing to work. During this period, I also wrote two plays. One is called "Passing Smoking Down from Generation to Generation," which tells the story of left-behind children dropping out of school and learning to smoke from their grandfathers. The other is called "The Last Landlord," which describes a group of homeowners who become rich overnight following the destruction of Da Wangjing Village, and the migrant workers living there, showing the contrast between their fortunate lives and our hard lives.
In 2014, I joined the Picun Literature Group, attended classes, and shared my works. Having wandered for so many years, I found that there's nowhere like Picun, where so many university professors come to give us lectures and lots of workers can communicate. I've attended the writing courses, as well as classes on history and law at the Migrant Workers Home. My vision has been broadened, so I have a better understanding of the working class.
During this period, I adapted my personal experience into a story about a landlord who reneged on his debts to his employees and discriminated against migrant workers, called "A Pig Builds Bathhouses." The play was later performed at the Migrant Workers Home, which helped me vent my anger. By depicting reality through the story, I managed to achieve my goal. Based on another experience, I wrote a long poem called "Pray to God and Worship Buddha," to express the difficulty migrant workers face in asking for our wages.
Reading and writing are things I feel a deep commitment to. Through writing, I can record my life and live more authentically. I write to express and improve myself. I'm not looking to become famous, and I don't rely on writing to make a living. In all these years, I haven't even earned 10,000 yuan through my writing. I have written for most of my life. Why am I still studying and writing? Because literature is my lifelong pursuit.
Recording urban development and my working experiences is a kind of self-cultivation for me. I still have to work, while my spare time is for writing. Working as a migrant worker is the foundation of my life.
Studying is a long process, and one that requires persistence. If you're too utilitarian, you often won't be able to write something good. Chen Nianxi, the migrant worker and poet, has created many works. He likely didn't think that he could gain fame and fortune from this, and he likely didn't write for fame and fortune. His earliest wish was to say something, to express himself and to record the difficulties in his life.
The significance of literature, to me, is that opening any book is beneficial. As long as you sit and read, you will improve. People have different personal experiences and live in different situations. By talking to one another, we can help each other and bring peace of mind to more people.
Xiao Hai: "Poetry saved and soothed my heart"
Xiao Hai, known as Hu Liushuai, was born in central China's Henan province in 1987. At the age of 15, he traveled south to the Pearl River Delta where he worked on assembly lines. He has been working for 18 years and has had more than 20 jobs, with the longest lasting more than four years and the shortest lasting less than a day. He has written nearly 1,000 poems totaling more than 100,000 characters. Xiao Hai has taken two training courses with the Lao She Literary Institute, an official literary institution. He currently works as a shop assistant at a charity shop named Tongxinhuhui, near Picun.
The following is drawn from a series of interviews with Xiao Hai. It has been edited for brevity and clarity.
Writing poetry is a natural process for me, because I used to spend most of my time working on factory assembly lines, more than 10 hours a day, without any change. The mechanized life made me feel helpless, lonely, at a loss, depressed, and tired. My body was in the factory, but my mind was not. My mind was flying, not settled at any moment, and there was no job that I could do solidly, ever. Working on the assembly line didn't bring me the life I wanted. What I've been pursuing isn't money, but freedom. I would like to live freely, and don't want to be a machine on an assembly line. People have souls, and they get tired.
For many years, I wanted to escape the factory, but I couldn't. So, I had to escape through my mind. Fortunately, I encountered rock music and poetry. I listened to the songs of Bob Dylan and read the poetry of Allen Ginsberg. Bob Dylan made me feel free and brave, and made my blood boil. In 2013, when I was 25 years old — which was also the craziest and most desperate time of my life — I came across Allen Ginsberg on the internet. I printed out his long poem "Howl" and put it in my pocket. Then, whenever I felt lonely at work, I'd take it out.
I also read the poems of Chinese poet Hai Zi, who committed suicide at a very young age but whose poems are very popular among Chinese youth. It was he who instilled spiritual strength in me. His poems enabled me to face my soul and life honestly, and express myself sincerely. In fact, I gave myself the pen name Xiao Hai ("Little Hai") as a tribute to Hai Zi.
Lonely and looking for a way to express myself, I finally found a spiritual outlet. At first, I would write poems on the packing slips in the clothing factory. I didn't have a reader in mind at first: my only reader was myself, and I talked with my soul. I never told any of my co-workers, and no one knew what I was writing. When I got off work at night, I'd go to an internet cafe and post my poems online.
Most of the poems I wrote during those years were about the anguish, confusion, perplexity, and reflection of factory life, such as "Chinese Workers," "I Have Never Found My True Self," "Workers off the Night Shift," and "Youth on the Assembly Line." Writing poems made me feel free, at least in spirit.
I've been healing myself with poetry. The factory tore up and burned my life, but poetry saved and soothed my heart. Sometimes I was really angry when I wrote, feeling as if there was a fire burning inside of me. Although I left the factory and the workshop, it left me lonely, and sometimes, especially at night, loneliness suddenly comes over me. At that time, there's also the feeling of being pulled away, as if I haven't really been integrated into the fabric of life. From time to time, I also feel really depressed and inexplicably lost.
Actually, I didn't have much desire and ambition for literary writing. My original dream was to become a rock musician, and I planned to sing many of the poems I wrote. Singing is a kind of comfort and companionship for me. If singing can bring strength to strangers — just like I gain strength from other songs — I think that's something meaningful.
Whether it is literature or music, both are ways to relieve loneliness, to get closer to the ideal, to touch the light of the sun and the stars, and to feel that my spirit is free. Like Zhuangzi said, "just go along with things and let your mind move freely."
Literature and music have changed the trajectory of my life. If it weren't for poetry and music, I wouldn't have come to Beijing, I wouldn't have joined the Picun Literature Group, and I wouldn't have been selling second-hand clothes here for the last four years, which is the longest I've held a job in 18 years.
At the Picun Literature Group, people huddle together to keep warm. Every acquaintance you meet in this place respects you. When you're at your most desperate and in pain, there is still this group of people who are willing to give you a hand and encourage you. I didn't have that when I was drifting outside, when I was separated from the world. The village is home to me. It seems to be an isolated island in the city, and it may also be the only spiritual island. Although I don't make much money, my body has settled down in Picun and stopped wandering and drifting.
I don't represent anyone. I am myself, and if the poems I write resonate with others, it's a testament to the commonality of literature. Fine works can transcend space and time — and shock a strange soul.
Now, for me, it seems extravagant to talk about dreams, and love is distant from me. But still, I hope I can have a chance to record the lyrics I wrote and sing them. Of course, the chance to officially publish a book of poetry would be quite something to look forward to, I guess.
If I still have a wish, I'd like to meet someone, get married and start a family — to smell the smoke and fires of the real world again after all this time.
Poem translator: Matt Turner; editor: David Cohen; photo editor: Ding Yining.
(Header image: Fan Yusu in Beijing, 2021. Ma Junyan for Sixth Tone)