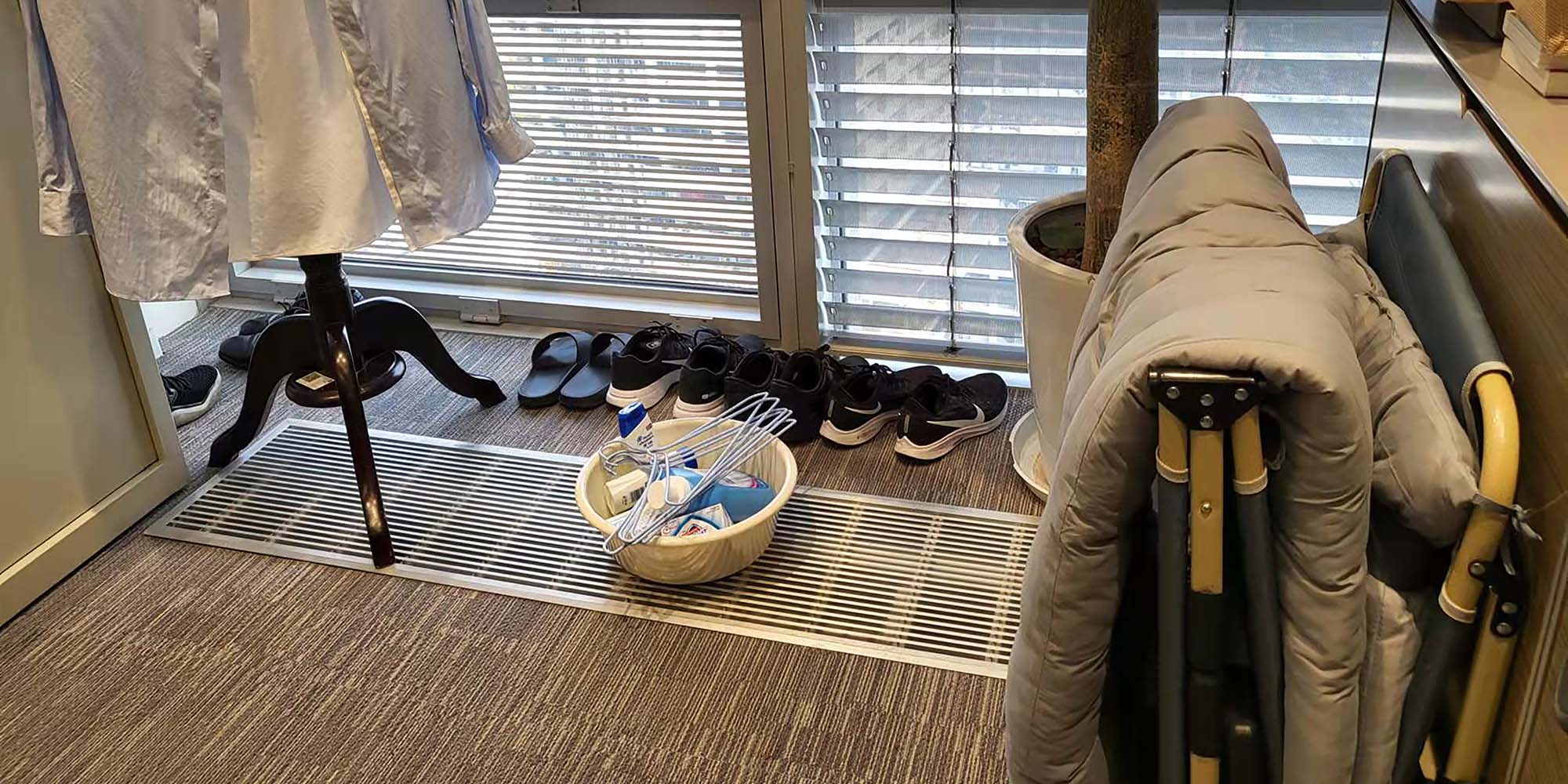 NEWS
Shanghai's Finance Workers Hunker Down in Offices for Lockdown
Staff are ensuring the city shutdown doesn't disrupt operations in the country's financial hub.
Shortly after Shanghai announced a two-phase lockdown to curb the spread of COVID-19 on Sunday evening, hundreds of thousands of residents rushed to stock up on groceries. But some raced to the office instead, carrying a week's worth of clothing.
Major financial companies in the city's Pudong New Area, where the lockdown started at 5 a.m. Monday, have adopted on-site and remote working modes with 24-hour personnel stationed at core posts during the lockdown, state-run Xinhua News Agency reported Tuesday. Pudong's Lujiazui financial district is home to over 6,000 Chinese and international financial institutions, as well as the Shanghai Stock Exchange and Shanghai Futures Exchange.
Authorities in China's financial hub had previously said it couldn't afford a large-scale shutdown. But amid mounting COVID-19 cases, the city sealed districts east of the Huangpu River, which includes Pudong New Area, from Monday through Friday, followed by the remaining areas in Shanghai from April 1 to April 5.
On Wednesday, Shanghai reported another daily record of nearly 6,000 COVID-19 infections for the previous day.
To avoid economic disruptions, employees at major financial institutions have been asked to work in a so-called closed-loop system, which entails living inside their work premise for a designated time. Offices were already equipped with foam mattresses and sleeping bags before the lockdown announcement due to the city's targeted quarantine rules that lock down office buildings with people who tested positive for the virus or their close contacts.
Photos circulating on social media showed employees making their beds next to their work desks. While some were seen sleeping with an eye mask, others were staring at computer screens.
As soon as Shanghai announced the lockdown, the state-run Bank of Communications called in over 500 employees to the office Sunday evening, according to Xinhua. Some 56 customs officers also rushed to Waigaoqiao, one of the city's three major port areas.
Amkor Assembly & Test, a semiconductor company in Pudong's Waigaoqiao Free Trade Zone, was in the middle of a shift change when the lockdown was announced around 8:30 p.m. The company quickly mobilized the off-duty workers to stay in the factory to ensure its 24-hour production went uninterrupted.
"By noon (Monday), more than 2,500 employees had stayed in the factory, which can ensure over 80% of the production capacity," Cao Chilun, the company's president and country manager, told Xinhua.
The Shanghai Stock Exchange in Pudong has also adopted closed-loop management, dispatching key staff to its "disaster recovery base" in Jinqiao and a team of 39 employees to its office in Waigaoqiao, according to Shanghai's financial supervision bureau. It also issued 30 "business adjustment and connection arrangements" to optimize the workflow involving stock issuance and listing review and bond business services.
The situation in Shanghai has evoked familiar memories for those in the financial sector in Shenzhen, another trading center in the south. The city was shut for a week earlier this month amid rising coronavirus cases.
Zhang Qianshuo, a portfolio manager at a Shenzhen venture fund, told Sixth Tone that traders, especially in bond transactions — which trade with leverage and had to carry on to secure contracts — worked under closed-loop management. He said many staff volunteered to stay in the office during the lockdown and were provided with food and daily supplies.
"The bond trader who covered my business stayed in her office building for a week during Shenzhen's lockdown," he said. "Bond trading cannot be stopped. There are many bond investing giants in Shanghai, so the influence is huge."
Editor: Bibek Bhandari.
(Header image: A personal space set up at the building of Shanghai Stock Exchange, Shanghai, March 27, 2022. From The Paper)