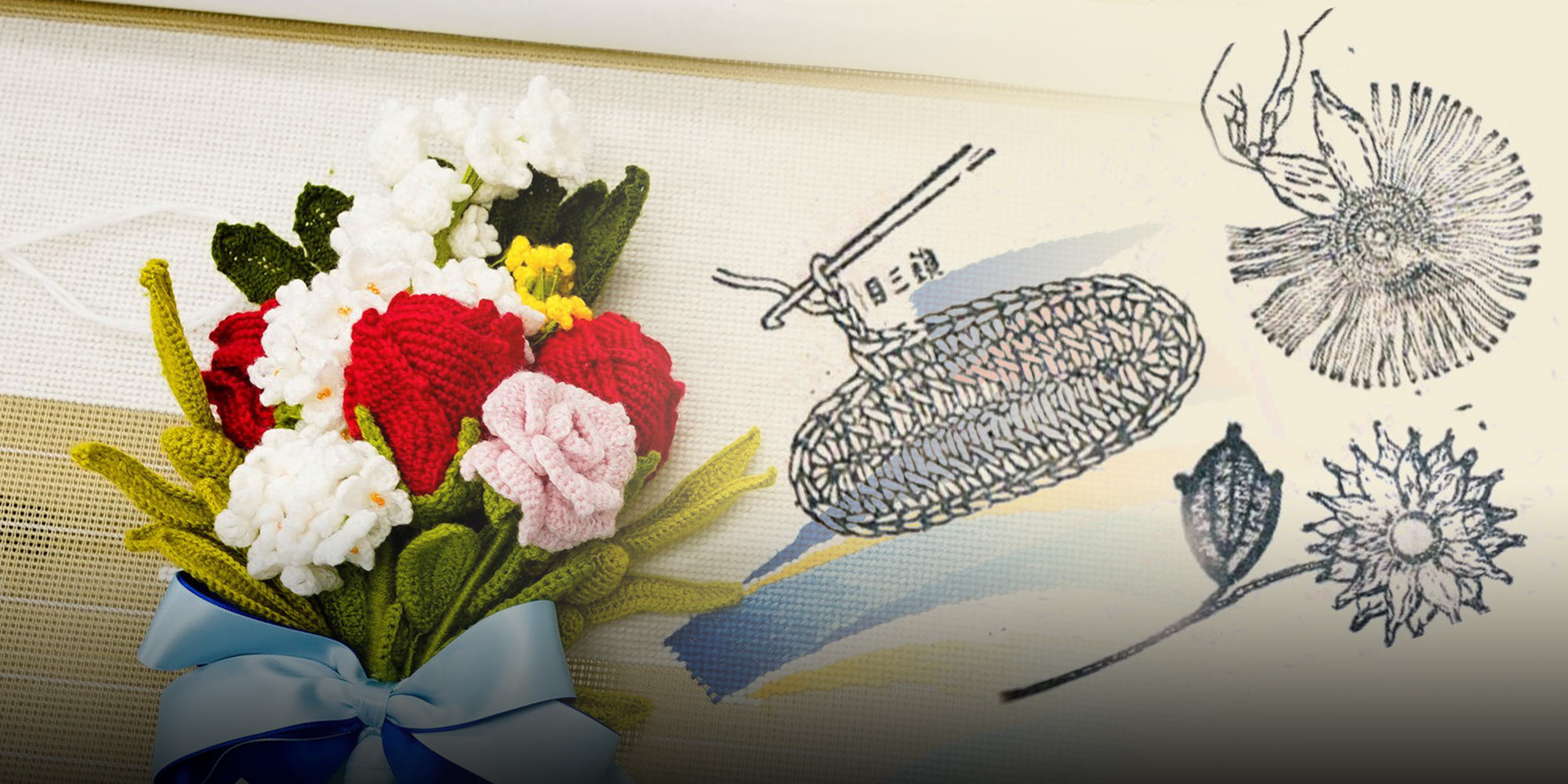 SIXTH TONE ×
Wool in Chic Clothing: How a Haipai Stitch Became an Olympic Hit
In Shanghai, knitting is not just an industry but also an art form that embodies the city's spirit.
At the recently concluded Beijing Winter Olympics and Paralympics, every award ceremony ended with winners, medals, and a bouquet of flowers. Except, in 2022, the flowers in the bouquet were made of wool, knitted by a veritable army of volunteers using a traditional Shanghai technique.
Officially part of the city's intangible cultural heritage, the technique, called Haipai (literally "Shanghai style"), popularized wool-knitting across the region and even influenced clothing and fashion made with knitted fabrics.
It began more than a century ago.
The birth of an industry
Wool yarn imported during the late Qing dynasty (1636-1912) was called mao leng, or "wool line."
In Shanghai, foreign businesses initially marketed and sold the yarn almost exclusively. Later, with the aid of compradors, who were local fixers for foreign businesses, manufacturers specially granted distribution rights to a few large wholesalers, who in turn gradually built the distribution networks to small-scale retailers across the country.
The most popular brand in Shanghai at the time was from England and called Mifeng, or Honeybee, yarn. With every sale, they also provided knitting instructions and bamboo needles to help the newly initiated get started. The art of knitting thus gradually spread.
To buy Mifeng yarn, residents of late-19th Century Shanghai went to Rue de la Mission (today Yongsheng Road) near the Bund. Despite only being a little more than 200 meters long, it was a flourishing commercial hub. It would later house the Yarnsellers' Guild in 1936.
Meanwhile, like many Chinese businesses at the time, domestic yarn brands temporarily prospered around World War I due to the conflict's impact on imports, though they were considerably inferior in terms of quality. By 1919, Shanghai's local yarn brand Huoche, or Train, had achieved a maximum daily output of 2,000 pounds, and was quite popular with consumers.
When knitted goods from the West and Japan returned to China in the 1920s, domestic brands couldn't compete in price or quality, and ceased production one after the other.
But three factors kept them going: the mass boycott of foreign goods following Shanghai's 1925 May Thirtieth Movement, the joint pricing agreements between manufacturers, and the founding of the Yarnsellers' Guild.
Following intense internal competition, Shanghai soon became the heart of the nation's textile industry. Just before the war with Japan in 1937, the combined capital of Shanghai's privately-owned woolen textile companies accounted for 65% of the entire industry nationwide.
New techniques
Knitting techniques were initially passed down among upper-middle-class women. Zeng Jifen (1852-1942), daughter of Qing dynasty court minister Zeng Guofan, was among the first Chinese women to see a cardigan up close. In her memoir, she recalled a story about learning how to knit.
Her older brother Zeng Jize was a famous diplomat. His wife, Liu, accompanied him on a trip overseas from where she brought back several pieces of wool knitwear — then rare in China — as gifts.
Zeng Jifen was delighted to receive her souvenir and asked Liu to teach her to knit. At the time, her husband Nie Jigui was colleagues with the English missionary John Fryer, and their families often spent time together. Fryer's wife grew close to Zeng Jifen, and taught her extensively. Zeng then passed the skills on to her friends across Shanghai and the southern Hunan province.
But the true standardization of wool knitting would not have been possible without the tutorials that emerged to the general public — over the radio, at state fairs, or in books.
For example, in 1908, upon returning to Shanghai from his studies in Japan, entrepreneur Zeng Zhimin opened a charity school for underprivileged children near the historically iconic Jiangnan Arsenal. The school offered classes in culture and crafts, in which knitting and weaving was featured as an elective.
During the Republic of China era, certain girls' mission schools in Shanghai also taught knitting. That's where Feng Qiuping (1911-2001), a renowned master of Shanghai-style knitting, first displayed her immense talent for this craft.
From 1934 onward, Feng worked for several yarn manufacturers, such as Shanghai Yumin, China Yarn, Yishengtai, and Hengyuanxiang, now HYX Group, the largest wool textile company in China. She also gave product demonstrations at sales fairs of large companies such as Daxin, Xinxin, Lihua, and Fu'an, playing an important role in the promotion of their brands.
In 1938, she was invited to share her knitting skills on the radio. Her show was an instant hit; her popularity endured even a decade later, well after the liberation of Shanghai from Kuomintang forces in 1949. She subsequently published dozens of books.
Over her career, Feng also independently taught 37 classes with a combined total of more than 1,000 students. Her knitwear featured dazzling color combinations as well as original motifs, which were easy to learn. It quickly spread from Shanghai to other cities, and was dubbed the Feng Qiuping Method.
Another knitting expert from the same period was Huang Peiying (1913-1983). She developed an interest in knitting as a child and was particularly gifted in knot weaving and crochet.
She was also invited to share her craft at shopping malls, yarn factories, and on the radio. In 1928, she founded the Peiying Knitting School. On a few occasions, Huang also displayed some of her prized works at the China Domestic Goods Exhibition, organized by the Shanghai Administration of Industry and Commerce, winning a special award and first prize.
She even patented a knitting machine. In the 1930s, a series of openwork sweaters that Huang designed, featuring motifs such as peaches, plums, and roses, earned favor with the public and became must-have items for women of the time. Her book, "The Peiying Method for Knitting with Silk Yarn," sold a record-breaking 300,000 copies.
The Shanghai style
Haipai, the term for Shanghai's unique culture and style, still conjures up a number of adjectives: international, sophisticated, novel, or cosmopolitan. Knitwear created using Haipai techniques embodies all of these qualities.
On posters and in movies from the Republic of China era, it wasn't rare to see female celebrities wearing a particular three-piece ensemble: a knitted cardigan or shawl thrown over an elegant qipao and paired with leather high heels. People of the time were spellbound by this sartorial fusion of East and West. Today, it's still regarded as a classic.
In addition to the overall style of knit garments, the details of knitted motifs also influenced local fashion. While most traditional Chinese garments have simple stand collars, Shanghai-style knitwear was decorated along the neckline or collar using elaborate knots and braids.
In the 1940s, Feng Qiuping noticed that coats with square shoulders and large sleeves were popular on the street. This inspired her to adapt the style of her knitted outerwear to give it wider shoulders and a tapered waist. Her newly designed garment was an instant success with consumers.
Feng not only branched out from underlayers to outerwear — she also expanded her range of patterns to include shoes and hats, as well as shawls. In 1983, she designed 12 articles of clothing using new materials (such as long-hair yarn, pearl yarn, and two-colored, undulating yarn) produced by Shanghai's Eighteenth Yarn Factory.
Not only were the garments well received by the public, they also won an award for outstanding Shanghai knitwear design.
The quality of "sophistication" is also apparent in Haipai knitwear and knitted art. Huang Peiying once crocheted a kind of peony ornament comprising 50 small slip stitches that wind around to form a spiral. On the fifth time around, the thread is pulled long and tied in bunches of five to form 10 petals.
Winter Olympics debut
In 2009, Haipai knitting techniques were officially included in the list of Shanghai's intangible heritage, signifying that knitting was no longer just an industry but also an art form that expresses the city's spirit.
One of the main figures behind this is the 70-year-old Li Meili. Li originally worked as a magazine editor, but began studying Haipai knitting after she retired more than 20 years ago.
Her influence was ubiquitous at this year's Winter Olympics for the hand-knit bouquets: from design and personnel training to quality control and final assembly.
After taking charge of the project in June 2021, she immediately began designing the flowers and choosing materials with the project team. Following countless iterations and corrections, a final prototype was produced in mid-October, which the Winter Olympic Committee approved.
The knitted bouquets awarded to winning athletes at the Winter Olympics included roses, China roses, lily of the valley, and hydrangeas, as well as bay and olive branches, which represent friendship, tenacity, happiness, unity, victory, and peace, respectively.
Meanwhile, the bouquets awarded at the Winter Paralympics also included a spray of blue cosmos, symbolizing determination.
In all, the Winter Games required 1,251 bouquets. Just a single rose took a consummate knitter at least five hours to make. And because the flowers were made from different materials using different techniques, producing one of these incredibly intricate bouquets took approximately 35 hours.
With the support of organizations such as the All-China Women's Federation, knitting workshops were arranged in Shanghai, Beijing, and Tianjin, as well as Jiangsu and Zhejiang provinces, among others; altogether, hundreds of artisans across the country took part.
The size of each bouquet was equally stringent. Li Meili personally inspected every one of the more than 10,000 knitted flower branches.
At first, as many of the flowers sent to her did not measure up, Li had to take them apart and crochet them all over again. After much cooperation and practice, the volunteers were eventually able to produce satisfactory flowers.
Li says that, for as long as she's been learning to knit, she has hoped to find a way to introduce Haipai knitting to the rest of the world. For this to happen at such an important event was a dream come true.
On the eve of the Tokyo Olympics in 2021, the Games' "Faster, Higher, Stronger" motto — unchanged for 108 years — was updated to include the word "Together" at the end.
Six months later, the art form of Haipai knitting, with its interlocking threads that come together to form exquisite designs, recalled this message of unity at the Winter Olympics.
A version of this article originally appeared in Shanghai Tan, a magazine published by the Shanghai Local Chronicles Library. It has been translated and edited for brevity and clarity, and published with permission.
Translator: Lewis Wright; editors: Zhi Yu and Apurva.
(Header image: Left: Wool bouquets produced for the Beijing 2022 Winter Olympics on display in Shanghai, Jan. 19, 2022. Aly Song/Reuters via IC; Right: A design for a peony ornament made by Huang Peiying. Courtesy of Shanghai Tan)