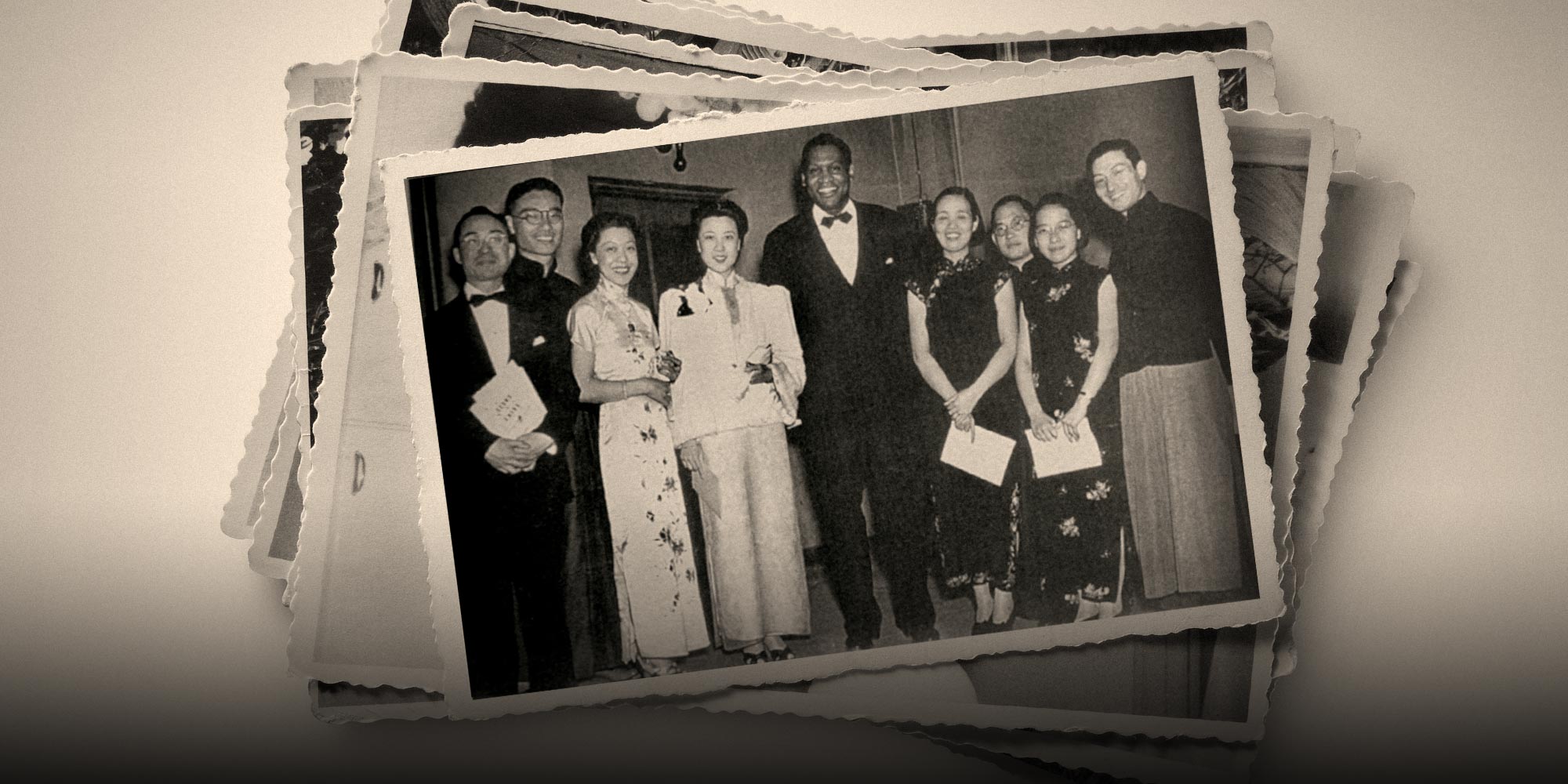 Q & A
How the Cold War Challenged Sino-African American Solidarity
Facing a rising tide of reaction, the links between Black intellectuals and nationalist and left Chinese took on new importance.
Editor's note: This is the second of a two-part interview with Gao Yunxiang, a professor of history at Ryerson University and author of the new book "Arise, Africa! Roar China!: Black and Chinese Citizens of the World in the Twentieth Century." Part one, on the ties between African American and Chinese intellectuals, can be found here.
Liu Zifeng: How did the Cold War international order, Sino-Soviet relations, and shifts in Chinese and U.S. foreign policy impact relations between Chinese and African Americans?
Gao Yunxiang: Following its rough birth amid the intensifying Cold War atmosphere, the infant People's Republic of China was forced to confront a superpower armed with nuclear weapons in the Korean War. By this point, the singer, actor, and activist Paul Robeson was enshrined as a fearless and reliable friend of China, and for Robeson, China was a strong source of support that he sorely needed.
April 20, 1949 marked the start of Robeson's political downfall in the United States. On that day, he famously told the International Congress for Peace in Paris that it was "unthinkable that American Negroes would go to war on behalf of those who have oppressed us for generations against the Soviet Union." That statement quickly drew widespread condemnation, including from Jackie Robinson, the famous African American baseball star, whom Robeson had helped to integrate the game.
Joining W.E.B. Du Bois in standing firmly behind Robeson was the Chinese Communist Party. The People's Daily condemned Robinson and defended Robeson. The paper reported Robeson's speech, highlighting the standing ovation the star received from the event's 2,000 attendees, including Nobel Laureate and nuclear scientist Frederic Joliot-Curie and Robeson's friend, the artist Pablo Picasso. Treating the organized regional and world peace movement as a powerful popular rebuke of U.S. involvement in China's Civil War and later the Korean War, Chinese state media reported intensively on the involvement of Du Bois and Paul Robeson in the pacifist movement.
The United States quickly accelerated its attacks on Robeson. The most significant and ugliest example was the so-called Peekskill riots, in which right-wing mobs brutally attacked a Robeson concert in August 1949. Soon, the U.S. State Department cancelled Robeson's passport and stalled his brilliant career. As is well documented in both Robeson's writings and Chinese state media coverage, Robeson and the People's Republic lent each other unyielding support during their most trying moments.
By the late 1950s, in the wake of the disastrous Great Leap Forward, China had immediate reasons to welcome public support from African American cultural giants. The CCP needed a new domestic perspective to reinvigorate the revolution and socialize the nation. In addition, it required new diplomatic defenders and tactics as it contested Soviet dominance of world communism and aspired to leadership of the "Third World" that bound the destinies of China with former agricultural colonies in Asia, Africa, and Latin America.
The CCP was already reaching out to Africa, but the newly independent African states met Chinese overtures with caution and reserve. The stature of these African American figures among the African diaspora helped China open doors for alliances across the continent. Du Bois' reputation and endorsement particularly meant a great deal. Chinese outreach to Africa through diplomatic exchanges, aid, and propaganda peaked following the Du Boises' 1959 visit to China. For diplomatic and economic reasons, China continued to maintain a large presence in Africa, which the Du Boises helped to foster.
During the 1960s, Mao Zedong was interested in contacts with radical Blacks, who he valorized as true revolutionaries. Influential Black activist Robert Williams, author of "Negroes with Guns," was mentioned in a People's Daily headline plastered on the ceiling of my childhood bedroom, for instance. At the same time, Black Americans were impressed by Mao's anti-American imperialism as well as his emphasis on violent struggles and cultural change as a revolutionary force.
Liu: As often happens in cases of transnational exchange, the intellectual and cultural interactions between China and African America that you chart were fraught with misunderstandings, ambiguity, and conflict. What were some of the complexities and contradictions of the internationalist politics of the five central figures in your book?
Gao: Caught in between the murky, sometimes treacherous, and shifting trans-Pacific political and ideological waters, all five citizens of the world I profile — W.E.B. Du Bois, Paul Robeson, Langston Hughes, Liu Liangmo, and Sylvia Si-lan Chen — experienced their share of ambiguity and conflict. For instance, in 1962, state media and publishers in the People's Republic of China suddenly fell silent on Robeson, who had been promoted as a heroic revolutionary model for China's socialist citizens throughout the 1950s. After the Sino-Soviet split came into the open, Robeson's position of advocating for peaceful coexistence fell on the wrong side of Chinese politics amid a shift in dynamics between the trans-Pacific powers.
The official press took an alternative approach toward Hughes. Outlets awkwardly remained silent on Hughes's public renunciation of his radical past at the peak of McCarthyism and the Korean War; instead, they fixed their gaze on the writer he was in the 1930s, an "established Black revolutionary writer," as if he were preserved in a time capsule. Liu and Chen, meanwhile, were marginalized and even attacked during the radical Maoist years by a regime they had long idealized.
W.E.B Du Bois' treatment of imperial Japan — which brutalized China and Asia — as a pillar of "the darker word" turned out to be the most controversial. Du Bois visited the segregated treaty port of Shanghai in 1936. Pampered by the Japanese authorities, he stayed at the luxurious Cathay Hotel on the Bund. At the University of Shanghai, Du Bois "occupied a seat on the dais," listening as a Rockefeller Foundation representative spoke about scholarships to the United States.
"I said to the president that I should like to talk to a group of Chinese and discuss frankly racial and social matters," Du Bois recalled. He soon "plunged…recklessly" into a luncheon at the Chinese Bankers' Club at 59 Hong Kong Road on November 30. He wanted to know, in his own words, "Why is it that you (Chinese) hate Japan more than Europe when you have suffered more from England, France, and Germany than from Japan?" If Japan and China worked together, Du Bois continued, perhaps Europe could be eliminated permanently from Asia. Du Bois calmly reported, "There ensured a considerable silence, in which I joined."
His dismayed hosts responded that whatever problems China suffered, Japan's militarism hindered any progress. Unconvinced, Du Bois commented later that "the most disconcerting thing about Asia is the burning hatred of China and Japan (for each other)." As he sailed from Shanghai aboard the S. S. Shanghai Mari to Nagasaki on December 1, 1936, Du Bois hurled a final insult, claiming that the Chinese Nationalists were "Asian Uncle Toms," likening them to the willing Black menials of white racism in the United States.
Du Bois repeated his belief in the virtues of Japanese rule and firmly urged a Sino-Japanese alliance, which would "save the world for the darker races." He steadfastly maintained such views even after Japanese forces occupied Beiping (today's Beijing) and Shanghai. To the news of the Nanjing Massacre, Japan's genocidal occupation of China's then-capital in late 1937 and early 1938, Du Bois responded that few of the white Americans expressing horror at the killing had said much about Italy's recent depredations in Ethiopia.
Liu: What lessons do the stories recounted in your book offer for understanding China-U.S. relations?
Gao: While most scholarship on Sino-American relations treats the United States as default white, "Arise, Africa! Roar, China!" cuts a new path by foregrounding African Americans. It allows us to reimagine Sino-American relations by decentering Henry Kissinger and Richard Nixon in the discourse, understanding Afro-Asian history as central to world history, and focusing on global anti-imperialism and popular movements which are still relevant today. My book combines the study of Black internationalism and the experiences of China and Chinese Americans with a trans-Pacific narrative. It reveals earlier and widespread interactions between Chinese and Black leftist figures prior to the better-known alliance between Black radicals and Maoist China in the 1960s.
It also shows the global remaking of China's modern popular culture and politics. The book traces China's transnational entanglements even during periods when the nation has commonly been regarded as insular and unconnected to the wider world.
The intertwined lives of these five citizens of the world, usually perceived as inhabiting non-overlapping domains, stand as powerful counters to narratives that foreground racism and alienation. Their endeavors across racial, national, cultural, and linguistic boundaries illustrate that the world always remains connected despite political, legal, immigration, and diplomatic hurdles. Their stories offer a view into the power and potential of Black internationalism and Sino–African American collaboration. "Arise, Africa!" and "Roar, China!" as articulated by Du Bois and Hughes, respectively, match the shared struggles of a nation and a nation-within-a-nation. Their power and promise resonate to this day.
Editors: Cai Yiwen and Kilian O'Donnell.
(Header image: Liu Liangmo (far right), Paul Robeson (center), attend the"Stars for China" war relief benefit in Philadelphia, 1941. From "Festschrift for Mr. Liu Liangmo." Courtesy of Gao Yunxiang)