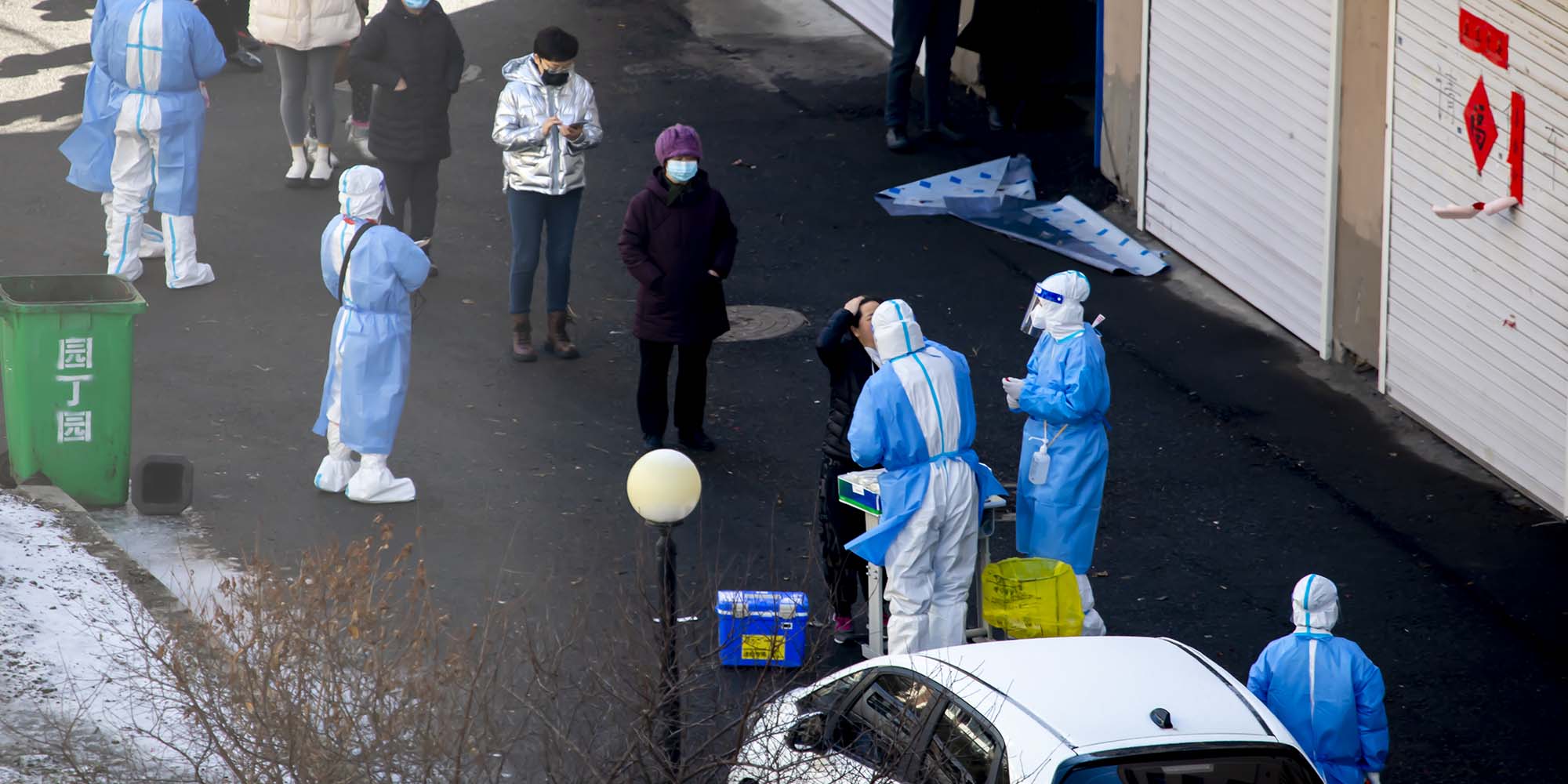 NEWS
Jilin Lockdowns Add Stress to Residents With Medical Needs
Many parts of the province are currently under various restrictions to curb rising COVID-19 cases.
Several cities in the northeastern province of Jilin have been shut down since the beginning of March, and some residents are getting more worried about their immediate medical needs than the coronavirus itself.
Jin Huijun's husband suffers from chronic diabetes and is running short of the medication to manage his disease. She said the type of insulin injection — which helps regulate blood sugar — used by her husband is now either difficult to get due to the lockdown or out of stock.
"We have some remaining insulin shots that are only enough for one or two days, otherwise we wouldn't be trying to get more," the 74-year-old told Sixth Tone, adding that their son, in a different city, had posted a plea for help on the microblogging platform Weibo. "We don't want to cause trouble for the government. But if he doesn't receive the injection he could die."
The couple grow flowers on a farm in the outskirts of Changchun, the provincial capital of Jilin, which has been in lockdown since March 11 as the province topped the nation's COVID-19 infections. Other cities in the province of 24 million people were locked down in the weeks that followed.
As China remains adamant in maintaining a "zero-COVID" policy, locking down cities even as big as Shanghai, to stamp out every single infection, the strategy has been gradually testing people's patience. 
Jilin has been reporting the most number of confirmed symptomatic COVID-19 cases over the past weeks. On Tuesday, the province logged 1,150 of them in addition to 1,032 asymptomatic cases which China doesn't include in its national tally.
A 25-year-old, surnamed Wang, who lives in the outskirts of Changchun told Sixth Tone that he had been struggling for a week to get fresh vegetables, as the lockdown restricted people from leaving their homes. Online shops, he said, were either closed or overwhelmed with orders.
Wang said more stringent controls were imposed on his entire neighborhood after health officials confirmed a single COVID-19 case there. The area was then labeled as risky and residents were required to follow stringent measures.
"Everyone seems to be having a hard time," he said, adding that while younger people were more tech-savvy and able to find solutions, the elderly were likely to be isolated and more vulnerable.
Another Jilin native, surnamed Hu, currently working in the neighboring Liaoning province, agreed. He said he was concerned about his parents who live by themselves in the city of Dehui, particularly his 55-year-old father who had ostomy surgery last year.
Since the surgery created an opening in his father's abdomen to discharge urine and other bodily waste, Hu said his father has had to rely on special medical products, but struggled to find them following the lockdown.
With no immediate solution in sight, Wang said workers from his parent's residential community offered to take the couple to another hospital in a different city that may fulfill their needs.
"The hospital only provides part of what we need," he said. "The temporary plan is to look for medical supply stores near the hospital, but my friends said they're still not open."
Online posts calling for similar medical assistance have been growing on Weibo after several cities went into full lockdown over a week ago, said Miya Zhou, a volunteer from Chengdu who works with nonprofits to help people seeking assistance online. She said people in lockdown mostly struggled with a lack of healthcare and food supplies and depended on the communities and the services they provided.
"Some of the communities are good, but some are not responsive, maybe due to a lack of staff or other reasons," Zhou told Sixth Tone.
On March 11, a 4-year-old girl with acute laryngitis in Jilin reportedly died in hospital while waiting for a negative nucleic test result required for treatment. Such tragedies — also occurring most recently in Shanghai and in Xi'an — have made headlines and triggered public uproar.
Authorities have usually responded to such tragedies, vowing to prevent such instances in the future. In Jilin, provincial authorities said they have strengthened public services, including allowing patients and people with special needs to be fast-tracked.
On Tuesday, Changchun officials also apologized to residents for providing an "inadequate" level of public service.
The following day, Jin said she got a permit from her neighborhood committee to leave their building amid the lockdown. Their neighbor even arranged a car for her to go get the remaining insulin injections for her husband.
Soon after, her son posted a follow-up message on Weibo, thanking social media users who offered help.
"The problem has been solved," Jin's son wrote. "Hope you good guys stay safe."
But not for Hu. He is still trying to seek solutions to his father's post-surgery needs, making calls and frantically seeking information that may ease his father's situation.
"We haven't heard any good news yet," he said.
Editor: Bibek Bhandari.
(Header image: Local residents receive COVID-19 test in Jilin, Jilin province, March 30, 2022. VCG)