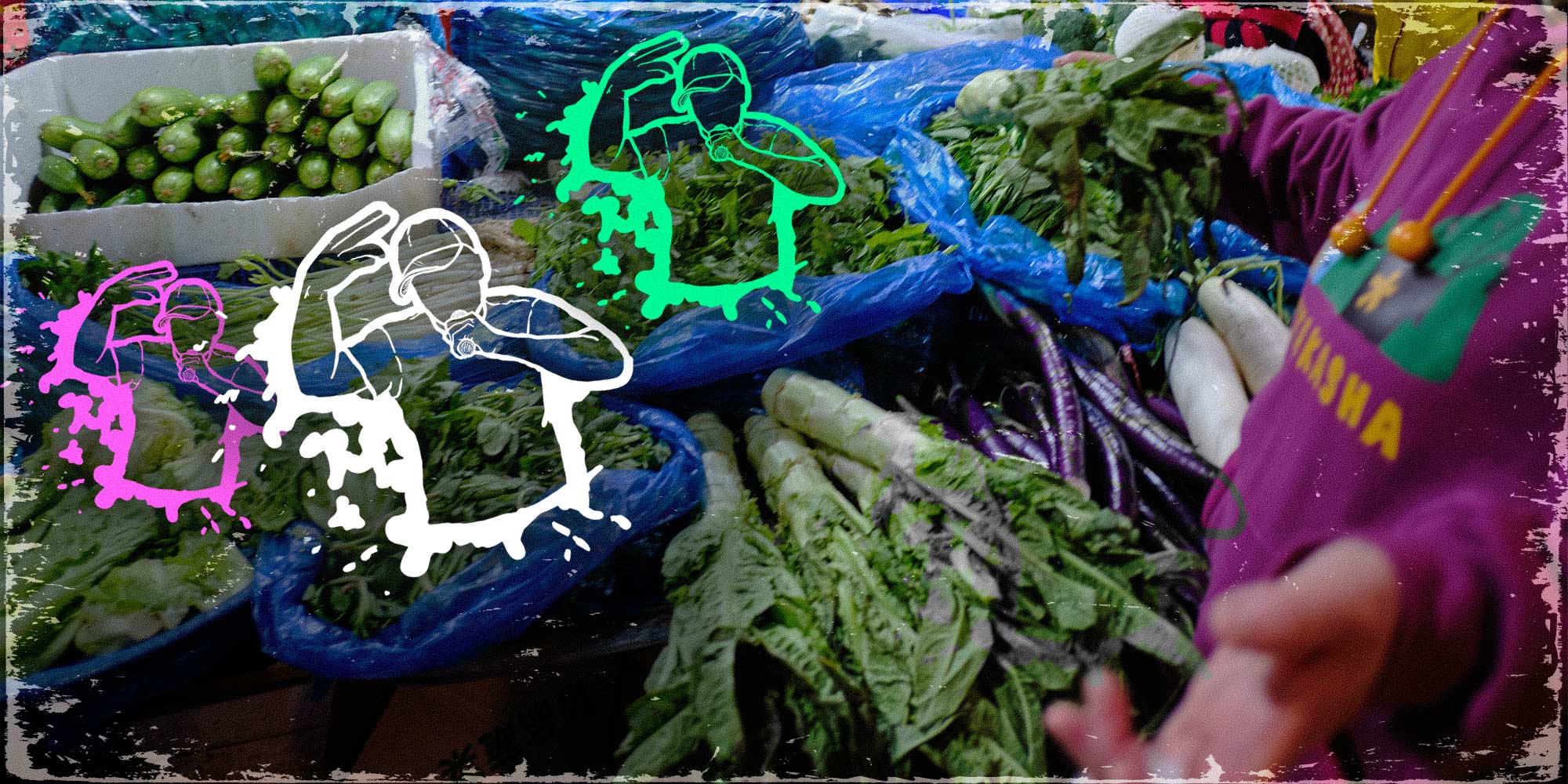 NEWS
The Shanghai Lockdown Rap: 'Get Fed, Go on Get Tested'
The city's fight to defeat COVID-19 — and to buy fresh vegetables — now has an anthem.
"Everybody's fighting over food."
As Shanghai works through its most wide-reaching lockdowns of the pandemic, panic buying has hit many of the city's markets. It seems like everyone is rushing out to stock up — and if they're not, they're probably listening to the latest dialect rap about it.
Called "Grocery Shopping" (Mai Cai), it is the work of three local rappers who told Sixth Tone they were hoping to bring some good humor to a stressful situation. Rich with local slang and performed in Shanghainese, it includes jokes about panic buying, lining up for COVID tests, and gentle urging to follow the rules.
Composed and performed by CATI2, P.J, and Keyso, the song was released on the music streaming platform Netease Cloud Music shortly after the city announced its two-phase lockdown plan on Sunday evening. Areas east of the Huangpu River will be entirely shut down until early Friday morning, followed by the rest of the city from April 1 to April 5.
With the song attached, a WeChat article titled "After Three Shanghai Rappers Survived Quarantine, It Turns Out…" was viewed over 100,000 times within two hours.
It's got people humming the hook, and quoting it on social media: "get food, go on get tested."
"This song tells it as it is for the people of Shanghai. Everybody is playing it on loop," a user on the Twitter-like platform Weibo wrote.
The next day, even the elderly were playing these songs on their phone to kill time when in long queues at the grocery store checkouts, Jin Lin, a resident living in Xuhui District, told Sixth Tone.
Speaking with Sixth Tone by phone, P.J, one of the creators, talks about the making of "Grocery Shopping" and the rap culture in Shanghai. The interview has been edited for brevity and clarity.
Sixth Tone: How did the three of you get together to create the song?
P.J: We have all been locked down in our apartment complexes over the past week, and we got very bored at home. CATI2 had a vague idea for the project on Saturday, and came to me and Keyso. Thinking it was an excellent idea to use music to cheer up the people of Shanghai and dispel the negative atmosphere online, the three of us got started immediately. On Sunday, CATI2 sent us a simple melody and a hook he wrote, asking Keyso and me to work from there. We wrote the lyrics based on our own experiences and observations over the past few days, recorded our own parts, and then put them all together. The whole process only took around three hours.
In my part, I describe escaping from one lockdown but getting trapped in another. Last week I was told my apartment in Changning District would be locked down at midnight. I packed my bags and ran to my parents' apartment in Pudong District. However, just as my own apartment got unsealed, I got locked down at my parents' place.
We chose buying vegetables as the theme, because it is the challenge that sums this outbreak up the most. I've been to the supermarket to stock up on food many times, and each time I saw people pick the shelves clean. It was even worse than when they buy up groceries before New Year. Many times, there were no carts and I had to hold everything in my hands, dropping stuff everywhere as I walked around. That never happened to me before.
Sixth Tone: Why did you use dialect to compose this song? Has Shanghai always had a Shanghainese rap culture?
P.J: We started to create some songs in Shanghainese around 2014, but because it's a dialect, these songs' reach is limited. However, we were not making a musical piece this time but doing something to encourage people in Shanghai. It's a natural decision to use Shanghainese.
Shanghai had "speak-singing" (shuochang) as a folk genre since the '50s but it does not have any roots in Western culture like today's Shanghai rap. In the 2000s, Shanghai artist Huang Yongsheng's "Jinling Pagoda" was a national hit. Many people say our music is not as good as the older generation of speak-singing, but we still want to do our best to build a style of our own.
In the past few years, rap in Sichuan and Chongqing has taken off, as shown when the most successful rapper GAI got famous on TV in The Rap of China, a rap talent show. Since then, rappers across China have started to use dialect rap to represent their region. Whenever we come across an opportunity, we will do the same.
Sixth Tone: How did you get into rap?
I started doing rap in high school, learning from a school mate who memorized ancient poems by rapping about them. I tried it myself. I kept recording songs based on ancient poems and found it to be a really good way to memorize things for tests. I started creating real rap songs with a friend in college and posting them to various platforms. But I never became a professional musician. After college, I've always had a regular day job and now I'm a sports teacher at a middle school.
I participated in some rap contests, but I never had a hit. Now I'm using my spare time to run an escape room, and I am trying to blend hip-hop culture into a cartoon franchise called The Debbies.
Sixth Tone: Are there other projects about COVID-19 that you would like to pursue?
P.J: We will write a victory song after the lockdown gets lifted, a tribute to our medical staff and volunteers. The Debbies will also launch a series of "blind boxes," showcasing the character Debbie in different outfits, with one in a hazmat suit.
Editor: David Cohen.

(Header image: Visual elements from Wu Huiyuan and iStock/VCG, reedited by Ding Yining/Sixth Tone)