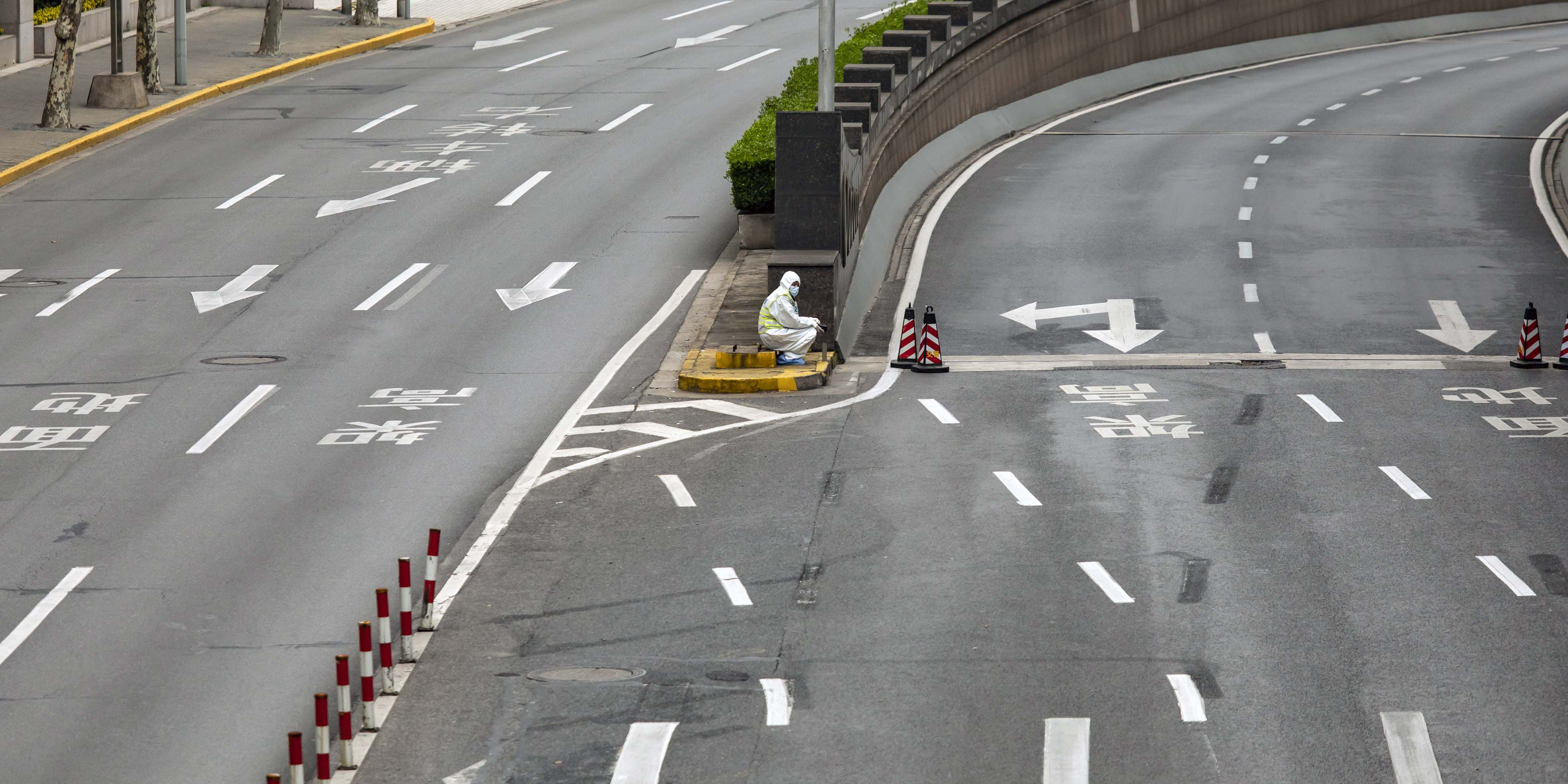 NEWS
Half of Shanghai Rushes Into Lockdown With Unease and Uncertainty
The city reported the highest number of COVID-19 cases as officials strengthened relatively lenient virus-control measures.
Hours before nearly half of Shanghai entered a COVID-19 lockdown just before dawn on Monday, millions of surprised residents scrambled to prepare for the days ahead.
At around 8:30 p.m. on Sunday, authorities had announced the city would be locked down in two phases to test around 25 million people who live in Shanghai. Areas east of the Huangpu River, which includes the financial Pudong New Area, would be entirely sealed until early Friday morning, followed by the remaining areas from April 1 to April 5. 
Residents would be prohibited to leave their homes and all businesses and transport suspended during the lockdowns. 
The decision came swiftly considering the city government had repeatedly dismissed a citywide lockdown in Shanghai as it battled its worst coronavirus outbreak yet. The morning the lockdown was enforced, the city announced a record 3,500 infections for the previous day.
At the Shanghai First Maternity and Infant Hospital in Pudong New Area, Zhang Lanlan and her husband also had a quick decision to make. She had just given birth on Wednesday and was given an option of either leaving before the lockdown kicked in at 5 a.m. or spending another five days at the hospital.
"I hadn't expected this — the pandemic has interrupted all my plans," she told Sixth Tone, adding both her parents and in-laws were already in lockdown for the past two weeks. Authorities started sealing buildings that contain people who have COVID or their close contacts since the beginning of March. 
After considering multiple scenarios, including moving to their apartment and frantic phone calls to confirm their residential community's policies, the couple decided to stay put — even if that meant spending an extra 10,000 yuan ($1,570). It was already midnight then.
"I'm already lucky compared with those who are expecting their babies in the next couple of days — they have to deal with uncertainties and worries," the Pudong native said. "Some have chosen to check into hotels or maternity care centers to avoid being locked down in their own neighborhoods."
Cai Jiaoqian was planning to end her day at 10:30 p.m. when messages flooded her messaging app WeChat. The 26-year-old fruit vendor has been delivering groceries and other daily supplies as well since the targeted residential lockdowns started early this month. 
"I received hundreds of orders from nearby residents last night after the phased lockdown was announced," she told Sixth Tone. "I was taking notes from the WeChat messages and told the clients I would try to deliver tomorrow. But many responded they're afraid I won't be able to work the next day."
Video footage of residents crowding supermarkets, with many of them opening late, ahead of the lockdown have been widely shared on social media.
"I felt they were panicking," she said. "They're afraid of running out of daily necessities to pull through the next few days. So I made a decision to keep working."
Authorities have ensured that they would monitor food supplies and price hikes, and would allow essential workers, including delivery drivers, to move around. Cai, who has been taking initiative on her own, isn't a delivery worker by definition but plans to help nevertheless.
She finished delivering over 300 orders by 6 a.m. Monday and then took a two-hour nap, before scrolling through the messages on her phone again.
"I can't promise anything at the moment because I don't have much stock left," Cai said. "And I'm not sure when my supplies will arrive. But I'll do whatever I can."
However, not everyone has been able to order their daily groceries online — not because of lack of supplies but limited skills.
Many older residents like 79-year-old Li Xinhua said they were worried over the uncertainties. He only found out about the lockdown after waking up Monday, though his residential building was already sealed for two weeks over half a dozen COVID-19 infections in the neighborhood of 5,000 residents.
"I had no idea of the phased lockdown and I was not even aware that my close neighbors in the same building were confirmed positive cases three days ago," he told Sixth Tone. "I was leaving the building to throw away garbage and pick up the vegetables my daughter bought for us. I could have been exposed to the (virus)."
Li owns a smartphone but only has limited ability to use the device. He has been seeking help from the neighborhood committee from registering online for the nucleic acid tests to navigating the technological aspects associated with the country's virus control measures.
"But now the neighborhood committee staff have all been identified as close contacts of a positive case," he said. "They've all been locked down in their office. Who else can I turn to?"
Editor: Bibek Bhandari.
(Header image: A police officer guard an exit of a tunnel connecting downtown districts with Pudong area, currently under lockdown, in Shanghai, March 28, 2022. Shen Qilai/Bloomberg via Getty Images/VCG)