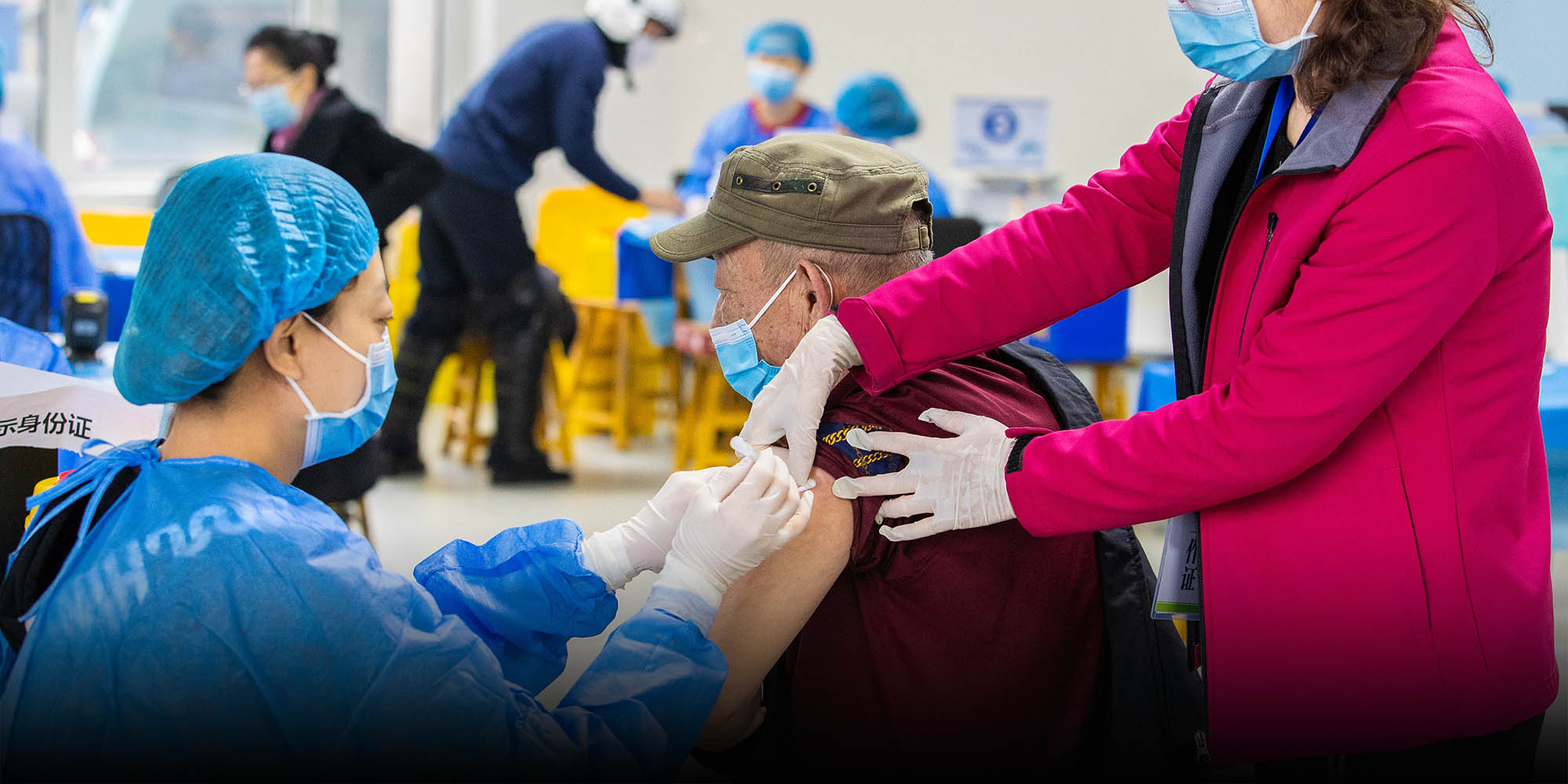 NEWS
With Fresh Urgency, China Pleads With Seniors to Get Vaccinated
Chinese vaccines have been proven safe and effective. But older citizens remain reluctant despite a surge of Omicron cases.
In one city, health officials are going door-to-door to reach people with limited mobility. In another, vaccination sites are being opened closer to communities with many older adults. All over the country, public announcements call on seniors to reconsider their hesitancy.
"All senior citizens, take action immediately and proactively answer the call to get vaccinated," the health authorities of Tongzhou, a district in the eastern city Nantong, said in an open letter that was published along posters of smiling grandparents with their sleeves rolled up.
As China's health care system is at risk of being overwhelmed by the country's worst COVID-19 wave since the initial outbreak, with more than 40,000 infections over the past month, older people have become the focus of a renewed inoculation campaign.
Though seniors are most at risk of serious symptoms and death after an infection, their vaccination rate lags that of other age groups. While nearly 88% of all Chinese people are vaccinated, some 52 million people aged 60 and above have yet to complete a two-dose regimen. In particular, about half of people over 80 years old have not been fully vaccinated.
Unlike many other countries, China's initial vaccination campaign prioritized not the most vulnerable age groups but working-age people. China's domestically produced vaccines had not been trialed on a sufficient number of older people, resulting in little data on their efficacy and side-effects for this age group.
Though later research did prove the vaccine was safe and effective for people over the age of 60 and vaccine eligibility was expanded, the oldest people had to wait the longest. Shanghai didn't make vaccines available to residents over 75 years old until mid-2021.
This approach seems to have convinced many older Chinese that side effects remain an issue. In the capital Beijing, only 40% of senior care home residents have received their first COVID-19 shot. By comparison, about 83% of all nursing home residents in the U.S. are vaccinated.
"Vaccination can provide good protection against severe illness and death," Liang Wannian, the head of China's COVID response expert team, said during a press conference Tuesday. "Completing the vaccine series and getting a booster shot are especially significant for the elderly."
The Chinese government began to more strongly push for seniors to get their COVID-19 shot after an earlier Omicron wave in Hong Kong showed the risk posed by a poorly vaccinated older population. In the city, some 5,000 mostly unvaccinated older adults died during the outbreak, showing that Omicron, though milder, is still deadly for people with no immunity.
The COVID-19 vaccines available in Hong Kong include both the China-made inactive vaccine, Sinovac, and the mRNA vaccine made by Germany's BioNTech. About two-thirds of people over the age of 80 who were vaccinated received the former. While the mRNA vaccine has been shown to be more effective, the Hong Kong government said on Sunday that Sinovac still significantly lowered the death rate.
China's renewed push might be too late to have much of an effect during the current outbreak, health experts told Sixth Tone. Wang Jun, a pharmacologist at Rutgers University in New Jersey, U.S., said in a previous interview that the two-dose vaccine series requires about a month to complete, and it would need another week for the protection to kick in.
Vaccine hesitancy could also limit the current campaign's effectiveness. Older people Sixth Tone spoke with expressed concerns over side effects, especially whether they could worsen their existing health conditions.
"I feel really conflicted about whether to get the shot," said a 63-year-old woman surnamed Xu who lives in Zhoukou county, in central China's Henan Province. "I have coronary artery disease and hypertension, so I don't know what the vaccine would do to my health."
Xu told Sixth Tone that community workers had visited her home last summer to convince her to get vaccinated. But when she told them her concerns, the community workers became hesitant too. "Every time I think about it (getting vaccinated), I get this tightness in my chest. I feel awful," she said.
"So far, there's no outbreak in my area," said Xu, who, like other interviewees, did not want to use her full name when discussing private health matters. "But if one day the virus comes, I guess I'll have to summon up my courage to do it."
According to China's COVID-19 vaccination guidelines, people with chronic disease are recommended to get vaccinated if their condition is stable.
But a 63-year-old woman surnamed Zhang told Sixth Tone that even her doctor couldn't give her a firm answer on whether she can safely get vaccinated. Zhang had lung surgery four years ago. "Over the past years, I worked so hard to maintain my health," she said. "I eat a very balanced diet, and I'm always very careful when I go outside. It'd be very upsetting if the vaccine ruins it."
Zhang lives in the northeastern city of Shenyang, in Liaoning Province. Shenyang has recorded over 300 infections since early March, and the city has suspended public transport in a bid to limit the virus' spread.
Zhang knows she's vulnerable to COVID-19 because of her age and health condition and the active outbreak in her city, she said. "I feel like I should just get the shot, but I really don't know."
Editor: Kevin Schoenmakers.
(Header image: An older man receives COVID-19 vaccine in Hohhot, Inner Mongolia Autonomous Region, March 23, 2022. VCG)