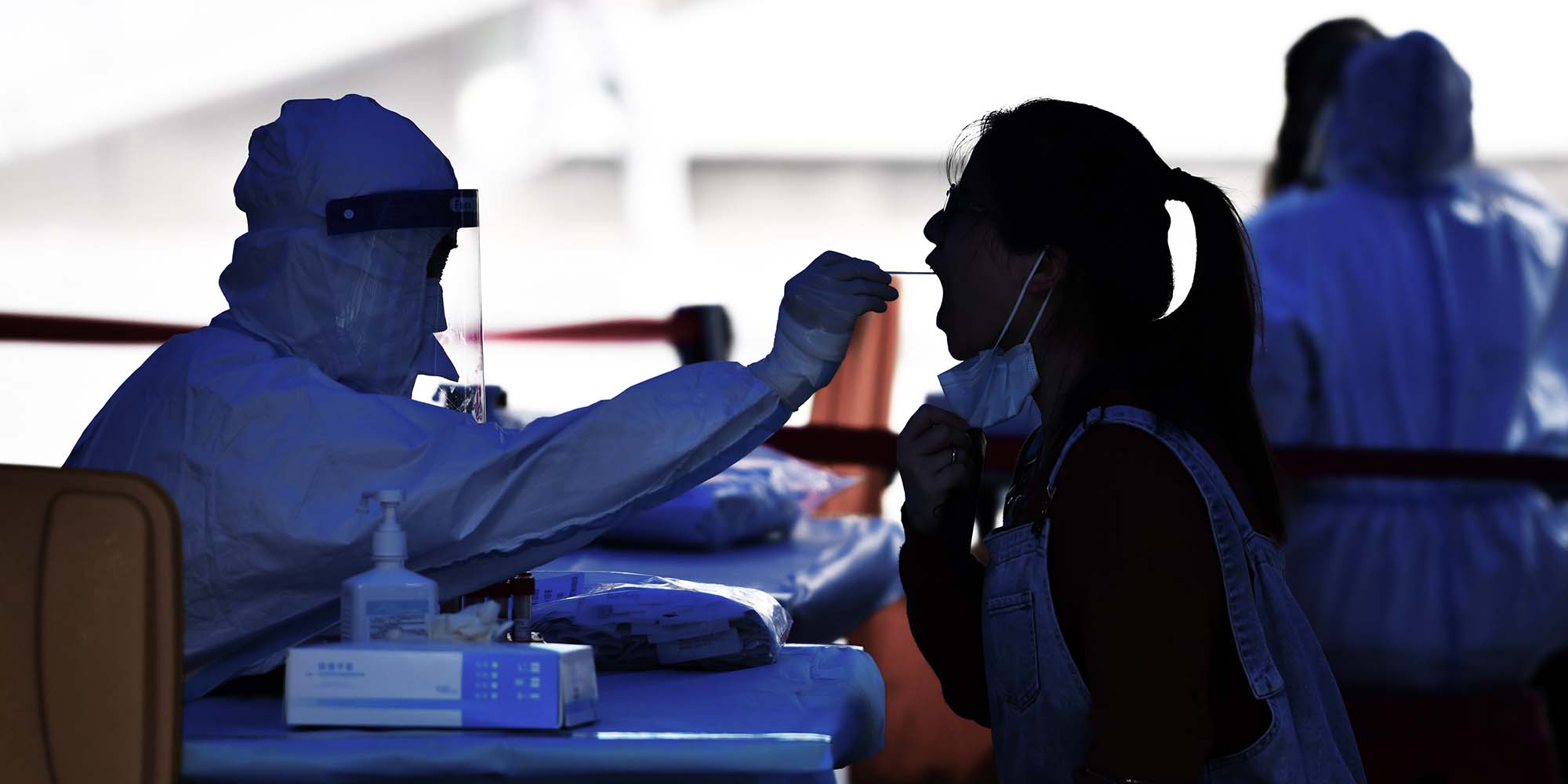 NEWS
Locals Detained for Avoiding Virus Tests, Flouting COVID-19 Rules
Authorities have expanded the list of "illegal activities" to include tampering with pandemic control measures amid a surge in coronavirus infections.
Chinese cities are conducting mandatory mass COVID-19 testing to combat a growing outbreak — and opting out from such screenings could land residents in detention.
On Monday, a woman in Quanzhou was detained for five days after repeatedly avoiding nucleic acid tests in her residential community from March 14 to 20, according to a local newspaper. The city in the eastern province of Fujian carried out multiple rounds of mass testing after logging 10 confirmed COVID-19 cases on March 13.
China pursues a "zero COVID" strategy and the country has adopted several measures, including mass testing and lockdowns, to curb the spread of the coronavirus. This means anyone violating local and national epidemic control measures is subject to punishments, including detention and arrest.
In the past months, residents have been detained for hiding their travel history, spreading rumors related to COVID-19, secretly fleeing from areas in lockdown, and insulting epidemic prevention personnel. But it wasn't until recently that rejecting nucleic acid tests was also added to a list of "illegal behaviors."
On Sunday, two men in Shenzhen – the southern tech hub that lifted a lockdown earlier this week — were detained after one took a nucleic acid test for the other, according to media reports.
Several people in multiple cities have also been detained or arrested for flouting virus control rules. They include two bar owners in the eastern city of Jinhua and a massage parlor owner in the northern municipality of Tianjin for secretly operating businesses in prohibited areas.
In the northwestern city of Xi'an — which lifted its lockdown two months ago after containing an outbreak — police detained seven people for letting in customers at restaurants and commercial buildings without registering them. All those buildings were located in areas with COVID-19 infections, local police said Tuesday.
A couple who ran a roast duck restaurant in Beijing were also being investigated for flouting COVID-19 protocols, police said Sunday. They found that 477 of the 830 people who dined at the restaurant between March 10 and 15 hadn't scanned their mobile health code to register their personal details.
Authorities later found that one of those diners, who later tested positive for the coronavirus, had infected 11 others, according to domestic media. Beijing police said they had handled 104 "illegal cases" related to COVID-19 since March 7.
Meanwhile, Shanghai police on Wednesday opened an investigation into two men for allegedly spreading rumors that the city would be locked down. A man in the coastal city of Qingdao was also detained this month on similar charges.
Editor: Bibek Bhandari.
(Header image: A woman receives COVID-19 test in Shenzhen, Guangdong province, March 3, 2022. VCG)