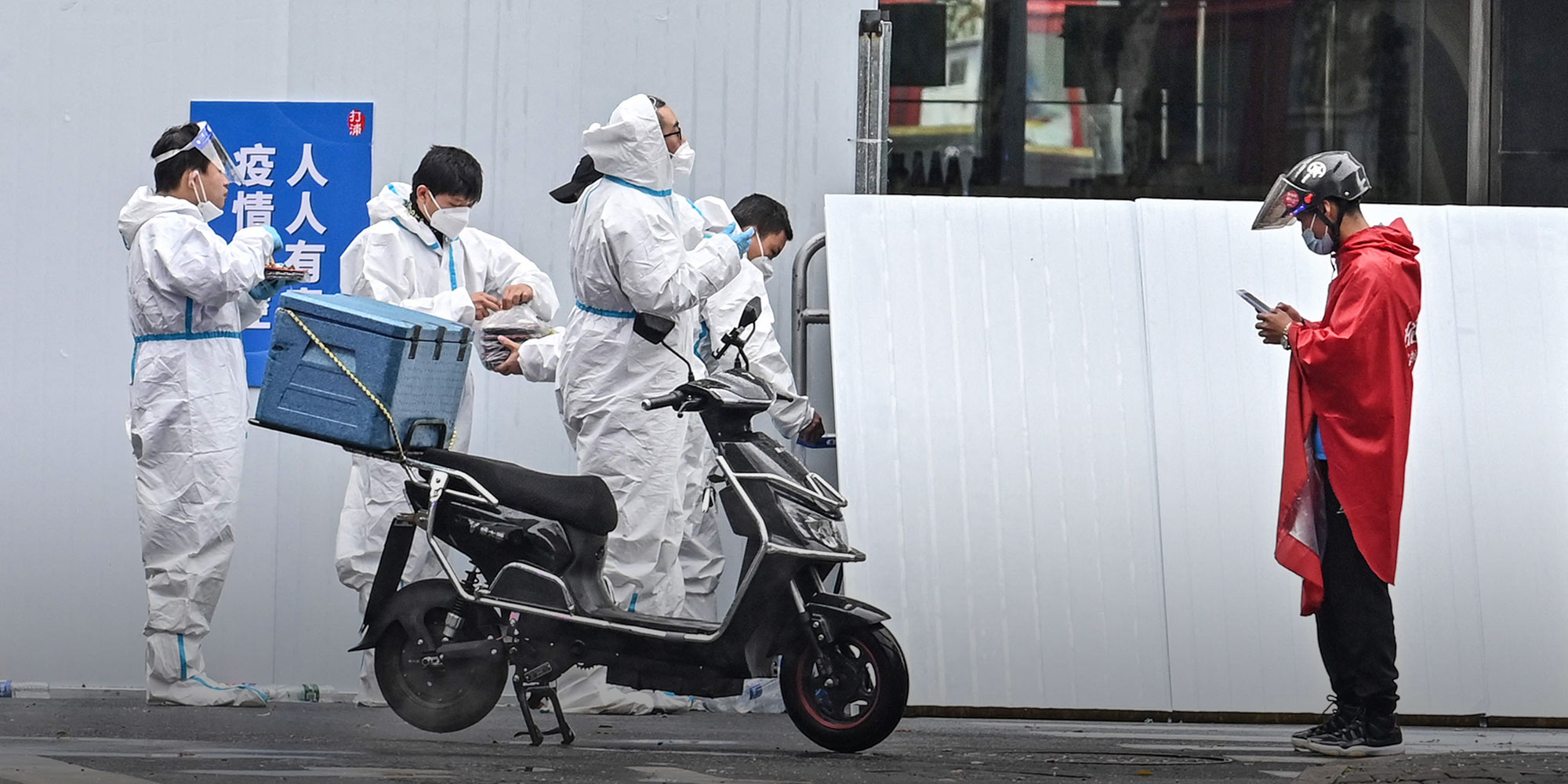 NEWS
Shanghai's Lifeline Amid COVID-19: Delivery Workers and Volunteers
As many parts of the city are still under lockdown, residents join frontline workers to help the city battle the coronavirus outbreak.
SHANGHAI — As hundreds of thousands of residents in Shanghai are placed in concentrated community lockdowns as the city battles its worst COVID-19 outbreak, an army of volunteer groups and delivery drivers have been out in the streets providing basic services and daily supplies.
Zhao Lei, from the Qingai Clinical nonprofit organization, volunteered to join a local medical team during mass coronavirus testing given her experience in handling health care-related tasks. As of Wednesday, she said she had conducted nucleic acid testing on over 1,800 people.
"This is the first time I've worn protective gear," she told Sixth Tone. "The most uncomfortable thing is that the protective glasses keep fogging up. I can't see clearly and have to rely on my feelings to control how deep the swab goes."
Shanghai is experiencing its worst COVID-19 outbreak, with hundreds of cases being logged daily. Since the first case was detected on March 1, the city had reported over 4,000 infections as of Tuesday.
Unlike other smaller cities, the city of over 24 million people has so far refrained from a citywide lockdown and quelled such online rumors Tuesday. Shanghai has instead adopted a "grid system," locking down and screening residential communities and other facilities where infected individuals and their close contacts may have lived, worked, or visited.
Lin Zhuoying, a community volunteer at Ruihong New Town in Hongkou District, has led a team of over 30 volunteers to assist community workers coordinate testing, sort out piled-up deliveries, patrol the neighborhood, and remind residents to wear masks.
"As residents' daily routines get disrupted, it is easy for them to feel upset about the community's management," Lin said. "As long as the new operating system is well sorted out, it's possible to bring out the righteousness and kindness in the neighborhood."
The community also came together to help the non-residents stuck inside, with some residents donating quilts and food, and even offering accommodation.
"What touched me the most is that some trapped couriers joined our volunteer group and helped with carrying delivery packages," Lin said.
The city's thousands of delivery drivers have also become a crucial workforce in helping residents during a critical time. Loaded with daily food and other supplies, they're seen racing in Shanghai's streets now devoid of traffic.
Online grocers such as Dingdong Maicai said their orders have doubled in recent days but are facing logistical challenges with many staff getting locked down in their apartments. The company hired 300 additional staff and drivers across the city, Agence France-Presse reported Saturday.
Zhang Zhicheng, a delivery driver from the southwestern province of Sichuan, told Sixth Tone that his job was rewarding despite the overwhelming demand.
"I am not just working for money now," he said. "I feel the city needs me. My customers all express great gratitude to me."
(Header image: A delivery man checks his mobile phone next to workers wearing protective gear outside a locked down neighborhood in Huangpu District, in Shanghai, March 15, 2022. Hector Retamal/AFP via VCG)