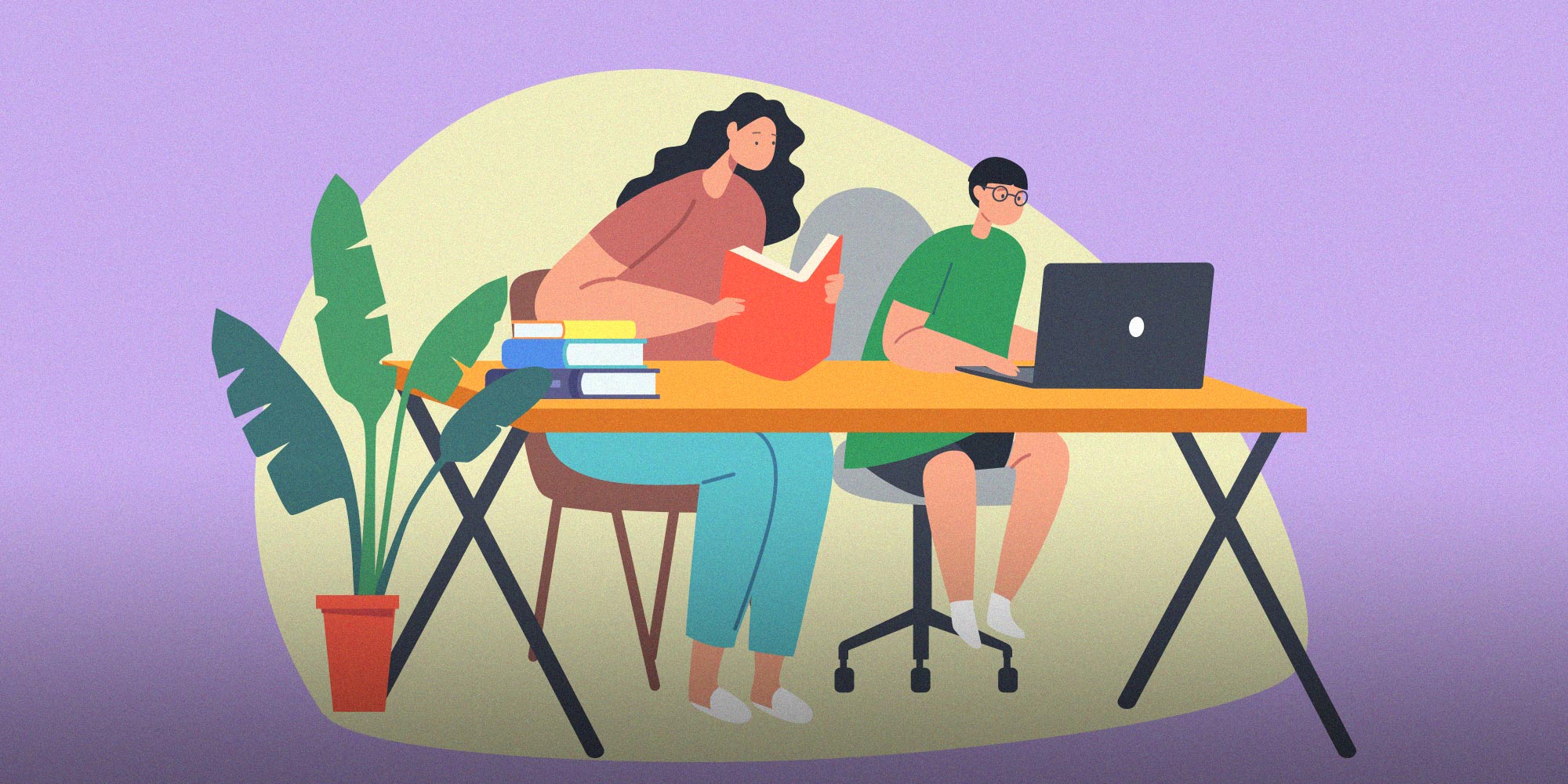 VOICES & OPINION
After Two Years, Shanghai Returns to Remote Learning. Has Anything Changed?
Many parents welcomed the decision, but not everyone has the time to micromanage their kids' learning schedules.
"Mom, how can I form a word with the character for nei?"
The sound of my 7-year-old daughter's voice broke my concentration for the umpteenth time that day. Sighing, I reminded her that I'm not here to do her work for her and that I had just handed her a dictionary for this very purpose. No sooner had I turned back to my work, however, than my phone beeped with a message, this time from my son's math teacher, telling me that his revised homework was still wrong — and implying that it was my job to make sure he fixed it.
Standing, I comforted myself with the knowledge that, after all these years, I still remember how to solve quadratic equations.
Such is the living hell I've been trapped in since March 12, when Shanghai abruptly ordered all primary and secondary schools to switch to remote learning while the city worked to bring its largest COVID-19 outbreak in two years under control. Every day, my two kids attend classes via the "Air Classroom" platform, an online education and learning channel launched by the Shanghai Education Bureau with just this contingency in mind. My job is to watch over them and make sure the online education process functions. My other job — the one that pays me — I do whenever I can carve out a free moment.
It's not the city's fault. The official notice announcing the remote learning plan stated that "Elementary and middle school students who have difficulty studying at home can apply to the school, which will arrange for classrooms to be made available for online learning and teachers to provide care and lunch for the students." But when I applied to my kids' schools for help looking after them, I was told that I was the only parent at either school to do so. Perhaps other families don't find the new rules as burdensome as I do, or maybe they just don't want to admit they need help.
No matter how selfish I might be, I couldn't ask my children to go to school alone. So, every time my daughter finishes a lesson, which happens about once an hour, I log in to a school-designated chat app and check the relevant PowerPoints posted by her teachers.
China has sought to make up for the inherent weaknesses of remote learning models by shifting more responsibility onto parents. I'm expected to go over the slides, review the key points with her, print out her homework and watch over her shoulder to make sure she finishes. When it's done, I scan it using a school-designated app, upload it, and wait for the teacher to provide feedback.
Theoretically, my 12-year-old son is old enough to manage remote learning without my help. But if there's a teenage boy who can focus on his studies on an unsecured electronic device without constant supervision, I have yet to meet him. Almost every time I tiptoe by his room, I catch him secretly playing games or watching videos. Despite constantly reminding myself to keep my emotions in check, I still sometimes lose my temper at the sight. Humiliated, he yells back, bringing my daughter out of her room to play peacemaker.
The truth is, I'm one of the lucky ones. I have the privilege to work from home, which obscures just how much my working time has been shredded into tiny pieces by a constant stream of teacher instructions, questions from my kids, and household chores.
Meanwhile, my kids' teachers are expected to keep their students from falling behind under nearly impossible conditions. Every day, subject teachers review hundreds of electronically submitted assignments, mark the errors in photo-editing software, and send them back to parents. Homeroom teachers have it even harder because they're also expected to keep everyone's spirits up. In a chat group for my son's homeroom class, his teacher routinely shares "Chicken Soup for the Soul"-style articles like "A Psychological Guide to Learning at Home" and "Positive Responses to Online Teaching." Once, she posted photos of the campus so students could enjoy the beauty of their classrooms even under lockdown.
In the early days of the pandemic, wealthy Americans hired top teachers to work as private tutors for their kids rather than subject them — or themselves — to schools' remote learning plans. In China, hotels shuttered by the pandemic have started offering "studycation" packages for students aged 7 to 16. For 5,900 yuan per kid per week ($927), the luxury Mandarin Oriental hotel in the city's Pudong District will provide students three meals a day and "supervision butlers" to ensure they stay on task.
That puts the market value of my unpaid labor at about 11,800 yuan a week — far more than I can afford with what I make at my actual job. The irony is not lost on me.
Life is undeniably better now than in early 2020, when China was still battling its first wave of COVID-19. Yet, no matter how dark those days were, there was also a feeling of passion and hope, that we were all in this together: soldiers in a great war whose sacrifices would make a return to normal possible again.
Many of my fellow parents still seem committed to that ideal. After the remote learning announcement on March 12, the overwhelming sentiment in school chat groups was one of relief. Parents were pleased not to have to send their kids to school amid rising COVID-19 case counts.
For me, however, that positive attitude is increasingly hard to maintain. After two years of "zero COVID," too much has happened. A return to "normal," whatever that means, feels unthinkable now. The world my kids will inherit seems a place of division, crisis, and uncertainty. Rather than daydream about "victory" over the coronavirus, I find myself just holding on, taking things day by day.
The importance of persevering, rather than word games or quadratic equations, is the lesson I hope my kids take away from this experiment with remote learning. Ultimately, in times of chaos, there are only two things that really matter: a readiness to accept change and the willingness to keep learning.
Editor: Kilian O'Donnell.
(Header image: invincible_bulldog/iStock/VCG, reedited by Sixth Tone)